Disclaimer:  
We were invited to a special "Blogger" party at Spin Neapolitan Pizza to taste test their award winning pizzas.  All the opinions shared are my own.
 In my family, pizza seems to be the go to meal, especially with the Princess.  If we let her, she'd have a cheese pizza every day.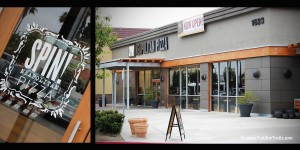 Apparently, we've been missing out!  Spin! Neapolitan Pizza just opened up a few miles from our house – at the Anaheim Promenade in Orange on May 20th.
Named as one of the "Rest of the 101 Best Restaurants" in the nation by top foodie website: TheDailyMeal.com, Spin! offers an authentic Neapolitan pizza combined with salads, sandwiches and sides that Americans love!  For instance, I am a huge fan of alfredo sauce.  Have you ever tried it on pizza?  For my perfect meal, I selected the "Mini Mia", your favorite personal sized pizza with a half salad.  The Pollo Arrosoto E Chevre was amazing – imagine a pizza with roasted chicken, goat cheese, caramelized onions and crimini mushrooms – YUM!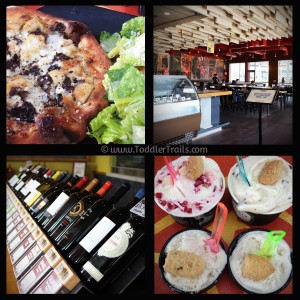 The hubster had the "Tre Carni", which was a 12 inch pizza with meatballs, pepperoni and Italian sausage, that he felt had the perfect ratio of sauce, cheese and meats.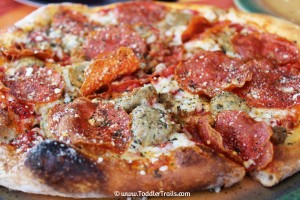 For our little eaters, we ordered the "Pizza per Bambini".  For children under 12, they have the option of cheese or pepperoni pizza or mac and cheese.  They also get their choice of beverage and a mini gelato.
During a typical meal, I usually have to stay on my picky eaters, reminding them to take bites.  At Spin – they gobbled it up without me having to say a word.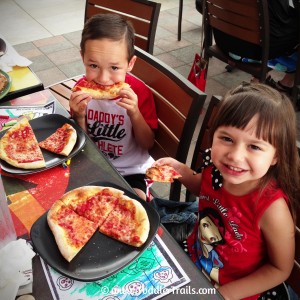 The location in Orange, is the first in Orange County.  The Hofman Hospitality Group also known for Luciell's Smokehouse Bar-B-Que, has made this restaurant a fun new dining experience.  You walk in, and are immediately welcomed with friendly staff that will help you create an amazing meal whether it is pizza, sandwiches or salads.  On display, you'll also find a wide variety of premium wines at reasonable prices.
What you should know about Spin Neapolitan Pizza:
Their thin and bubbly crusts are hand tossed with Spin! Original and whole wheat dough.
Most of the meat and veggies are roasted in olive oil and herbs in the stone oven BEFORE they are topped on the pizza, then are stone fired to perfection.
All pizzas are available with gluten-free crusts and dairy free cheese.
Several varieties of gelato are available and make the perfect dessert.
All packaging is recyclable.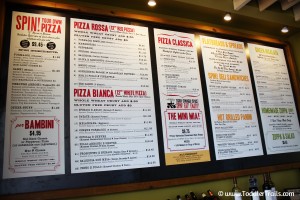 I was told that when I return to Spin! I should try a "Spin!" Pizza – meaning, create your own!  Well, I'm sending one of my amazing readers first!
 GIVEAWAY
One Toddler Trail fan will win a $30 gift certificate to Spin! Neapolitan Pizza
a Rafflecopter giveaway
Valid for US Residents only. Winners will be randomly selected via RaffleCopter and be notified via email. They have 48 hours to respond or a new winner will be randomly selected the same way. Give-away winners an email on how to claim their prize.
Spin! Neapolitan Pizza 
1623 West Katella  Orange, CA
For more information, visit:  website: https://www.spinpizza.comFacebook: https://www.facebook.com/spinpizza   Twitter: https://twitter.com/spinpizza