Saturday, April 29th, The County of Orange and OC Parks will be hosting a FREE family event: Science in the Park. From 10:00am to 4:00pm, explore the world of science with the community at Irvine Regional Park.  The Dr. John D. Cooper Archaeological and Paleontological Center will collaborate to celebrate Orange County's rich heritage of natural history, native animals and plants, and local Native American culture with a variety of activities.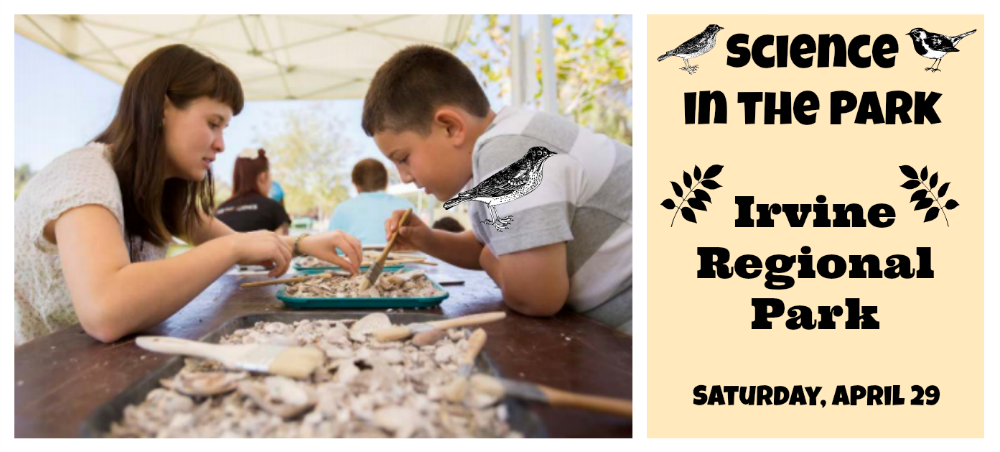 Science in the Park welcomes the young and the young at heart to enjoy a variety of activities including archaeological and paleontological demonstrations and exhibits, science experiments, and a volcano eruption demonstration. Check out the Junior Scientist Camp that offers educational crafts and hands-on activities that span Native American rock art, microfossil investigation, mini fossil & artifact excavations, fossil rubbings, and more. It will be a great day to spend outdoors with the family.
Get hands on learning from the experts! Additional guests include volcano expert Dr. Val Memeti, Bolsa Chica Conservancy, Tucker Wildlife Center, Mineralogical Society of Southern California, California State University Fullerton's Mathematics Club, Chemistry Club and Geology Club, SWCA Environmental Consultants,
and Sea & Sage Audubon.
Science in the Park is presented by OC Parks' Cooper Center in partnership with California State University – Fullerton. The event will be held at Irvine Regional Park where the Orange County Zoo is located, and the Zoo will have a Discovery Cart and Ranger talks throughout the day. Join OC Parks for a day of fun, sun, and opportunities to learn about Orange County's rich natural heritage.
Details:
April 29 – Science in the Park 10 a.m. – 4 p.m.
Event Cost: FREE
Parking: $5 per vehicle
Zoo Admission: $2
Location: 1 Irvine Park Road, Orange, CA 92869
Website: https://www.ocparks.com/civicax/inc/blobfetch.aspx?BlobID=63166
Contact: tel:(714) 973-6835
OC Parks manages nearly 60,000 acres of parks, historical and coastal facilities and open space for the County of Orange as part of OC Community Resources.
https://www.ocparks.com