Now that we have been home since March 13th because of California's stay at home orders, we've been getting a little creative in the kitchen. My husband and I are typically always on the run with family activities, but now, we've found ourselves with a lot of extra time on our hands. He has taken pride in throwing together delicious and unique meals with the ingredients we have on hand. We were most impressed waking up to his easy cinnamon crepes made to order last week.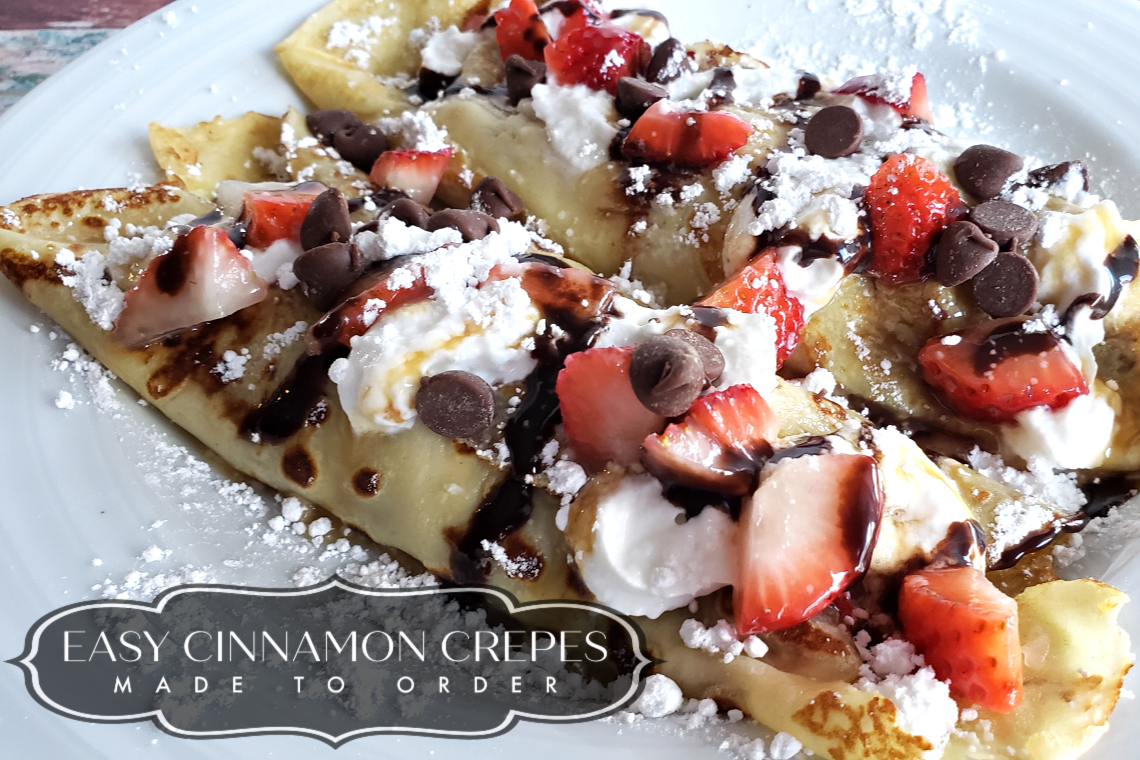 Let me set the stage. The kids and I woke up to a text, requesting our order. I was surprised to discover he had already fried up some beautiful homemade crepes, and was assembling our orders for an delicious breakfast in bed. All he needed was our toppings requests.
Amazingly, we had all of the ingredients that we needed on hand. On our last day of school before the state issued stay at home orders due to Covid-19, my husband and I had anticipated that we would need to pick up groceries for at least a week. As we guessed, the governor issued stay home orders because the Corona virus that became a global pandemic in just a few weeks. We stopped at Smart and Final on the way home and stocked up on what we thought we would need.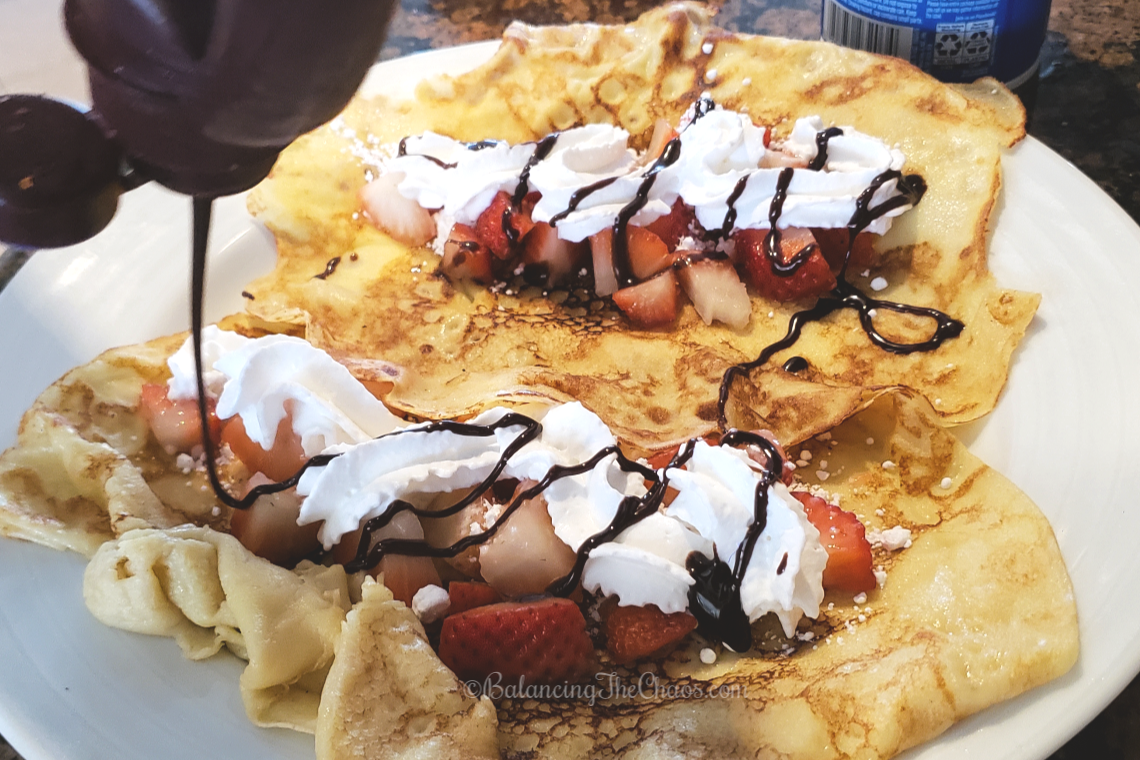 So, while we were all asleep, he had gotten up, went on a 2 mile walk and decided to surprise us with a fancy breakfast of easy cinnamon crepes. Apparently he had been researching a few recipes, and came up with his own based on what he found: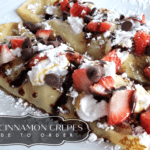 Easy Cinnamon Crepes Made to Order
Quick and easy crepes with a dash of cinnamon that you can stuff with any sort of toppings you have on hand.
Total Time
1
hour
25
minutes
Ingredients
3

eggs

1

cup

flour

2

tbsp

sugar

1

tbs

salt

1 1/2

cup

milk

1/4

tbs

cinnamon

1

tbsp

butter

1

tsp

vanilla
Instructions
Melt butter, pour into blender

Add all additional ingredients and blend for 30 seconds

Let the batter rest for 1 hour

Add just enough butter to coat the bottom of the pan

Pour just enough batter into the pan to coat the bottom, making sure it is evenly spread throughout the pan.

Let cook for about 20 seconds and flip. Cook for an additional 20 seconds.

Remove from pan and place on plate to add toppings.
Recipe Notes
Prepare the easy cinnamon crepes according to the recipe above. You can add any toppings to your liking. Some suggested items include:
whipped cream
strawberries
chocolate sauce
chocolate chips
caramel sauce
slices of ham
cheese
kielbasa
sausage
hash browns
scrambled eggs
He added all of the ingredients and mixed them in a blender, letting it rest for approximately an hour. One tip he shared was that you want to add the liquids to the blender first, then add the flour. If you don't, then the flour gets stuck at the bottom of the blender and does not get mixed in.
Once you fried up the perfectly thin crepes, you need to focus on the toppings. And seriously, any of your favorite toppings will work. My daughter's favorite is strawberries with chocolate sauce, caramel sauce, chocolate chips and whipped cream. It also is a beautiful presentation.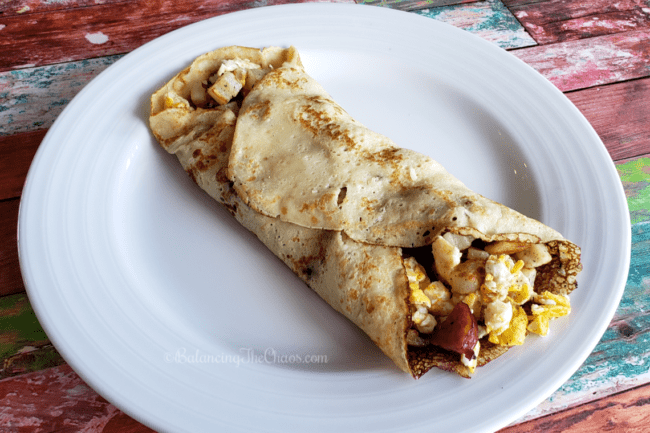 My son and I like more savory crepes. My pick, was an over stuffed delicacy that was loaded with kielbasa, egg, potatoes, and cheese Almost like a breakfast burrito. My son enjoyed a simple ham and cheese. What would you top your perfect crepe with?
For the month of April, Smart and Final has been sharing favorite snack hacks in their Instagram stories. Each Monday in April, share your favorite snack hack with them, and you will be entered to win a $25 Smart and Final gift card! I've shared a few of mine…my favorite being nutella covered strawberries.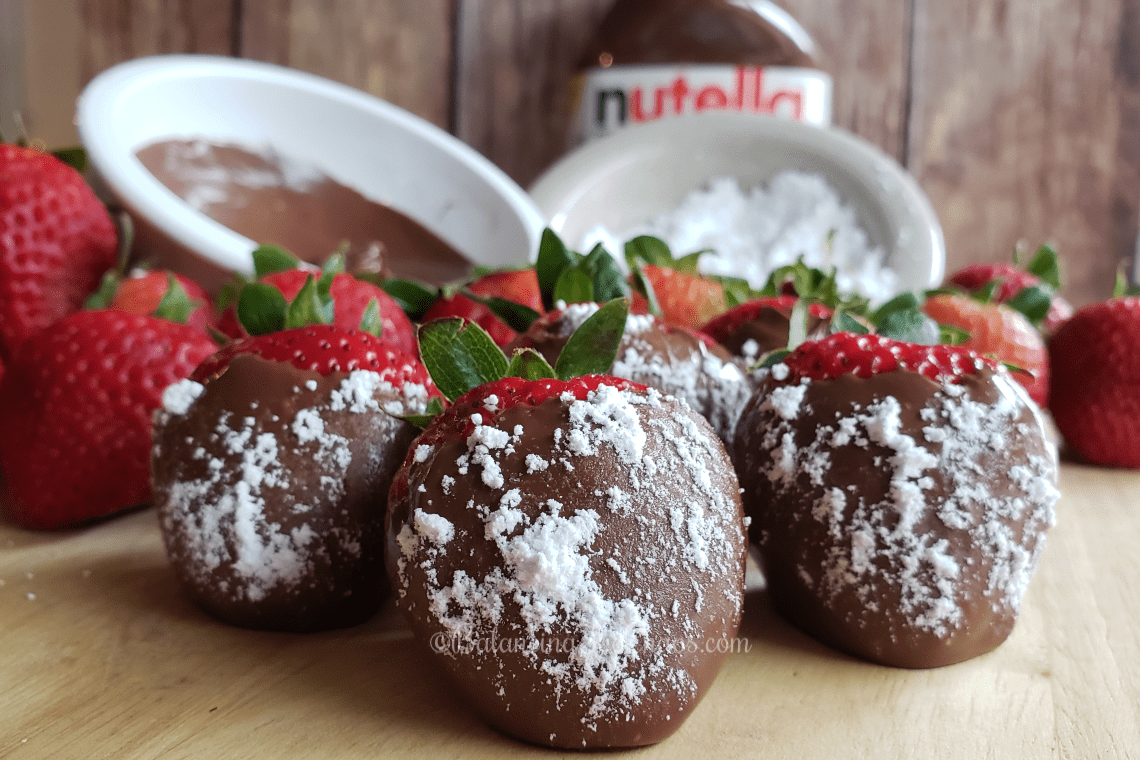 What are you favorite recipes you've been creating for your family? I'd love some new ideas.
Stay safe and healthy…