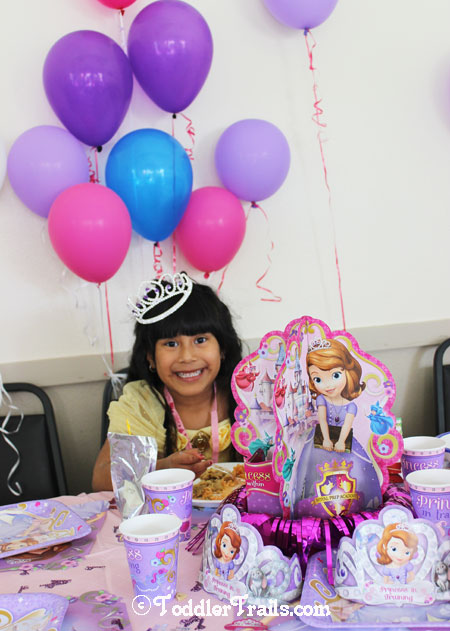 Recently I had the pleasure of surprising one of my daughter's friends by helping her mom with her Disney Princess Sophia Birthday Party. As a Member of MomSelect, I received a box full of wonderful party supplies to host a Disney Side @Home Celebration that was fit for a princess and her royal friends.
My daughter's friend Ava absolutely LOVES all of the Disney Princesses. In fact, they are part of the Disney family because her father works for Disney. So much to my delight, we were able to help create the ultimate Disney Princess Sophia Birthday Party for one of my daughter's best friends.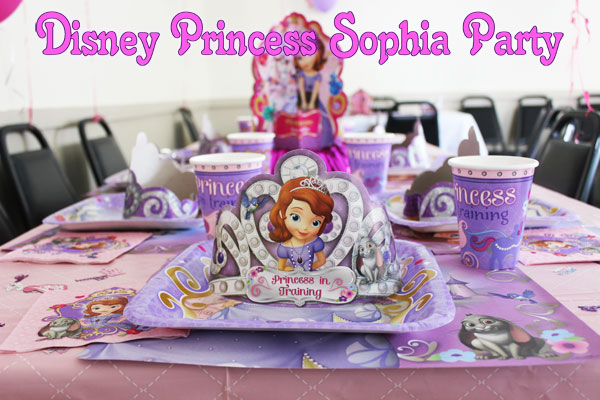 The decorations were perfect for the royal feast. Princess Sophia plates, napkins and cups along with a table cloth and  center pieces made the perfect setting for the gathering. Disney certainly makes everything so festive with coordinating table wear, which are available retailers like Walmart and Party City.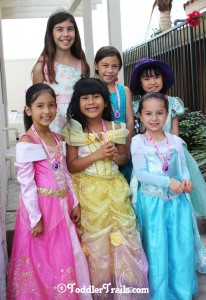 Princess Sophia invitations were sent out, and the girls were invited to wear their favorite Disney Princess dress, but there were also a few on hand for those who forgot. Once they arrived, they were greeted with warm hugs and a Princess Sophia amulet of their own. It was so cute to see the girls so excited and compliment each other on their beautiful dresses – it was quite easy to assemble them for their royal photos.
Our royal feast was served. Amazing tacos were enjoyed by all. Honestly, they are the easiest way to go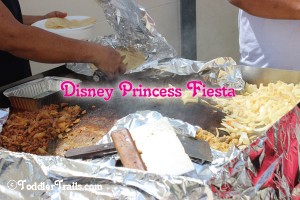 considering the caterer brings them, sets it up, cooks and cleans. It is really my favorite aspect of the party, especially the fact we have left overs!!! And if you have a picky eater, they will quickly whip up quesadillas, most youngster's favorite!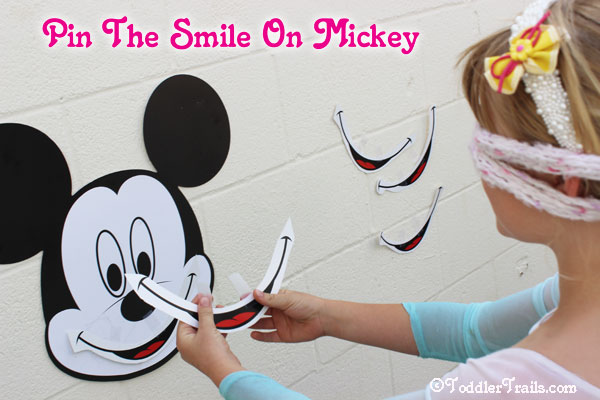 Next, we were in for the fun! I love parties that include entertainment for the kids, and that is what out Disneyside part was all about. We assembled the group for a fun game of "Pin the smile on Mickey". We decided to separate the boys and the girls – and let the girls go first. They loved watching each other take their turn, rooting on each one, even giving hints to where Mickey was (yes, I moved him a few times, especially for the boys).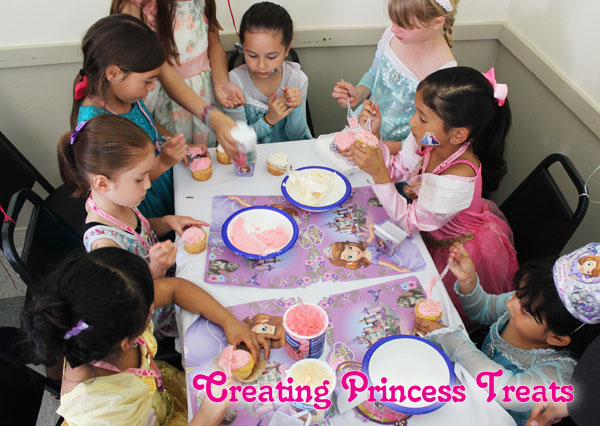 It's fun when the kids get to show off their creative side. In our party pack we had cute cupcake holders, sprinkles and more, and decided we'd let the little ones decorate their own cupcakes. The best part was how they shared and acted like proper princesses. As a matter of fact, I only caught one licking her fingers while frosting her cupcake.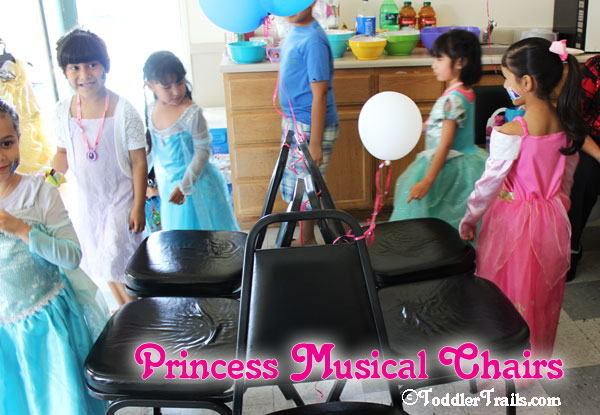 I remember as a kid playing musical chairs. I'm not sure if it happens at many parties these days, but we decided to share this fun activity with our princesses and princes. We had to do a few "run throughs" as some of the younger ones weren't understanding what was happening, but they quickly caught on. The best part of the game – the music. We played our favorite Disney Princess tunes from our favorite Disney movies. So cute, the girls (and moms) were singing along.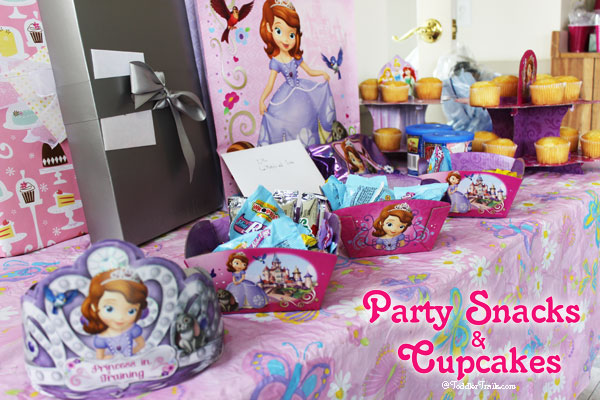 When planning parties for my kids, I love to have everything coordinating. Especially when it comes to bowls, utensils and more. I was so excited when I found these adorable coordinating snack bowls in our Disney side @home celebrations party kit. I've even noticed them in a few party supply stores as well. They are amazingly convenient, and quick clean up as you can just throw them away. (That is, if your princess doesn't decide to keep them after the party – they would make great toy, barrette and nick nack holders.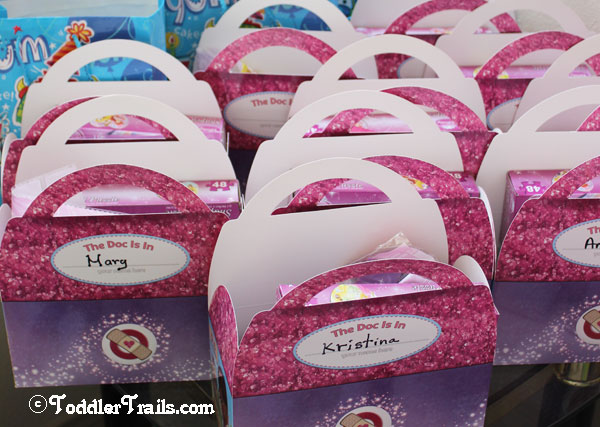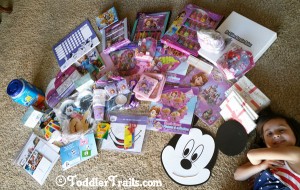 We love thanking our guests for coming to celebrate with us. These cute party totes were the perfect size to hold all of the party favors we received in our party kit: nail files, nail polishes, lip balm, stickers, puzzles and more. We even threw in invitations donated by HP that will help create future party invitations and cards.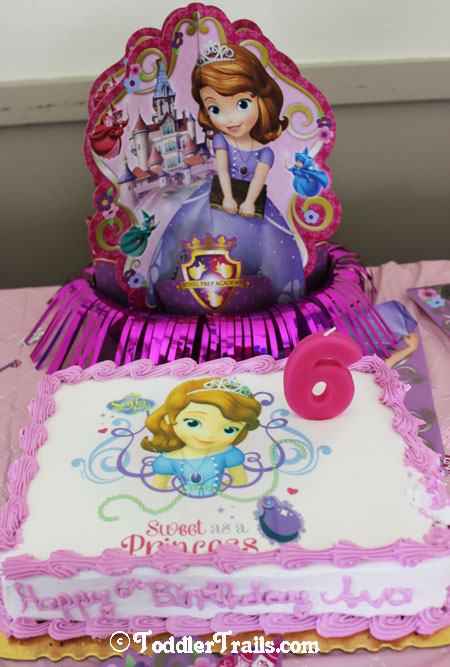 Princess Sophia is such a popular party theme among young girls, it's quite easy to find birthday cakes with the matching theme. Ava's family picked up this cute little Princess Sophia cake at our local Stater Brothers.
I have to give a HUGE shout out to MomSelect Media and all of the sponsors who made this Disneyside party magical: Snuggle, Wisk, HP, All Laundry, Twinnings Herbal Teas and more.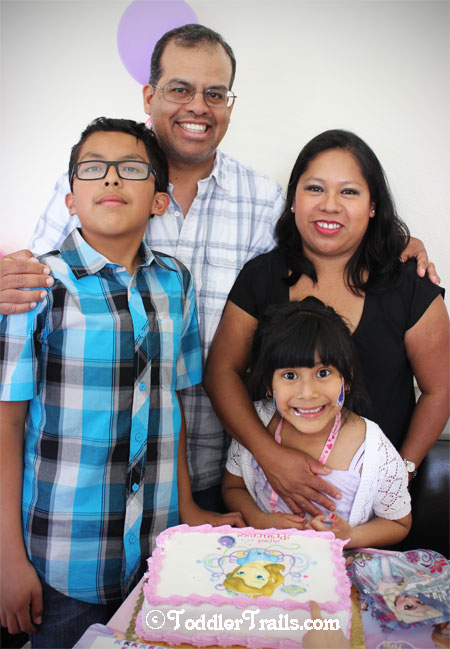 Happy Birthday Ava and family! We're so glad you had a great time!
Disclaimer: We received a fabulous Disney Side celebration kit on behalf of Disney Parks and Mom Select Media in order to host a royal birthday party. All opinions expressed are my own.