I absolutely love creating those amazing arts and crafts and do it yourself projects I see on Pinterest, and now there is a hardware store with a crafty flare that will make your visions a reality along with being being a go to resource for your home improvement supplies. Orchard Supply Hardware will be opening 3 new locations this weekend, March 21st and doing so with a bang!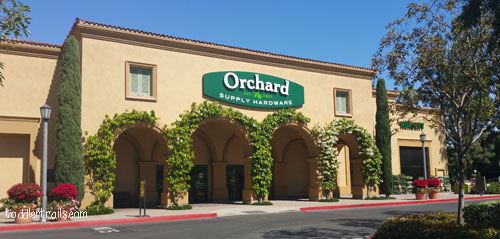 I was recently invited to get a sneak peak at two of the 3 locations opening this Saturday, March 21st, Orchard Supply Hardware in Southern California locations: Cerritos, Irvine and Woodland Hills, and they will get your ideas and creativity into high gear.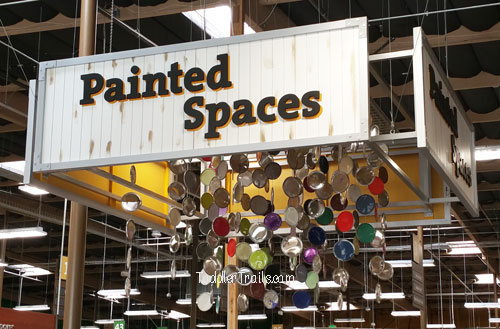 One of my favorite touches of Orchard Supply Hardware is the creative signage. Like the "Painted Spaces" sign above, simple ideas make these supply stores stand out. When I walked in, I didn't feel intimidated by the giant hardware store feel, getting lost in the massive lumber or plumbing aisle.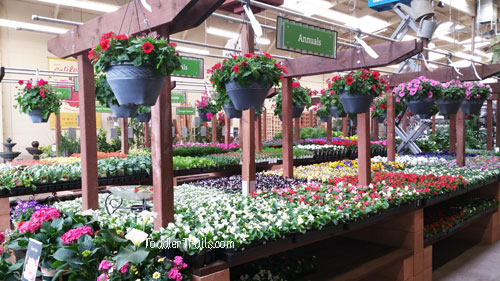 Looking to update your garden? Orchard Supply Hardware has a beautiful selection of flowers and gardening supplies. Have you ever purchased a potted plant for as a gift for someone special? Pick up the plant as well as a pot, and Orchard's staff will assemble your beautiful gift for you, free of charge. (One feature I love since I'm always picking up gifts on the go).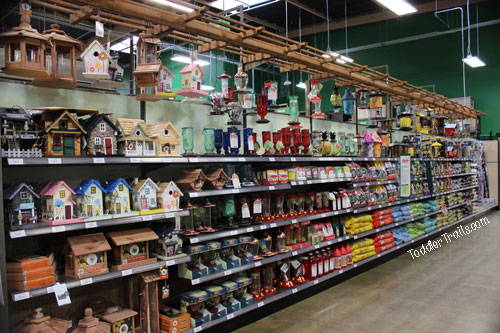 When my friends and I walked down this aisle, we were in awe. Adorable artsy bird houses, feeders even seed available to spruce up your front patio. Again, these make great gifts for someone special.
While I was browsing the store, I became inspired. From storage containers, kitchen gadgets, drawer handles to paint cans, Orchard Supply Hardware has the supplies you need to complete your small home project. Check out the "WorkBench", an expanded customer support area for basic maintenance needs such as knife sharpening, lock re-keying and re-screening.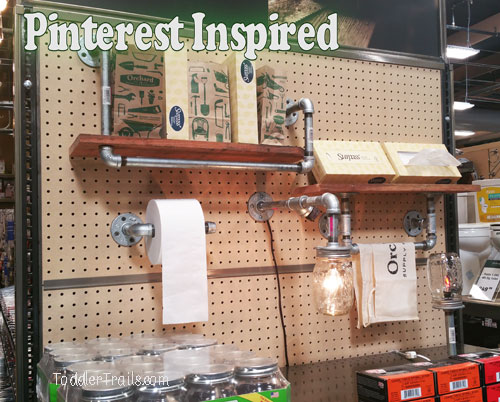 At the Irvine location, one of my favorite little corners of the store was the "Pinterest" Corner. Their unique store manager has a love of Pinterest, like most of us crafty moms do. He created this awesome DIY Pinterest endcap for some of the coolest "Do It Yourself" ideas – shelves, toilet paper holders, towel racks and lighting made from simple supplies like pipes, mason jars and more. The best part is that all of the supplies for the items pictured above are available at this endcap.
The grand opening to all three store is this weekend (March 21st), and OSH will be giving away $25 gift cards to the first 100 adults in line at each location:
Cerritos (13233 South St., 90703)
Irvine (5715 Alton Parkway in Oak Creek Village Center)
Woodland Hills (19800 Ventura Blvd. 91364)
Also, the first 500 customers at each location on March 21st will receive a canvas shopping tote.
Be sure to mark your calendar for this fun family event. There will be live entertainment, arts and crafts for all, unique demonstrations and more.
ABOUT ORCHARD SUPPLY HARDWARE:
Orchard Supply Hardware (OSH) operates neighborhood hardware and garden stores focused on paint, repair and the backyard. The Company was founded as a purchasing cooperative in San Jose, California, in 1931. OSH currently operates 72 stores in California and three stores in Oregon with stores averaging approximately 32,000-square-feet of interior selling space and 8,000-square-feet of exterior nursery and garden space. For more information, visit osh.com.
Disclaimer: I was invited to a special media preview to tour the store and share the Grand Opening with our beloved readers and received some fun OSH swag.