It's Halloween time, and Pretend City Children's Museum is celebrating! Your youngsters will enjoy checking out the new creepy crawly cafe and making they way around the city to visit silly, not-so-spooky characters. This holiday will surely have your little ghouls and goblins howling in excitement! So save the scary creatures for later because Pretend City is bringing some fun to this holiday!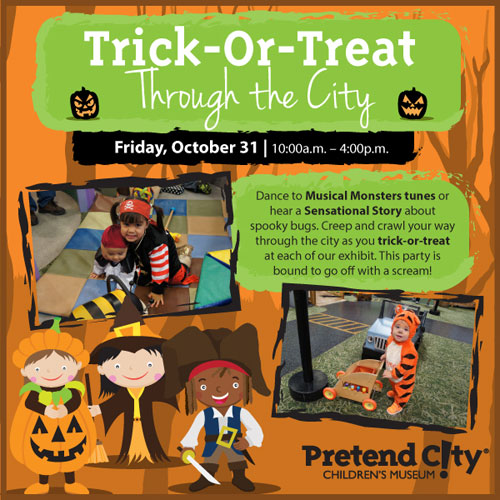 Here are a list of fun activities and adventures happening during the month of October at Pretend City:
Wednesday, October 1: Grand Opening of Bug Appétit Café! Open 10/1-31
There's a new café in town inspired by creepy and crawly "cuisine" from around the world!  Visit the Bug Appétit Café for an unforgettably creepy and cool dining experience!  Its juicy new menu includes Crickety Kale Salad, Grasshopper Gumbo, and Fried Rice-A-Worm.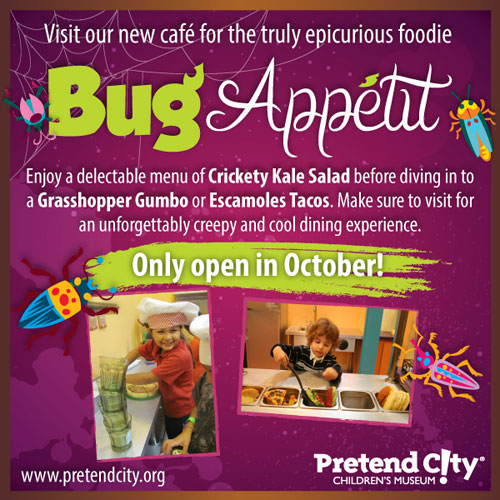 Monday, October 13: Baby Steps through Pretend City!    
Time:
2:00-3:30p.m.  Babies will delight in a pumpkin patch party! Bring your little ones dressed in their Halloween attire for a special Falloween Fun Baby Steps Event. Visiting Pretend City and participating in this exclusive 
infant and young toddler only
time be a great way to start a fall tradition in your family. Your baby will love painting pumpkins in the Art Studio. See how many bumpy, plumpy pumpkins you and your baby can find in our city! 
Friday, October 17: Kids Reptile Party
Time:
11:00a.m. Join our Kid's Reptile Party where a fun crew will present a variety of colorful, unique, and exciting reptiles, amphibians, and critters to Pretend City! A few of the party animals include Fred the Savannah Monitor, Carlos the large African Bullfrog, and our show stopping 100 pound Python, Fluffy. This presentation will include fun facts about each animal, like where they are from and what they eat – and you can ask anything you'd like to know as well. This reptile demonstration is a hands experience! Each child will have the chance to touch and hold the animals during this live animal show. Don't miss this party!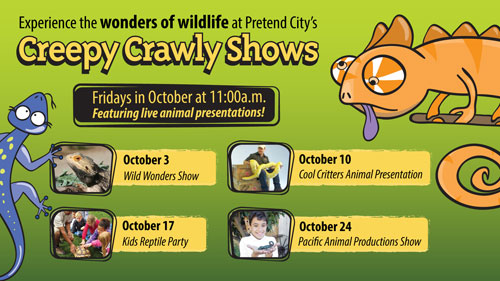 Friday, October 24: Pacific Animal Productions Show 
Time:
11:00a.m. Get ready for an exciting animal show! Grown-ups and children will learn about conserving wildlife and endangered species while "ooh-ing" and "awe-ing" at the wonders of wildlife. This isn't your typical lesson! Children will have the chance to engage with the animals by seeing and touching some of them. 
Monday, October 27: Family Autism Event 
Time:
5:00p.m.-7:30 p.m. This special evening is an opportunity for children and their parents/siblings/caretakers to have some fun in an autism-friendly environment along with other families. Many of our community partners, who specialize in supporting children on the autism spectrum, will be on-hand to enrich your family's play experience with welcoming smiles and practical support. If you would like to visit our museum prior to the event (adult only pre-tours), you are welcome to stop in on Tuesday, October 21, 2014 from 10:00a.m.-11:00a.m. or 4:00-5:00p.m. 
Friday, October 31: Trick-Or-Treat Through the City 
Little ghouls and boys will have a howling good time at our Halloween Bug Bash! There's something for every little trick-or-treater – even those of the two-legged variety. Come dressed to thrill in our creaky critter city.  Creep and crawl your way through the city as you trick-or-treat at each of our exhibit spaces every 2 hours. This party is bound to go off with a scream!
Friday, October 31: Healthy Halloween 
Time:
11:00a.m. With the chance to dress up in costume and stock up on sweets, Halloween is the highlight of the year for many children. But since it's high season for candy, it can also be an frustrating time for parents who encourage kids to eat healthy foods and make sweets a limited part of a balanced and nutritious diet. Not to fear Dr. Riba is here! Dr. Riba's Health Club team will join us to share fun activities, tips and tricks to help encourage your children to stay healthy this Halloween!
About Pretend City Children's Museum
Pretend City Children's Museum features a small, interconnected city designed to "build better brains" through purposeful play, hands-on learning experiences, role playing, and educational programming.  As a non-profit 501(c)(3) organization serving all children, it depends on community-based funding and guest support.  Through 17 interactive exhibits and activities guided by a highly trained professional staff, children learn foundational math, reading and science skills, while fostering curiosity, creativity, critical thinking, problem solving, organization, teamwork, self-confidence and socialization.  The museum is a unique community resource offering developmental screenings and tools for families, educators and community agencies working to ensure that each child gains the experiences needed to discover their potential and build toward a productive and fulfilling future.  Pretend City Children's Museum is located at 29 Hubble, Irvine, CA 92618. For more information, please visit www.pretendcity.org.