A sponsored post on behalf of Brilliant Baby Products containing affiliate links.
In support of National Breastfeeding Awareness Month, I'm partnering with Brilliant Baby Products to host a giveaway! Brilliant Baby Products offer a great selection of nursing products from Milk Flow supplements to beautiful nursing dresses.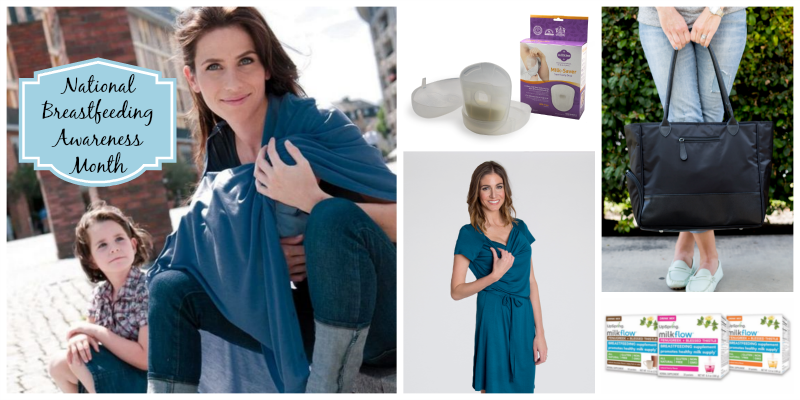 When my son was born, we were in a little of a panic. Unprepared, I wound up in the hospital at 33 weeks due to Pre-Eclampsia. At 35 weeks, I was induced and my son was quickly whisked off to the NICU. My blood pressure skyrocketed after delivery and the nurses shut off my phone, turned off all outside distractions and told me that I was not allowed any visitors for fear of a stroke. Because of this, I was unable to nurse my son the first day and a half. Thankfully, once I had stabilized, I was able to begin nursing, initially what I planned to do.
Here are some of the best products on the market that make it easier and support successful breastfeeding: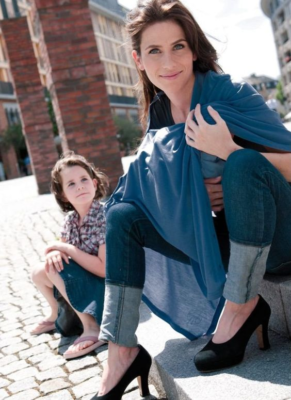 Allover Nursing Cover  – A super soft, wash and ware nursing cover made of breathable and hypoallergenic Lyocell (a lightweight fabric). This nursing cover is made by Lassig and can be worn as an accessory: neck scarf, stole, bolero and a cape. Value $40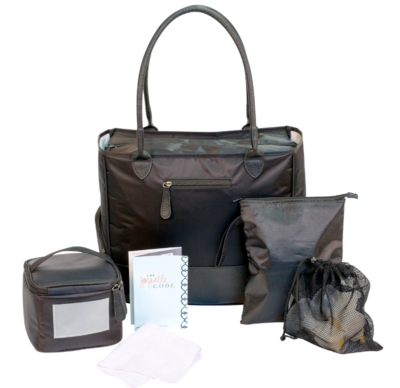 jay elle Breast Pump Bag – A breast pump bag and accessories is perfect to disguise your breast pump and key essentials while you're out and about. This 6-piece set includes the Carry Bag, innovative Cooler Bag, Wet Bag, Accessories Bag, Dry Cloth and jay elle C.O.D.E. Handbook. My favorite part about this pump bag is that for every Breast Pump Bag purchased, jay elle will donate $1 to support breastfeeding moms. Value $99.99
Chic Cowl Nursing Dress – This adorable dress is something I wish was around when I was breastfeeding. A flattering cowl neck dress that makes breasfeeding and pumping super easy. The patent-pending inside flap, included in every Udderly Hot Mama® nursing garment, provides extra privacy during a feeding. When baby is weaned, you can easily remove it and add your top to your everyday wardrobe. Value $59.99
Milkflow™ –  If you're having issues with keeping up with your milk supply, Milkflow™ is an all-natural drink; an alternative to traditional lactation teas. Value $14.99
Milkies Milk-Saver –  Have issues with leaking while you're pumping? Simply slip the Milk-Saver into your bra-cup on the non-nursing side before you breastfeed. The Milk-Saver collects the milk that is leaked when your breast milk lets down. You can store this milk and save it for any time it's needed. Value $28.99

GIVEAWAY
Win a Brilliant Baby Products Prize Pack that includes: Allover Nursing Cover, Milkies Milk-Saver  and Milkflow™ ($85 Value)
a Rafflecopter giveaway

Giveaway ends Aug 9, 2016 at 11:59 PM PST. Open to US Residents 18 and older only.  Tickets will be mailed directly to the winner's home (or mailing) address.  Winner will be selected at random and be notified by email. Winners have 48 hours to respond before a new winner is selected. Not liable for unclaimed prizes or fulfillment. Blog has represented each sponsor with the expectation they will fulfill their prize and in a timely manner. No purchase necessary to enter or win; however you must enter for a chance to win. Purchase does not increase chance of winning. Chances of winning depend on number of entries. My opinions are my own and were not influenced by any form of compensation.  Facebook, Twitter or any other social media platform are in no way associated with this giveaway.  By providing your information in this form, you are providing your information to this blog.  I do not share or sell information and will use any information only for the purpose of contacting the winner. Winners can only win once per month. Not liable for unclaimed prizes or fulfillment.