Over the weekend we had the opportunity to attend our first Monster Jam at Anaheim Stadium and Handsome boy was mesmerized!

I had taken the kids to the OC Fair over the summer to see the Monster X Tour so all I expected to see was a few trucks and drivers showing off with stunts and smashing vehicles, but I was wrong…Monster Jam was incredible fun for the whole family, especially if you are fans of anything on four wheels like my Handsome Boy.  First off, out comes the line up of trucks – WOW, I don't even think my boy blinked.  He was just fascinated with the cars, Mohawk Warrior being his favorite.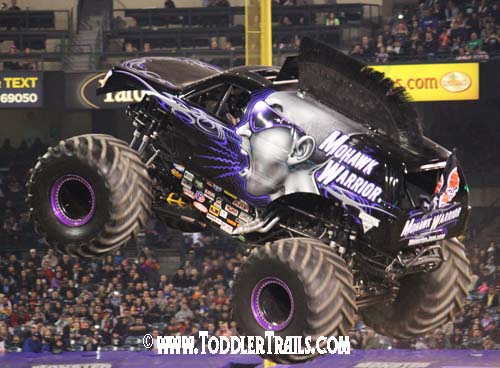 Then the racing began.  The qualifying heat included two trucks squaring off in a man made course which included obsticles and jumps to entertain the crowd.
Monster Jam Racing Round 1:
El Toro Loco® defeated Grave Digger®,
Mohawk Warrior® defeated Shocker
Northern Nightmare℠ defeated Detour
Monster Energy defeated El Diablo℠
Batman™ defeated Obsession
Iron Man™ defeated Titan
Time Fly's defeated Obsessed
Monster Jam Racing Round 2
Northern Nightmare defeated El Toro Loco®
Mohawk Warrior® defeated Obsession
Monster Energy defeated Iron Man™
Batman™ defeated Time Fly's
Monster Jam Racing Semi Finals
Mohawk Warrior® defeated Northern Nightmare
Monster Energy defeated Batman™
Championship Round of Monster Jam Racing
Mohawk Warrior® defeated Monster Energy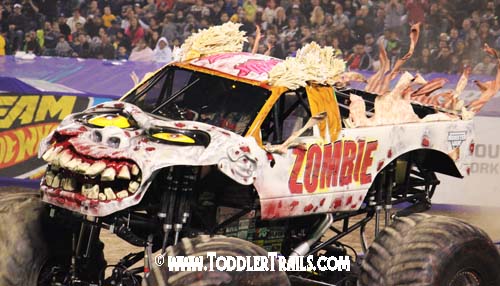 Just before intermission, there was another race, but with unique vehicles…and trailers.  This was the funniest race I think I've ever scene.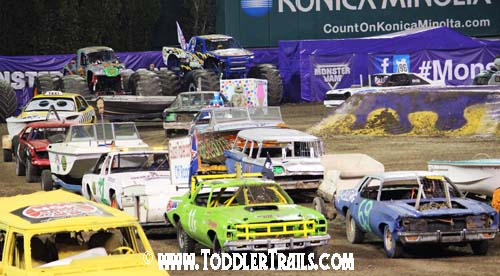 The crowd went nuts, rooting for their favorite vehicle.  We saw boats and trailers – flying, balloons launched out of the ice cream cart and a teddy bear win the race!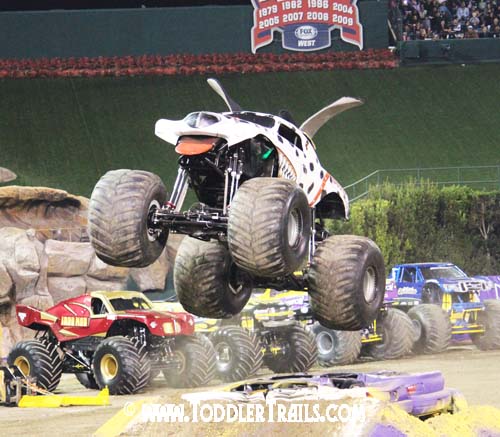 When the trucks returned, it was time for the Free Style event.  This event included high flying trucks, smashing obsticles, crashes, broken axels, stuck trucks and the most incredible recoveries.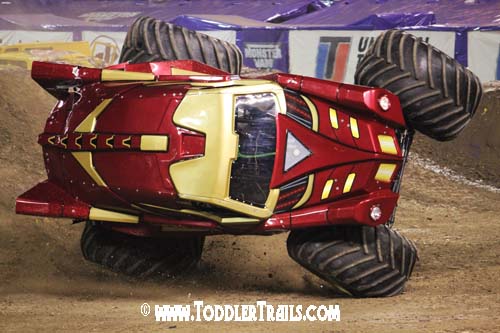 The victor – Grave Digger!!!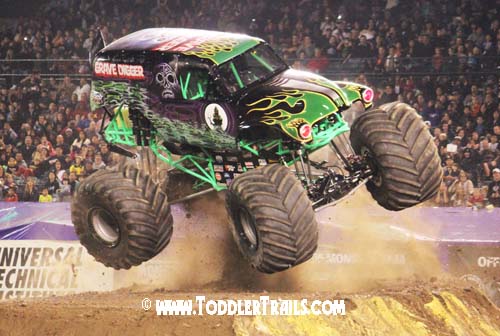 Helpful Tip:  If you are planning on taking the family to Monster Jam, make sure you check the line up if you are going to see a particular vehicle.
Participating Monster Jam® Trucks on Jan 25th at Anaheim Stadium:
Grave Digger® driven by Jon Zimmer
Batman™ driven by John Seasock
Monster Energy driven by Damon Bradshaw
El Toro Loco® (Yellow) driven by Becky McDonough
El Diablo℠ driven by JP
Mohawk Warrior® driven by George Balhan
Northern Nightmare℠ driven by Cam McQueen
Monster Mutt℠ Dalmatian driven by Taryn Laskey
Iron Man™ driven by Lee O'Donnell
Zombie℠ driven by Sean Duhon
Obsession driven by Rick Swanson
Obsessed driven by Eric Swanson
Titan driven by Donald Epidendio
Time Fly's driven by Kelvin Ramer
Detour driven by Garret Ladelle
Shocker driven by Pat Gerber
When talking to my family about the event, we all LOVED everything!  The trucks were incredible and my handsome boy was so glued into the show, he barely uttered a word.  Could also be because we came prepared with noise cancelling headsets.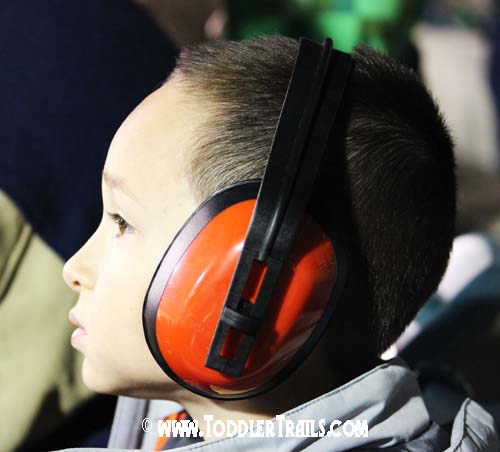 Helpful Tip: You'll want to protect little ears because the engines are quite loud, leaving your ears ringing long after the show.  Pick up either noise cancelling headsets or ear plugs from your local hardware store.
You can still catch the next show!  Tickets are now on sale for the upcoming February 8th performance of Monster Jam:
MONSTER JAM
Angels Stadium
February 8th, 2014 Prices start from $25 for Adults; Kids (2-12) $10 Tickets are available for purchase online at www.ticketmaster.com, the Angels Stadium Box Office or by phone at (800) 745-3000.
Disclaimer: Received family tickets to Monster Jam, however opinions are my own.