Over the weekend we decided to take the family out for a rip roaring, high flying great time at Monster Jam at Angels Stadium.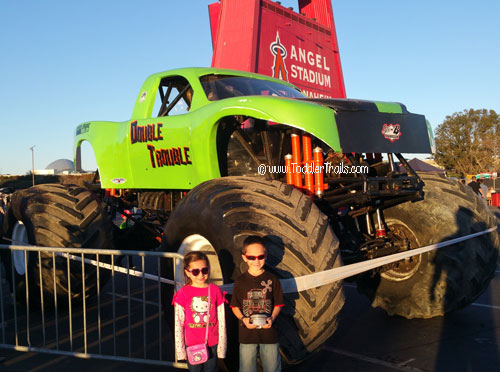 Since we went to the event last year, we have become excited Monster Jam fans. The Hubster and my little guy are now collecting as many mini Monster Trucks they can find at local toy stores or even online, so it's quite a treat when they can see these giant cars up close.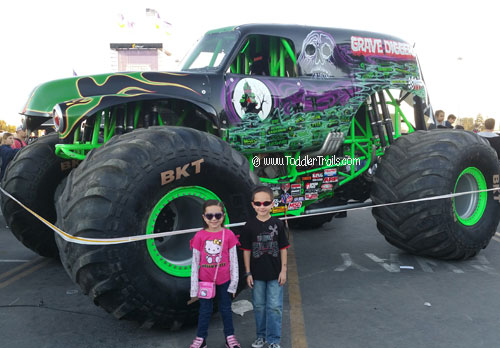 We started off our Monster Jam family day with the Pit Party. For any Monster Jam fans, this is the ultimate experience. For an additional fee, you can meet the drivers, get autographs and photo the trucks you will later see in the racing and free style events.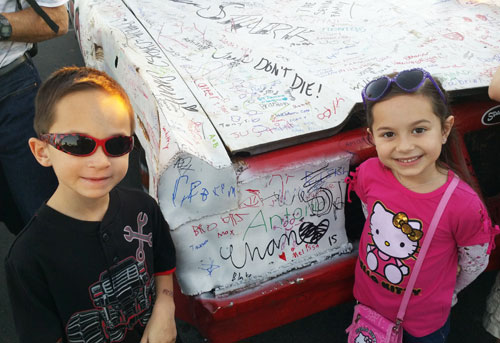 We even had the opportunity to add our own personal touch to a few of the cars that were to appear later in the racing segments – and root for the ones we added our own art work to.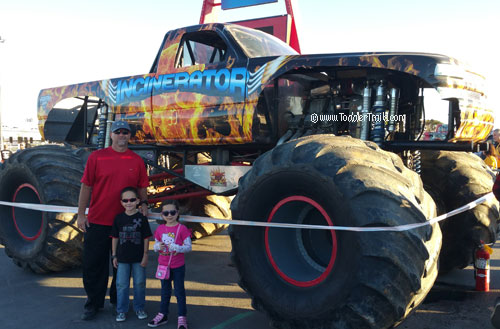 The Pit Party started at 2pm and goes until 5pm. Unfortunately, we didn't get there soon enough, but some fans even had the opportunity to ride one of the Monster Trucks for an additional fee.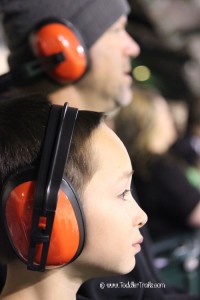 After we picked up some dinner, we headed out to the show. With little ears, I completely recommend picking up some noise cancellation head sets or ear plugs. We even picked up a couple of sets for us, as I was suffering from an ear ache that night.
I just loved this image of my little man – totally mesmerized by the show. His favorite, Mohawk Warrior raced like a champion until the truck broke down from a particular land. My princess, a big fan of Candice Jolly and Monster Mutt Dalmation was super pumped she made it to the final round of the race, until she too broke down.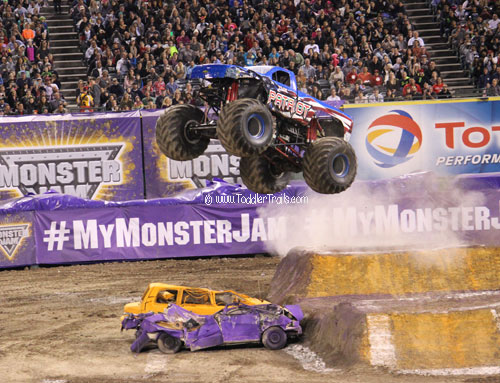 Then it was on to the high flying action of the free style. As the crowd got louder and louder, we watched some amazing jumps, spins and even a couple of back flips…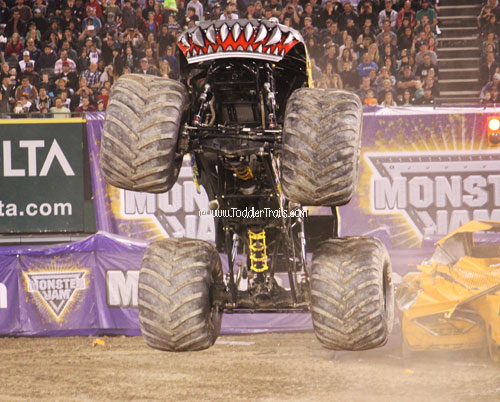 The above Monster Truck, Hot Wheels impressed the crowd attempting the first back flip, and successfully landing. Bummed I switched to my camera phone for photos, I completely missed shots of his daring stunt.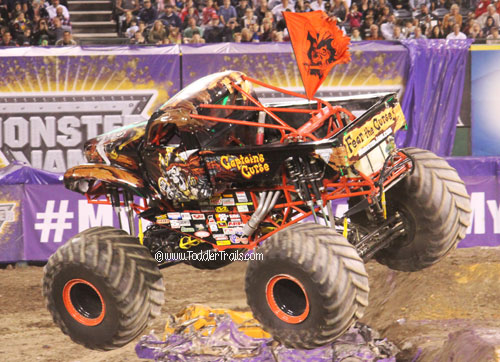 However, I did catch Captain's Curse attempt to beat Hot Wheels out of the lead with his own back flip – see the slide show below:
Want to see a bit more? Check out Grave Digger's freestyle:
And check out Mohawk Warrior's freestyle:
https//www.youtube.com/embed/n0w3FVxiTyM
Monster Jam will be back in Anaheim on Saturday, February 7th! Don't wait to pick up your tickets, order them now at MonsterJam.com. Also, don't forget to pick up those Pit Party passes and make an exciting day of it!