Back in May, I was invited to get a sneak peak behind the scenes of the Timber Mountain Log Ride, one of the oldest log flume rides in the country; right here in Buena Park, CA at Knott's Berry Farm.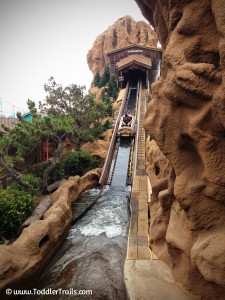 With the anticipation of the re-opening of the ride, I have been telling my family about it. When we received an invitation to the family media day, the kids were running around jumping up and down.
A little history: The Calico Log Ride, as it was originally named, takes guests through an 85-foot-high by 330-foot-long mountain range themed to a nineteenth-century lumber camp.  The ride, housed in an eight-story building, includes 24,000 gallons of water that circulates free floating logs past a variety of mechanical figures and taxidermied animals culminating in a forty-two-foot free fall.  The much anticipated attraction opened in July 11, 1969 with screen legend John Wayne taking the inaugural ride.  

In January, Garner Holt Productions of San Bernardino started the revitalization project that is expected to take five months.  The reopened  Timber Mountain Log Ride is now open and you'll find 40 animated human forms and 12+ recreated animals.
Some fun facts:
The support beams of the Log Ride are actually disguised as trees throughout the ride.  

Originally there were 3 taxidermied animals, now there will be around 12 that will be taking over a camping scene – fun, right?

The original flume and logs are still in in use.
The reservoir holds over 400,000 gallons.
Over 100 different types of folliage can be seen throughout the ride.
The day arrived for "family day at Knott's" and handsome boy had come down with a fever the night before.  Since he was feeling so bad, he and Dad decided to stay home while I took the Princess to check out the Log Ride and Boardwalk.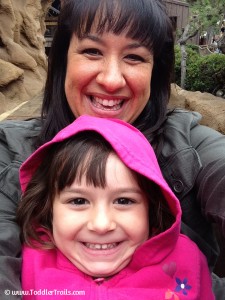 In my lifetime, I must have been on the log ride 20-30 times.  So I was REALLY excited to check out the enhancements.  First thing I notice: there is now a height restriction.  Riders must be 36 inches to ride the Timber Mountain Log Ride.  Love that they added this safety feature!  Since Princess is 37 inches, she was able to ride.
We get in line, and I notice she is getting a little nervous.  So I tell her that its a big kid ride and we're getting into alog, goes kinda fast, but we'll be safe, and that there's a drop – a small one.  So we jump on, still nervous, she holds on tight.  We float round and round, weaving our way through the flume.  Then we hit the climb.  She was still unsure, but I told her to get ready….and down we decend, 38 feet into the pool below.  I quickly cover her face (she hates being splashed with water), and disembark.  As we make our way to the picture stop, I ask her if she liked the ride.  "Um no", she says.  The picture said it all – she looked frightened.
We headed on over to the Boardwalk so she could try the Surfside Gliders and the Pacific Scrambler.  On our way back home to check on the sickie, we stopped for her favorite: face painting!!!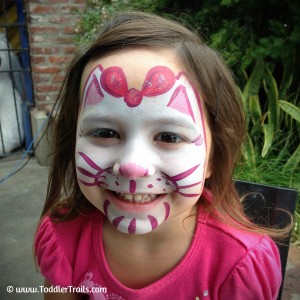 I must say, their face painter – super friendly, and very quick!  Princess was certainly happy with the results.
While in the car, we talked about the rides.  Did she like them all?  YES!  Her favorite – Timber Mountain Log Ride!  WHAT?  I was confused, but that was all she talked about with Dad and brother.  Knott's, it's still a family favorite – even my 4 year old thinks so!