Disclosure:  I was contacted by Yogurtland who asked for my participation in sharing the news about the upcoming flavors with character Yogurt Parties across Southern California.  All opinions are my own.
This summer Yogurtland will introduce 6 delicious Looney Tunes inspired flavors with character from July 8 – Sept. 15.   Bugs, Daffy, Road Runner, Tweety, Marvin and Taz are Yogurtland with their favorite snacks, treats and collectible spoons and cups!  Yogurtland will also be offering a new line of co-branded merchandise including notepads, pencils, key chains and melamine bowls, while supplies last.
The fun begins on July 8th 11:00am at participating Yogurtland locations* with character appearances, prizes and free yogurt parties.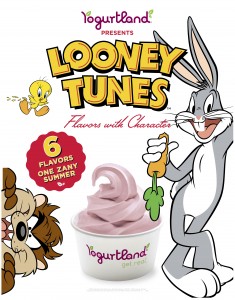 The new flavors include:
• Yogurtland's new Carrot Cake frozen yogurt blends real carrots, hand-selected spices and cream cheese frosting for a taste that will have fans saying, "What's up, Doc!" Bugs Bunny would be the first in line to fill his cup with shredded carrots, Yogurtland's first vegetable topping.
• Inspired by Daffy Duck, Decadent Dark Chocolate Orange frozen yogurt blends premium cocoa with a light natural orange finish for a flavor that's so decadent it's deth-picable! Top it off with dark chocolate, orange-covered cranberries.
• The best thing since the illudium Q-36 space modulator, Kosmic Fruit Kaboom Sorbet is out-of-this world delicious with pineapple, lime, banana and a secret ingredient – spinach. Need more Kaboom? Top if off with Pop Rocks for an added explosion of flavor. (59-cents per individual packet)
• On the delicate side, Lemon Cream Cookie frozen yogurt is a tasty "tweat" even Tweety Bird would "twy." Made with real cookies and lemon, this flavor will make putty tats jealous.
• Inspired by Road Runner, Cactus Berry Tart combines real cactus pear with Northwest marion blackberries, blueberries, and red raspberries for a light tart taste guaranteed to cool down even the hottest day in the desert. "Beep! Beep!"
• Taz would chew his way through anything to get to Yogurtland's Devil's Food Cake frozen yogurt. Top it off this untamed chocolate deliciousness with shaved curls of dark chocolate that will leave taste buds swirling.
GIVEAWAY
One Toddler Trails reader will win a $10 gift card to try out the new flavors with character at Yogurtland!!!
a Rafflecopter giveaway
 Valid for US Residents only. Winners will be randomly selected via RaffleCopter and be notified via email. They have 48 hours to respond or a new winner will be randomly selected the same way. Give-away winners an email on how to claim their prize.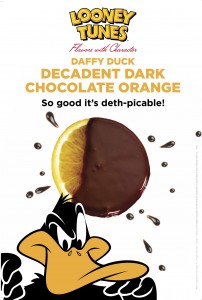 *Southern California Yogurtlands hosting a party:
Alhambra, Anaheim, Arcadia, Artesia, Beverly Connection, Burbank Media Center, Carson, Century City Mall, Chino Hills, Costa Mesa, Costa Mesa 17th St, Culver City, Dana Point, Downey Gateway, Encino, Fullerton, Garden Grove, Gardena, Ladera Heights, Lakewood, Manhattan Beach, Mira Loma, Miracle Mile, Mission Viejo, Monrovia, Northpark, Northridge, Plaza Mexico, Redondo Beach, Reseda, Rossmoor, San Pedro, Temecula, The Quad – Whittier, Torrance, Universal City Walk, USC Gateway, Village at Orange, Village Del Amo, Wilshire and Vermont.
 For more information about Yogurtland or the upcoming events happening in participating locations visit their sites below: Website:
https://www.yogurt-land.com/
Facebook:
https://www.facebook.com/yogurtland
Twitter:
https://twitter.com/yogurtland
Pinterest:
https://pinterest.com/yogurtland/