It's that time of the year, where the kids get all excited for the sights and sounds of the LA County Fair. As a "Dare To Fair" LACF Social Ambassador, I was invited to take my family out for an amazing day at this year's LA County Fair with complimentary tickets in exchange of sharing our experience (all opinions are our own). From now through September 25th families can enjoy farm animals (even feed a giraffe), amazingly delicious food creations, carnival rides and games and the opportunity to visit numerous vendors exhibiting their goods and services. Plus several new additions you're not gong to want to miss out on.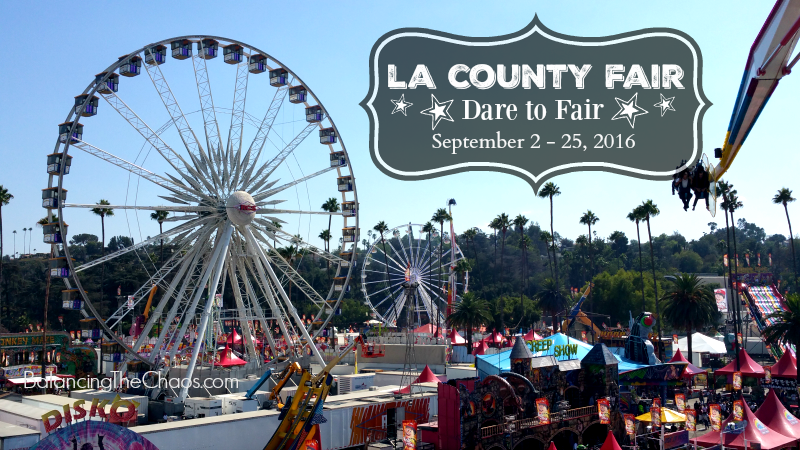 We decided that Labor Day weekend, opening weekend, was the perfect time for us to make our way out to the LA County Fair. The hubster and I were excited to try some of the spectacular food creations by some of our favorite vendors, while the kids were looking forward to the carnival rides, games and animals. New attractions to the LA County Fair this year include:
Jurassic Planet: Does your family like dinosaurs? Thirty-five life sized dinosaurs have escaped the Fairplex Bio-Research Facility and are roaming around the fairgrounds. Kiddos will enjoy snapping photos with these incredible beasts.
Our Body, The Universe Within: This imagined "bodies" exhibit features 200 uniquely preserved human specimens. You'll have the opportunity to get a 3D view of the body, typically only reserved for physicians. (I would not recommend sharing this exhibit with young children)
Let The Games Begin: Are you into sports? This year, explore the origins and science of America's "Big Six" sports: baseball, football, basketball, hockey, soccer and golf.
The Igloo: If it gets too hot, stop into the Igloo, an Artic Village with a Polar Ice Rink and a Penguin Sled Run. After 6pm, enjoy an all-ages dance party with periodic snow falls.
Watercolors, The Art of Flowers: Explore real-life recreations of famous paintings, walk-through landscapes and classes taught by onsite floral experts.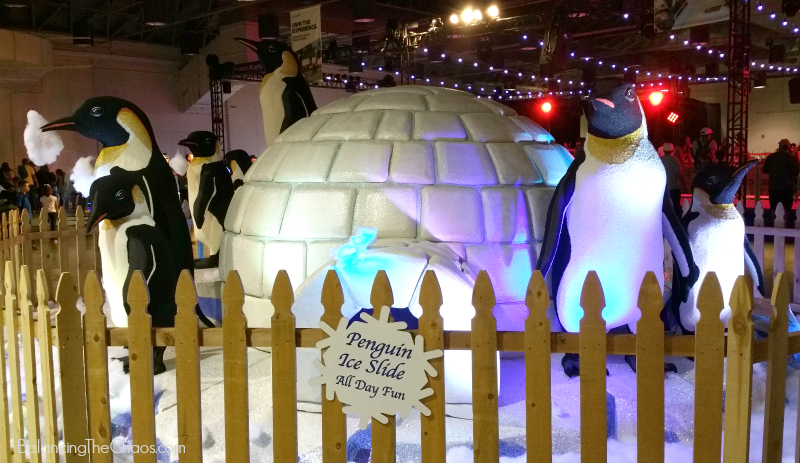 As a family, our favorite thing to do this year at The LA County Fair was feed Stanley, a beautiful 3 year old giraffe on exhibit. This loving TALL guy, graciously accepted food pellets from adoring "children" of all ages. For a $10 donation, groups of 2-3 people were invited to get up close enough so Stanley can eat out of the palm of your hand. This is a great opportunity to snap a quick selfie with Stanley too!
Since my kids are ALL about the rides, wrist bands are the best value. For $50 you have unlimited access to rides until 7:00pm. This gave the kids the opportunity to ride whatever they wanted, run through as many fun houses as possible, and do it again!!! We ended up picking up wrist bands for ourselves too so we could ride some of the attractions with them.

Fair food is crazy fun! Imagine, Churro Ice Cream Sandwiches, Chili Relleno Pretzel Burgers, Mexican Funnel Cake, Chicken & Waffles on a Stick, Deep-Fried Hot Sauce and more!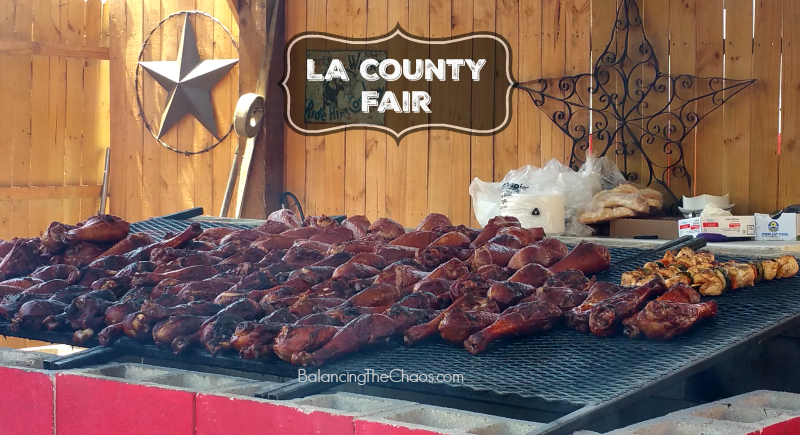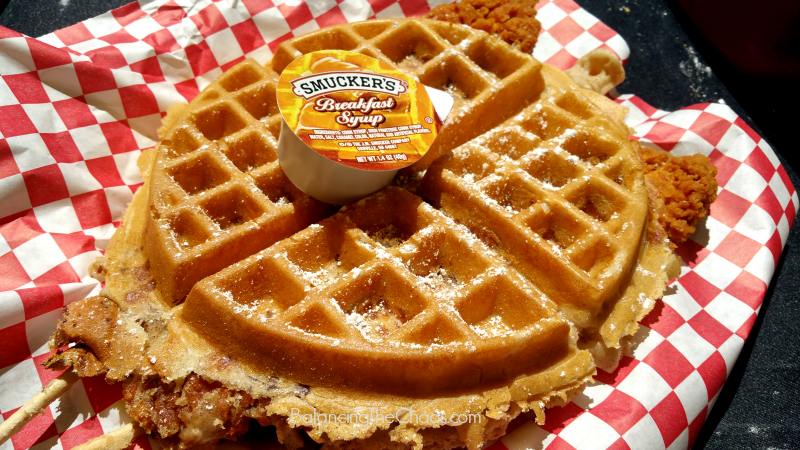 Chicken Charlie's Chicken & Waffle on a Stick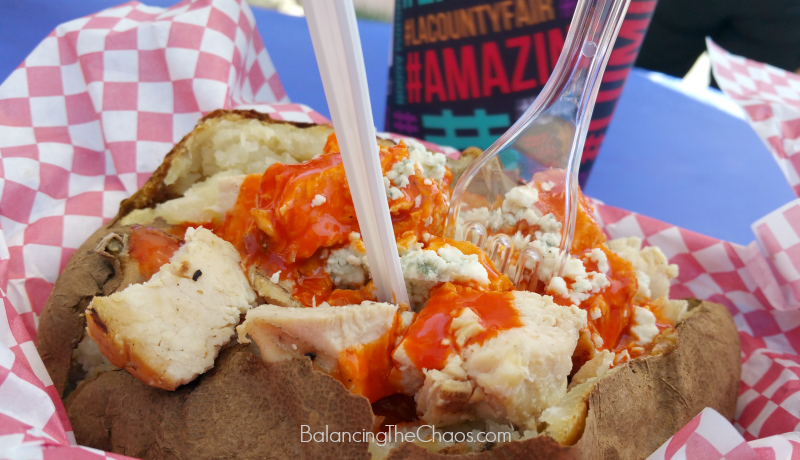 Spud Ranch's Blazing Buffalo Baked Potato
Plan your family fun filled day with all that the fair has to offer! We started off on rides at 11am, and ended with farm animals and shopping by 9:30pm. Tired and sore, we had a fantastic time! Looking forward to going again when we have a chance! Check out the details on hours, admission and a giveaway below.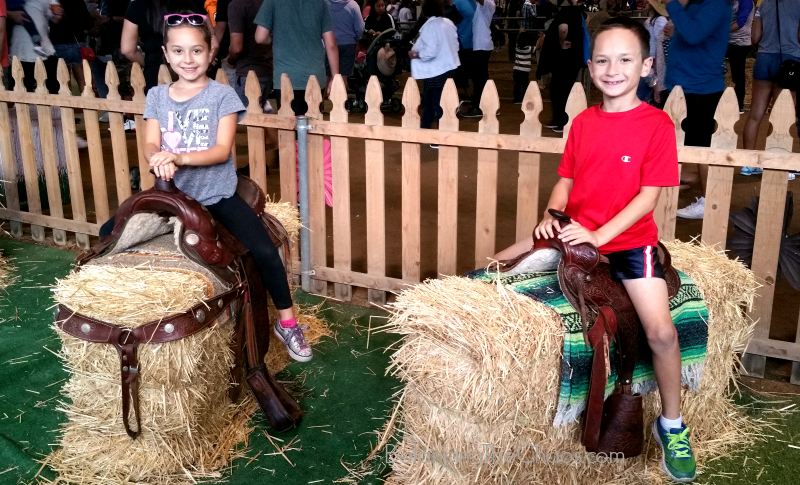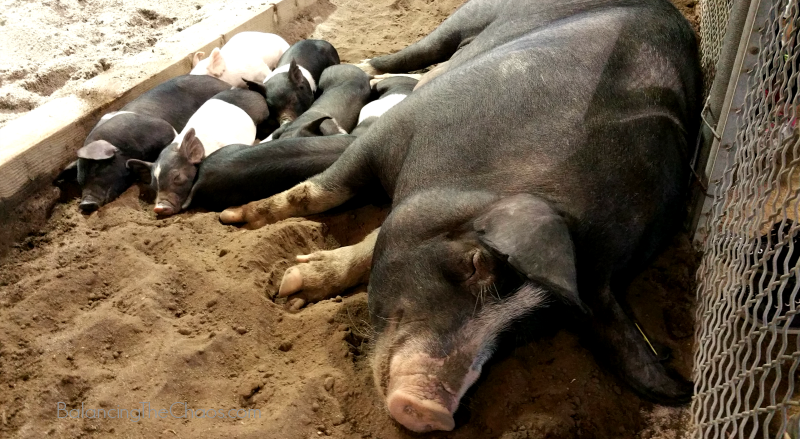 REGULAR ADMISSIONS
Season Pass $29.99
WEEKDAYS
Adults, 13+: $14;  Child, ages 6-12: $8;  Seniors 60+: $10
WEEKEND:
Adults, 13+: $20;  Child, ages 6-12: $12;  Seniors 60+: $15
PARKING:
General Parking $15;  Valet/Gate 3 $30;  Season Pass $60
REGULAR EVENT HOURS  (Sept. 2 – 25)
Closed Mondays & Tuesdays
Wednesdays noon-10 p.m.
Thursdays noon-11 p.m.
Fridays noon-midnight
Saturdays 10 a.m.-midnight
Sundays 10 a.m.-10 p.m.
For more information, connect with them via WEBSITE, or TWITTER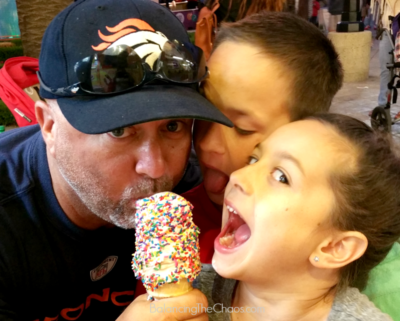 About the LA County Fair – Sept. 2-25, 2016, at Fairplex in Pomona:
The 94th anniversary of America's largest county fair in fun and acreage includes all-new Jurassic Planet, featuring 35 animatronic dinosaurs; a reimagined "Our Bodies" exhibit; the ultimate hand-on sports experience; a summer ice-skating, snow-sledding village; walk-through floral paintings; the 16-night End of Summer Concert Series; and a carnival midway, farm and exotic animals (including a giraffe!), exclusive food, shopping and entertainment. Closed Mondays (except Labor Day) and Tuesdays.
Visit www.LaCountyFair.com for admission, hours and more information, or call (909) 623-3111.