Kid Friendly Recipe: Simple Beef Skewers is product review/recipe feature on behalf of Snapware and World Kitchen LLC.
We've finally made it to 2016, and I've decided it's time to start pre-planning. Eating right seems to be the natural topic of New Year's resolutions so in order to do so, I MUST get the kiddos involved or it's never going to work. First up, a Kid Friendly Recipe: Simple Beef Skewers.

This year, my mini me has BIG plans to work in the kitchen. In fact, she received her very own Easy Bake Oven, Mixer a cookbook, her very own Snapware set and more.  So naturally I decided she needed get her hands dirty and start off with her first meal of the year with these Simple Beef Skewers.
She started with the pre packages and cut up chuck beef from the grocery store and placed the meat in one of the square snapware containers. She used approximately 1 cup of her favorite teriyaki sauce and added about 2 tablespoons of the pineapple juice from the can; mixed and poured over the meat to marinade.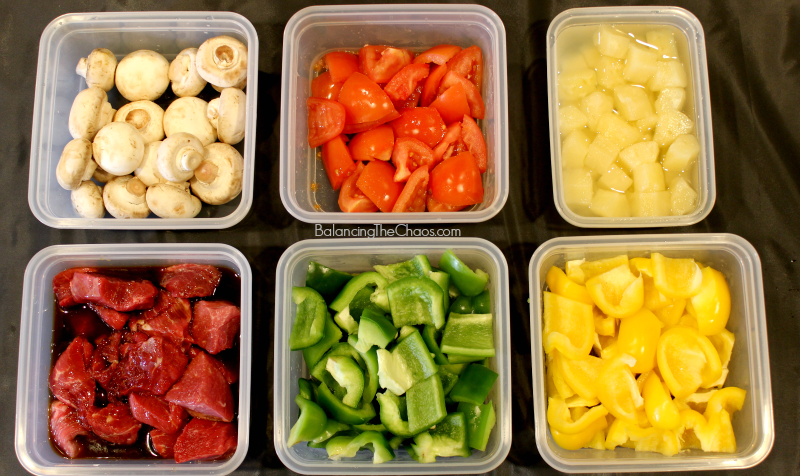 Granted most kid friendly recipes need a little help from mom or dad, so I volunteered to be the official chopper. She rinsed the vegetables, peeled off the stickers and handed to me while I chopped into the right sizes. Then she filled the containers and snapped the lids shut and stacked in the refrigerator.
Once we were finished with the preparation, it was time to assemble. I layed down a plastic table cloth because I knew things were going to get a little messy with little fingers involved (makes cleanup a snap). Then my mini chef was off and running. She lined up the Snapware containers according to how she wanted them assembled and got to work.
Kid Friendly Recipe: Simple Beef Skewers
1 lb Beef (We used pre-cut up chuck beef)
1 Onion
2 Green Bell Pepper
2 Red or Yellow Bell Pepper
3 Medium size tomatoes or 1 container cherry tomatoes
1 Container of Mushrooms
1 Can Chunk Pineapple
1 Cup Teriyaki Sauce
Bamboo Skewers
TIP: Be sure to soak bamboo skewers 20 minutes before assembly so the skewers do not burn while cooking.
Once assembled, the skewers were handed off to dad for barbecuing.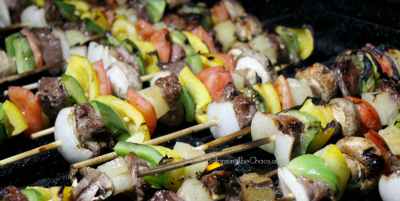 What we love about our new Snapware is that they are BPA-Free containers that I feel confident they are a safe storage solution for our food. We loved that the four-latch locking lids are durable and easy to open and close, my daughter had no problem snapping them shut so they were airtight and leak-proof (a must with mini chefs).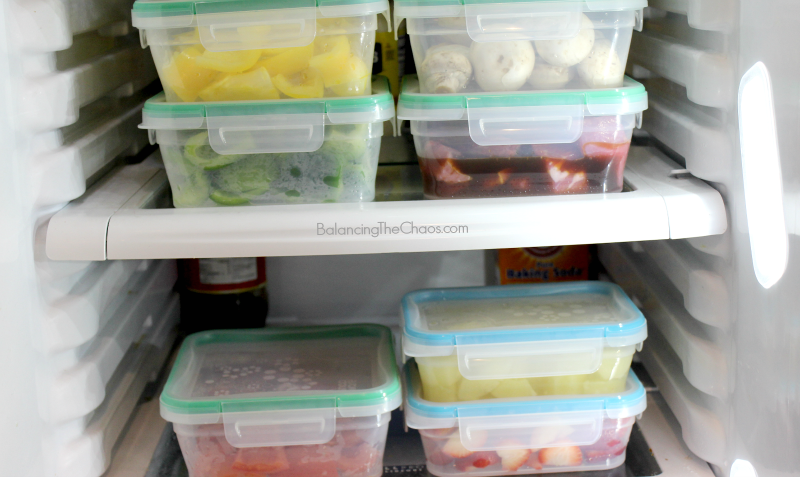 Most of us have refrigerators that we'd be ashamed to snap a picture of; am I right? Check out how "pretty" my refrigerator looks with these awesome Snapware plastic food storage containers. They are great space savers, and are designed to "nest" into each other – no slipping and sliding or spilling when you reach for that particular container. The lids are color coordinated based on size, and fit both plastic and glass containers made by Snapware.
My initial reason for switching over to Snapware from my usual preferred containers is that they are great for the microwave, refrigerator, freezer and dishwasher. That and the square design makes Snapware the TOTAL solution of plastic food containers for our RV and more.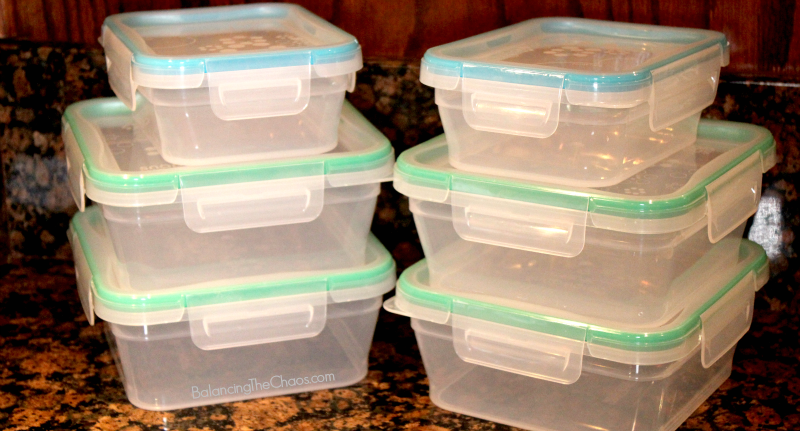 Snapware comes in all shapes and sizes, and for this recipe, we used Snapware Total Solution Plastic Food Storage (5.35 cup, square) containers and (3.01 Cup) containers both currently available at Shop World Kitchen. ALERT: If you hurry, they are currently on sale too!
GIVEAWAY
Enter to WIN your very own set: Five (5) Snapware Total Solution Plastic Food Storage Containers (5.35 cup, square) and Two (2) Snapware Total Solution Plastic Food Storage Containers (3.01 cup, square)
Giveaway ends January 28, 2015 at 11:59 PM PST. Open to US Residents 18 and older only. Tickets will be mailed directly to the winner's home (or mailing) address. Winner will be selected at random and be notified by email. Winners have 48 hours to respond before a new winner is selected. Not liable for unclaimed prizes or fulfillment. Blog has represented each sponsor with the expectation they will fulfill their prize and in a timely manner. No purchase necessary to enter or win; however you must enter for a chance to win. Purchase does not increase chance of winning. Chances of winning depend on number of entries. My opinions are my own and were not influenced by any form of compensation. Facebook, Twitter or any other social media platform are in no way associated with this giveaway. By providing your information in this form, you are providing your information to this blog. I do not share or sell information and will use any information only for the purpose of contacting the winner. Winners can only win once per month. Not liable for unclaimed prizes or fulfillment.
For more information about Snapware Total Solution Plastic Food Storage connect via social media: Website; Facebook; Twitter; Instagram and Pinterest.
About World Kitchen:
From bakeware, dinnerware, kitchen and household tools to range-top cookware, storage and cutlery, World Kitchen, LLC., and its affiliates manufacture and market brands known and trusted around the world. World Kitchen brands include Corningware, Snapware, Pyrex, Baker's Secret, Chicago Cutlery, Corelle, and more!