As a HP Smart Mom Panel member, I received free products in order to host the HP #StickaPic Party. The opinions expressed here are my own.
It's been in the works for a few months, a get together with a few of my blogger friends. Several of us have been talking about getting together to just hang out, drink coffee, and be girlfriends without taking photos, our heads in our phones and running from event to event. Then I was invited to host an HP #StickaPic party, and I knew I had a chance to jump at the chance to host a crafty party to get a few of us together.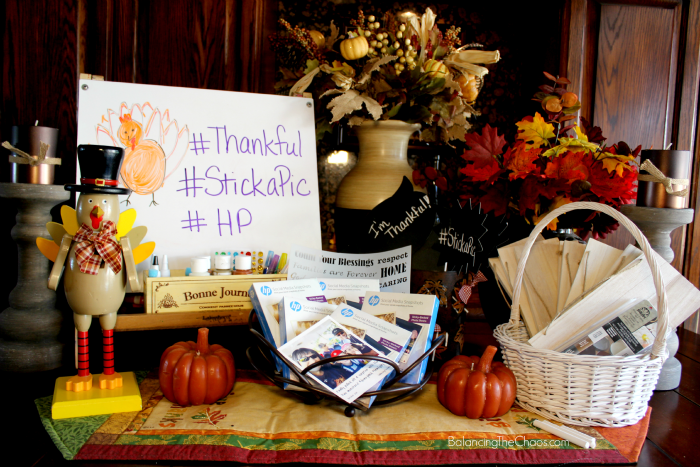 With Thanksgiving around the corner, I gave the girls an assignment. First, they had to take photos with their cell phones of what they are thankful for. Next, they needed to download the HP Social Media Snapshot app via iTunes or Google Play Store. I figured if they downloaded the programs before they got to my house, we could just dive into the fun.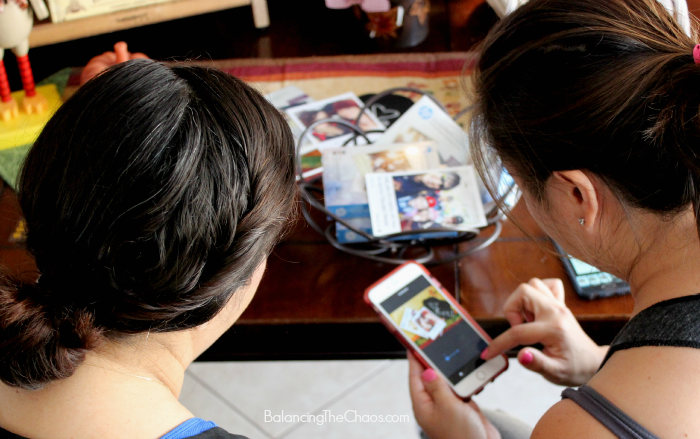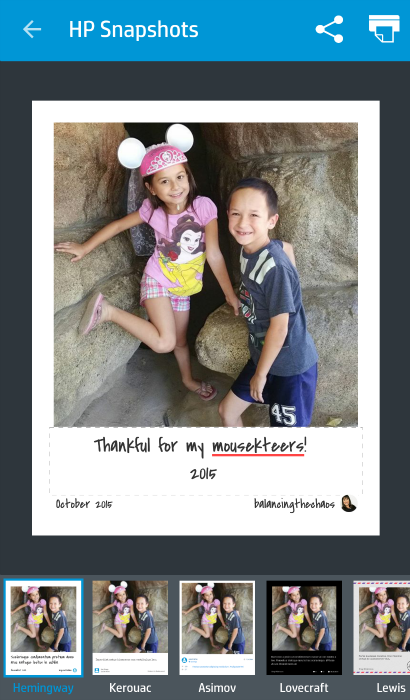 Once the girls arrived, we grabbed coffee and appetizers and dove right into creating. The girls opened their apps and decided where they wanted to grab their favorite photos from: Instagram, Facebook, Fickr or their smart phone photos.
Next, they chose photos representing what they were thankful for. In the  HP Social Media Snapshot app, the text originally entered into your social media post automatically comes up in the text field. You have the opportunity to edit the verbiage or even delete it all together and add fun frame.
For our project, some decided to print their images with text, dates and graphics while opted to crop off the extra paper.
TIP: when you print your pictures, remember to change the paper size to 4×6 so that it prints properly on the HP Social Media Snapshots sticky back paper.
TIP:Make sure you place your HP Social Media Snapshots sticky back paper face down so that the image prints on the correct side.
TIP: Be sure you have your paper lined up in the photo tray, or specified that you have special paper in your regular tray for print quality and eliminate paper jams.
Once the photos were printed, we started crafting!
I had made a stop at Michael's to pick up a few crafting supplies and I found these fantastic pieces of unfinished wood that had a rope attached for hanging (basically a wooden sign). They were the perfect item to attach our "Thankful Pictures".
We attached our photos to the unfinished wood and added embellishments like stencils, jewels and glitter. It was so great that everyone had their own vision and just dove into their artistic side.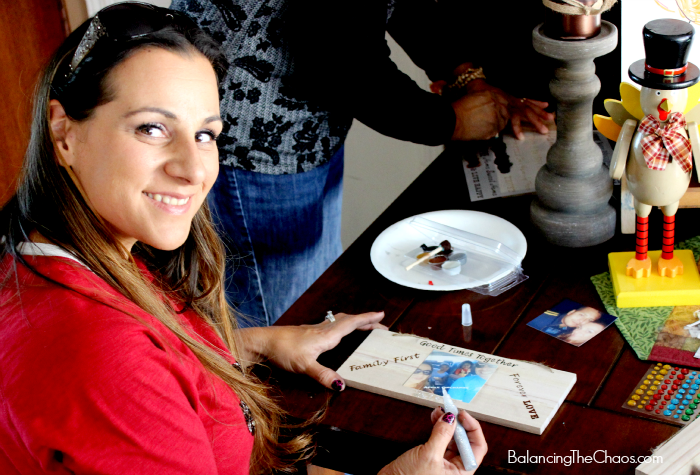 We all decided to use the stencils I had grabbed at Michael's and made fun family plaques. We were so happy with our creations, I think a lot of them will become holiday gifts!
Ready to start crafting? HP Social Media Snapshots sticky pages are currently available at Staples for $9.99. Pick up yours today so you can get creative right away.
Check out the video tutorial here:

One thing to note, some phones had a little bit of an issue finding my networked printer, but we shared photos and were able to get everyone's printed since my internet connection wasn't working so well.