Ready for classic Hollywood horror films to come to life? Universal Studios Halloween Horror Nights is back and frightening the masses on select nights, September 8th through October 31st with new scare zones and 9 terrifying mazes.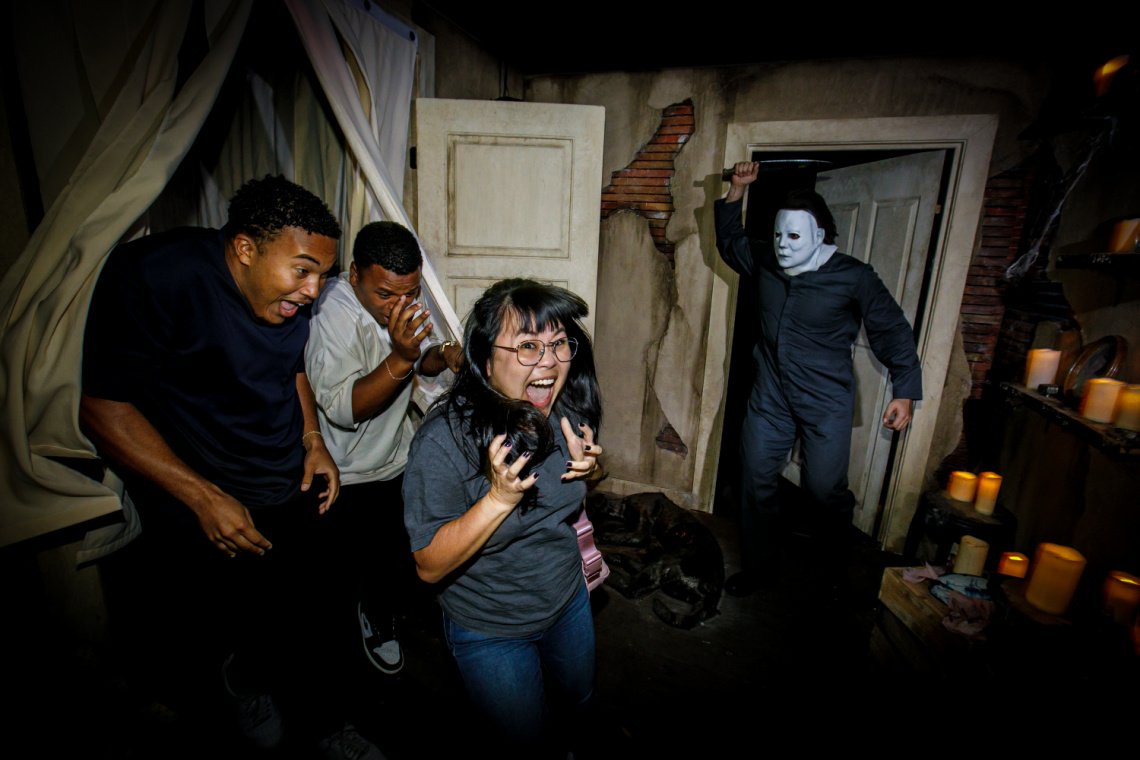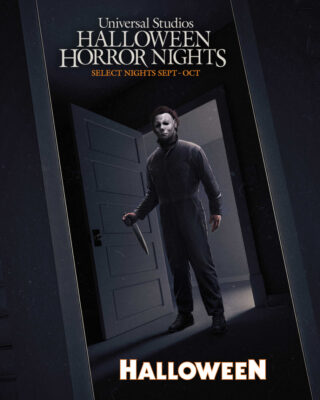 This year, John Carpenter's classic 1978 slasher film Halloween returns to stalk Halloween Horror Nights in terrifying haunted houses where guests come face-to-face with the merciless Michael Myers. Halloween is one of the most popular horror films of all time and too many fans, spawned the most-feared antagonist in horror movie history–MichaelMyers. As the franchise's latest trilogy concludes with Universal Pictures'release of "Halloween Ends" on October 14, guests will venture back to where it all began in "Halloween"–eerily authentic haunted houses that depict the most chilling moments from the critically-acclaimed original film.
This year's harrowing experiences will transport guests to the infamous town of Haddonfield, Ill. on Halloween night when Michael Myers first donned his notorious mask to embark on his brutal rampage. As guests make their way through his dilapidated home and iconic scenes from the movie, they'll narrowly dodge attacks from the knife-wielding Myers as he stalks their every move. Myers is the embodiment of pure evil who unleashes terror at every turn, and guests will quickly realize that he will stop at nothing and no one to take his bloody revenge.
This year's terrifying Halloween Horror Nights lineup of haunted houses and attractions includes: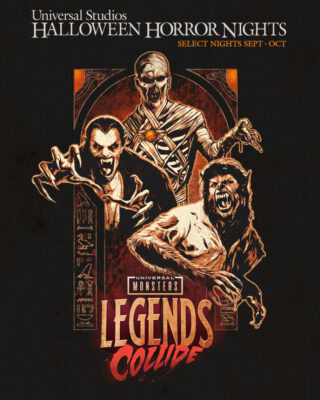 "The Weeknd: After Hours Nightmare": takes guests into the twisted mind of the multi-award-winning artist, The Weeknd, as they step into a surreal living nightmare filled with grotesque characters and themes inspired by his music and short films. Music by The Weeknd and scored by Mike Dean.
"The Horrors of Blumhouse": bring to life Blumhouse's supernatural thriller The Black Phone and horror-comedy Freaky.
"Universal Monsters: Legends Collide" expands on the thrilling legacy from Universal Pictures as the most notorious horror icons, The Wolf Man, Dracula, and The Mummy, come together for the first time ever in an epic battle.
MGM's"Killer Klowns from Outer Space" is where guests will be trapped in a frightening funhouse of murderous clown-like creatures.
"La Llorona: The Weeping Woman," features the legend of La Llorona who comes to life to terrorize the living as she mourns the children she murdered.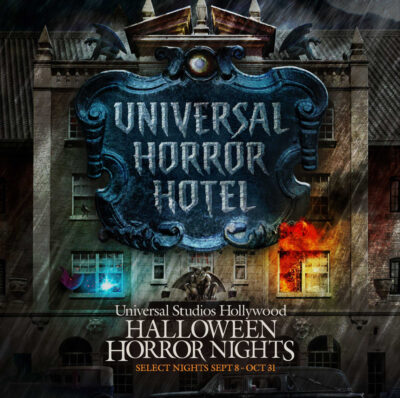 "Scarecrow: The Reaping" finds that Mother Nature's retribution against the homesteaders for their sins of the past will be carried out by the farmland's scarecrows who have remained mute witnesses–and are now guardians of destruction for anyone who crosses their path.
"Universal Horror Hotel" lives ups to its reputation as the original owner, who was executed years ago for his dastardly deeds, continues to haunt the place today–and guests must escape his vengeful spirit or risk becoming a permanent resident.
"Halloween" ventures back to where it all began in an eerily authentic haunted house that depicts the most chilling moments from the critically-acclaimed original film.
"Terror Tram"–This year's iconic"Terror Tram" expands to include a cinematic twist on Jordan Peele's blockbuster films in a crossover experience that reimagines US, featuring The Tethered, a revolutionary army of vengeful doppelgangers, whose up-rising invades the all-new Jupiter's Claim set from the filmmaker's latest pop nightmare, Nope.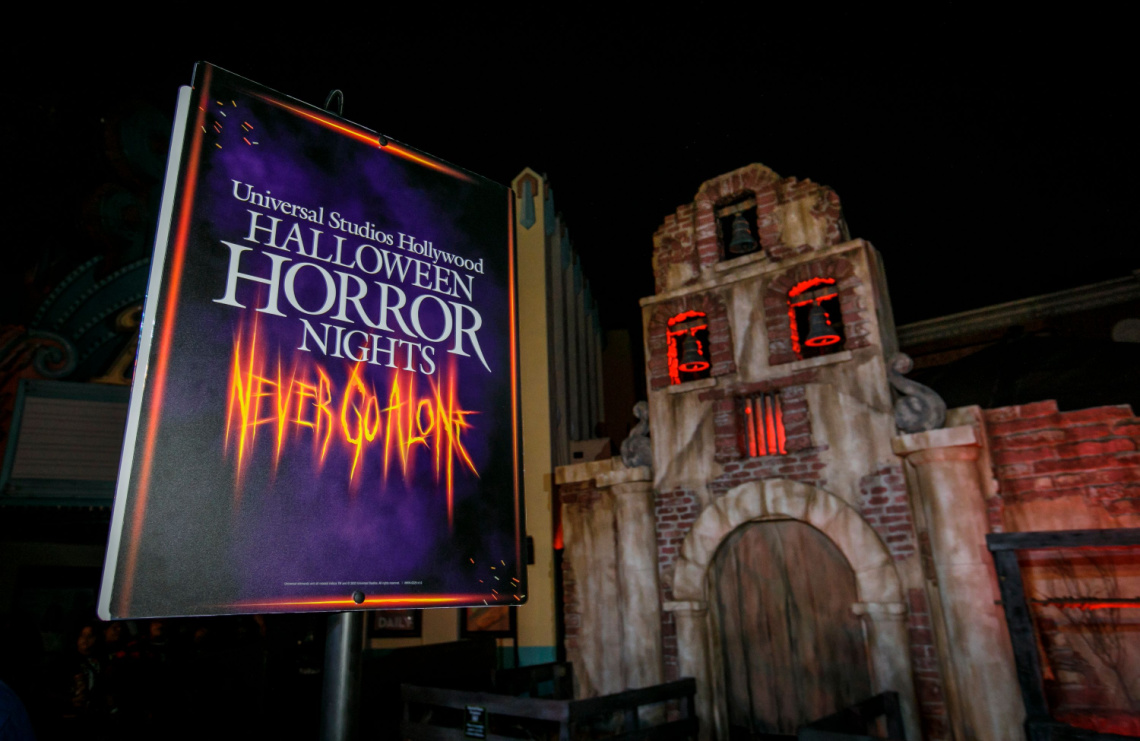 Scare zones
All-new scare zones will taunt and torment guests as they navigate the darkness from one terrifying haunted house to the next, including:
"El Pueblo del Terror" is an extension of "La Llorona: The Weeping Woman" as the horror continues once guests exit the haunted house and discover there is no escaping the frightening legend along with other supernatural characters from Latin America's most frightening myths.
"Sideshow Slaughterhouse" turns New York Street into a battle zone as the performers and workers from a seedy carnival side how are on a murderous rampage.
"Clownsawz" features a demonic troop of clowns who band together to terrorize guests with chainsaws as they enter the park.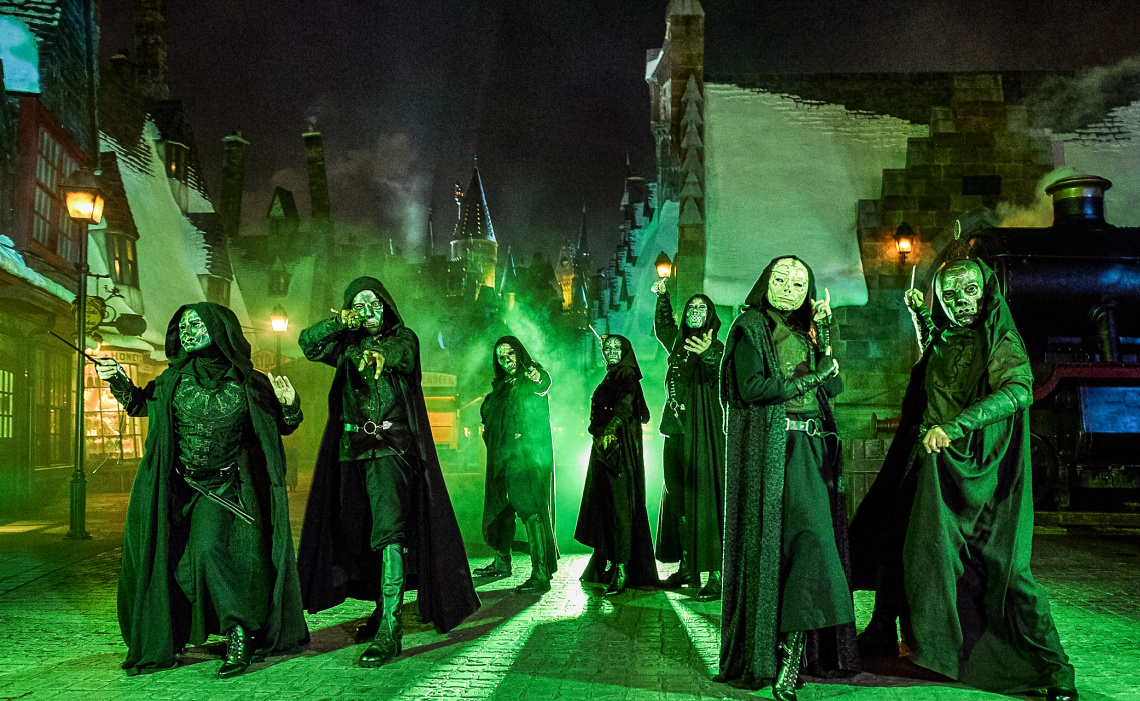 "The Wizarding World of Harry Potter" will be open during Halloween Horror Nights, inviting guests to experience some of their favorite attractions, including:
"Harry Potter and the Forbidden Journey"
"Flight of the Hippogriff"
Death Eaters (NEW) a group of malevolent wizards and witches, roam Hogsmeade village on an evil quest to find others to follow in the footsteps of Lord Voldemort.
Universal Studios Rides
Other rides open during the event include:
"Jurassic World—The Ride"
"Transformers: The Ride—3D"
"Revenge of The Mummy—TheRide"
"The Simpsons Ride."
Helpful Tips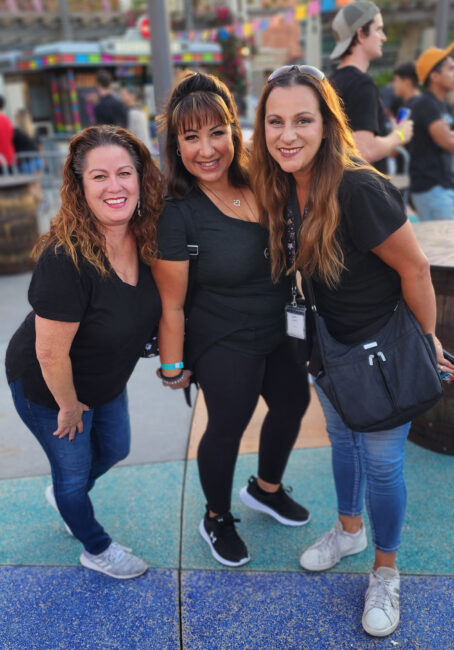 Go Early: While the event doesn't actually start until 7 pm, the gates open to Hollywood Horror Nights ticket holders at 5:30 pm, therefore you may want to get to the park early. This will give you the opportunity to find parking, stroll through Universal City Walk, get through security, make it through the turnstiles and stop for a bite to eat before the monsters are unleashed.
Plan Ahead: Download the Universal Studios App. There you'll find haunted houses and ride wait times and locations as well as show times.
Opening Show: This happens right next to the square where Starbucks is located. Approximately there is an opening presentation where the monsters are unleashed – this happens every 45 minutes.
Start with the Lower Lot: Many Hollywood Horror Nights attendees will jump in line for the first haunted house they see. Make a game plan to start at the lower lot first. There you'll find Universal Monsters: Legends Collide, Killer Klowns from Outer Space, and The Weeknd: After Hours Nightmare. You can also jump on the rides: Jurassic Park, Mummy and Transformers and you've completed the lower lot. Oh, don't forget to stop in at The Weeknd After Hours Nightmare Bar for a few cocktails too.
Terror Tram before 10 pm: Be sure to hit up the Terror Tram before 10:00 pm. The lines get very long and there is a cut-off time. As a matter of fact, it is a great idea to hit this up right after you finish the lower lot.
Jabbawockeez's Last Show at 1:30 am: You're going to want to see the Jabbawockeez. They were awesome and have several different show times. Snap a picture of their show lineup and keep it handy when you are stuck in line. You'll want to know show times for timing. Be sure to arrive 25 min before the show starts for seats.
Universal Express Pass is Worth It: Contemplating splurging and going with the Express Pass? I absolutely recommend it. My group all had this pass and we were able to complete all mazes, scareas, scare zones, and Jabbawockeez by about 1:30 am. Totally worth it and you'll be able to make the most of your time.
Universal Studios Hollywood Horror Nights Ticket Options
Tickets can be purchased at Hollywood.HalloweenHorrorNights.com. Advance purchase is recommended as event nights will sell out. Following are the various tickets options:
All-new R.I.P. Tour: Groups of up to12 can scare in style with all-new R.I.P.Tour featuring exclusive experiences with a VIP guide, trolley transportation, valet parking, a gourmet buffet dinner, and drinks plus unlimited Universal Express privileges to mazes and attractions.
After 2 p.m.Day/Night Combo: Experience the park's popular attractions, by day and remain for the terror that awaits by night.
Multi-Night Passes options:

Frequent Fear Pass–Visit up to 21 select nights.
Ultimate Fear Pass – Scare every single night of the event.
2 Nights of Fear Pass – Scare for two select nights.
Universal Express: This in-demand pass enables guests to enjoy one-time express access to all haunted houses, attractions, and Terror Tram experiences.
Happy Haunting….