A post written by Jamie Moser on behalf of the Heart And Seoul of Korea Exhibit at Pretend City.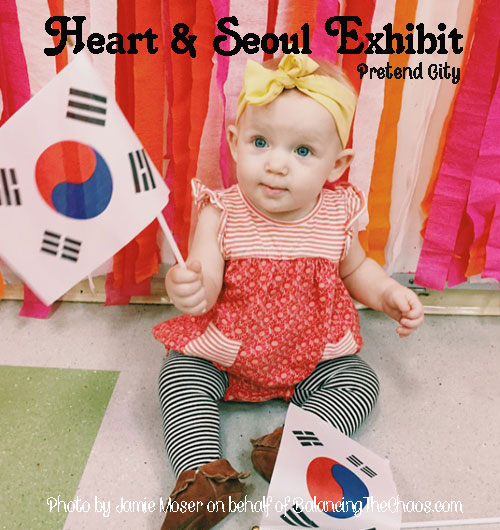 It was such a pleasure getting to tour the brand new exhibit at Pretend City this week. They haven't had a country theme exhibit in a long long time, so they kicked it off with a bang. Welcome to the Heart And Seoul of Korea Exhibit! Here you will learn all things you ever wondered about Korea and their people's customs. Whether it's what they eat, to how they live, this exhibit will show you all of it.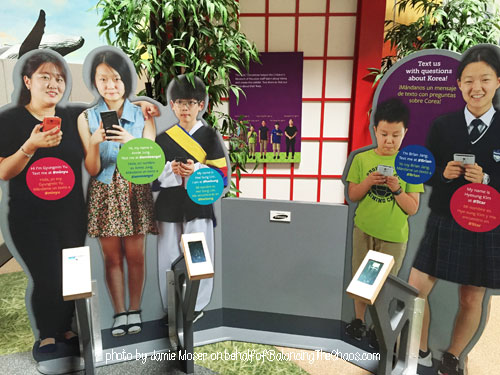 We start the tour in the technology world of it all. From digital animation, phone savvy, to books, Korea has everything. You can even make your own animation using their little toys.
Next we enter the classroom setting. Did you know that children start learning English at 3rd grade? I didn't either! It was really fun to see what a Korean class room may look like. They are very big on extracurricular activities especially Academic but also dance and music!
Oh and in case you were wondering what these things are located at random areas of the exhibit, it's tradition in Korea to take your shoes off!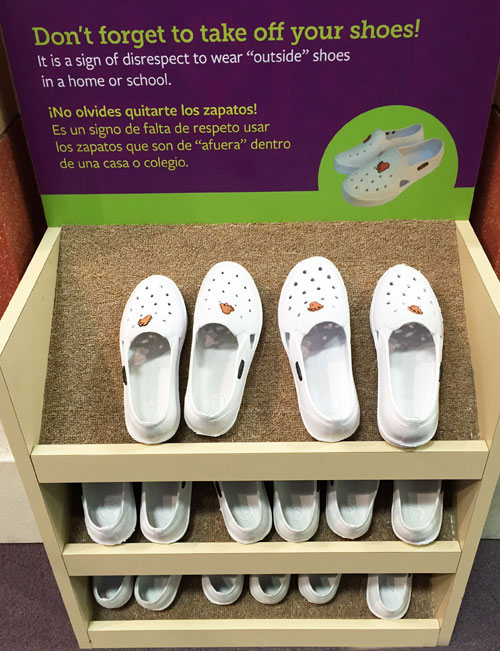 Now we enter in a personal favorite of mine, FOOD! Korean food is very rich and full of flavor. Pickled items are common along with tons of rice, eaten with every meal. In a Korean kitchen you will always see rice cookers and pots on the stove ready to prepare food. Speaking of Korean kitchens, there's an actual scale size model of one along with a Korean living room in the exhibit. It is almost rare for Koreans to live in a free-standing house, they almost always live in high rise apartments.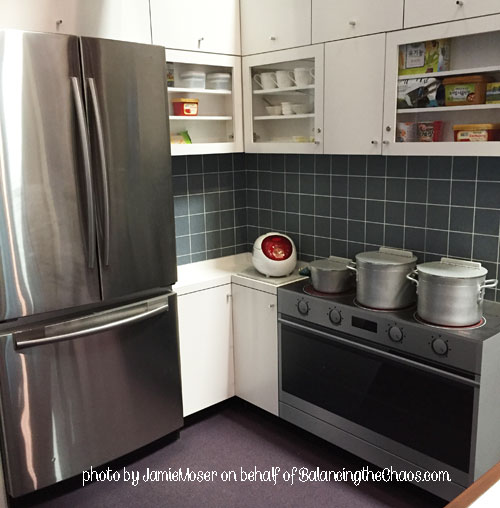 In the Heart and Seoul exhibit the traditional clothing worn, a hanbok; worn out of respect of their elders, was on display.
Taekwondo is a form of Korean Martial Arts, a specialty that was started in Korea. Individuals can earn different levels of belts; the black being the top level. We got to see what a traditional hanoks (Korean Houses) looked like, complete with a jesa table. We had the sensation that we were really in Korea.
We left the exhibit feeling enlightened with tons of knowledge about Korea. I could see the joy on the children's faces when they got to try on the taekwondo outfit (a dobok) and a hanbok! So if you're wondering where to go this summer, go to Pretend Pity and check out the Heart and Seoul Korea exhibit open June 2nd to Sep 7th!
Upcoming events at Pretend City Include:
Cardboard City presented by The Cardboard Guys; Friday, June 5:
Time: 10:00a.m. – 3:00p.m.
Specifically for: Children of all ages; Grown-ups
This annual event is aimed at being the biggest and most widely celebrated global day for positive environmental action. They've partnered with the Cardboard Guys to foster inventiveness in a way that's fun, functional, and environmentally-friendly by using cardboard as the canvas to creativity. Children will have the opportunity to create their very own cardboard buildings and city structures influenced by the architecture and design of South Korea. In the process they will learn about the importance of recycling and reusing


Good to Go From Head To Toe Family Fun & Wellness Fair; Saturday, June 6
Time: 9:00a.m. – 2:00p.m.
Location: Pretend City Children's Museum Parking Lot
Specifically for: Children of all ages; Grown-ups
Take "The Path to Healthy Development" during our 6th annual Good To Go From Head To Toe Family Fun & Wellness Fair! The event provides valuable resources for families including fun family activities and free health screenings for children. The health fair is open to the general public at no cost and includes an opportunity for children to earn a free return visit to Pretend City Children's Museum.
Celebrate World Oceans Day!; Monday, June 8:
Time: Throughout the day
Specifically for: Children of all ages; Grown-ups
World Oceans Day is the day of ocean celebration and action. People all over our blue planet organize celebrations to support action to protect the ocean. This year, the theme is Healthy Oceans, Healthy Planet! Pretend City is making a special effort to stop plastic pollution through educational activities like:
Smart Art: The World's Oceans art activity will explore questions like, "how does the ocean feel and what does it look like to you?" Use a variety of materials and mediums to express your love for the ocean through art.
Nature Tales: All the Way to the Ocean is an uplifting story that will inspire both young and adult readers alike and teach a timeless life lesson–If we all do our part, a cleaner, safer environment is indeed within our reach. This will be followed by a beach clean-up activity!
Math Matters: The Feeding Game will simulate the negative effects plastic trash can have on the feeding and survival of animals.
Baby Steps through Pretend City; Monday, April 13
Time: 2:00-3:30p.m.
Specifically for: Infant (0-18 months), grownups. For the comfort of our infant guests, no older siblings please.
Baby Steps through Pretend City is a monthly event where you can ask questions, meet other parents, and engage your baby in developmentally appropriate activities and exhibits. Pretend City was designed with your infant in mind, but with so many excited, older children playing in the museum, it may be hard for your little one to get around. This monthly event allows you to take advantage of an exclusive, infant only times by engaging in age-appropriate facilitated activities which will teach you about your baby's developmental milestones.


FREE Vision Screening; Friday, June 12
Time: 10:00a.m.-12:00p.m.
Specifically for: Children Ages 2 ½ years and up; Grown-ups
This vision screening focuses on young children from ages 2 ½ to 6 years old. It is a screening utilized for visual acuity, external eye health, and binocular vision. The HOTV letter chart is used as a fun and developmentally appropriate testing tool.
Celebrate Flag Day! Sunday, June 14
Time: Throughout the day
Specifically for: Children of all ages; Grown-ups
Today Pretend City joins people across the United States to celebrate Flag Day. We will honor the United States flag and to commemorate the flag's adoption. Enjoy a red-white-and-blue introduction to our nation's most cherished ideals during these activities that honor Old Glory.
Smart Art: Stars & Stripes art activity will give you an opportunity to work on counting skills with your child while explaining to them the significance of each flag element.
Sensational Story Time: F is for Flag shows in simple terms how one flag can mean many things: a symbol of unity, a sign of welcome, and a reminder that-in good times and in bad-everyone in our country is part of one great big family.
Symbols in a Second: The flag is an important symbol of our country. Today children will learn all about its symbolism and its attributes.
Holiday History: Patriotic Parade before we head-out for the day for our patriotic parade featuring "You're a Grand Old Flag" come learn a bit about how the flag has changed throughout history.
Celebrate Father's Day; Saturday, June 20
Time: Lil' Me Morning: Sensational Story Time
Engaging Afternoon: Growin' Up Great
Specifically for: Children of all ages; grown-ups
Pretend City's Father's Day celebration is guaranteed to help dads, uncles, grandpas, and kids alike to enjoy the magic of playing together. Tap into the infinite possibilities of your imaginations in these guided activities brimming with fun:

Sensational Story Time: I Love My Daddy! You are bound to smile at this story about love from a toddler's point of view. Continue the fun with an art activity filled with love.
Growing Up Great Game: Shaving Cream Races – On your mark, get set, shave! Let the races begin as dads and children participate in a fun shaving contest.
Smart Art: Tie-riffic will turn children into designers as they decorate a tie to give as a special gift for dad!
Summer Kick-Off Celebration; Monday, June 22
Time: Throughout the Day
Specifically for: Children of all ages; grown-ups
You're invited to the 5th annual Summer Celebration! This event marks the start of Southern California's favorite season! Our Summer Kick-Off Celebration includes a live musical performance by our surprise guests – who you won't want to miss!! Other fun-filled activities for the day include:

Limbo contests
Beach ball Volleyball
Sand Castle Building Contest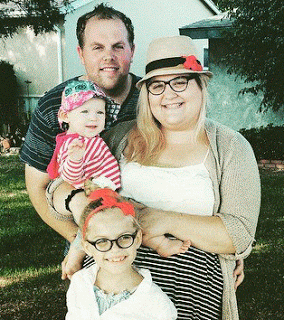 Contributor: Jamie Moser
Jamie Moser is a stay at home mom to two beautiful girls and wife to Logan. In her spare time, she likes to organize, participate in events around the OC and be a shuttle for her daughter's busy dance life!
Disclaimer: We were invited to Pretend City to share our experiences with the new Heart and Seoul exhibit. All opinions shared are my own.