Last night I met up with some girlfriends for a fabulous night of disco, dancing, and fun seeing Mamma Mia at Segsrstrom Center For The Arts.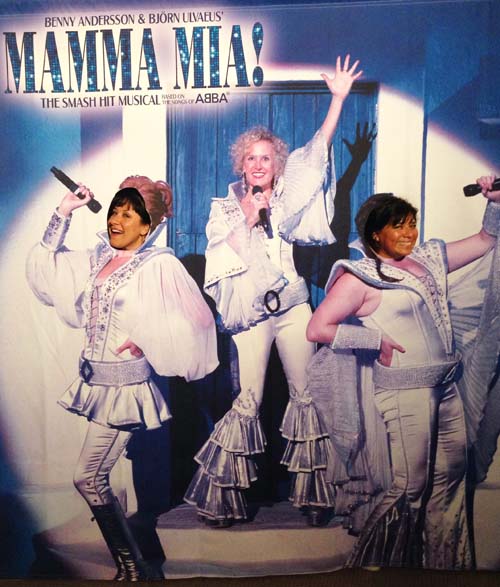 The show brought back memories of my 20's, seeing Mamma Mia in London, Vegas and LA.  Still one of my all time favorite shows, Mamma Mia is currently at Segerstrom Center for The Performing Arts through April 13th!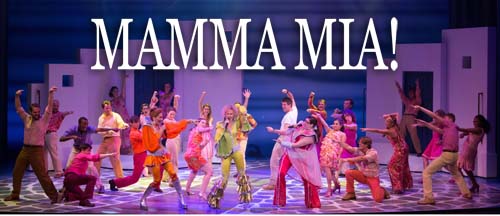 Mamma Mia! is the smash hit musical based on the songs by ABBA that tells the story of an independent, single mother who owns a small hotel on an island in Greece.  Here daughter, Sophie, has met the man of her dreams and is about to get married.  Sophie sets out to find out the identity of her father, and invites three men from her mother's past with the intent to have her dad walk her down the isle.
Yes, we did it! During the movie, along with the audience we sang along with "all time hits" like "Dancing Queen", "S.O.S", "Money, Money, Money", and "Take A Chance On Me".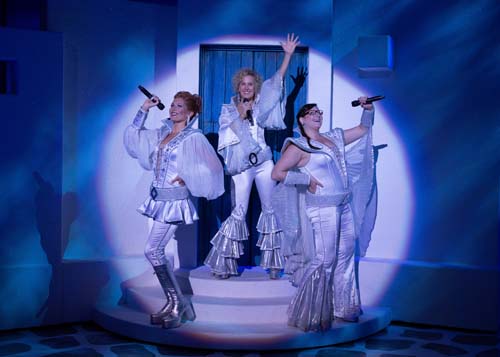 "Seen by more than 54 million people around the world, Mamma Mia! is celebrating more than 5,000 performances on Broadway and is the tenth longest – running show in Broadway History."
Mamma Mia! makes the perfect "girls night"!  The girls and I had so much fun – the music just gets you up and moving! We arrived early to make sure we had time to participate in the following pre-show activities:
Photo Opportunity: Alma from Field Trip Mom and I posed for photos at the iconic Mamma Mia back drop, getting into character.
Disco Dance Floor: Jill from Sandy Toes & Popsicles Blog and I got into our "Dancing Queen" poses and lip synced to popular tunes.
Mamma Mia Timeline Banner: Fans of the show will love to see historical facts and figures about ABBA, Mamma Mia and Segerstrom Center for The Arts.
If attending the show the night of Thursday, April 10th, guests will have the opportunity to stay after the show and enjoy a question and answer session with cast members.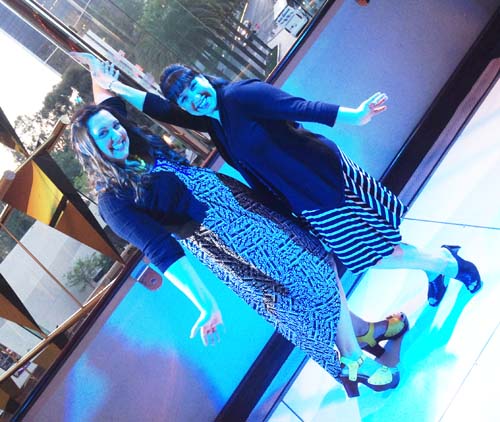 Mamma Mia is one of my favorite stage performances for so many reasons.  First of all, I just LOVE Greece.  My husband and I have vacationed there – its just absolutely amazing!  (More memories).
Next, I really enjoy the storyline of Donna and here mixed up love life and her daughter Sophie, who's one desire is to have her dad walk her down the isle.  Georgia Kate Haege, origionally from Sydney, Australia; and Chelsea Williams were so great as Donna and Sophie.
Gabrielle Mirabella and Carly Sakolove were an absolute riot as Tanya and Rosie; Donna's best friends and my two favorite characters in Mamma Mia with sarcasm and whitty comments.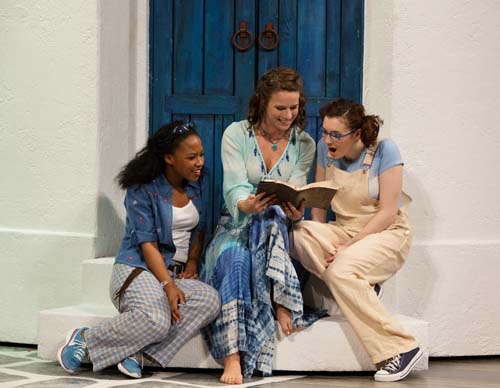 There's still time to catch the show before it leaves Segerstrom!
MAMMA MIA!
Segerstrom Center For The Arts – Segerstrom Hall
600 Town Center Drive Costa Mesa, CA 92626 (714) 556-2787  
April 8 – 13, 2014
Tuesday – Friday 7:30pm Saturday 2:00pm & 7:30pm Sunday 1:00pm & 6:30pm Tickets start at $29 Box Office is open daily 10:00am – 6:00pm  
Disclaimer: Received complimentary tickets to see Mamma Mia! however all opinions about the show and Segerstrom Center for the Arts are my own.
Photo Credit: Segerstrom Center for the Arts & Kevin Thomas Garcia