Paid promotion for Ant-Man And The Wasp on behalf of Walt Disney Studios.
Marvel Studios' "Ant-Man and The Wasp," is currently entertaining fans at home with the digital release of the movie in HD and 4K Ultra HD™, and on Movies Anywhere. Then on Oct. 16, fans will have the option to take it home on Blu-ray™ and Blu-ray 4K Ultra HD™. Thanks to our friends at Disney, we enjoyed a movie night in with all kinds of fun activities with Scott Lang's fun at home tips.

"Ant-Man and The Wasp" is the perfect movie night in. With our "Scott Lang's Fun At Home Kit" provided by Disney and Marvel Studios, we took our family night up a notch.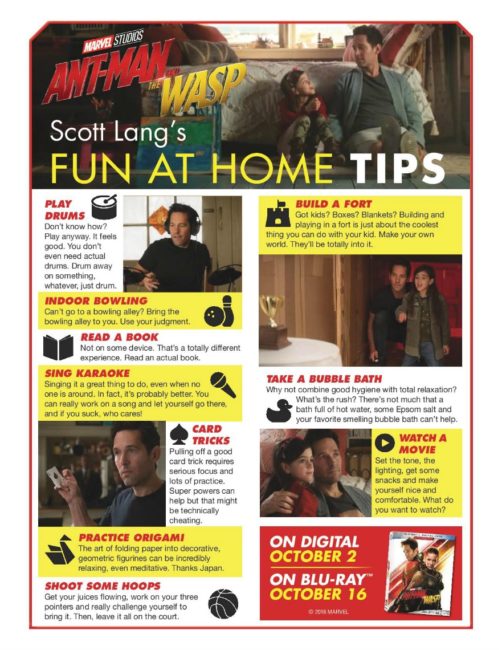 With our super fun kit, we were playing the drums, while my daughter started singing. And while they were watching the movie, they started working on origami cranes and different shapes. My husband and son got into a game of hoops with the cute little basketball and hoop.
About the movie: In "Ant-Man and The Wasp," Scott Lang is having a hard time with the consequences of his choices, as both the Super Hero Ant-Man and a father, in the aftermath of "Captain America: Civil War." As he struggles to rebalance his home life with his responsibilities as Ant-Man, he's confronted by Hope van Dyne and Dr. Hank Pym with an urgent new mission to rescue Janet van Dyne from the Quantum Realm. Scott must once again put on the suit and learn to fight alongside The Wasp, all while attempting to serve house arrest, assist fast talking-Luis (Michael Peña) and the X-con Security crew, and thwart the efforts of a new adversary called Ghost (Hannah John-Kamen) and her ally Bill Foster (Laurence Fishburne).
Ready to create a movie night of your own with "Ant-Man and The Wasp?" You can download the movie now, or pick it up at your local Blu-Ray or DVD retailer on October 16th. Then, come back and grab some of the "Scott Lang's Fun At Home Kit" ideas to entertain your family.