It's that time of year, when Knott's Berry Farm transforms for the fall festivities. During the day, families can enjoy Halloween themed Spooktacular fun for the whole family with Knott's Spooky Farm. Designed for children ages 3 – 11, youngsters can enjoy trick or treating through Ghost Town, Halloween themed shows, a costume contest and so much more, that is all included with regular park admission or a 2018 Season Pass.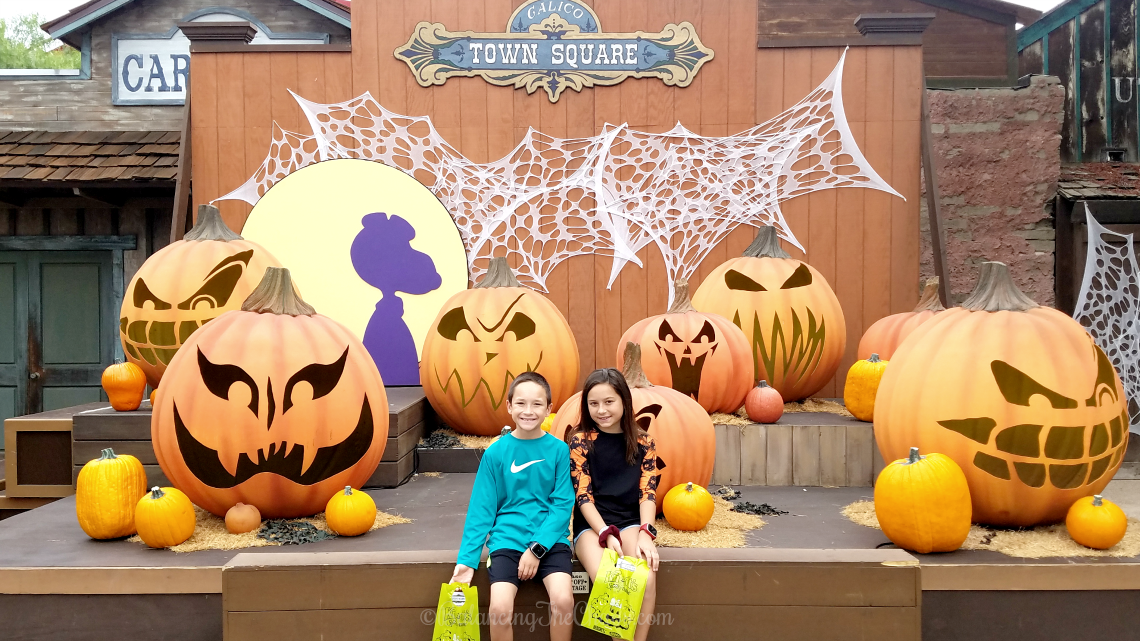 Over the weekend, we were invited to enjoy a fun filled day at Knott's Spooky Farm. While the activities are for children ages 3 – 11, Knott's Berry Farm is all kinds of awesome fun for the entire family. Our first stop, of course, was Hang Time. My husband hadn't had a chance to ride the new roller coaster yet, so it was first on his list.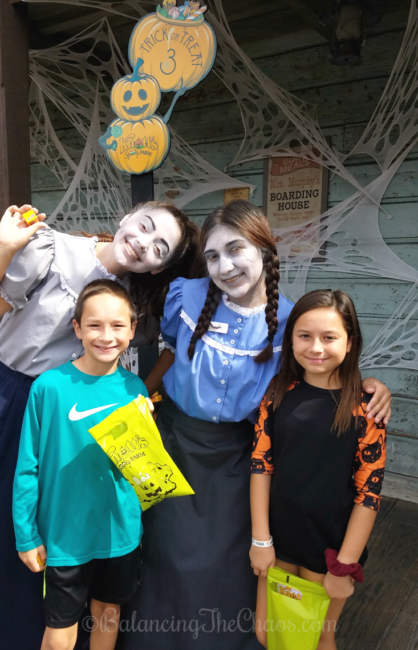 Scattered throughout the city of Calico are Trick or Treating stations with friendly ghosts and towns folk of Ghost Town. They even provide treat bags containing maps and other goodies when you walk through the main gates of the park.
In Calico Park, you can hang out in Linus Van Pelt's Great Pumpkin Patch where you can take photos, enjoy crafting and listing to the musical Creepy Crooners. For an additional fee, you can decorate your own pumpkin or Halloween cookie.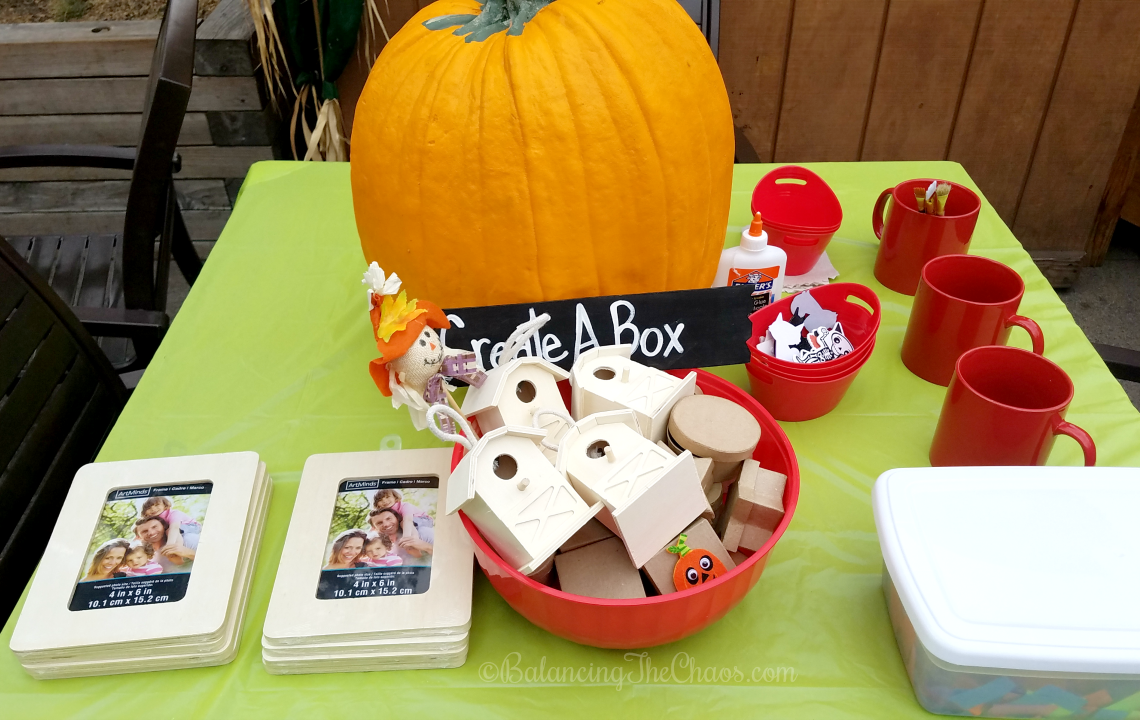 At the Bird Cage Theater, guest are invited to enjoy a spooky story time several times during the day.
Take a trip to Camp Spooky on the Grand Sierra Railroad as you ride with the Peanuts Gang. Along the way, you'll spot 2D and 3D Halloween characters and effects.
The Timber Mountain Log Ride has been transformed into the Halloween Hootenanny where mysterious creatures have come out to celebrate the season. Keep an eye out for the Calico Coffin Creeper Band, and the Green Witch before you splash down Skull Mountain.
Knott's Spooky Farm also offers several family friendly Halloween shows like: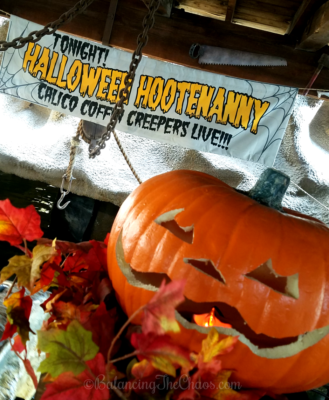 Mysto The Slightly Magnificent: At the Calico Saloon, enjoy a magic show
The Monsters are Coming: At the Camp Snoopy Theater, the Peanuts Gang will have everyone up, singing and dancing to favorite Halloween tunes.
Spooky Farm Costume Contest: Show off your best Halloween costume each afternoon during Spooky Farm and participate in the Peanuts Dance Party.
At the Livery Stable, Stanley Scarecrow has opened up the barn and has the Creepy Critters of Calico on display. You'll see hissing cockroaches, spiders and more.
Since we live down the street from Knott's Berry Farm, it seems fitting that this is the amusement park we tend to visit most often. I love the fact they are affordable and have so many special family activities that are INCLUDED in the regular price of admission. And seeing that Knott's Scary Farm is my favorite annual event, I'd say we're hooked! Knott's Spooky Farm runs weekends, September 29th through October 28th (9 a.m. to 5 p.m.) and Halloween Day (10 a.m. to 5:30 p.m.).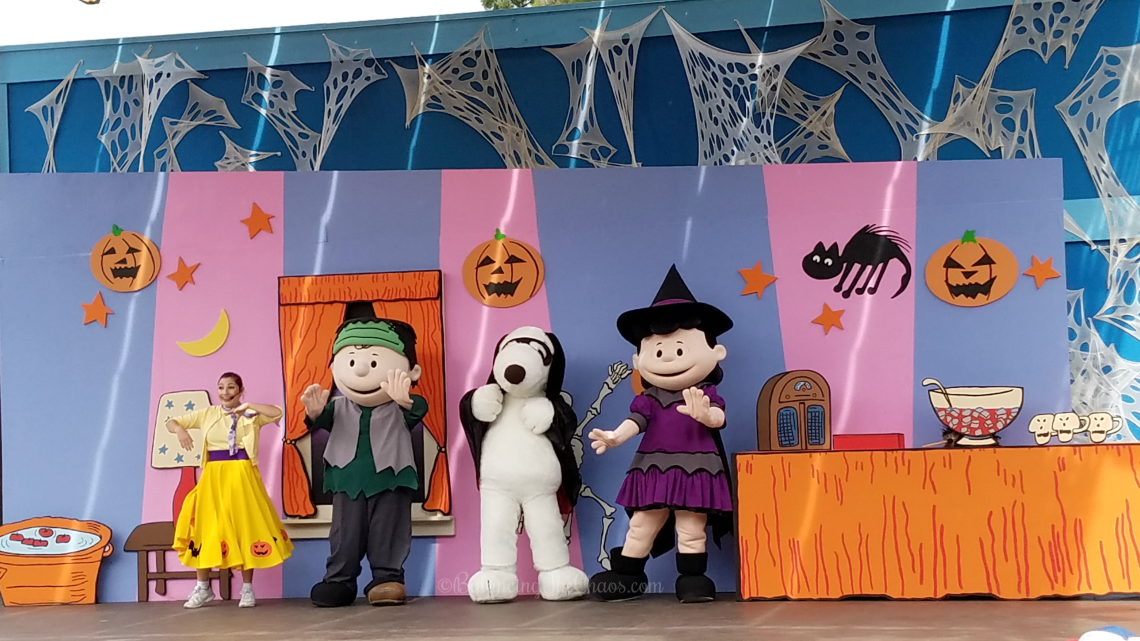 Wondering why the park closes at 5:30 p.m.? Once the sun goes down, the residents of Ghost Town take over the park and Knott's is transformed into Knott's Scary Farm. It certainly isn't for those of the faint at heart. While I'm a BIG fan of Scary Farm, for now, we'll stick to Spooky Farm for the littles.