An all new experience recently opened at Universal Studios Hollywood. Dinosaurs have, once again, taken over the park in a HUGE way. Jurassic World, The Ride, is now open and thrilling guests with new prehistoric creatures, digital effects and more. You also have the opportunity to visit with Blue, a baby raptor and a triceratops at the Raptor Encounter and meet Guy Diamond, Poppy and Branch as they make their new home at Universal. Make sure you visit before August 11th, so you can take in Dark Arts at Hogwarts Castle before it disappears this summer.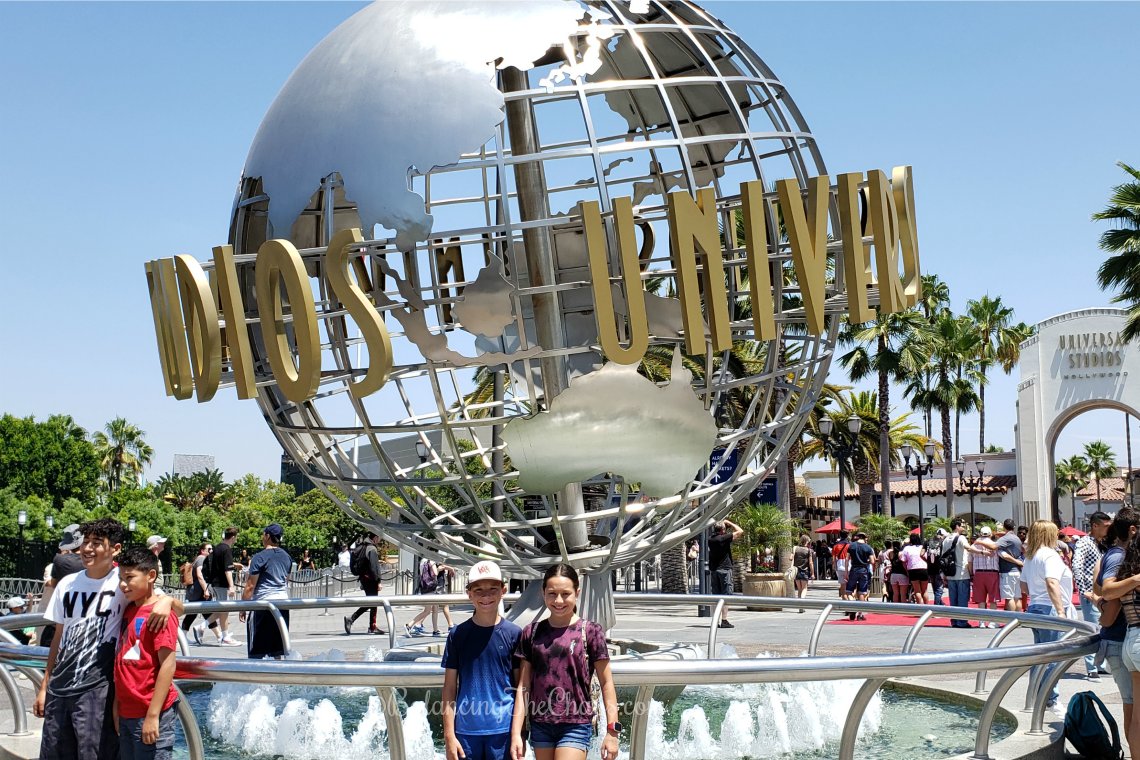 We were invited to Universal Studios Hollywood to experience all of the new features and attractions added this summer. First stop was to Jurassic World – The Ride.
Inspired by the latest in the series of Jurassic Park films, Jurassic World – The Ride features the film's stars, Chris Pratt, Bryce Dallas and BD Wong, who are seen throughout the ride on video monitors. This effect makes you feel like you've stepped into the blockbuster movie.
My favorite part was seeing the incredible aquatic Mosasaurus. As you come around the corner and view the first dinosaur enclosure, you're basically looking at a big holding tank with a few fish, but specifically a shark swimming around. Seconds later the giant mosasaurus appears and devours the shark. He seems to disappear as he swims to the other side of his tank, eventually leading to quite the close encounter. The special effects that brought this dinosaur to life was so realistic, that everyone in the boat jumped as he rammed the glass.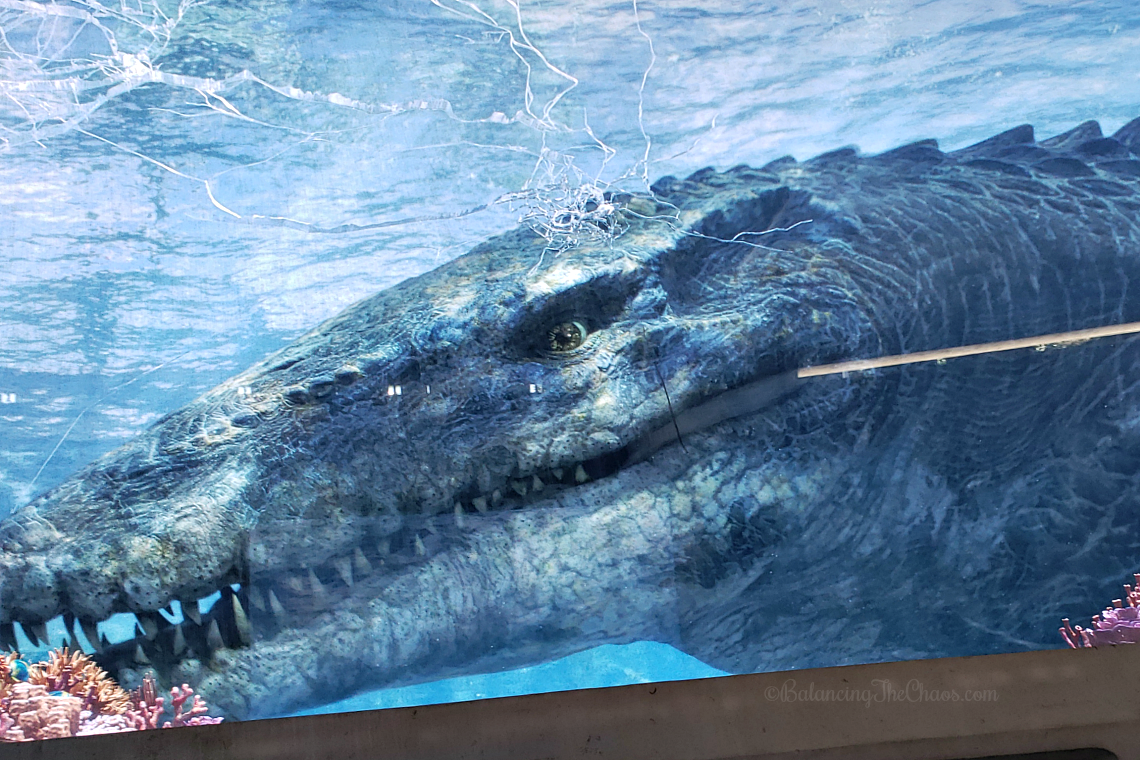 We loved all the touches throughout the ride, the Indominus Rex, who has escaped, and you don't know which turn he'll show up. Several different species of dinosaurs are represented and some delivering more excitement than others. Honestly, it's now my favorite at Universal Studios Hollywood.
TIP: One of the best way to experience Universal Studios is to purchase the Universal Express which gives you 1-Day General Admission with one-time express access to each ride, attraction and seated show. It is worth it, because on the day we visited, average wait times were approximately 30 minutes to 45 minutes per ride. With the Universal Express, our wait times were roughly 15 minutes per ride. We completed the lower lot experiences in 1 hour.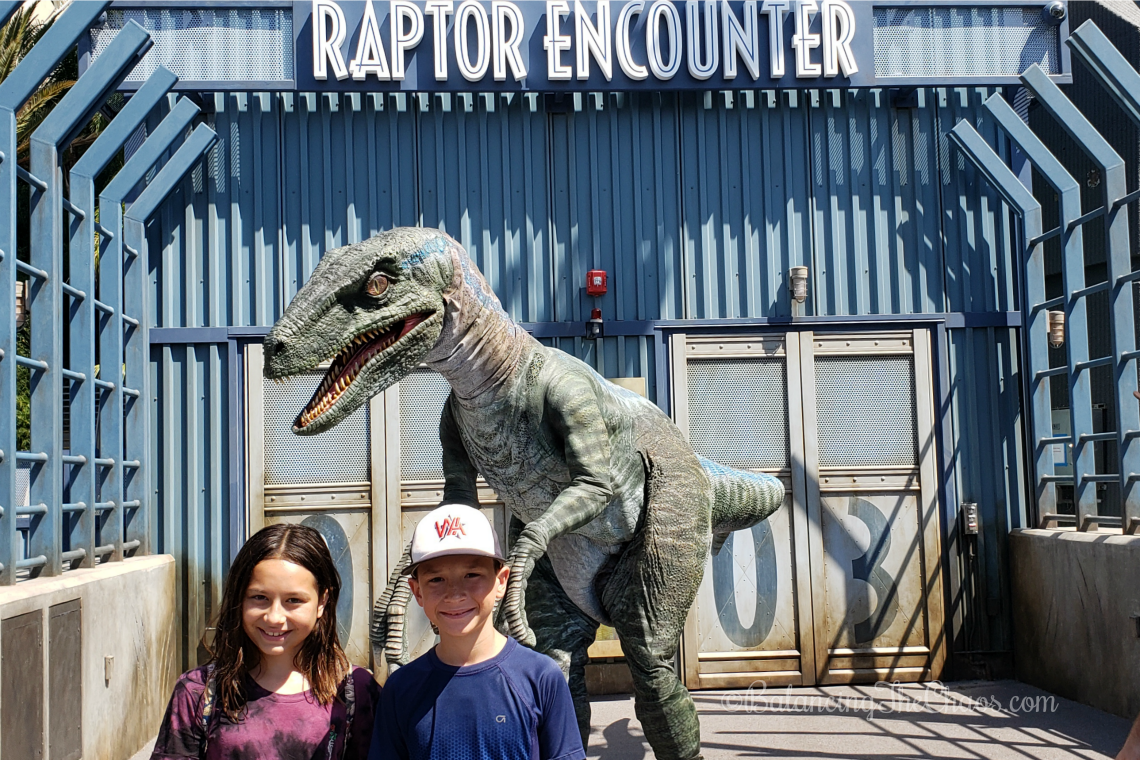 One of our favorite "MUST DO" experiences in the lower lot was the "Raptor Encounter". We seriously enjoyed getting a chance to meet Blue, the most popular velociraptor from the Jurassic World franchise and her handlers. She may be a little scary to some, but to my kiddos, they got a kick out of seeing a velociraptor up close. Recently added this summer is the opportunity to meet a new Baby Raptor and Triceratops.
For lunch, we visited the new Costa Rican inspired restaurant, Jurassic Cafe, sampling the Slow Roasted Mojo Pork that was served with a white rice black bean mixture and a vegetable slaw. We also had a Pomegranate Chicken Salad with a light dressing,Cheese Burger kids meal and Pomegranate Guacamole with Plantain Chips. While I do not like bananas, I really liked the plantain chips, and paired with the fresh guacamole with chunks of avocado. The Mojo pork was really tender and loaded with flavor and the chicken salad was light, but needed more dressing.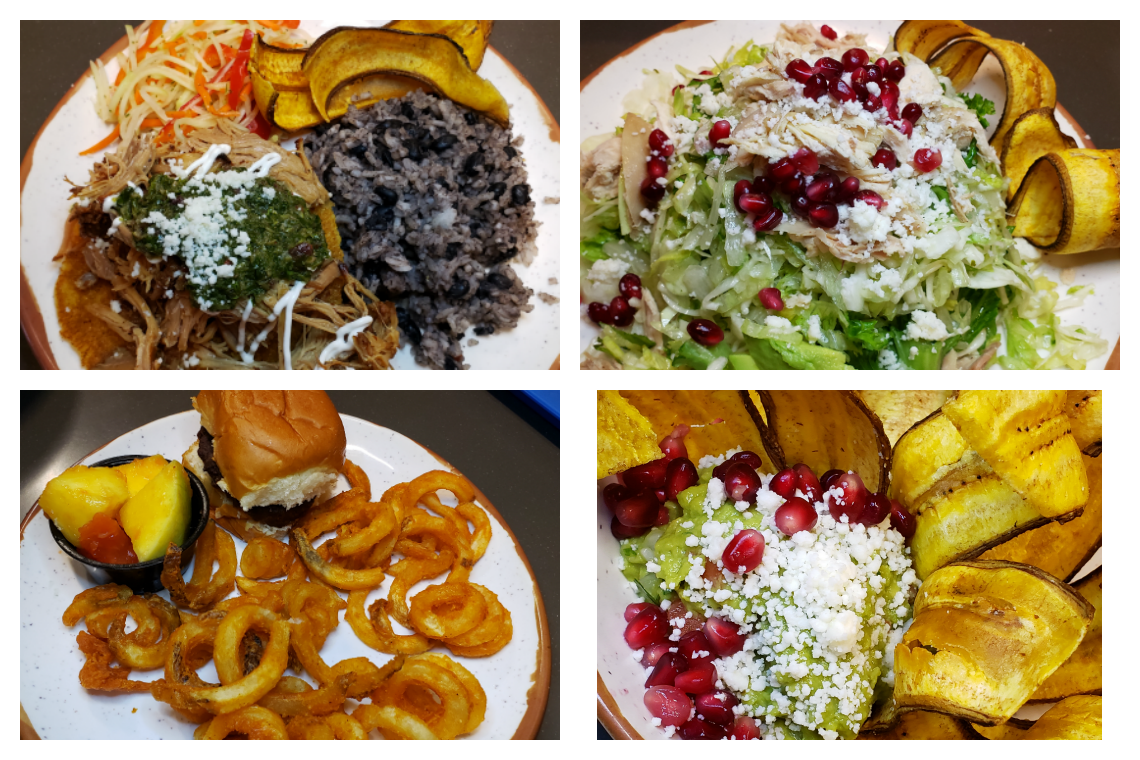 We spent the entire day enjoying the park. My kids were so excited to experience all that Universal Studios has to offer. During the summer, now through August 11, be sure to stay to see the Dark Arts at Hogwarts Castle. It's a fantastic show, and will mesmerize Harry Potter fans as evil forces take over the castle in a beautiful light show. See it here: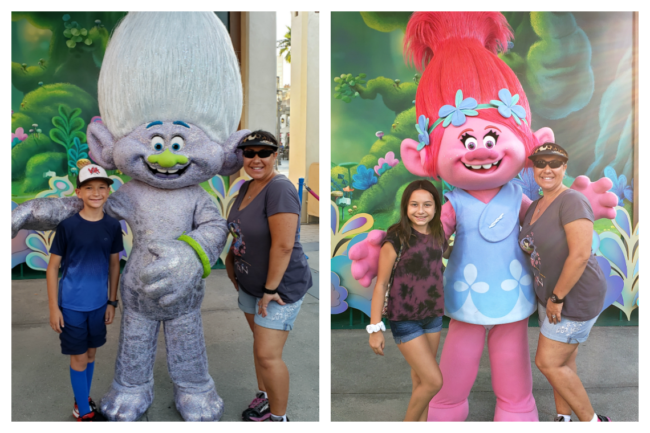 The newest addition to the park, Guy Diamond, Poppy and Branch have moved in and taken up residence at Universal Studios. You can visit with them and take pictures throughout the day, in celebration of Dreamworks' Trolls.
Ready to visit Universal Studios? Be sure to check Groupon to see if there are any discounts available. Check out my affiliate link:
Save on Universal Tickets with Groupon
.
Plan to take your family to Universal Studios Hollywood this summer. It's an experience you'll remember for a lifetime! Right now, you can experience 175 days of fun for $149 when you purchase the California Neighbor Pass. For more information on tickets, attractions and more, visit https://www.universalstudioshollywood.com/