A post written by contributor Deanna Oxner on behalf of Aquarium of the Pacific
While in Southern California visiting friends and family, we had the opportunity to take a whale watching trip with The Aquarium of the Pacific and Harbor Breeze Cruise along with experts from the Aquarium's blue whale photo ID program. Right now, endangered blue whales are being spotted off the waters off of Long Beach, and we were fortunate enough to see a few during our trip.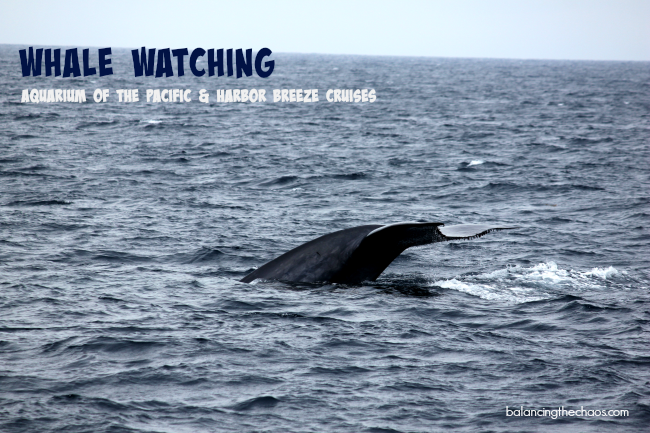 Back in July, we were invited to represent Balancing The Chaos aboard the M/V Triumphant, a high-speed whale watching catamaran. We were super excited to go on this whale watching trip. Even though my girls had lived in Southern CA up until 2 years ago, they had never been whale watching before.  It took us moving to Texas to get them out on a boat.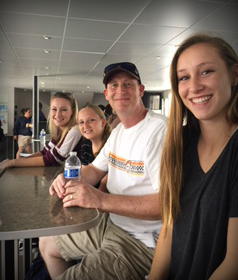 As we headed out into the open ocean, we were quickly joined by dolphins and sea lions riding the wake alongside the boat.  About 15 minutes after the breakwater, my youngest asked "When are we going to see some whales?".  I told her it was more like whale "waiting" than whale "watching" for a while.
Then we saw the first spout and the race was on.  We headed full steam ahead in its direction.  We finally caught up to it and watched it gracefully surface a few times then take one big breath, giving us a great view of its fluke as it dove down into the deep.  With that big breath it  stayed  down for about 20 minutes before it showed itself again.  We got one more chance to see this beautiful creature again before we had to head  back in. The Blue Whale is the largest mammal on Earth, and seeing it in its natural habitat is stunning.  What I find so fascinating about this animal is for its incredible size, it is so graceful!   As we watched it gently carry its huge body through the water, you realize what a peaceful animal it truly is.
We learned about the endangered blue whale population and the critically endangered vaquita, the smallest of the whales. The Vaquitas are a fraction of the size of the blue whale and are found in the coastal waters of the Northern Gulf of California Mexico. July 11th marked the International Save the Vaquita Day, a campaign to raise awareness of this endangered species.
It was an amazing day and I am so grateful I got to share such a special day with my family! The Aquarium of the Pacific and Harbor Breeze Cruises is a great way to experience whale watching around Long Beach. With the new specialized high-speed 150-passenger M/V Triumphant guests will enjoy searching for whales and other animals in a comfortable stadium style seating. We enjoyed grabbing a bite to eat and a quick soft drink at the snack bar and open seating area.
The whale watching excursion with the Aquarium of the Pacific and  Harbor Breeze Cruises is a three-hour excursion with Aquarium experts daily at 12:00 p.m. and 3:30 p.m.  Whale watch tickets can be purchased without Aquarium admission through Harbor Breeze Cruises by calling 562-983-6880 ($45 on weekdays and $50 on weekends per adult, $40 per senior, $30 per child). For more information the public can visit www.2seewhales.com.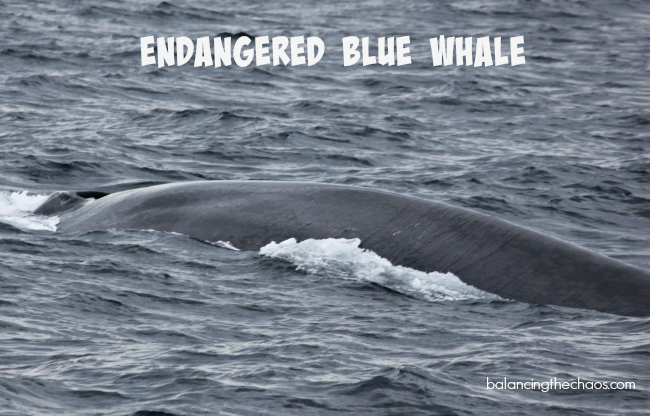 The Blue Whale & Sea Life Cruise combo ticket is available for purchase on-site at the Aquarium of the Pacific and may be purchased in advance by calling 562-590-3100. Prices are $59.95 per adult age 12 or older, $55.95 per senior age 62 or older, and $39.95 per child (includes whale watch and Aquarium admission). Guests will be able to listen to the whales they see and can learn more about whale communication through the Aquarium's interactive Whales: Voices in the Sea kiosk exhibit featuring the largest whale on the planet—the blue whale.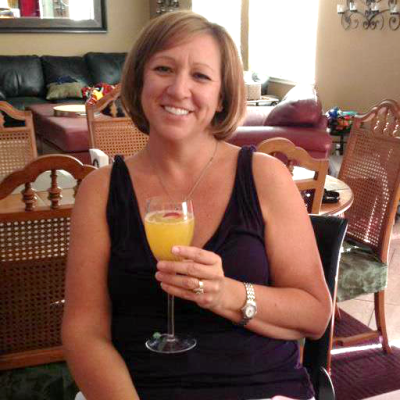 Contributor: Deanna Oxner
Deanna is a mom to three beautiful girls ages 18-13, and wife to an awesome husband, Jerad. She is a stay at home mom raising her family in Lubbock, Texas, originally from Southern California. She enjoys returning home often to visit family and friends and check out what's new going on around Orange County.
AQUARIUM: The nonprofit Aquarium of the Pacific is dedicated to environmental education. Its vision is to create a sustainable future for nature and its resources by building relationships between and among people. The Aquarium is home to over 11,000 animals in more than 50 exhibits.
HARBOR BREEZE CORP: Harbor Breeze Cruises has been providing public whale watching, world port, and charter cruises for over 20 years in the Los Angeles and Orange County areas. Their experienced captains provide comprehensive narration about the characteristics of each cruise. The double-deck sightseeing vessels are U.S. Coast Guard-inspected, certified safe, and are complete with seating, snack bar, restrooms, salon, and plenty of outside viewing room for everyone. For more information, visit https://www.2seewhales.com/ .