The Discovery Cube Orange County recently opened a new exhibit featuring LEGO® Travel Adventure and National Geographic Presents: Earth Explorers. We had the opportunity to get an exclusive sneak peak at what is in store for adventurers of all ages.

Get ready to go on an adventure. With LEGO® Travel Adventure, tour the globe via different routes of transportation. Little creators will have the opportunity to let their imagination soar, building their Lego Duplo vehicles and racing against friends, family members or other guests.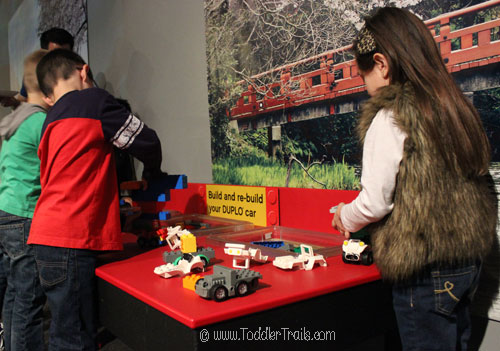 Giant Lego blocks are on hand for even the littlest of fingers to create beautiful structures or forts as my children and their friends did.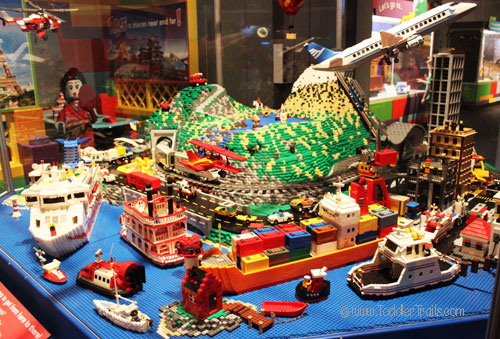 Guests will have the opportunity to check out the creations of LEGO Master Builders on display, with different forms of transportation – all built out of Lego blocks. See scenes like recreations of the driving of the Gold Spike in the Transcontinental Railroad, the building of the first Model T, the Wright Brothers flight at Kitty Hawk, and an ocean liner.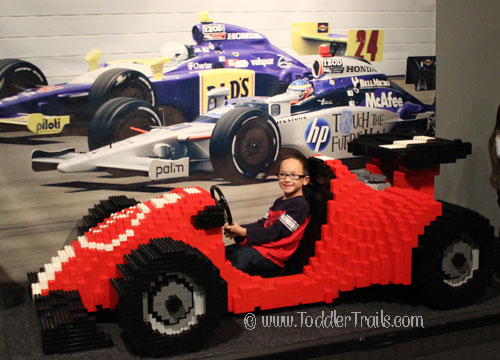 Junior race car drivers can take a photo with a kid-sized racecar made from LEGO® Duplo® blocks, and take the "Travel Challenge" to build a virtual LEGO vehicle that will travel through lava, swamps, rivers, and oceans.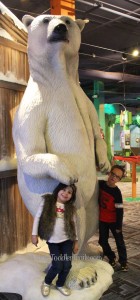 Explorers have the amazing opportunity to see more of the planet in National Geographic Presents: Earth Explorers. See what it's like to live in Antarctica by exploring an arctic cabin and seeing how tall a polar bear is.
Have the opportunity to explore the ocean with a 3-D submersible craft and learn about creatures like this giant shark.
Have you ever been through a rain forest? Find out what insects live in the Amazon in this interactive exhibit.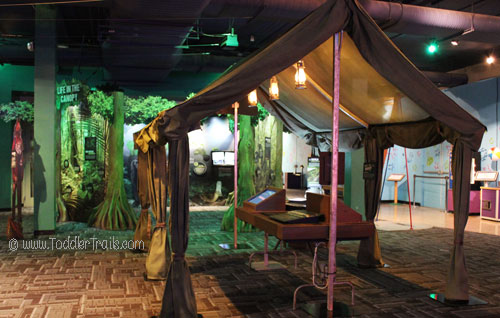 The new LEGO Travel Adventure and National Geographic Presents: Earth Explorers  exhibits are some of the favorites we've experienced at Discovery Cube OC so far. Both are included in general admission fees. Tickets can be purchased at Discovery Cube OC or online at www.discoverycube.org/oc/. General admissions prices are as follows: adult ($16.95), senior ($12.95), and children ages 3-14 ($12.95).
LEGO Travel Adventure is the second in a series of traveling exhibits to be produced by The Children's Museum of Indianapolis in conjunction with LEGO Systems, Inc. The previous exhibit, LEGO® Castle Adventure debuted at The Children's' Museum of Indianapolis in 2009, and will travel to museums and science centers throughout the United States for a five year period. Additional LEGO exhibits are planned for the future.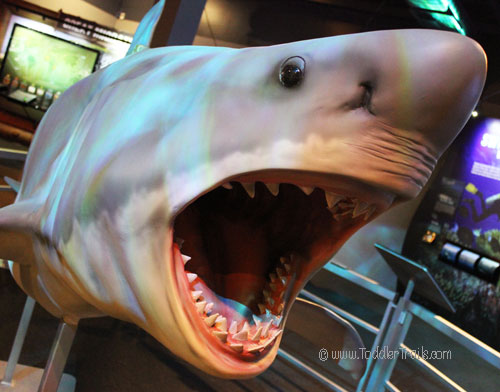 About Discovery Science Foundation
The Discovery Science Foundation serves as the program-development, marketing and fundraising arm for hands-on science learning museums in Orange County and Los Angeles. Established in 1989, the original non-profit Taco Bell Discovery Science Center (DSC) in Santa Ana, now renamed Discovery Cube Orange County, presented by Taco Bell, continues to inspire and educate millions of young minds through engaging science based programs and exhibits. In 2012, the Center was named one of the ten "Most Trusted Brands" in Orange County and in 2013 was awarded the National Medal of Service from the Institute of Museum and Library Services.
In November 2014, Discovery Cube Los Angeles, a second museum offering an exhibit and program mix unique to Los Angeles, opened in the Hansen Dam Recreational Area of the San Fernando Valley.  For more information, call (866) 552-CUBE (2823) or visit www.discoverycube.org.