My husband and I are in our late 40's, and with kids ages 11 and 9, and all the activities they are involved in, we rarely have time for a "date night". Crated With Love is a date night subscription box service that sends married couples an, at-home date nights that focus on strengthening their relationship through activities and games created by a team of experts. We recently received our first box, entitled "You and Me in Yosemite".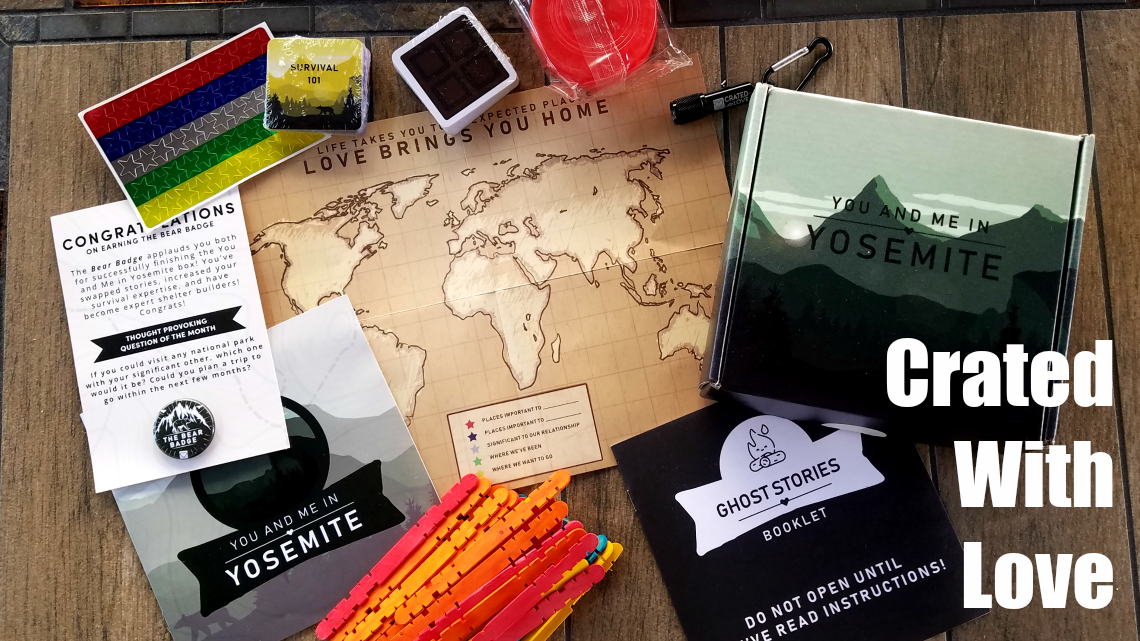 The "You and Me in Yosemite" Crated with Love box starts off on an adventure to Yosemite National Park. Actually, a destination we visited in the last 4 years, so it is near and dear to our hearts. The mission, we were to embark on a camping inspired adventure, from the comfort of our own home. The kit included various games and activities that were to aid in our quest.
First up – Ghost Stories. This was quite comical. It is just like Mad Libs in the fact that you have to ask your partner for words based on descriptions under the blanks. After we filled in all of the information, we read it aloud. This activity was a test to see how knowledgeable we were about each other while creating pretty funny stories with our personal information mixed in.
Next, it was a game of S'more Memories. Included in the kit was a pack of S'more Memories cards. We each needed to take 6 cards and create the most S'mores by matching one graham cracker card with one marshmallow card and one chocolate card. The twist was that we were to tell each other a story about us using the words on the back of the cards. The first person that wins with the most S'mores wins a special date night planned by the loser. And as always, that will be me!
The "You and Me in Yosemite" ends with a map. Each of us were to star the names of exact locations that are important to us individually, or our relationship as a whole. This was to show us how big our world really is. From here in Southern California to our destination engagement of Tampa Bay, Florida to our favorite vacation spot of Santorini, Greece, I love that the first task took us on a walk down memory lane.
A Crated with Love subscription would be an awesome gift for new parents, parents who are too busy to get out for a date night, and even grandparents. In fact, we're giving one away!
GIVEAWAY
Enter to win one Crated With Love Date Night Box
Giveaway ends October 28, 2018 at 11:59 PM PST. Open to US Residents 18 and older only. Tickets will be mailed directly to the winner's home (or mailing) address. Winner will be selected at random and be notified by email. Winners have 48 hours to respond before a new winner is selected. Not liable for unclaimed prizes or fulfillment. Blog has represented each sponsor with the expectation they will fulfill their prize and in a timely manner. No purchase necessary to enter or win; however you must enter for a chance to win. Purchase does not increase chance of winning. Chances of winning depend on number of entries. My opinions are my own and were not influenced by any form of compensation. Facebook, Twitter or any other social media platform are in no way associated with this giveaway. By providing your information in this form, you are providing your information to this blog. I do not share or sell information and will use any information only for the purpose of contacting the winner. Winners can only win once per month. Not liable for unclaimed prizes or fulfillment.