Just this last week, my handsome boy turned 7. The years are going so fast (as everyone said they would), but this time, we were extra busy with enrolling him in soccer and now Fall baseball. Typically I enjoy throwing him huge parties at the house, inviting all our local relatives as well as a few (10-20) of his closest friends. Yes, a HUGE undertaking, but this year our schedule didn't allow it! Thankfully we decided to rely on Pump It Up in Huntington Beach to help us create the perfect celebration for our birthday boy.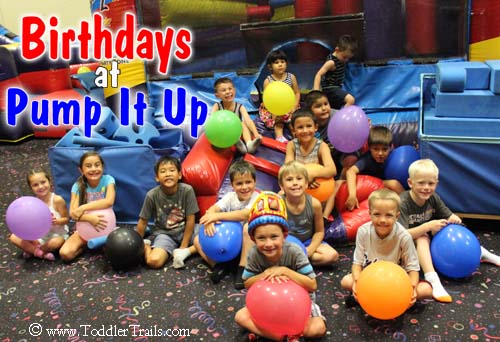 You've been to a birthday party or event at Pump It Up, right? It seems now a days, parents are more and more swamped with work, childrens activities and such that we all turn to places like Pump It Up to plan the celebration for us. And let me be the first one to tell you, they certainly make it a "piece of cake".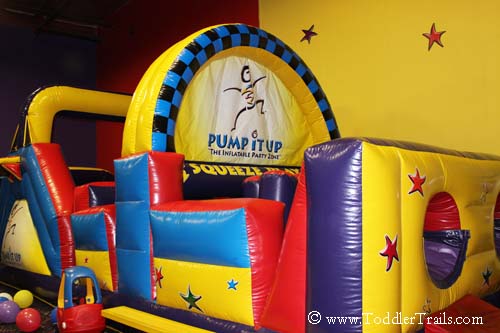 First, I spoke to a delightful Megan, my party planner who went through the details of the party with me. The deluxe party package seemed the perfect fit for us, as it included two pieces of pizza for each child guest as well as a drink and ice cream. We also added in a balloon bash (separate per child fee) which included fun and games for the kiddos guided by our party hosts.
One of the silly games the kids really enjoyed was picking a two friends to wear gigantic shirts and the kids were paired into two teams to see which team could fill the shirt with balloons the fastest. Super fun and silly!!!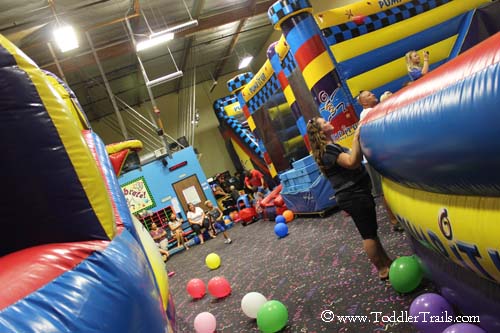 Pump It Up is the perfect place for parties as they can accommodate all age ranges.  During our party, we saw the kids, and their younger (toddler) siblings bouncing and having a great time. One of the youngest bouncers opted to ride around in the cozy coupe or simply run around with a balloon, while the dads even got into a competitive game of air hockey.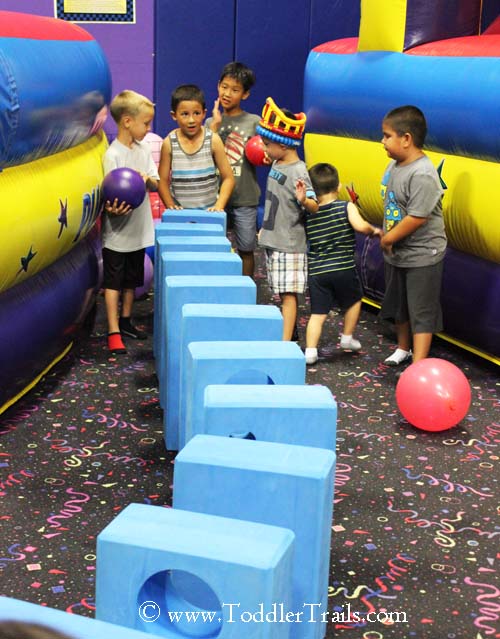 This was a first for me. I loved that Pump It Up in Huntington Beach had these wonderful blocks the kids could use to build all kinds of structures. They had the most fun creating dominos with the help of a few of our parents to show them how to do it.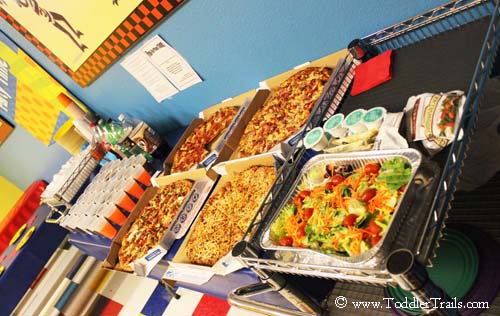 When planning the party, we chose a 5pm party time, so we felt feeding all guests was a must. We decided to add specialty pizzas for the adults, along with salads. (Hot foods must be ordered from Pump It Up). To add to the menu, we brought chips, fruit, veggies and extra beverages along with a giant cookie in the shape of a cake to celebrate.
The best part of planning a party with Pump It Up – well in my eyes – is that I didn't have to do a thing! I just invited the guests, picked up a few extras and the party hosts did everything! At check in, we confirmed how we wanted the party to run:
Will the birthday boy open gifts or do we just wanna play?
How long for dinner/dessert
Did we want to play games
When we will distribute party favors
They kept the party on schedule and got our guests out in time to go home, show and get to bed (our party time was 5pm-7pm on a school night – Sunday.)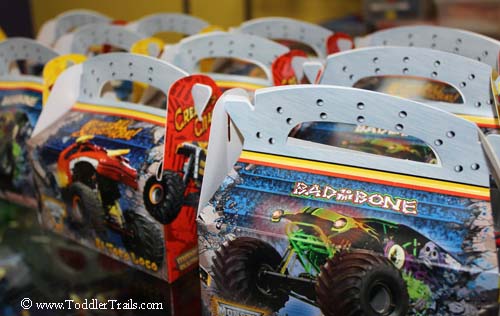 Since my handsome boy is obsessed with monster trucks right now, we opted to bring our own party favors for our guests, however, Pump It Up also offers goodie bags for your mini guests at an additional charge, unless you opt for the Ultimate Party – it is included.
If you've got a big birthday celebration coming up, I highly recommend booking a party with any of the Orange County Pump It Up locations:
Pump It Up of Huntington Beach, CA
16351 Gothard St Ste C Huntington Beach, CA 92647-3633 (714) 847-9663
Pump It Up of Anaheim Hills
5397 E. Hunter Ave,
(714)485-0034  
Pump It Up of Irvine
16871 Noyes Ave
(949)385-6042  
Pump It Up of Lake Forest
26242 Dimension Drive
Suite 100
(949)354-0101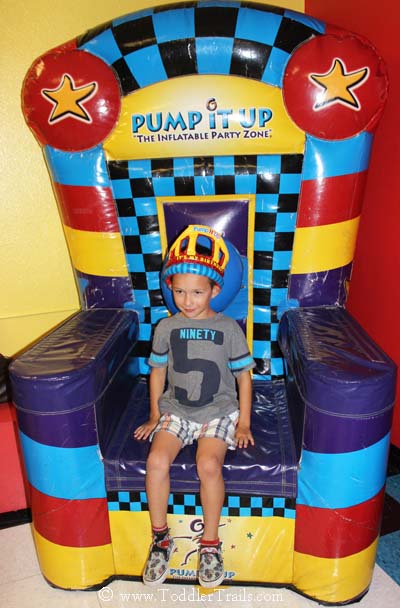 Wanted to give a shout out to our friends at Pump It Up of Huntington Beach for making my handsome boy feel like a Bouncing King on his 7th Birthday!