We've been in the party planning mode. My son's 10th birthday is coming up and we're trying to figure out if we're going to do a destination party or cater here at home. We'd rather have it at home because we can invite more family and friends, and are now considering Stacked, since they recently introduced their catering menu. Now you can cater your party your way with Stacked.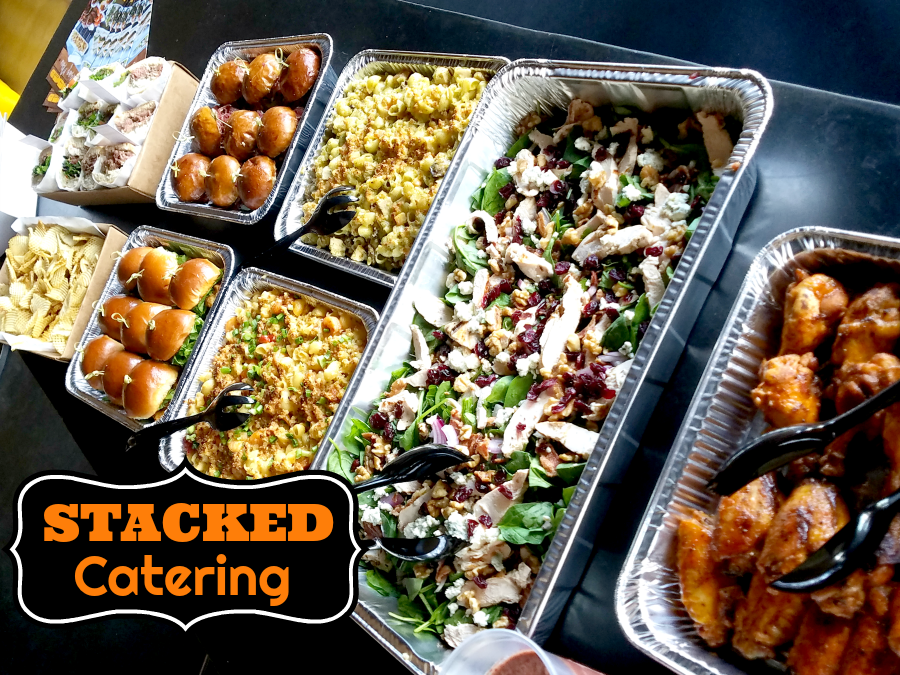 It's back to school time, and at my children's school, the PTA likes to put on a Back to School luncheon for our teachers. We used to plan a pot luck for this special luncheon, but to make it easier on the PTA board members, we decided a catered lunch would be preferable. In the past couple of years we've brought in a taco company, but this year, after hearing about Stacked's new catering menu, we were able to treat the teachers to delicious sandwiches and salads Stacked just the way we liked it.
Stacked is a great option for any occasion. Just like ordering when dining in the restaurant, you can now stack our own catering menu. Stacked's platters come in a variety of sizes, with so many different combinations that you're likely to cater to all your guests perfectly. Check out what's offered on their catering menu and available at all locations:
Appetizers:
Wings
Chicken Tenders
Spinach Artichoke Dip
Flying Pigs
Sider Platters:
Fried Buttermilk Chicken Sliders
Burger or Cheeseburger Bytes
Pulled Pork Sliders
Pastrami Sliders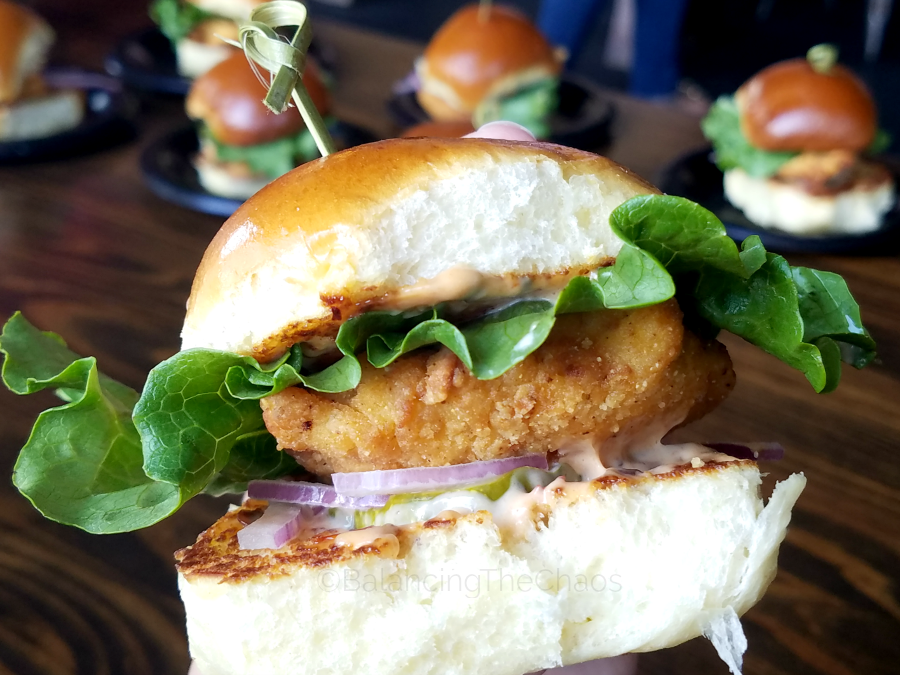 The Fried Buttermilk Chicken Sliders were so tasty. The chicken breast was hand breaded and placed on a mini brioche bun topped with green leaf lettuce, pickles, red onion and a chipotle mayo. I absolutely loved the flavor mixture of the buttermilk batter on the chicken and the chipotle mayo with just a hint of spice.
Stacked Salads:
Garden Salad
Mediterranean
Caesar Salad
Harvest Grain Salad
The Wrangler
BBQ Chicken Salad
Asian Chicken Salad
Sweet N Smokey Salmon Cobb
Cow In The Garden
Cranberry Walnut Salad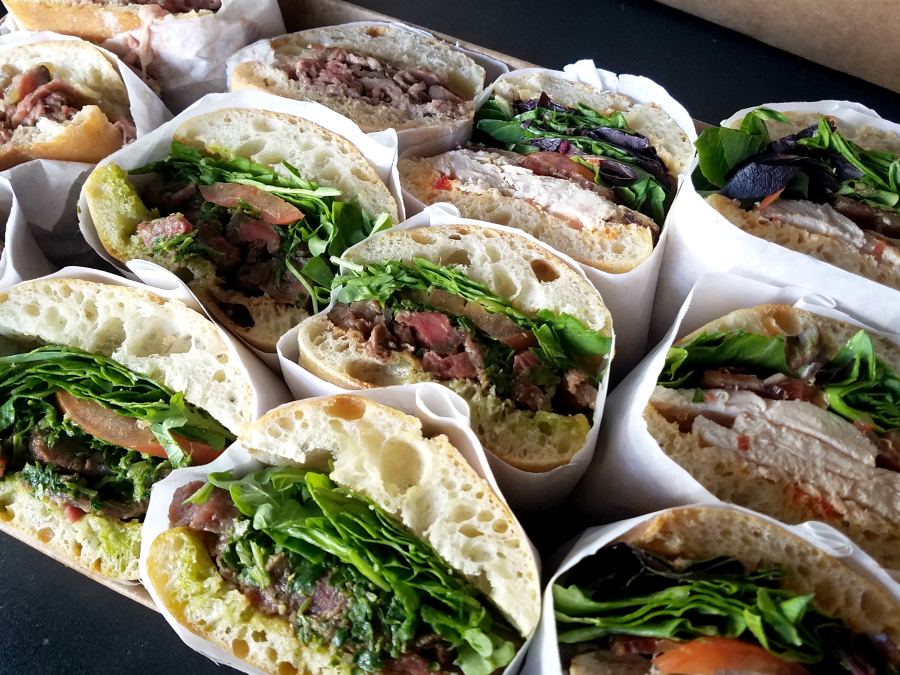 Stacked has a great selection of specialty sandwiches on their catering menu. Rather than a typical ham or turkey, Stacked offers a vegetarian option – the Caprese Sandwich, as well as chicken and beef sandwiches. As with their motto, you can stack them any way you choose, so if you know someone in your party doesn't like an ingredient, say for instance avocado, you can just have it taken off. Or, if you'd like to come up with your own signature sandwich, they will create that for you too!
Assorted Sandwich Platters:
Caprese Sandwich
Caprese Chicken Sandwich
Garlic Chicken Sandwich
Steak Sandwich
Chicken BLT
Prime Rib Sandwich
Pizza:
Margherita
Fiery Shrimp
Pastrami Pizza
Mac N Cheese
Spicy Chicken Pizza
BBQ Carnitas
The BBQ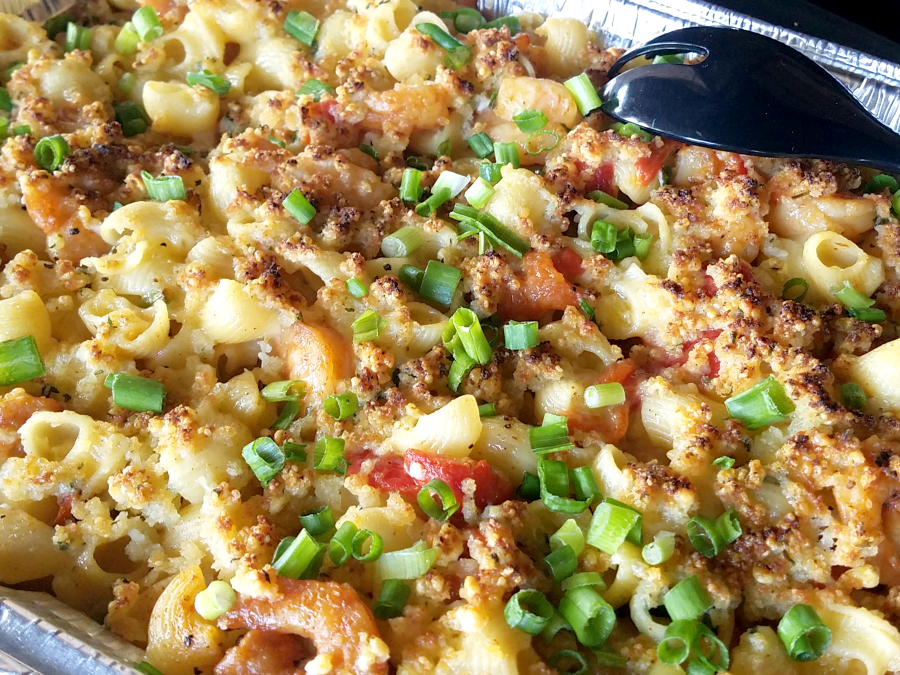 Whenever I visit Stacked with my family, I have such a hard time ordering because I tell myself I'm going to try something new – or build something fantastic. However I typically end up with the Lobster & Seafood Mac N Cheese. It's amazing. Actually, any of their signature Mac N Cheeses are fantastic and will be a huge hit at any catered party!
Signature Mac N Cheese
Chicken Pesto Mac
Cajun Chicken Mac
Bacon Cheese Burger Mac
Chipotle Stacked Mac
Cajun Shrimp Mac
Lobster & Seafood Mac
Sundried Tomato & Andouille Sausage Mac
WIN THIS:
Let's get the party started! We're giving away a $40 gift card towards your own catered get together with Stacked!
Giveaway ends August 25, 2017 at 11:59 PM PST. Open to US Residents 18 and older only. Tickets will be mailed directly to the winner's home (or mailing) address. Winner will be selected at random and be notified by email. Winners have 48 hours to respond before a new winner is selected. Not liable for unclaimed prizes or fulfillment. Blog has represented each sponsor with the expectation they will fulfill their prize and in a timely manner. No purchase necessary to enter or win; however you must enter for a chance to win. Purchase does not increase chance of winning. Chances of winning depend on number of entries. My opinions are my own and were not influenced by any form of compensation. Facebook, Twitter or any other social media platform are in no way associated with this giveaway. By providing your information in this form, you are providing your information to this blog. I do not share or sell information and will use any information only for the purpose of contacting the winner. Winners can only win once per month. Not liable for unclaimed prizes or fulfillment.