My 6 year old absolutely LOVES reading. So much so that I constantly browse the Scholastic Book Order several times every month.  I was invited to check out a couple of new books from Disney Publishing Worldwide, and I jumped on the chance to introduce Handsome Boy to some new titles: Motor Dog and One Busy Day.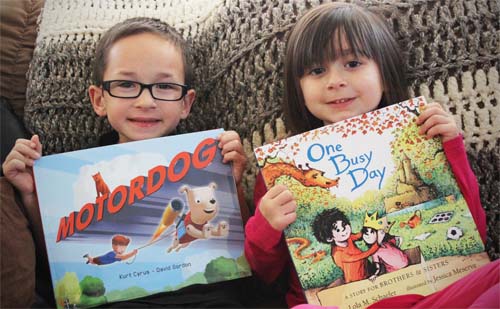 The first story he picked up was Motor Dog by Kurt Cyrus.  A really cute story of a boy named Flip and his robotic friend.  Motor Dog has all of the typical traits as a real dog, but when he comes across the path of Scoot the Cat, he begins the chance and is off like a rocket – literally! Unfortunately, when Flip tries to call off Motor Dog, he doesn't listen, until he finds Flip in danger and it's Motor Dog to the rescue.
My handsome boy loved this book.  He thought Motor Dog was really funny and loved the chase.  He only stumbled on a couple of words being at a 1st – 2nd grade reading level.
The illustrations by David Gordon were colorful and adorable in telling the story of Motor Dog.
My princess liked the next book, One Busy Day by Lola M. Shaefer because it was written for "Brothers and Sisters". You can hear the story read by my Handsome Boy below:

Just like my kiddos, Mia wants to play with her big brother, Spencer, but he is always too busy.  So Mia begins to entertain herself by painting, dancing and exploring. When Spencer was finally able to play, they let their imagination run wild.
My princess really liked it when Mia and Spencer started playing together as she states in the video above, probably because she can relate to wanting to play with her brother.
This book was really fun.  I felt it was the perfect length for my two munchkins, and for any toddlers between 3 and 5.
If you're interested in picking up the books, I'm sure they are available at local book retailers.  I just checked Amazon and they are available there for delivery.