Ever wonder how we work? I'm talking about our bodies – how its possible to move, the way we do. Now through February 20th, 2018, experience the West Coast debut of inventor Dr. Gunther von Hagens' BODY WORLDS: Pulse — a mix of aesthetic anatomy, health and wellness at the California Science Center. This special exhibition presents the body in health and distress, its vulnerabilities and potential, and many of the challenges the human body faces as it navigates the 21st Century. Through interactive multimedia, guests will learn about the wonders of the real human body, and marvel at its elegance and complexity.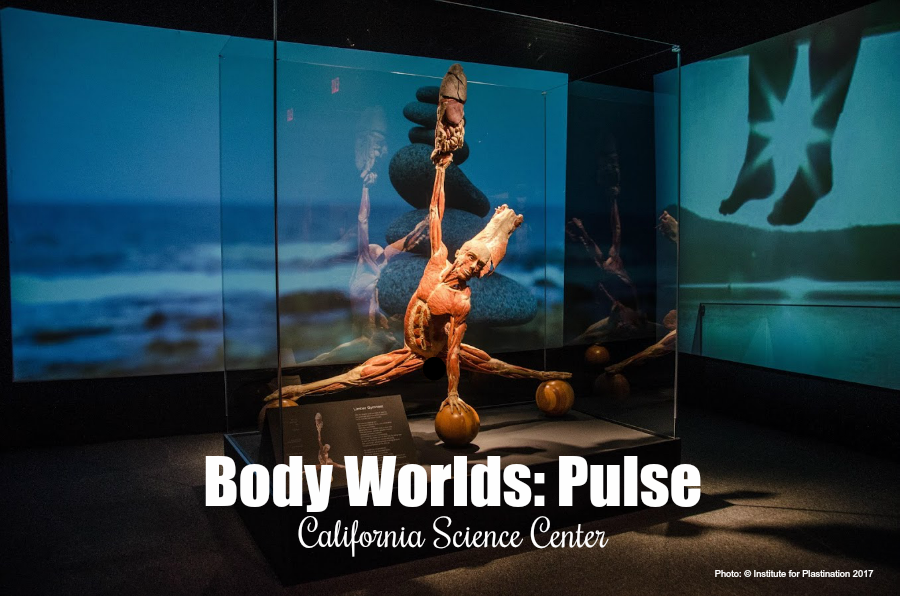 Body Worlds: Pulse at the California Science Center features more than 200 plastinated specimens — including whole bodies, body configurations, translucent slices, and organs – are curated and presented in galleries that feature the various systems of the body. I have toured past Body Worlds exhibits and have been fascinated with being able to see healthy organs versus unhealthy or diseased organs. Typically, the locomotive, nervous, respiratory, circulatory, digestive, and reproductive systems are only seen by medical practitioners. Now the public has the ability to see plastinates include an obese body slice, a smoker's black lung and hardened arteries that show the impact of ill health. In contrast, dancers, sports figures, and a woman bearing life illustrate how bodies function when lifestyles support good health and well-being.
The California Science Center welcomes both adults and children to BODY WORLDS: Pulse. However, this exhibition may not be suitable for some children, and the Science Center has determined that a responsible adult must accompany all children 12 years old and younger. Before taking your children, become familiar with the exhibition by reading the one-page Parent Guide (available in English or Spanish) before deciding whether or not to bring your child to BODY WORLDS: Pulse. Other material is available for further information.