When planning our 2014 Road Trip, the hubster stated that Alcatraz is a must! A huge fan of The Rock and other films about Alcatraz, its a good thing we decided to plan early! Upon my internet search, one of the few companies that offers tours of Alcatraz is Alcatraz Cruises.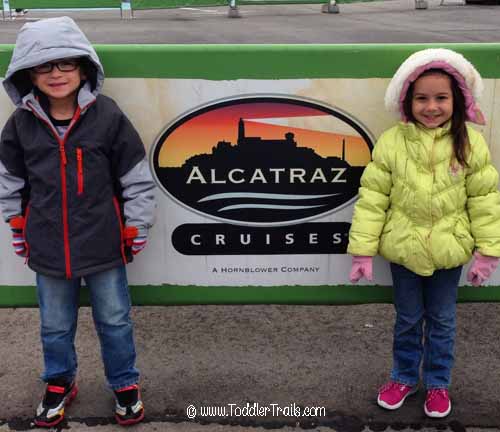 Our friends at Alcatraz Cruises made it possible for us to travel on the date we had selected. TIP: be sure to book early!  At Alcatraz Cruises you are able to select a specific date and boarding time, and I highly recommend doing this, because for the summer, they sell out fast!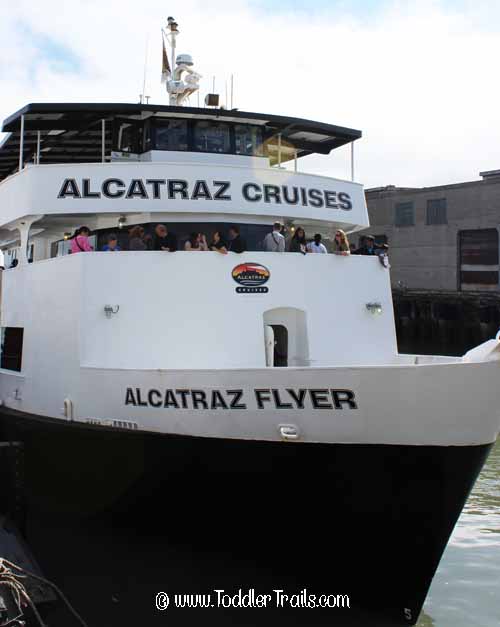 Alcatraz Cruises docks at Pier 33, so if you're taking a cab, be sure they know exactly where you're going. Grab your tickets (if will call) and head on over to the boarding line.  While you wait, the employees will snap a picture of you (available for purchase once you disembark at the end of our tour), and you're on your way.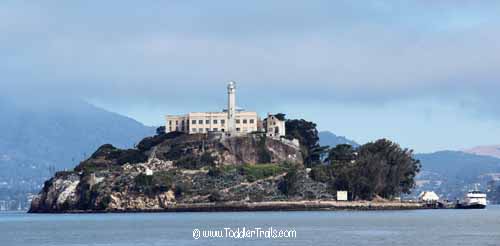 The boat ride over takes about 15 – 20 minutes or so and is quite calm since they don't go so fast. (No need to worry about getting sea sick). Be sure to have your camera ready, because you'll have a great opportunity to get some amazing photos of the San Francisco Sky Line.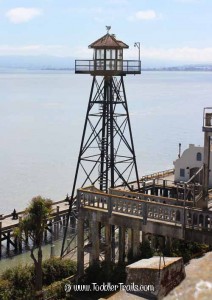 While aboard Alcatraz Cruises, should you get a little hungry, a snack bar is located on the bottom floor of the vessel with snacks like chips, pretzels, popcorn and a variety of soft drinks.
Once you disembark, you are then greeted by a park ranger who will tell you a little about The Rock, what to look out for, locations of specific facilities and buildings and where to go for the orientation film that will give you a little history about Alcatraz.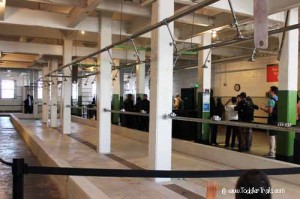 The audio tour that is offered and starts off where the prisoners were brought through and processed is a complimentary part of the tour. It is a great way to walk through the cellhouse, hear personal accounts from several of the guards and inmates.
The Audio tour is something that the youngsters can do as well. I'm not quite sure if my princess fully understood all that was being said, but if she had questions, the audio was very easy to stop along the way and answer her questions.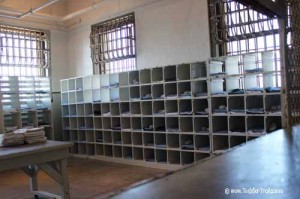 During the tour, you'll find out about detailed accounts of escapes and attempts, about "the hole", the morgue, the mess hall/kitchen and more. What I loved most, was watching my husband's eyes light up as he listened to the stories via the audio tour and walked the long lonely walkways of Alcatraz, imagining what it was like to be a prisoner in the cell block.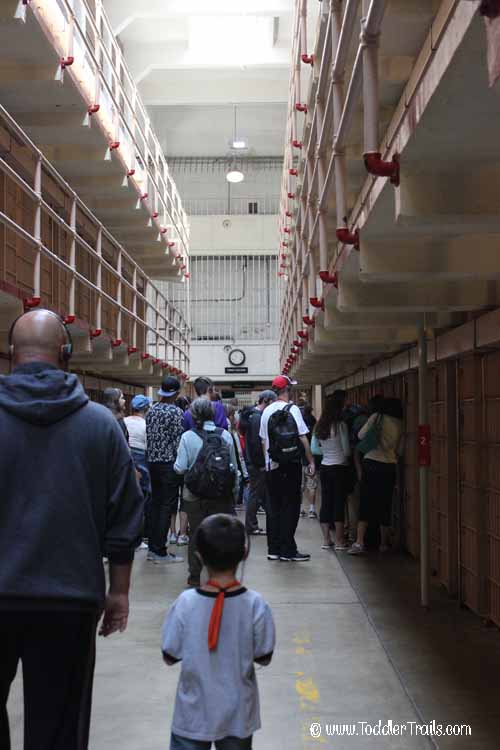 Private tours are also offered that will take you through other areas of the cell house.  We saw a park ranger guiding a small group through some of the cells on the second floor, showing them how the guards used to open and close the cell doors with levers.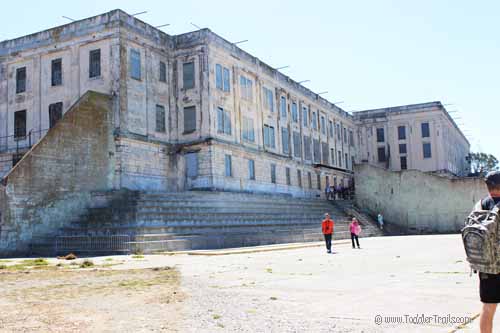 Recalling movies about Alcatraz like The Rock, we've seen images, even imagined what it was like to be an inmate and only have this space to exercise in for a few hours a day.  You can still see the outlines of the baseball diamond off the left.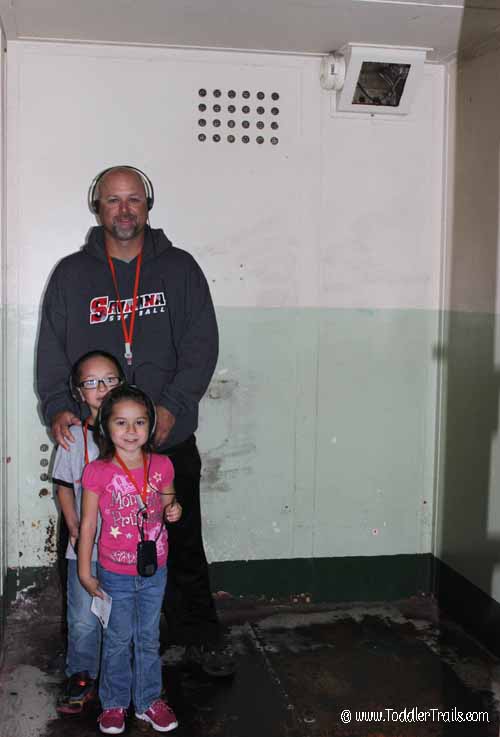 I found solitary quite fascinating.  I had expected it to be quite dark, but walking into the cell as shown in the photo above, sunlight was allowed in through a small window.  These cells were at the ground level of the cell block, so these inmates could still hear what was going on in the cell block from those above.
If you have the opportunity to get to San Francisco, I highly recommend jumping aboard Alcatraz Cruises and getting a chance to tour The Rock.
Disclaimer: We received a discounted admission to Alcatraz Cruises to tour and share our honest experiences with Toddler Trails fans. No other form of compensation was received.