When my son was around 4 months, I was ready to get out. I needed some adult interaction and was eager to meet other moms. The tough part, I have a shy streak. Getting myself out there and jumping into a whole new world of moms, playdates and socializing sounded exciting and terrifying at the same time.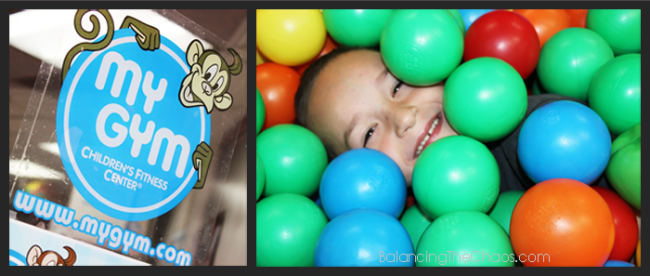 I recently discovered My Gym in Yorba Linda. I recall a couple of my mommy friends talking about it in play-dates, even hosting birthday parties there, so I finally had to check it out. Besides, we're doing a giveaway!!! Don't forget to enter at the end of this post!!!
We walked in and the kids' eyes lit up. They were so excited, they wanted to play. At all of the My Gym locations, they focus on strength, balance, fitness, coordination, motor skills and socializing youngsters with teachers, other parents and kids their age.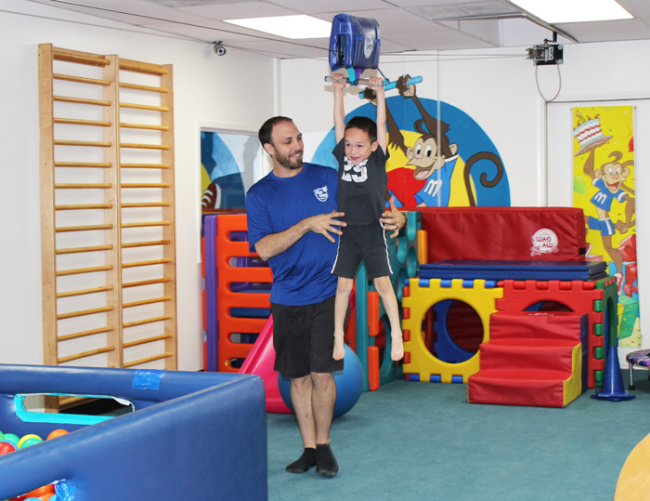 18510 Yorba Linda Blvd.
Yorba Linda, CA 92886
(714) 695-0440
Rather than hosting an open play, My Gym Yorba Linda consists of classes designed around specific age groups and abilities:
Little Bundles: (Age 6 Weeks – 6 Months)
The littlest of students, work on baby exercises, songs, dances, infant-safe rides, unique swings, and many other Parent & Me adventures await the infant-parent team. 45 minute class.
Tiny Tykes: (Age 7 – 13 Months)
Tiny Tykes and their parents are led through a variety of beginning stretches, exercises, infant songs and dances, baby-safe rides and adventures, balance and agility skills, and introductory tumbling during this 45-minute program. A relationship to movement and physical activity begins to develop.
Waddlers: (Age 14 – 22 Months)
A stimulating 1-hour program introduces balancing, tumbling, hanging and agility skills, which helps the children develop a love of physical activity and a sense of pride in their achievements. At this age, a child's level of independent mobility will typically progress from aggressive crawling to running with a focus on fine and gross motor skills.
Gymsters: (Age 22 Months – 2 Years)
At this age group, youngsters sing, dance, swing, play games, watch puppet shows, take turns on special rides, and have "Surprise Time" during this hour long class. They will work on fine and gross manipulatives in a structured format.
Terrific Tots: (2 1/2 years – 3-1/4 years)
During this 1-hour program, the development of social skills is also emphasized, as the youngsters become good listeners, follow directions, cooperate in a group, and learn more about themselves. They become more independent as teachers are now interacting more directly with them while parent involvement is decreased.
Mighty Mights: (3 1/4 years – 4 1/2 years)
Mighty Mites engage in relays, more complex games, and beginning sports skills lead to increased strength, enhanced manipulative ability, and improved hand-eye coordination during this 1-hour program geared to build self-esteem and confidence.
Whiz Kids: (4 1/2 years – 6 years)
As Whiz Kids, the children build strength, balance, agility, flexibility and coordination in this 1-hour program, as instructors maintain a positive, supportive and noncompetitive atmosphere.
Champions: (6- 8 years)
The Champions program is fast-paced and completely structured with organized ingredients throughout the hour. This class introduces a wide range of physical skills and cooperative group activities in preparation for organized sports and outside activities.
Cardio Kids: (7-13 years)
Endurance and gross motor skills are increased through a series of exciting and dynamic activities. At this level, they focus on specific muscle groups, utilize a 4-station circuit-training course, and add fun nutritional tips, our goal in this 1-hour program is to instill health and fitness as a way of life.
Summer Camp
For kids ages 2.5 years to 9 years for 3 weeks (9am -12pm):
June 17 – 21, 2013; July 15 – 19, 2013; August 19 – 23, 2013
Summer camp enhances physical development through gymnastics, arts, crafts, storytime, music and more.
Call for Pricing (714) 695-0440
Wanna host a playful birthday party? Plan a birthday Party with My Gym!!!
The complete facility is dedicated to your family and guests with custom-made, state of the art equipment and fun, supportive teachers to make it a memorable experience for everyone. When you plan your party, you will receive a My Gym t-shirt for the birthday boy or girl, invitations and thank you notes (shown in picture).
For party packages, visit their website:
GIVEAWAY
Our friends at My Gym Yorba Linda have offered two amazing prizes
for Toddler Trails Readers:
1. A Lifetime Membership ($75 Value)
2. 1 Month of Classes ($75 Value)
Enter below:
a Rafflecopter giveaway
Valid for US Residents only. Winners will be randomly selected via RaffleCopter and be notified via email. They have 48 hours to respond or a new winner will be randomly selected the same way. Give-away winners will ran email with details on how to claim their prize.
*This is a sponsored post. Thanks to Mr. Jeremy at My Gym Yorba Linda for a really fun time learning about my gym, playing and getting the opportunity to play.