One of my kids' favorite places to go is Discovery Science Center in Santa Ana.  Every time we drive by, they scream so loud, "The Cube!!! Mommy, when are we going?"  Well, it just so happens, we were invited to check out the new exhibits to share with our beloved readers.
DISCOVERY SCIENCE CENTER
2500 North Main Street
Santa Ana, CA
714-542-2823
Currently at Discovery Science Center, it's all about Legos.  Explore the Castle Adventure Exhibit where you can see beautiful Lego Models on display as well as create your own masterpieces at the Lego Build tables.
The Princess loved this Dragon and her cub, who was hoarding the treasures as she gave her a "High Five".
Pose for pictures with a life sized Knight of the Realm – another fantastic Lego model.
A great place for a photo op – the Throne made of giant Lego blocks.  The hubster and I were fascinated with the picture hanging in the castle made of mini Lego blocks.
Another featured exhibit at the Discovery Cube is the DaVinci exhibit.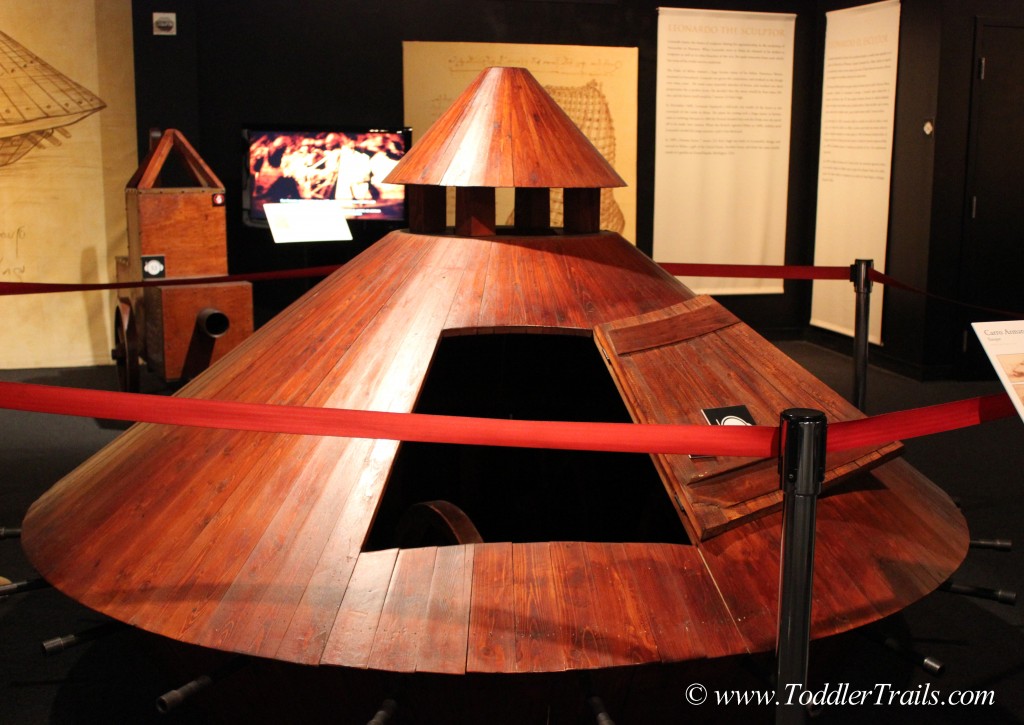 Get a feel of what it was like in the day this above contraption was in use.  Can you guess what it is?  During battle 8 people would pile into this vehicle and crank gears to make it move – yes, its basically a tank!
Many different DaVinci inventions were on display.  It is really fascinating to see some of the contraptions used in the time.
The kids LOVED this interactive exhibit of gears where they could move them around on a magnetic wall.
Kids could also build their own house with wood blocks – letting their imagination take flight.
Discovery Science Center has permanent and temporary exhibits.  For more information on their temporary exhibits, visit their website: Calendar of Events.
Connect with The Discovery Science Center via Facebook or Twitter.
Special thanks to our friends at The Discovery Science Center for inviting us for a family day out full of education and fun.