(AD) Knott's Berry Farm kicks off its 2020 Seasons of Fun with the all-new Knott's PEANUTS Celebration. Families are invited to join Snoopy and the PEANUTS Gang in a variety of family fun. The park is all decked out with PEANUTS inspired décor, new character experiences, comic strip inspired photo opportunities, deliciously themed-treats and new whimsical shows. Experience the fun the Knott's PEANUTS Celebration has to offer weekends through March 1st, 2020, plus February 10th, 14th, and 17th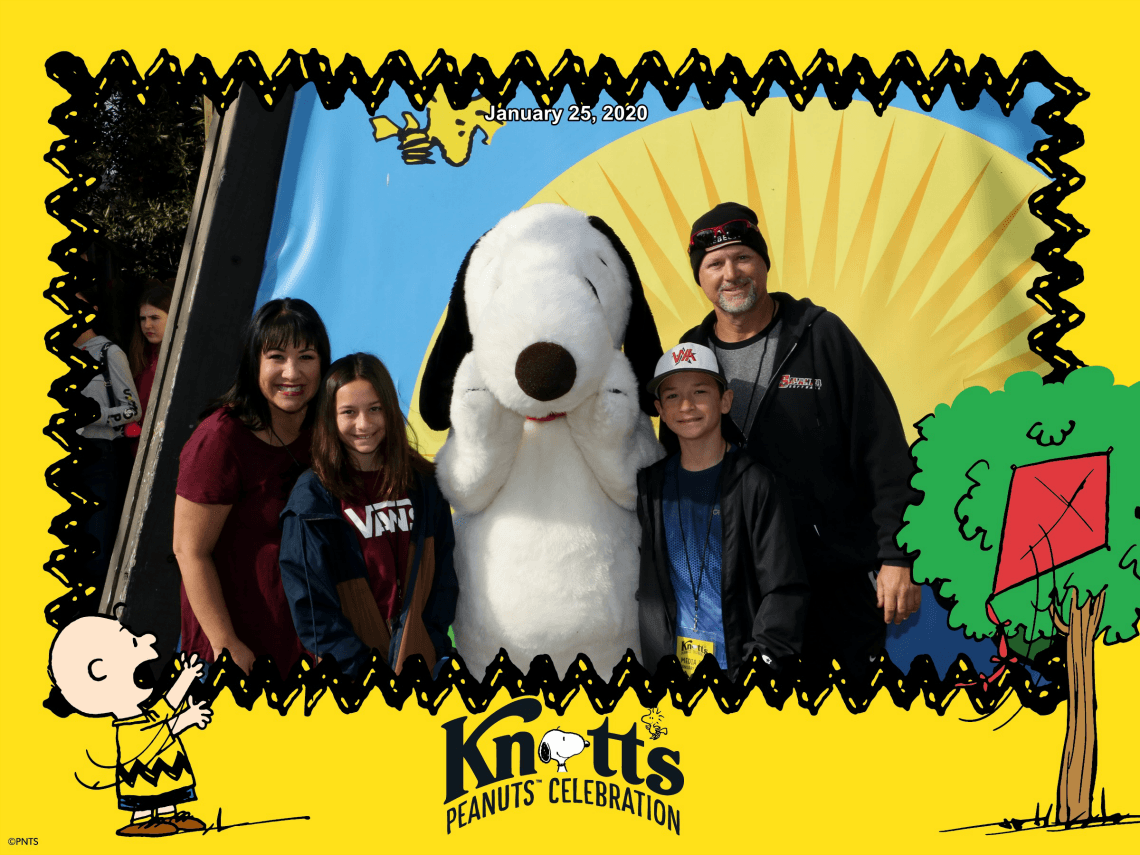 This year, Knott's is taking it up a notch. They are celebrating their 100th Anniversary and reliving all the rides, events and memories that makes Knott's so special. We were so excited to be selected as a Knott's Ambassador for 2020, partnering with a brand that celebrates family through the seasons. January kicks off the seasons of fun with the Peanuts Celebration, where Snoopy, Charlie Brown and the Peanuts Gang takes over the park.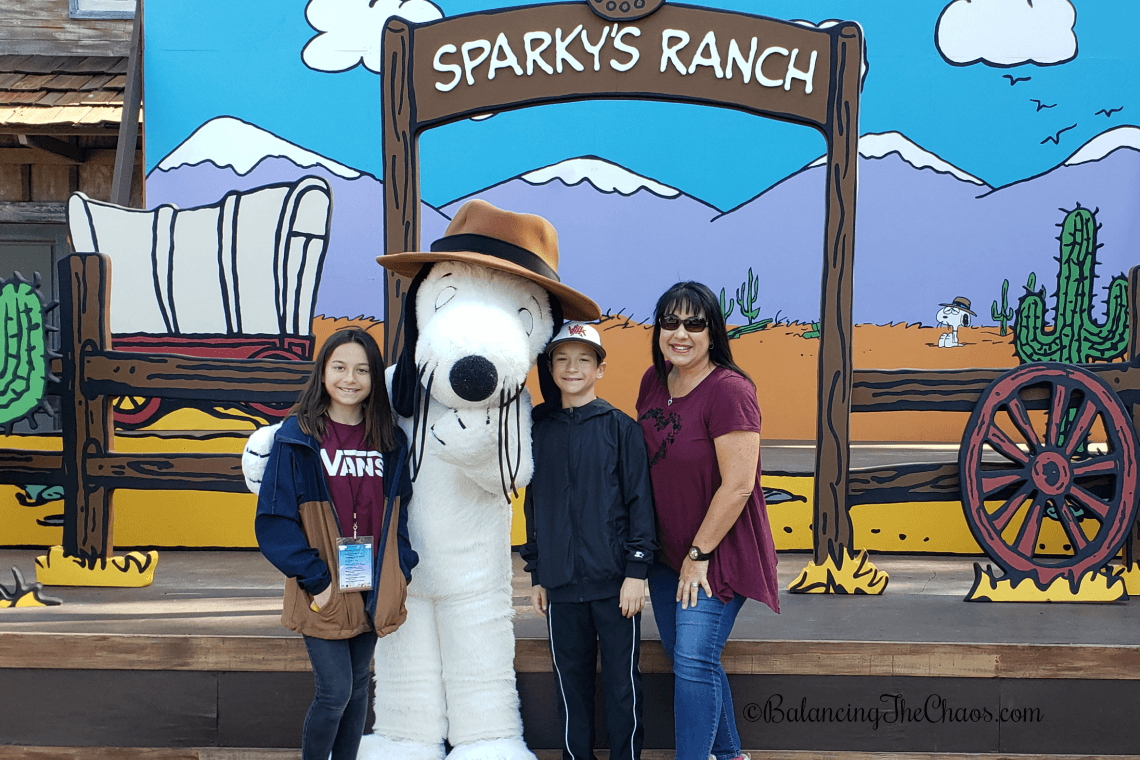 The newest Peanut's Character has been added into the mix. Be sure you get an opportunity to meet Spike, Snoopy's brother. He's hanging out at Calico Square during the weekend days, and at the Discoteca on weekend evenings.
Entertainment:
Camp Snoopy Theater: At the Camp Snoopy Theater you'll be able to catch Space Beagle, featuring Charlie Brown and Lucy, as our beloved Snoopy becomes the first dog on the moon.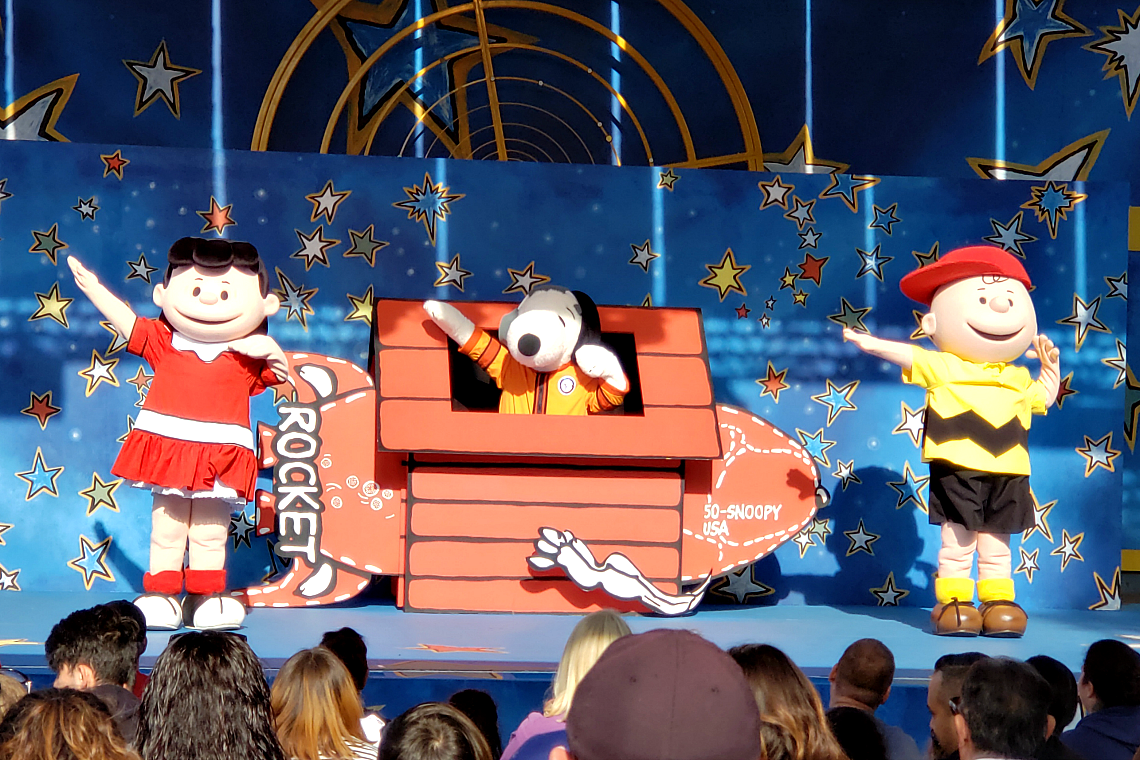 Also in Camp Snoopy, the Grand Sierra Railroad invites families to celebrate with the PEANUTS Gang as they head to the Beagle Bonanza. Take a leisurely trip around Reflection Lake and see the gang pack up for their trip.
Bird Cage Theater: We had the opportunity to learn how to draw Charlie Brown. Throughout the day, guests will have the opportunity to draw their favorite PEANUTS characters at the PEANUTS Sketch School. So easy to do, we followed step by step directions by a resident art teacher.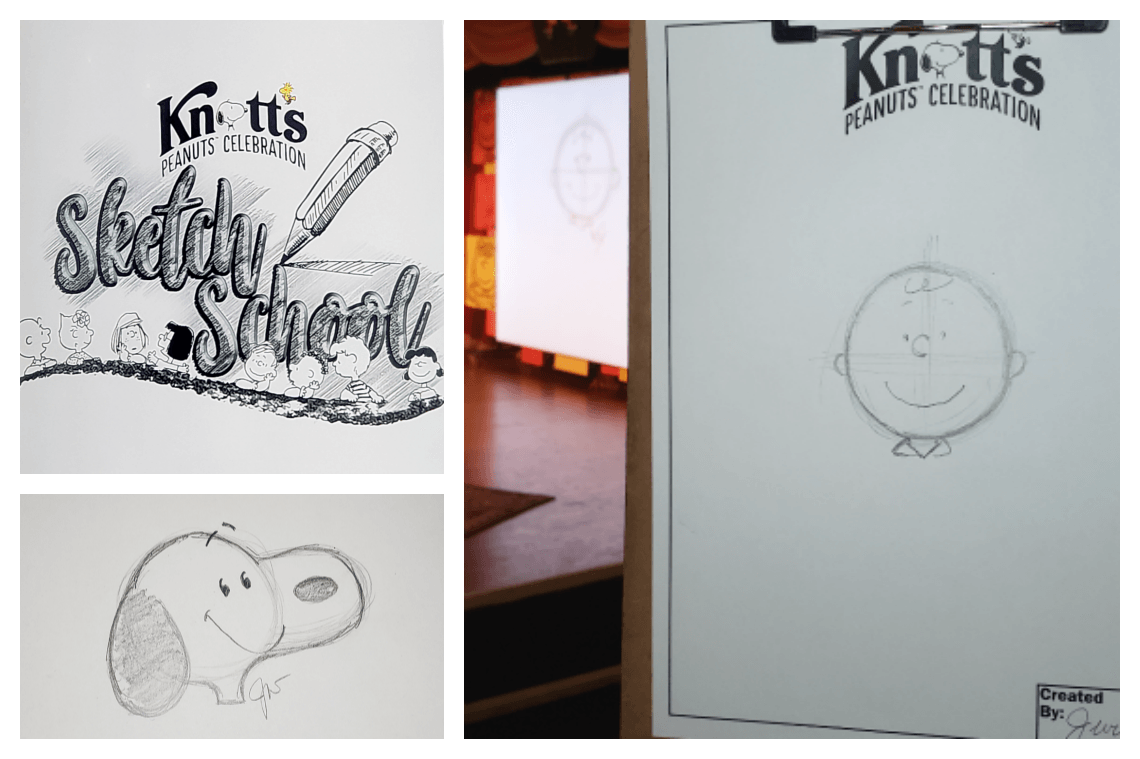 Calico Park: The PEANUTS Cowboy Jamboree, Franklin and Linus on a Western escapade as they transform into cowboys. These silly boys are leading the fun and games in Calico. While we were there, the girls had the opportunity to play a game, where they were claiming their stakes of land – also known as musical chairs.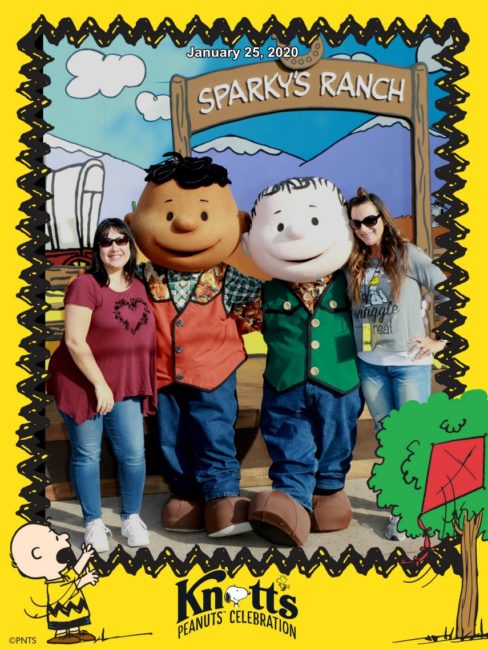 In Calico, we stopped at the Livery Stable to visit Pig Pen and check out some of his favorite animal friends. Along the way, we had the opportunity to learn more about Knott's resident donkey too.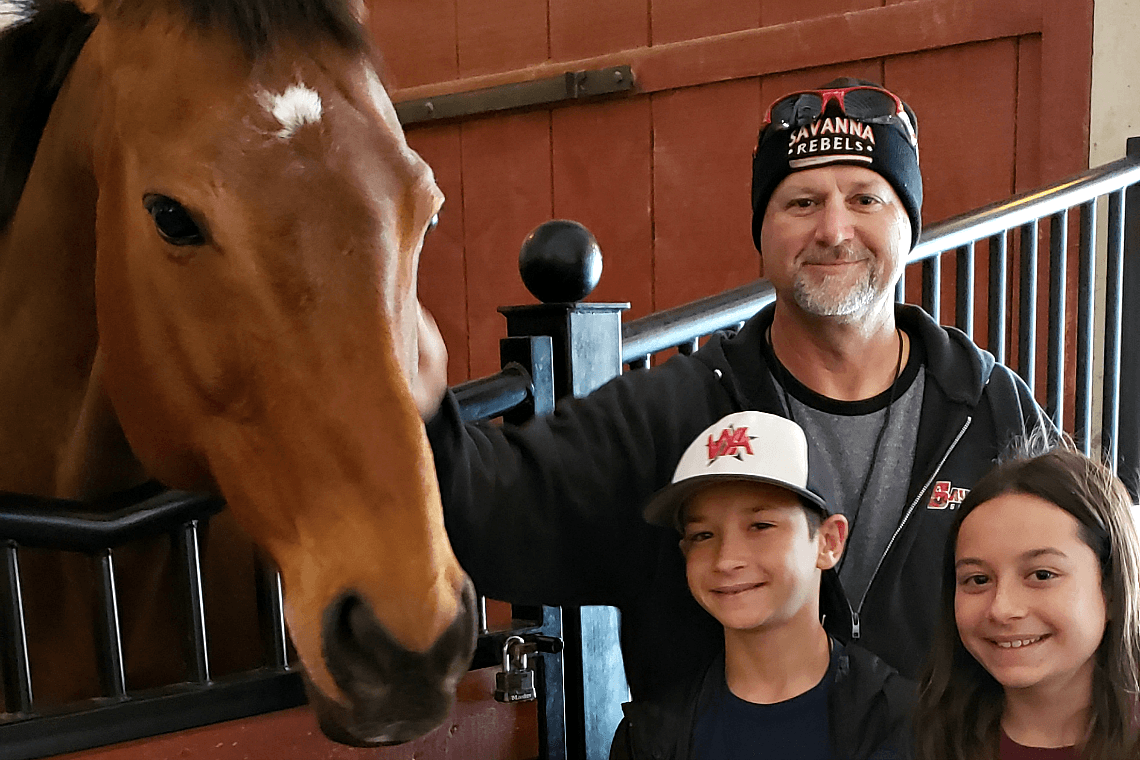 Calico Mine Stage: The fun continues at the Calico Mine Stage where the Peanuts gang have two musical surprises. During the day, Happiness is encourages park guests to get up and dance, enjoy the rhythms of love and laughter and true friendship. In the evening, the stage transforms into a musical extravaganza with Woodstock's Musical Festival. The musical event will feature the Peanuts Gang joined by the family-friendly indie band The Jelly of the Month Club, performing a high energy rock concert for the whole family.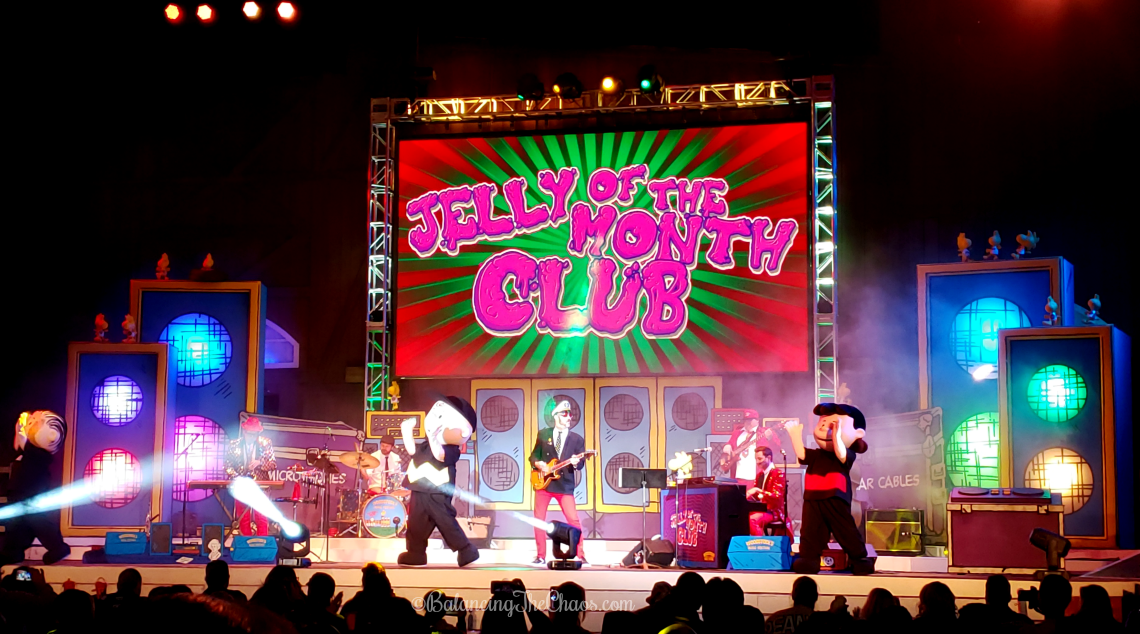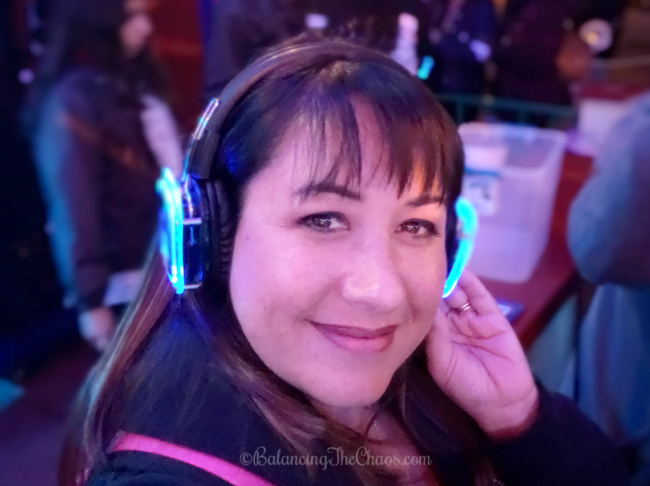 Fiesta Village: At Fiesta Village, we joined in with Spike's Discoteca de Silencio, also know as the silent disco. It was so much fun! We grabbed a set of headphones and danced to one of three music stations belting out popular tunes from the 70's, 80's, 90's on up current hits.
Delicious Treats: During the Knott's Peanuts Celebration, be sure to pick up some of the delicious sweet treats offered throughout the park. Imagine themed hot dogs, Fruity Pebbles krispies, Charlie Brown macaroons, peanut butter filled churros with chocolate drizzled on top, and so much more. Check out this quick video with all the food offerings and which area of the park you can find them.
I'm a supporter of the Knott's Berry Farm Meal Plan. Purchase it in addition to your season pass that entitles you to enjoy 2 meals very time you visit the park in 2020 (with a 4 hour required interval between meals). These Peanuts Celebration food options are included in the meal plan this year:
Junkyard Dog at Wilderness Broiler
Peppi Fries–Papa Loca
Pulled Pork Baked Mac and Cheese at Wagon Wheel Pizza and Ghost Town Grill
Sloppy Joe Burger at Boardwalk BBQ
Snoopy's Dog House at Fiesta Dogs
Sweet Chili Thai Pizza atWagon Wheel Pizza and Sutters
Thai Herb and Peanut Pie at Beachy Keens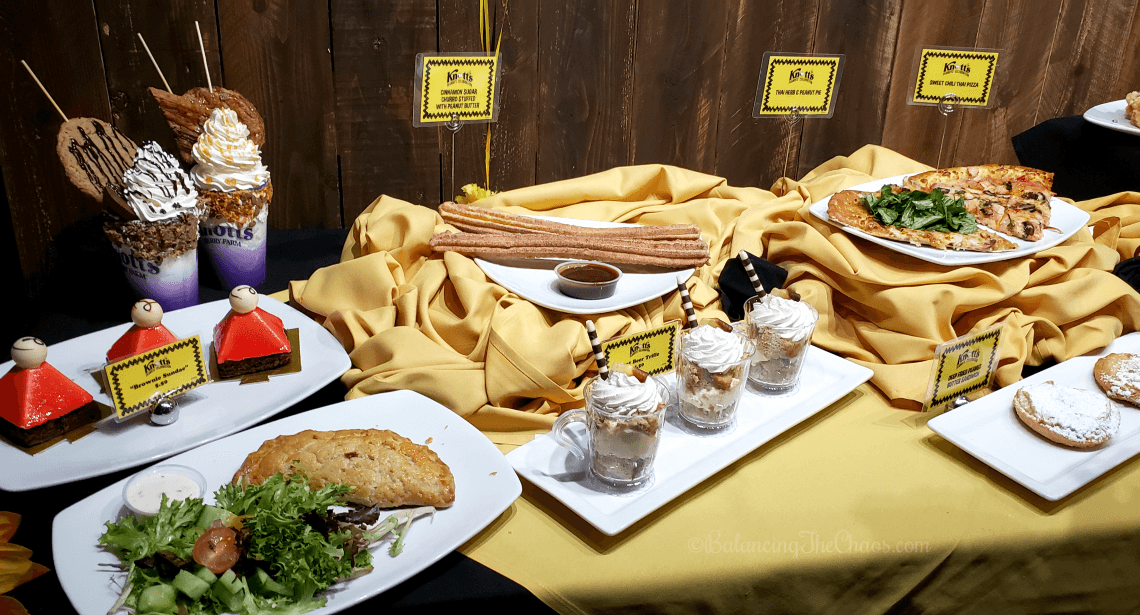 Peanuts Merchandise: I loved walking through the park and seeing Peanuts merchandise everywhere. I kept picking out favorite shirts and sweatshirts wandering through the shops and people watching. During the Peanuts Celebration, commemorative shirts and goods are available for purchase throughout the park. This year, you'll want to get your hands on the collectible book titled Knott's Preserved by Christopher Merritt and J. Eric Lynxwiler. A fantastic edition of Walt and Cordelia Knott and the area as we affectionately know today as Knott's Berry Farm. I had a chance to tour the park with J. Eric Lynxwiler and all that he shared was fascinating.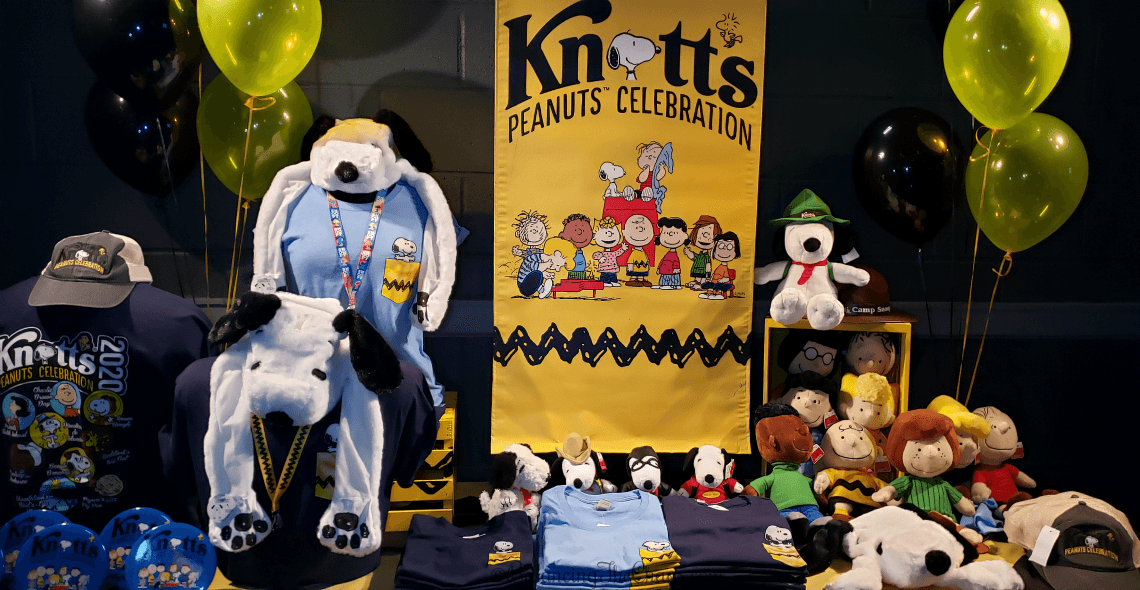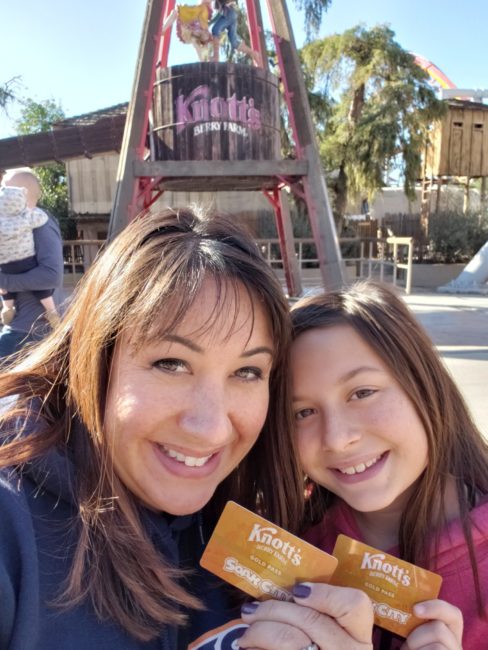 The best way to enjoy every weekend of the all-new Knott's PEANUTS Celebration and all of the other Seasons of Fun is with a 2020 Season Pass. A Regular Season Pass includes unlimited admission in 2020 to Knott's Berry Farm with no blackout dates, and a Gold Season Pass includes unlimited admission in 2020 to both Knott's Berry Farm and Knott's Soak City Waterpark with no blackout dates. The Platinum Pass includes parking and admission to All Cedar Fair Parks.
Regular passes are just $101 or six easy payments of $13.50 and Gold Passes are $125 or five payments of just $17.00 after initial payment. The Platinum Pass is $220 or six payments of $30 after initial deposit. Applicable taxes and fees apply online. Payment plans are only available at knotts.com. We just did it, and added the meal plan, fun pix photo pass as well as the drink pass. There are so many options, you just customize it to fit your family. Join us and reserve your passes today at https://www.knotts.com/.