(AD) Knott's Berry Farm kicks off its 2023 Seasons of Fun with the all-new Knott's PEANUTS Celebration. Families are invited to join Snoopy and the PEANUTS Gang in a variety of family fun throughout Knott's. The park is all decked out with PEANUTS-inspired décor, new character experiences, comic strip-inspired photo opportunities, deliciously themed treats, a game show, and more. Experience the fun the Knott's PEANUTS Celebration has to offer daily through February 26, 2023.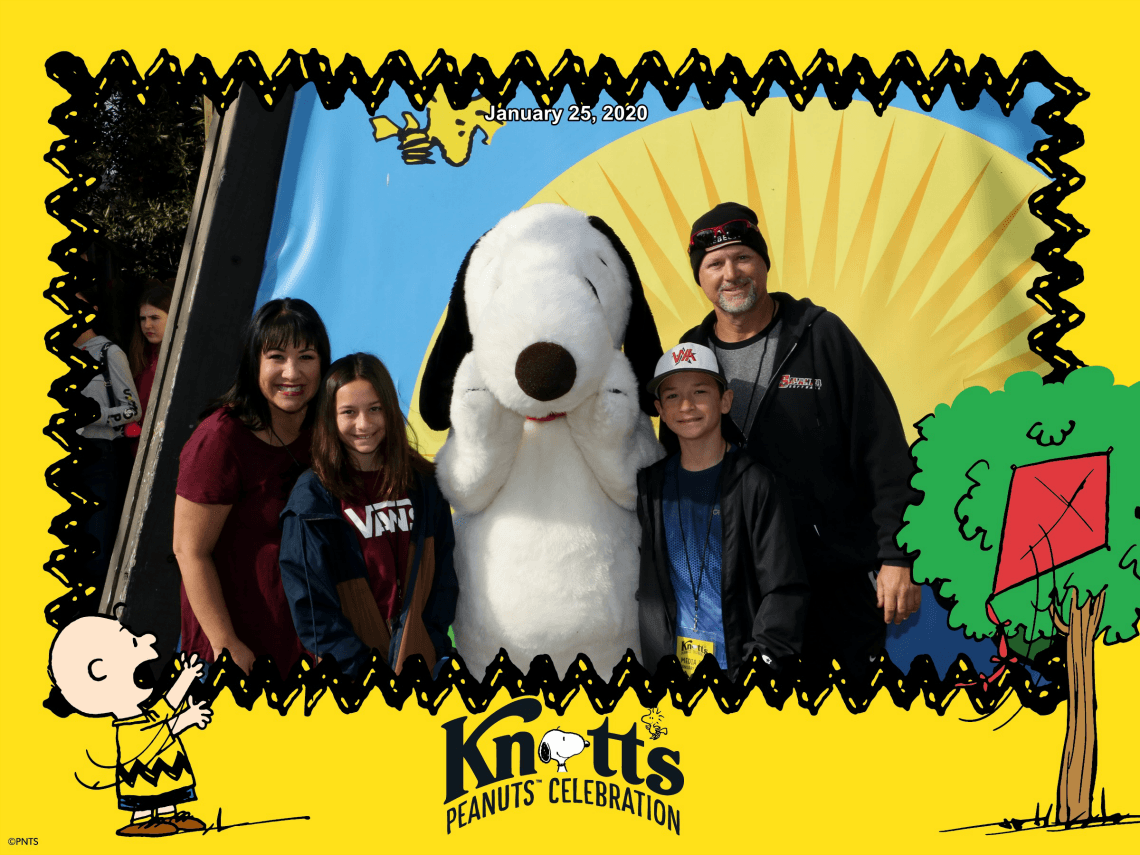 We're excited to kick off the 2023 season of fun as returning Knott's Ambassadors, partnering with a brand that celebrates family through the seasons. January kicks off the seasons of fun with the Peanuts Celebration, where Snoopy, Charlie Brown, and the Peanuts Gang take over the park with all kinds of fun.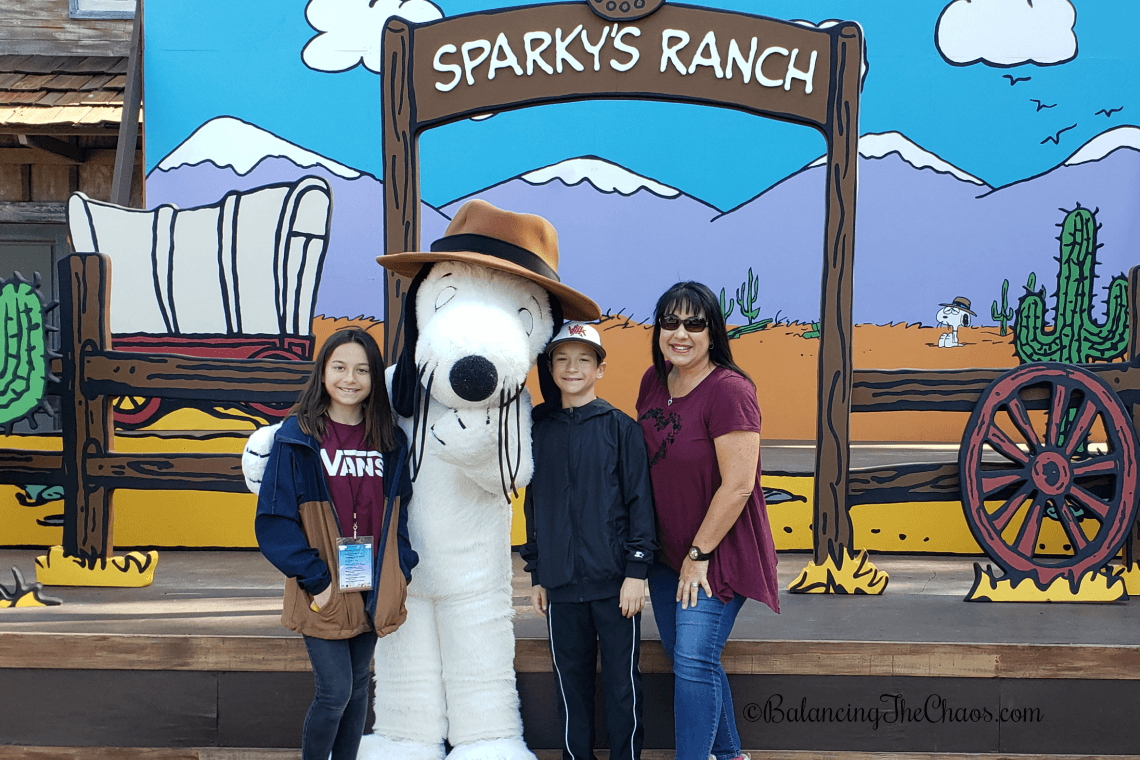 The newest Peanut's Character has been added into the mix. Be sure you get an opportunity to meet Marcie of the Peanut's Gang. She will be hanging out at Camp Snoopy and is looking forward to meeting kids of all ages.
Entertainment:
Camp Snoopy Theater: At the Camp Snoopy Theater you'll be able to catch "Music Goes Round and Round", featuring Sally and Schroeder, sharing melodies that will have the audience up and dancing in the Isles.
Also in Camp Snoopy, the Grand Sierra Railroad invites families to celebrate with the PEANUTS Gang as they head to the Beagle Bonanza. Take a leisurely trip around Reflection Lake and see the gang pack up for their trip.
Bird Cage Theater: We had the opportunity to learn how to draw Charlie Brown. Throughout the day, guests will have the opportunity to draw their favorite PEANUTS characters at the PEANUTS Sketch School. So easy to do, we followed step-by-step directions from a resident art teacher. Also in Bird Cage Theatre is "Charlie Brown's Trivia Challenge", where guests test their knowledge with PEANUTS universe questions and eye-popping visual challenges.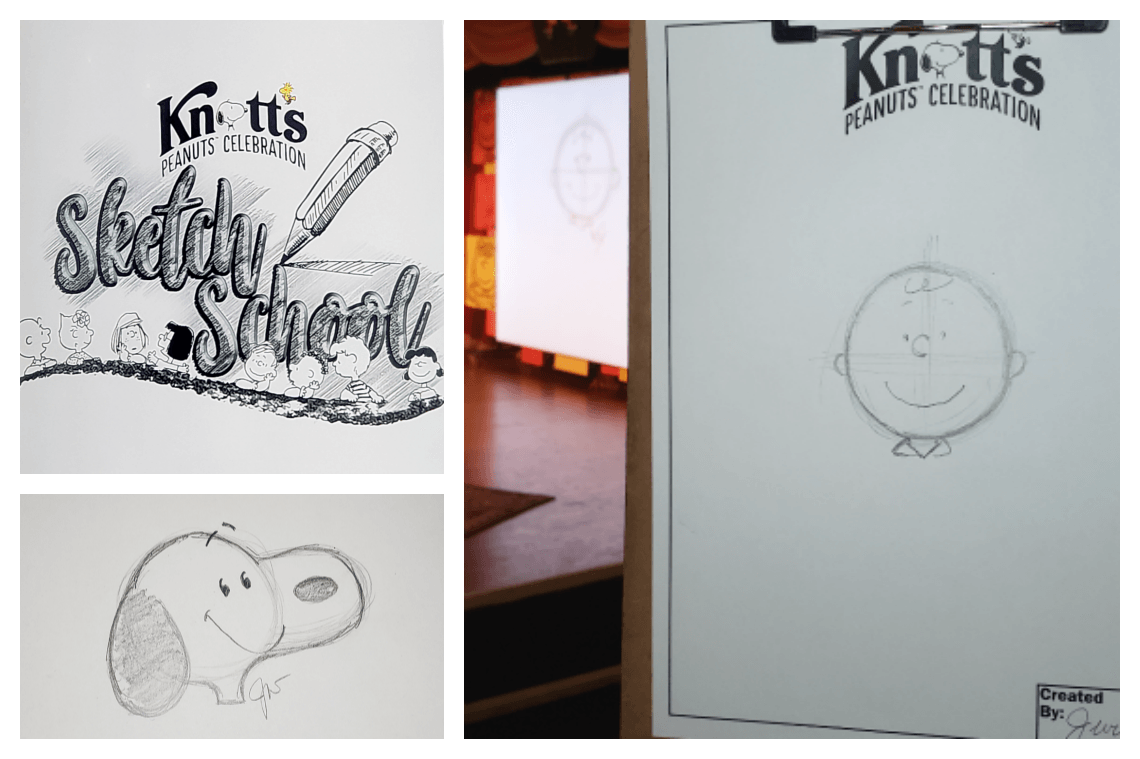 Calico Park: The PEANUTS Cowboy Jamboree, Franklin and Linus on a Western escapade as they transform into cowboys. These silly boys are leading the fun and games in Calico. While we were there, the girls had the opportunity to play a game, where they were claiming their stakes of land – also known as musical chairs.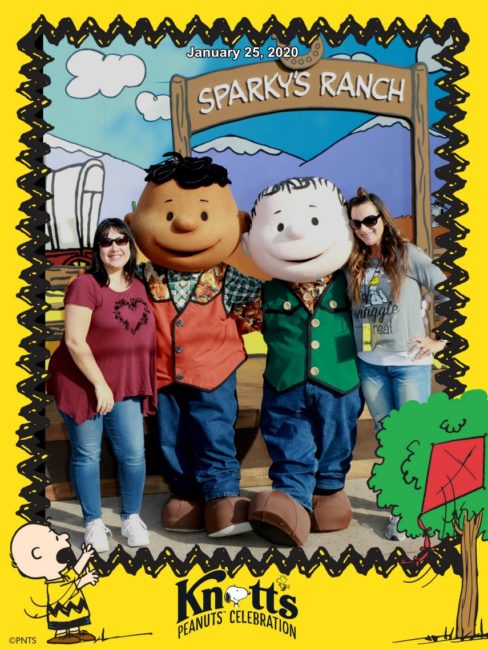 In Calico, we stopped at the Livery Stable to visit Pig Pen and check out some of his favorite animal friends. Along the way, we had the opportunity to learn more about Knott's resident donkey too.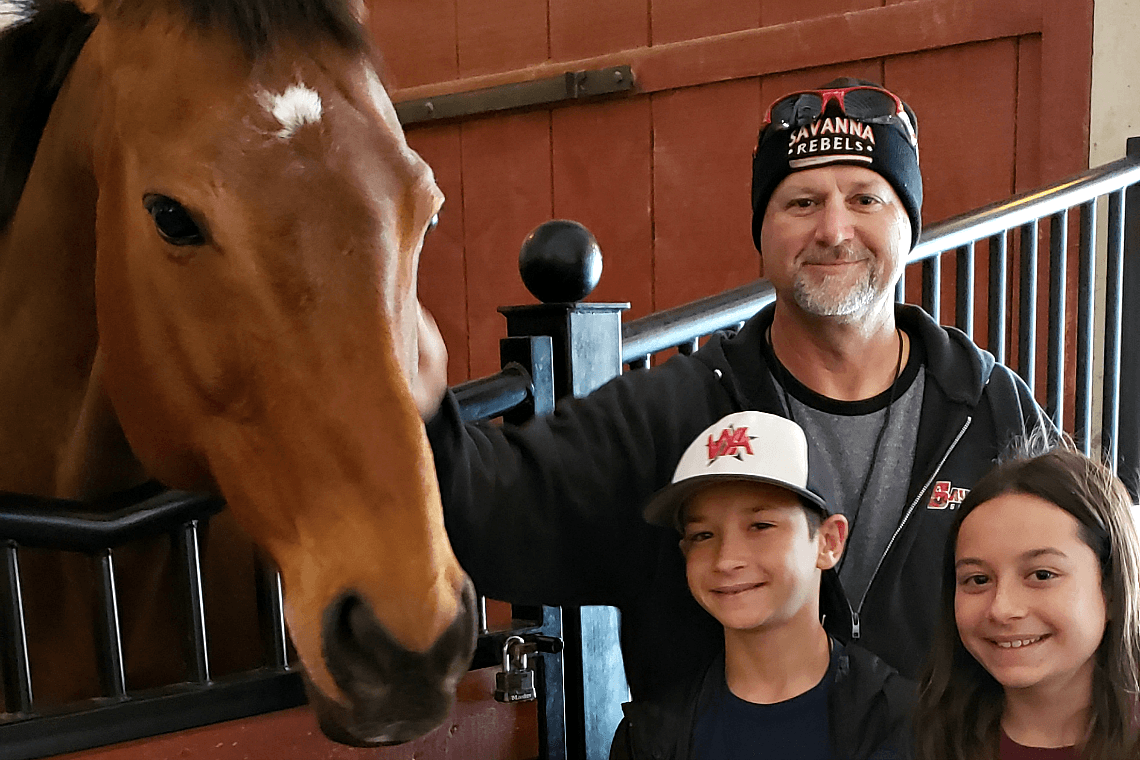 Calico Mine Stage: At the Calico Mine Stage Charlie Brown gets the surprise of his life on the game show, "It's Your Life!:. Enjoy music, fun, and surprise guests. In the evening, the stage transforms into a musical extravaganza with Snoopy's Legendary Rooftop Concert. The musical event will feature the Peanuts Gang joined by the family-friendly indie band The Jelly of the Month Club, performing a high-energy rock concert for the whole family.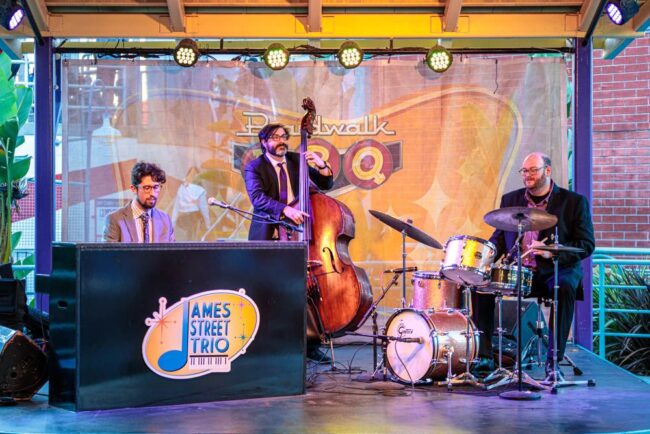 Boardwalk BBQ: Grab a little food and enjoy the smooth sounds of The James Street Trio.
Charlie Brown Day:
On Sunday, February 12th, Knott's is celebrating Good Ol' Charlie Brown by hosting a Charlie Brown Day during their PEANUTS Celebration and you're invited. Join the Peanuts gang paying homage to Charlie Brown by sporting his signature bright yellow zig-zag striped tee, black shorts, and red baseball cap outfit. At 12:30 pm at the Calico Mine Stage, the PEANUTS characters will perform the musical game show It's Your Life, Charlie Brown, with the loveable title character getting the surprise of his life. After the show, all guests dressed as Charlie Brown will be invited to gather around the stage for a photo opportunity posing alongside the boy of the hour.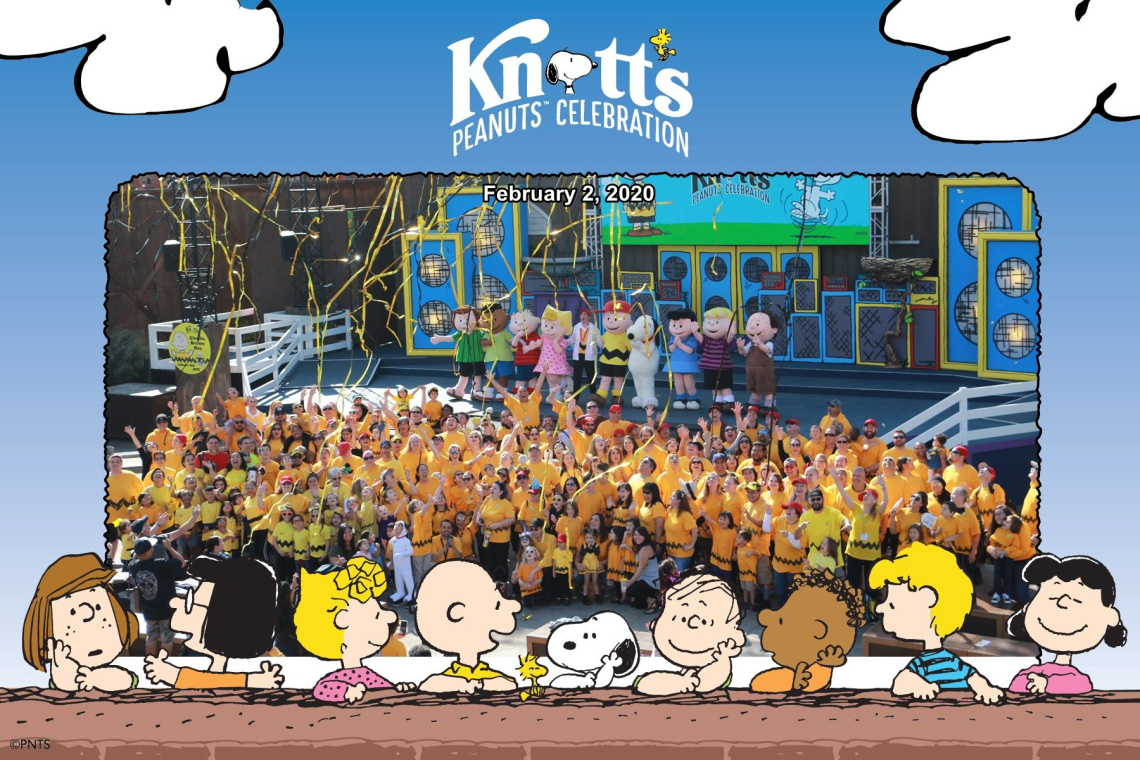 It's a really fun celebration. Can you spot me in the above photo? All guests in attendance will also receive a button commemorating Charlie Brown Day, while supplies last.
Delicious Treats: During the Knott's Peanuts Celebration, be sure to pick up some of the delicious sweet treats offered throughout the park. Imagine cherry pie, wild blueberry bavarian tart, almond butter ganache brownies, the ultimate peanut butter & jelly cookie, and so much more.
I'm a supporter of Knott's Berry Farm Meal Plan. Purchase it in addition to your season pass that entitles you to enjoy 2 meals every time you visit the park in 2023 (with a 4-hour required interval between meals). These Peanuts Celebration food options are included in the meal plan this year: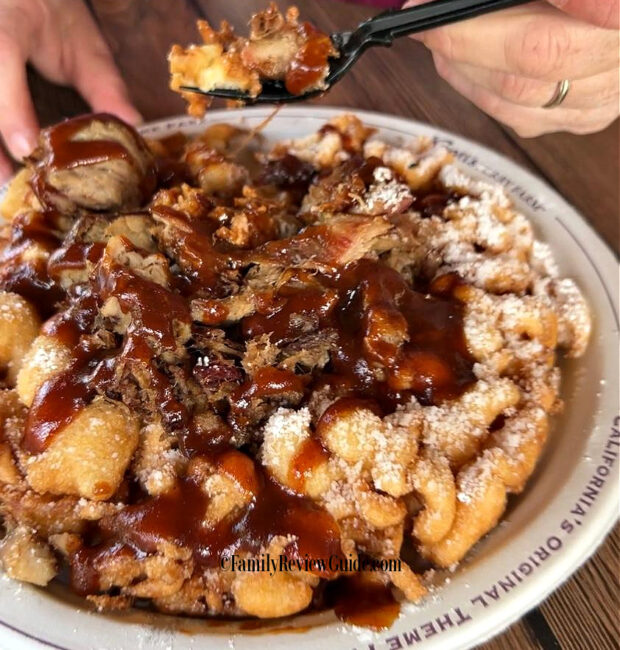 Carnitas, pineapple, bacon, and jalapeno double stuffed potato at Wagon Wheel Pizza
Pepperoni Pizza Tater Bites at Calico Tater Bites
Mexican Street Corn & Bacon Pizza at Sutter's Pizza
Chocolate, Bacon, and Jam Cheeseburger at Sutter's Grill
Thai Curry Fries with Chicken Peanut Satay at Wilderness Broiler
Spicy Sausage and Bolognese Rigatoni at the Pro Shop Pizzeria
Cubano Panini Burger at Coasters Diner
Mashed Potato Casserole with Rotisserie Chicken at Boardwalk BBQ
Chipotle Chicken Toastie Sandwich with Tomatoes at Grizzly Creek Lodge
Peanuts Merchandise: I loved walking through the park and seeing Peanuts merchandise everywhere. I kept picking out my favorite shirts and sweatshirts wandering through the shops and people-watching. During the Peanuts Celebration, commemorative shirts and goods are available for purchase throughout the park.
The best way to enjoy every weekend of the all-new Knott's PEANUTS Celebration and all of the other Seasons of Fun is with a 2023 Season Pass. A Regular Season Pass includes unlimited admission in 2023 to Knott's Berry Farm with no blackout dates, and a Gold Season Pass includes unlimited admission in 2023 to both Knott's Berry Farm and Knott's Soak City Waterpark with no blackout dates. The Platinum Pass includes parking and admission to All Cedar Fair Parks.
Regular passes are just $145 or six easy payments of $18 after an initial payment of $37. Gold Passes are $185 or six payments of just $24.00 after initial payment of $41. The Platinum Pass is $280 or six payments of $37 after initial deposit of $58. Applicable taxes and fees apply online. Payment plans are only available at knotts.com. We just did it, and added the meal plan, fun pix photo pass as well as the drink pass. There are so many options, you just customize it to fit your family. Join us and reserve your passes today at https://www.knotts.com/.