This past week, we extended our amazing Hawaiian vacation with Hawaiian and Korean flavors currently available at Roy's in Anaheim at The Garden Walk. Culinary pioneer, Chef Roy Yamaguchi has created a fantastic "Taste of Korea"menu featuring a three-course menu offering options of Wagyu dumplings to a Galbi short rib. It is definitely a great way to experience the flavors of the islands.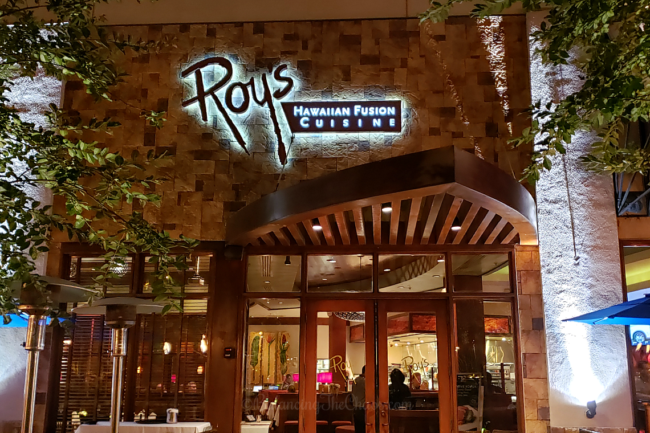 We were invited to sample the Taste of Korea menu this past week, and decided a date night was in order. As Anaheim residents, we are fortunate that Roy's is literally down the street from us.
As we walked into the doors of Roy's, the ambiance brought me back to walking through the doors of Disney's Aulani in Hawaii. Similar color schemes with touches of the islands throughout left me reliving our days in Ko Olina. We were immediately seated towards the center of the restaurant, where we had the ability to see everything. On one side, I could take in the dining room and then, the business of the chefs in the kitchen. We could also watch what was going on at the bar, and specifically the details of the sporting events featured on the overhead televisions at the bar.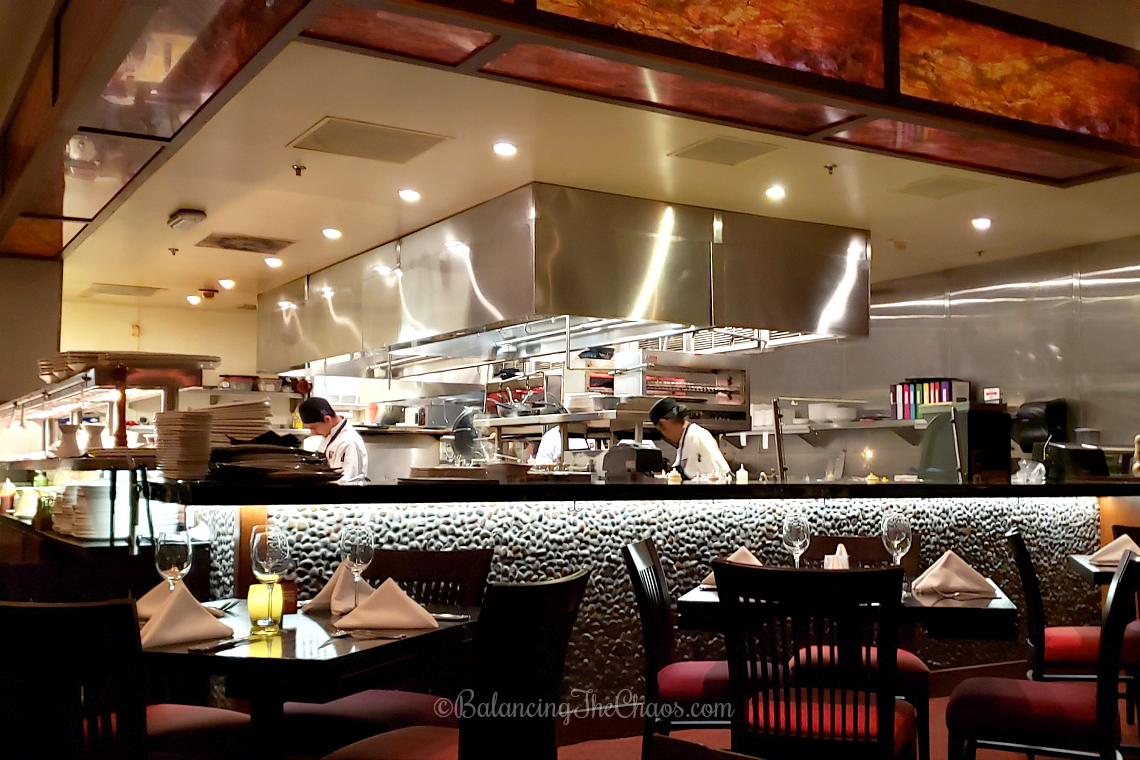 We started off the evening with a Hawaiian Martini, and then we were introduced to the Taste of Korea Menu that is offered for a limited time at $44 per person.The menu includes:
Choice of Appetizer:
Wagyu Beef Mandu: A Korean Dumpling with a firecracker dipping sauce OR
Crispy Calamari Salad: Mix of various greens tossed in an Asian pear sesame miso Dressing
Choice of Entrée:
Galbi Boneless Beef Short Ribs: The short ribs are prepared via sous vis, and slow cooked for 72 hours, leaving the finished product one that will melt in your mouth. It is paired with a kim chee mashed potatoes and bok choy mung bean sprouts OR
Sesame Crusted Salmon Bibimbap: The salmon is cooked to perfection, tender and juicy. It is paired with Shiitake mushrooms, cooked spinach and topped with a Gochujang Quail Egg.
Dessert:
· Asian Style Cotton Cheesecake: A light fluffy cheese cake with drizzled lychee sauce and macerated Asian pears and topped with a sesame seed lace tuile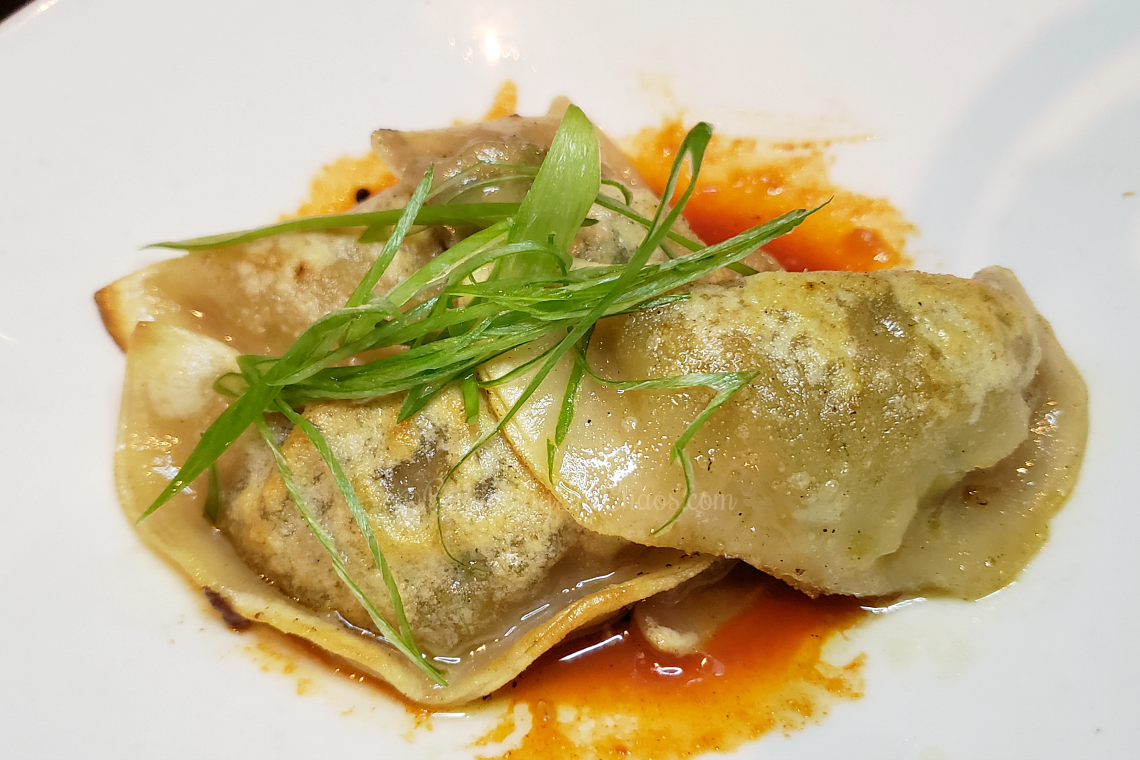 We had the opportunity to sample both the Wagyu Beef Madu and the Crispy Calamari Salad. The Wagyu Beef Mandu reminded me of a pot sticker. The beef inside had a rich flavor, combined with the firecracker dipping sauce, left my mouth a blaze. Tim Lowenberg, a managing partner, recommended pairing the Mandu with a Cucumber Asahi. The Asahi's delicate cucumber flavor seemed to quench the heat of the dipping sauce, both of which I loved.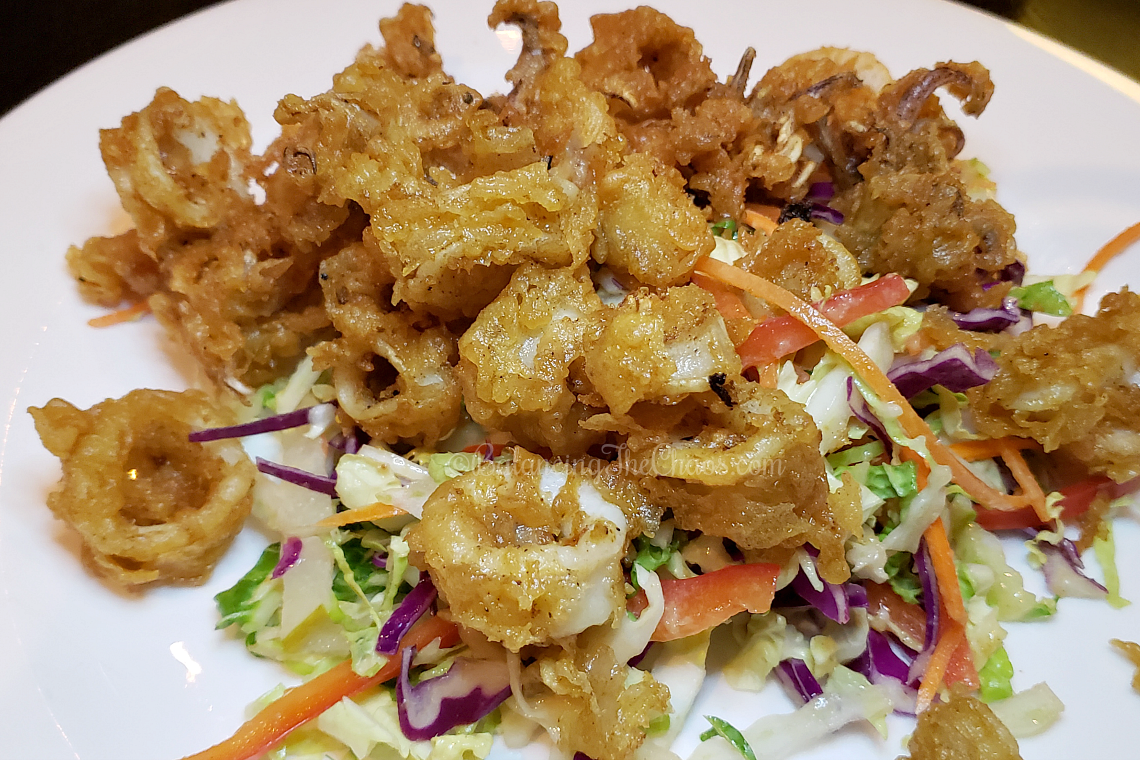 The refreshing Crispy Calamari Salad's Asian pear dressing was so light, and certainly complimented the fried calamari, bringing out it's favor. Additionally, it was paired with a Franciscan Chardonnay, a light and refreshingly fruity blend. Choosing between the two is difficult because they are both delicious options, and between my husband and I, we were split. He choose the calamari and I went with the Madu.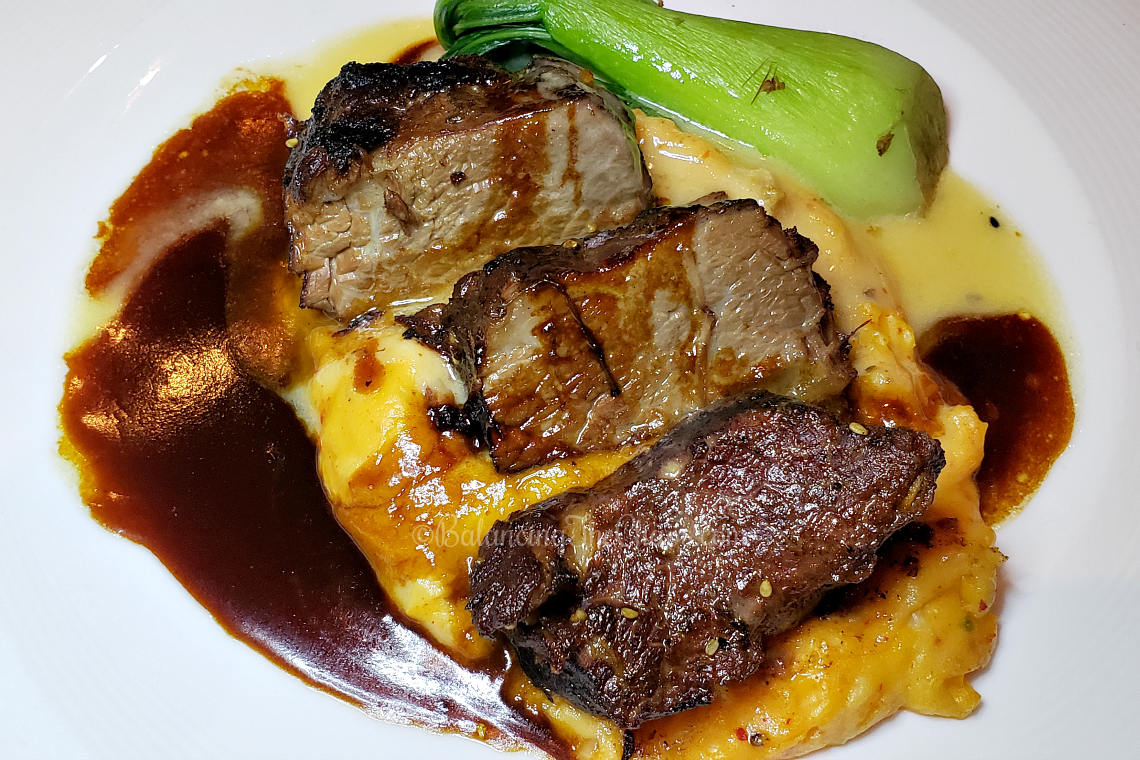 The entrees were delivered together as well, and again, my husband and were split. I particularly enjoyed the Galbi boneless short ribs because the meat was so tender it melted in my mouth. While I didn't think I was going to like the kim chee mashed potatoes, I ended up loving them. They had a hint of spice, not the overpowering flavor kim chee is known for. The Galbi was paired with a pinot noir that brought out the richness of the short ribs.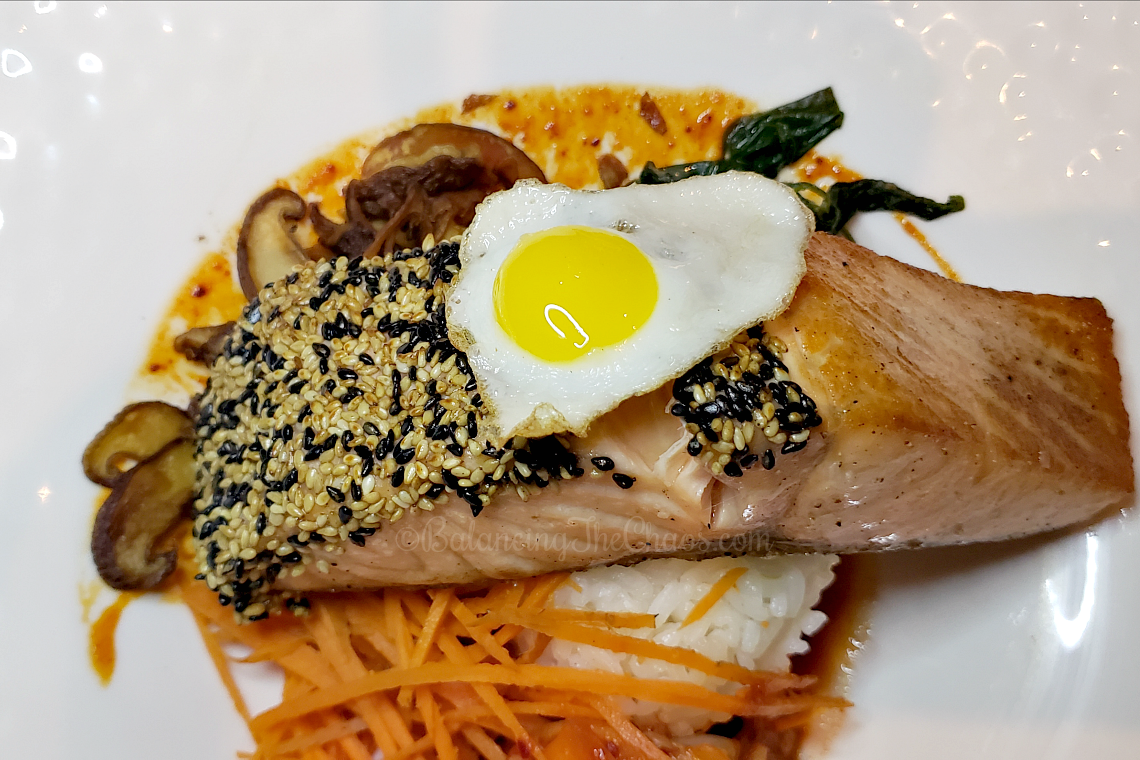 My husband felt the sesame crusted salmon stood out more to him, because it was a thick and juicy cut of fish. It was paired with cooked shitake mushrooms, and spinach that I mashed together with each bite of salmon. Quite scrumptious pared with a Caymus Conundrum white blend.
Finally, we had the opportunity to sample Chef Laura Reyes' creation, the Asian Style Cotton Cheese Cake. Not your typical cheese cake, this version had a light fluffy, angel food cake consistency. The lychee sauce and chopped up pairs gave it a tropical flare, and the sesame seed tuile reminded me of a light fortune cookie.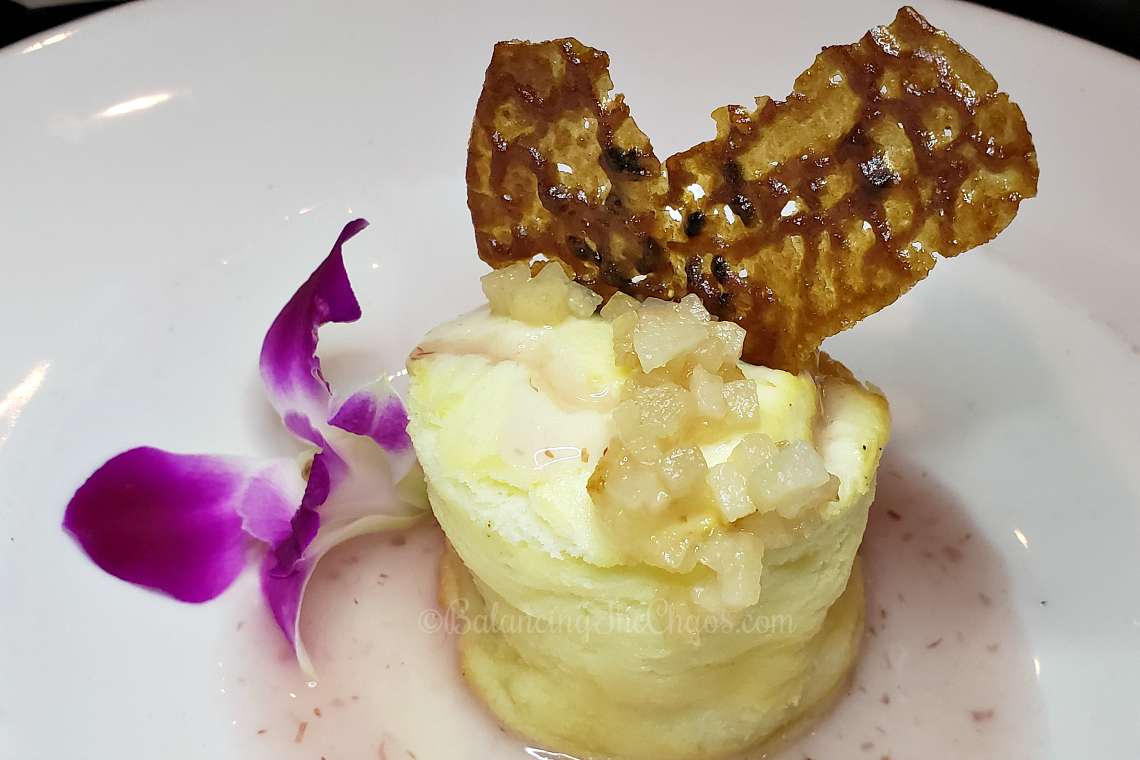 I thoroughly enjoyed our evening at Roy's Restaurant in Anaheim, and am looking forward to our next visit as in speaking with both Tim and Laura, there are many additional recommendations I'd like to sample. What are your favorites at Roy's? I'd love to hear about additional favorites.
Roy's Restaurant is located at the Anaheim Garden Walk off of Katella and Harbor Blvd, not too far from Disneyland. For more information about Roy's and their specialty menu, visit their website at https://www.roysrestaurant.com/locations/ca/anaheim.