Just in time for Halloween, Warner Bros. Studio Tour Hollywood has a brand new experience for fright fans as Horror Made Here makes its debut.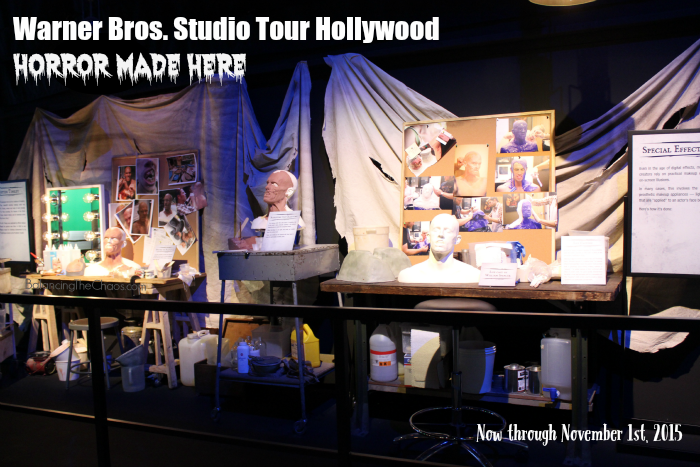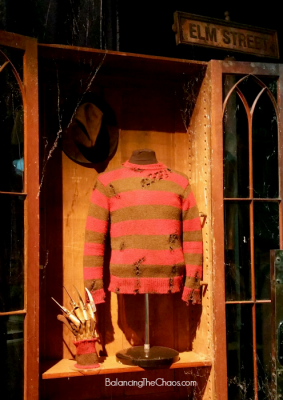 Want to learn how iconic horror movies are made? At the end of the Warner Bros. Studio Tour Hollywood, discover behind-the-scenes filmmaking secrets from favorite movies such as Nightmare on Elm Street and The Exorcist and more now through November 1st.
At the end of the studio tour, guests are invited to walk through the newly opened Stage 48 where you can see many iconic props, costumes and more. Here you'll find the "Horror Made Here" exhibit.
Nightmare on Elm Street is still my favorite horror movie series. I was super excited to see the actual props for Freddy Krueger from the movie, like his glove filled with knives, the iconic red and green sweater as well as his horrific hat.
Have you heard of Christien Tinsley? He is the creative mind behind some of the amazing outstanding prosthetic make-up on shows like American Horror Story, Glee and Nip/Tuck. Tinsley was also awarded an Academy Award® for Best Technical Achievement, received an Oscar® nomination for his work on The Passion of the Christ. See how these Tinsley creates these amazingly real prosthetics through each step of the process from design, sculpting and molding to painting and application.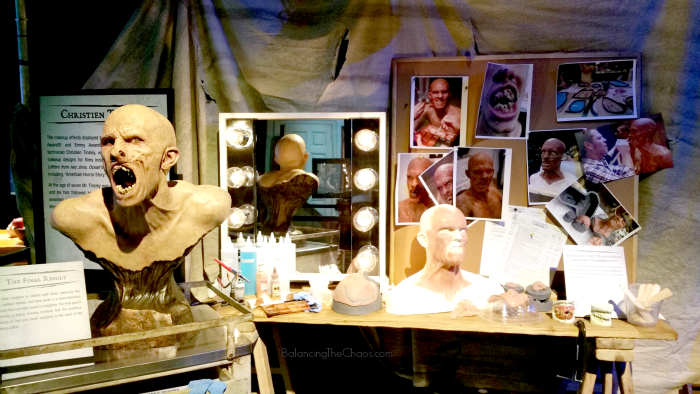 My husband tells me all the time that to him, The Exorcist was the scariest movie of all time with the amazing special effects. This exhibit also features the  original cracked bedroom door from that movie along with the sinister stunt doll from Annabelle.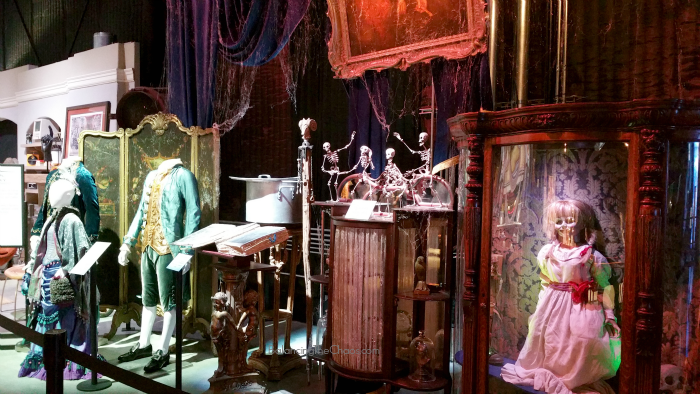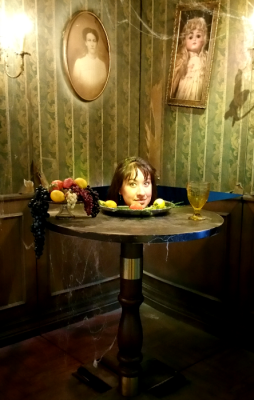 You'll also see authentic artifacts like the spell book and wooden staff with totems and crystals from Practical Magic as well as the music box from The Conjuring.
Want to get in on the special effects? You'll have a chance to take a "Head Shot" you can take home with you. Check out mine!!!
The Warner Bros. Studio Tour Hollywood runs for about 2 and a half hours, while tour guides take you through back lots, sound stages and more. You'll have the opportunity to see current sets, that are used in current tv shows like Pretty Little Liars and more. We also went through Warner Bros. Movie Museum that currently features props and costumes from Harry Potter and Batman and new movie coming out in 2016 – Batman v Superman, along with a stroll through the "Bat Cave" to see current and past "Bat-mobiles".
Want to experience Warner Bros. Studio Tour Hollywood yourself? Plan your experience by visiting https://www.wbstudiotour.com/.
About Warner Bros. Studio Tour Hollywood:
Warner Bros. Studio Tour Hollywood takes guests closer than ever to the legendary entertainment they know and love. Film fans get to see the real sets and soundstages where the greatest names in entertainment made history as they touch, tour and explore the iconic 110-acre film studio that brought Argo and Ocean's Eleven to the big screen. From The Big Bang Theory to Friends, the Studio Tour takes guests behind the camera for a revealing look at how the magic is made.
Warner Bros. Studio Tour Hollywood is open Monday through Sunday, 8:00AM to 4:00PM, with Studio Tours departing every 30 minutes and extended hours offered during the summer season. Reservations are recommended and all children eight years or older are welcomed. Tickets are $62 per person and can be purchased online at www.wbstudiotour.com or by calling 818-977-TOUR (8687).