We love family game night, but last week we took it to a whole new level with our first experience in an Escape Room. Cross Roads Escape Games is located in Anaheim and offers real life adventure games where you and your friends or family are locked in a room full of puzzles and clues and you only have 60 minutes to escape! These games were traditionally designed to challenge adults, however kids can join in the challenge with The Fun House.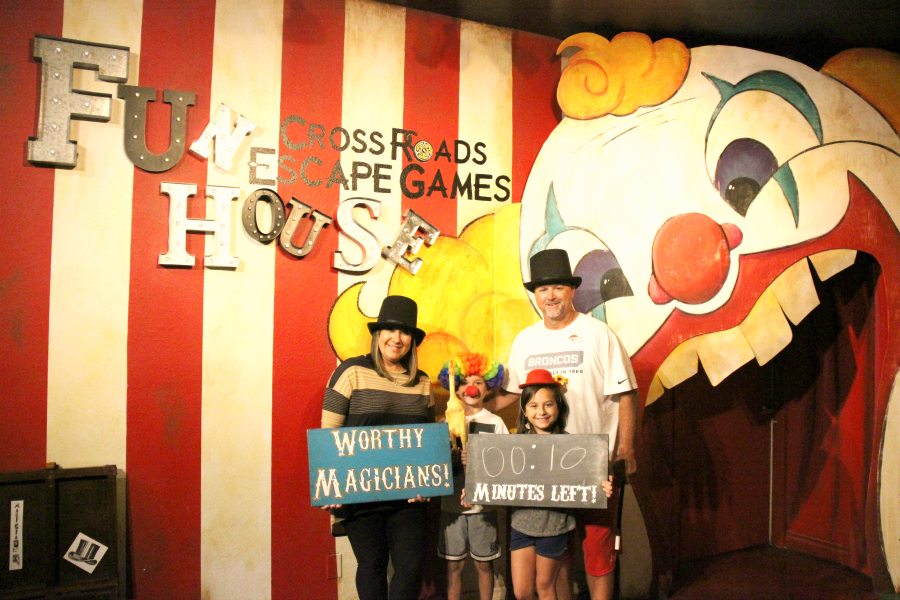 I had heard of escape rooms before, so when Cross Roads Escape Games contacted me, I was intrigued. Once I told my family we had been invited to try our hand at an escape room, they were all in! Since it was a school night, and I wasn't quite sure what we were getting ourselves into, we made a plan. Homework done, a quick dinner and a few errands complete, we headed off to Cross Roads.
Once we arrived, we were greeted by their friendly staff. After signing a quick waiver, we were escorted into a waiting room. In it, we were told we could wander around the room, and try to solve the puzzle. Yes, while you wait the adventure had already started.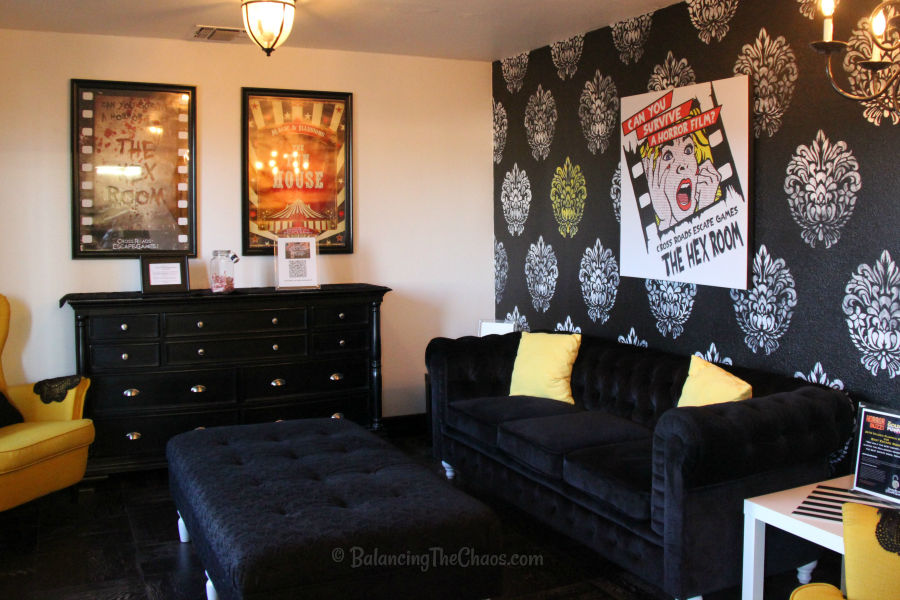 As the four of us circled the room, my husband was the first to notice, what he thought to be a clue. We worked together, talking out our theories and within about 5 minutes, we had the waiting room challenge complete. Confident we "had this", we were then escorted into another room where we learned about the rules of the escape room:
No photography – that means no cell phones, cameras, etc. You'll want to fully engage in this experience.
No climbing, breaking or forcefully moving props, etc.
Do not over think things. Many of the clues are in plain sight.
Biggest rule and piece of advice – communicate. You may have stumbled upon the correct answer to the riddle or figured out the clue without even realizing it.
Patience, even tough you're up against a clock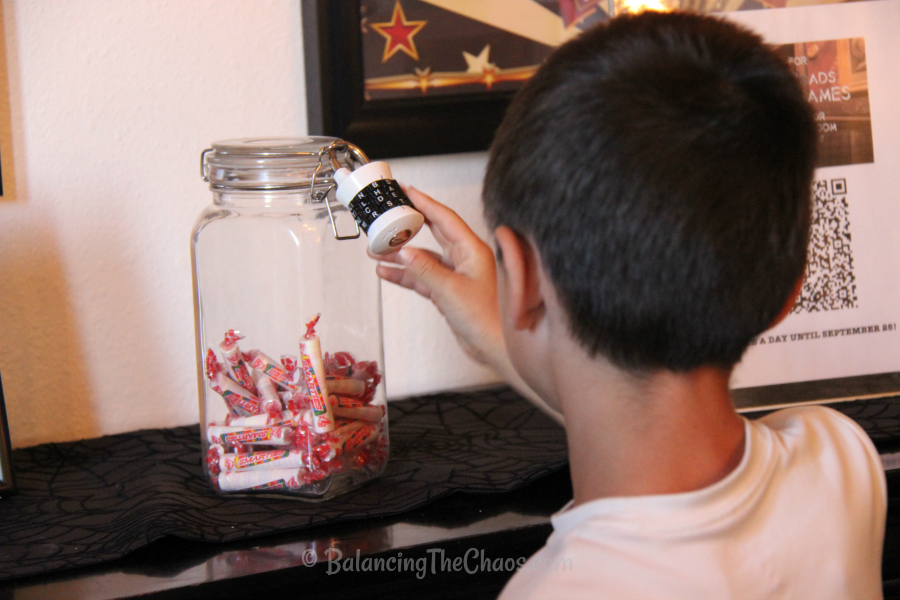 Once our belongings were locked up, we were escorted to The Fun House. We walked in and discovered all kinds of paintings/pictures/artwork on the walls as the closed behind us. To remind you of how much time you have left, a large count down clock loomed on the wall above us.
Honestly, I think we stood there for about 10 minutes just looking around. Being newbies at this experience, we had no idea where to start. Luckily, with the help of Voltar (an interactive portrait on the wall), we were guided to our first clue. Thankfully, our friend Zoltar was with us throughout the entire process to nudge us in the right direction (as well as play a few little tricks on us as well).
Remember how I said we thought "we got this"? Well, apparently we didn't! Thankfully, with the assistance from Voltar and all of us working together, we managed to escape the Fun House with 10 seconds to spare. I asked the kids if this was something they'd like to try again – their resounding response was YES! And we were so excited to discover that there are several different escape room experiences around LA and Orange County.
GIVEAWAY
Enter to win 2 tickets to Cross Roads Escape Games for The Fun House or Fun House Kids
a Rafflecopter giveaway

4245 E La Palma Ave., Anaheim, CA 92807
[email protected]
(714) 572-1004
Cross Roads Escape Games was recently nominated for Best Escape Room in the nation and currently ranks the #1 rated escape room in Los Angeles and Orange County. The Hex room is a perfect date night or evening out with friends while The Fun House Kids is a great family friendly option with puzzles recommended for ages 8-13. Visit their website to reserve your escape games experience now.
Giveaway Terms & Conditions:
Giveaway ends October 8, 2017 at 11:59 PM PST. Open to US Residents 18 and older only. Tickets will be mailed directly to the winner's home (or mailing) address. Winner will be selected at random and be notified by email. Winners have 48 hours to respond before a new winner is selected. Not liable for unclaimed prizes or fulfillment. Blog has represented each sponsor with the expectation they will fulfill their prize and in a timely manner. No purchase necessary to enter or win; however you must enter for a chance to win. Purchase does not increase chance of winning. Chances of winning depend on number of entries. My opinions are my own and were not influenced by any form of compensation. Facebook, Twitter or any other social media platform are in no way associated with this giveaway. By providing your information in this form, you are providing your information to this blog. I do not share or sell information and will use any information only for the purpose of contacting the winner. Winners can only win once per month. Not liable for unclaimed prizes or fulfillment.