Over the weekend, Anaheim Stadium was converted into a gigantic playground full of high flying Monster Trucks and we were invited to check out the show. This year, Team Hot Wheels Firestorm took home the 2016 Monster Jam Free Style trophy when the driver, Scott Buetow dazzled the crowd with an awesome monster truck back flip.
Just like last year, we started off our Monster Jam experience with the Pit Party. We all love getting up close to the trucks and having the opportunity to meet the drivers, get autographs and snap photos. This also gave us the chance to wander around and check out the different vendors on hand as well as tons of Monster Jam souvenirs and merchandise.
After the pit party, we grabbed some food at Hooter's, which is within walking distance and headed back into the stadium – as the show was about to begin.
We love the races! Check out some of what we captured on video:

Then it was time for the Free Style competition – our favorite. Check out some of the high flying crazy jumps we saw:
Zombie Hunter got some serious air!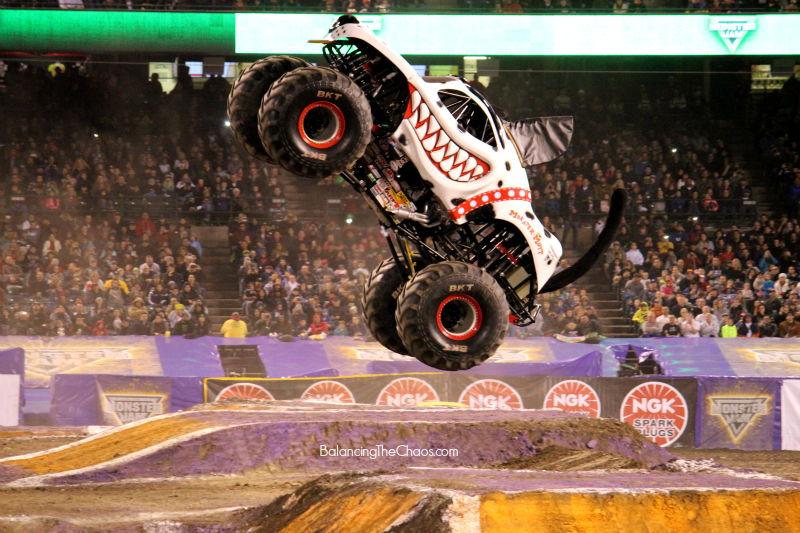 I just love seeing Monster Mutt Dalmatian's ears flapping in the wind while soaring through the air. I thought for sure that Candice Jolly (the driver of Monster Mutt Dalmatian) was going to win the free style competition until Scott Buetow (driver of Team Hot Wheels Firestorm) pulled out an amazing monster truck back flip and stole the show. Seriously, it was an awesome sight to see as the crowd went nuts when he successfully completed the 360.
Monster Jam will make its final appearance at Anaheim Stadium on Saturday, February 13th. For more information about Monster Jam, the Monster Trucks and their Drivers or how to get tickets to the upcoming show, visit https://www.monsterjam.com.