Have you seen the latest craze in holiday décor? We've been trying to come up with new ideas on how to add a little sparkle to our Christmas lighting with something that was easy to assemble. Luckily, we were introduced to the Star Shower Window Wonderland and the Star Shower Slide Show. Both of these holiday products are a snap to install and super low maintenance.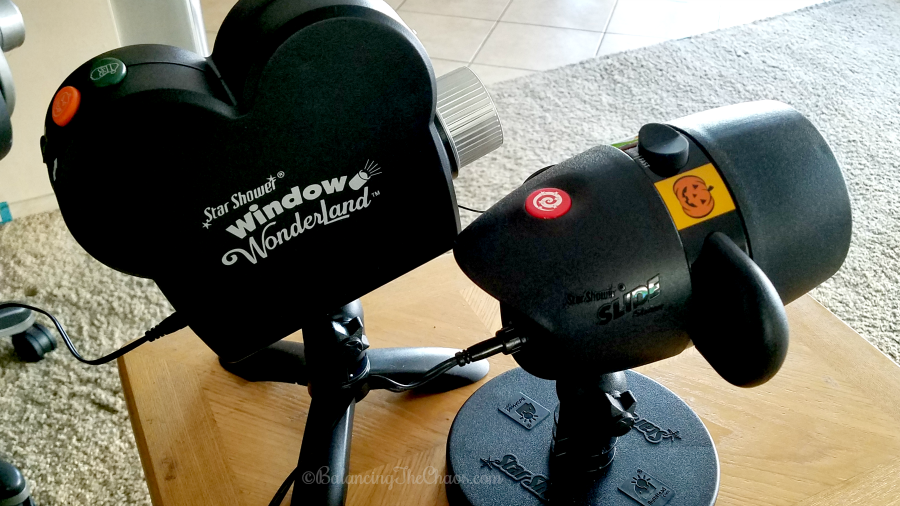 After a long day of subbing, then dance rehearsals, I decided it was time to take a few minutes to start decorating for the holidays. My husband decided he wanted to do a little something this year and pick up some icicle lights to hang, however we just haven't found the time. So, that is where I took over.
The Star Shower Slideshow easily transformed the house into a fun holiday show. Choose from 12 different holiday slides from Christmas to Halloween, you'll have a fun festively decorated home in minutes. Just pop open the box, select the slide with the images you'd like displayed, plug in and turn it on. The unit projector comes with two bases – a round flat base if you'd like it to sit on a desk top or floor, and a stake base that you can put in any yard or planter.
Then I decided to set up the Star Shower Window Wonderland that is a projector that transforms any window into an animated holiday scene. Place the projector near any window, hang the included screen, and choose from six included holiday movies to play with the touch of a button. Turn dreary windows on dark wintery nights into colorful, entertaining exhibits in minutes. Live in an apartment? This product is perfect for you! Project in on a bedroom window or even a sliding glass door and you've instantly decorated for the upcoming holiday.
Say goodbye to all those tangled Christmas lights where you have to replace bulbs annually and the giant inflatables that deflate into a messy heap on your front lawn. Have the most festive home on the block and enjoy hassle-free setup with these holiday products from Bulbhead. (Bonus: both come with Halloween themes, too!) Pick up your Star Shower Window Wonderland and Slide Show today.