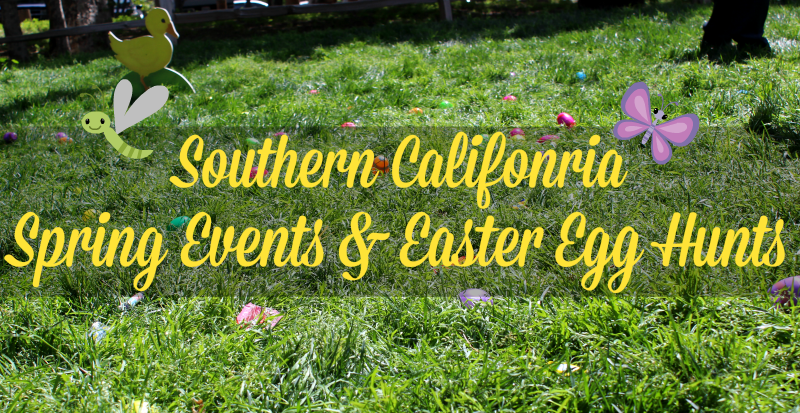 Spring is here and the Easter Bunny will be hopping his way into Southern California. The kids will enjoy filling their Easter baskets at these exciting community events. Check out the fun 2018 Spring events and Easter Egg Hunts and activities going on around SoCal.
ALISO VIEJO:
The Aliso Viejo Community association will host their Spring Celebration Saturday, March 24th from 9am to 11:30am at Grand Park.  This FREE community event will include egg hunts, balloon twisters visits with Peter Rabbit, face painting, bounce house, live entertainment, and kids crafts. A Community Pancake Breakfast will be held from 9am to 11am in the Aliso Viejo Town Center Foundation Area.
At Renaissance Club Sport they will be hosting a Bunny Brunch on Sunday, April 1st from 9:00am 12:30am. For Registered guests, join the Easter Bunny for breakfast and an egg hunt. Adults $45, children $25. First Seating:  9:00am-10:30am Egg Hunt at 10:30am  Second Seating: 11:00am-12:30pm Egg Hunt 12:30pm
ANAHEIM:
8th Annual Easter Egg Hunt Ronald Reagan Park is April 8, held by the Anaheim Hills Rotary Club.  The event will be from 11am – 2:00pm and will include egg decorating, egg hunt for children under 11 years old, photos with the Easter Bunny and kids games and crafts and a silent auction.
Adventure City will be open for Spring Break – April 1-7. Join their E-Club and each child will enjoy Free entry into the Easter Egg Garden and receive a prize filled Easter Egg, Easter tattoos, a fun Easter craft project and The Easter Bunny will be visiting the park daily. Visit their website to sign up for the E-Club. Coupons for the Easter Egg Garden come via email.
Disneyland Resort will be hosting it's Egg-stravaganza for the sixth year in a row. To participate, you must purchase a day pass or be an annual passholder; pick up a map with stickers for $5.99 at select merchandise locations throughout Disneyland Resort. Then, search for special hidden eggs and add the corresponding sticker to your map. Once you've completed the map, return it to a redemption location for a prize. Don't forget SoCal Residents, you can enjoy2 and 3-day ticket options starting at $159 – offer ends May 24, 2018 and there are a few blockout dates.
BIG BEAR:
Snow Summit Resort: Easter Egg hunt on the Mountain! Scheduled to start on Sunday morning at 9:45a by the DJ Booth. Several Golden eggs will also be hidden on the mountain. No word yet on what the Easter Bunny has hidden in the Golden eggs, but we hear a season pass is a possibility.
Cost: Free, but to find the golden eggs you'll likely need a lift ticket
Bear Valley Farms is also hosting Easter egg hunts on Saturday and Sunday (March 31 and April 1). Thousands of treasure eggs will be hidden around the property. Egg hunters will also enjoy special horse rides, a petting zoo and hayrides. Cost: $15
BREA:
Visits with the Easter Bunny at Brea Mall; Feb 24 through March 31st from 10 a.m. to 8 p.m Mon – Fri; Sat 10am – 7pm, and Sun 11am – 6pm. and runs through March 30, from 10 a.m. to 7 p.m. near Red Robin. Pets can take pictures with the Easter Bunny March 25 7:00pm – 8:30pm.
Hop into Spring at Brea Mall March 24th from 12pm – 2pm at the Fountain Court for a special Spring family event. including craft activities, face painting, and bunny petting.
BUENA PARK:
The Annual Spring Eggstravagnza takes place Saturday, March 31 at Henry Boisseranc Park: 7520 Dale Street.  Hosted by the Buena Park Parks and Rec department and Buena Park Noon Lion Club, a hot breakfast will start at 9am. Family activities start at 9am with stage entertainment, children's crafts, field games, a petting zoo, moon bounce, visit with the Spring Bunny and a candy scramble for children 12 and younger. Egg hunt will take place at 12pm.
DANA POINT:
The City of Dana Point will offer two Egg Hunts on Saturday, March 31. Pines Park, 34941 Camino Capistrano and Sea Canyon Park, 33093 Santiago Drive.  Activities begin at 9:00am and include:  Marionette/Puppet Show, Children's Relay Games, Petting Zoo, Easter Bunny Visits and Egg Hunts for ages up to 10 years. There will be a pancake breakfast sponsored by the Monarch Beach Sunrise Rotary at 8am.
CERRITOS:
The Easter Bunny hops on into  Los Cerritos Center now through March 31 for photo opportunities. An added amenity for our busy families is the option to make a reservation with the Easter Bunny. Simply visit the Los Cerritos Center's website to pick an ideal date and time. Skip the waiting this Easter season!
CYPRESS:
Cypress Recreation and Community Services hosts an Annual Spring Egg Hunt that takes place Saturday, March 31 at 10:30am.  This event is for children 11 and under and will be held at Oak Knoll Park: 5700 Orange Ave.  Activities included: egg hunt, crafts, face painting, obstacle course and jumpers,  visits with the Easter Bunny, free hot dogs and drinks.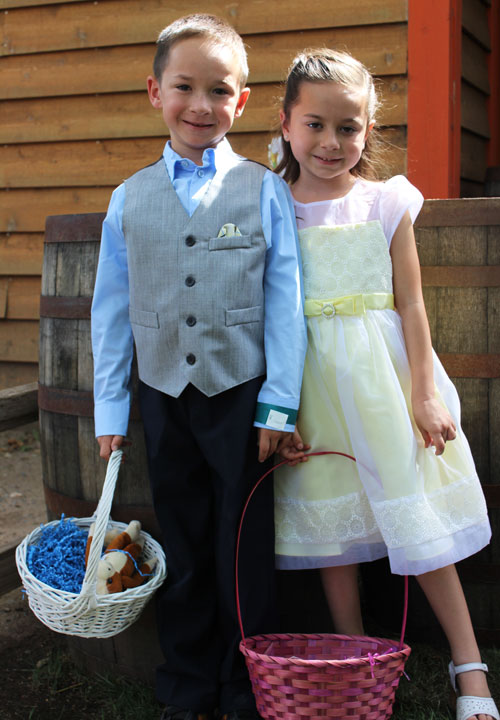 FOUNTAIN VALLEY :
Fountain Valley Recreation and Community Services Department hosts the Easter Egg Hunt on Saturday, March 31 at the Fountain Valley Recreation Center and Sports Park, 16400 Brookhurst Street from 8:30am-11:30am. Event includes free carnival games, crafts, balloon artists, inflatable rides, and more! Enjoy a pancake breakfast, take pictures with the Easter Bunny.
FULLERTON:
There will be a Family Easter Party at The First Presbyterian Church: 838 N. Euclid St. on Friday, March 2..  The event runs from 10:00am-8:00pm and will include an Easter movie, games and an annual Easter egg hunt!
TENTATIVE INFO: Easter Egg Hunt at the Fullerton Family YMCA Saturday, March 24th 10am-11:30am At this FREE family event, meet the Easter Bunny and enjoy fun kid activities like face painting, games, bounce house, snow cones, kidZone Playground and more. Special needs events will also be available.
GARDEN GROVE:
Eggs-Cavation will be Atlantis Play Center: 13630 Atlantis Way on the north end of Garden Grove Park on Saturday, March 31st 1:00pm-4:00pm.  This event offers kid-friendly activities including arts and crafts, face painting, carnival games, a moon bounce and petting zoo.  Egg hunts will take place in age groups and the event is limited to the first 300 children.  Tickets are on sale at the Recreation Counter located on the first floor of City Hall: 11222 Acacia parkway.  $10 for children ages 3-10, $2 for spectators 11 and up.  Tickets will go on sale at G.G. City Hall March 12th. Tickets WILL NOT BE AVAILABLE FOR PURCHASE DAY OF EVENT.
On Saturday, March 24th, King of Kings' Easter for Kids provides both a fun morning for the children and a mini-break for the parents. They offer games, crafts, singing, and the Easter story of Jesus in a fun-filled atmosphere. The end of the morning concludes with a family lunch so that you and your children may all leave fed and ready for the afternoon's activities. On-site registration available at 8:30am; pre-registration available online at www.kingofkingsgg.org.
HAWAIIAN GARDENS:
Easter Egg Hunt is Saturday, March 31 11:00am – 3:00pm at Furgeson Elementary School: 22215 Elaine Ave in Lakewood.  Activities include pony ride, petting zoo, moon bounce, train ride and more.
HUNTINGTON BEACH:
The City of Huntington Beach Community Services Department will host their 25th Annual Easter Hunt 9:00am-2:00pm Saturday, March 31 at Central Park Sports Complex.  The event will feature police and fire department, egg hunt, game booths, entertainment, exhibits, pictures with the Easter Bunny and refreshments.
IRVINE:
The Rabbit Run 5K takes place on Saturday, March 31 8:00am at Irvine Valley College (5500 Irvine Center Drive) in Irvine.  Grab a few eggs and goodies along the way or linger your way through.  Either run, hunt, jog, stroll, roll or trike it.  Families can bring strollers, bikes, tricycles but kids must wear helmets.  Kids can ride scooters, bikes or be pulled in wagons.
Celebrate Easter at Pretend City (29 Hubble, Irvine) on March 31 from 11:00am to 5:00pm.  Activities include a visit from the Easter Bunny, sweet treats, Easter games, Smart Art with Egg-stravagant eggs, an Easter Egg hunt and information on bunny rescues.
Tanaka Farms: Saturday or Sunday in March and enjoy the best of springtime on the farm with Easter egg fun, rides, games, shops bunnies and strawberry tours. March 17th, 18th, 24th, 25th & 31st, April 1st 10:00 to 3:00 each day
LA HABRA:
15th Annual Spring Family Eggstravaganza will take place at La Bonita Park (1440 W. Whittier Blvd.) on Saturday, March 31 8:00am-12:00pm and will include a egg helicopter drop, game egg hunts, eggs-treme kids zone, carnival games, kids crafts, inflatables, balloon twisters, entertainment and more.
LADERA RANCH :
On Saturday, March 31 the Spring Celebration in Ladera Ranch will be 11:00am-2:00pm at Founders Park and includes an egg scramble, tykes and toddler egg scramble, visits with Mr. & Mrs. Peter Rabbit, face painting, kids crafts, activities, games, food and entertainment. (Information is restricted to residents only – cannot confirm.
LAGUNA NIGUEL :
Saturday, March 24 from 9:00am-12:00pm, Laguna Niguel Parks and Rec will host their annual Bunny Bonanza at Chapparosa Park: 25191 Chapparosa Park Road.  This community event includes kids crafts, games, face painting, a scavenger hunt activity, food trucks and entertainment. There will NOT be an egg hunt at this event.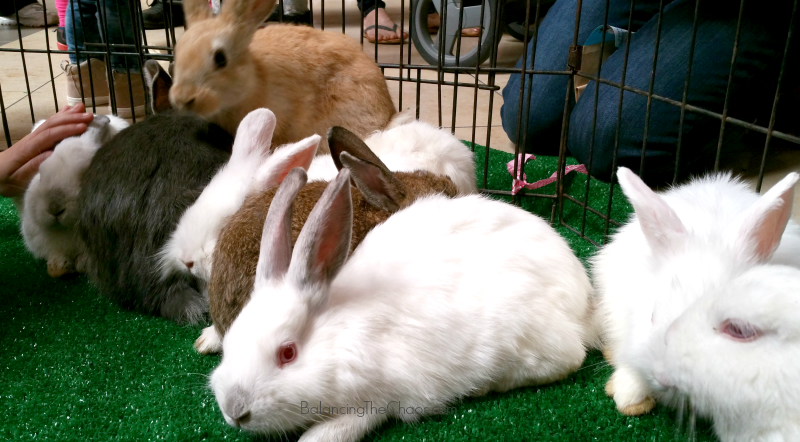 LAKE FOREST:
Bunny Blast A Seuss EGGstravaganza will be held Saturday, March 24 from 11:00am-3:00pm at El Toro Park: 23701 Los Alisos Blvd.  This FREE event will include game booths, crafts, face painting, giant ferris wheel, petting zoo, pony rides, balloon artist, egg scramble, live entertainment and picture opportunities.
Spring Skate Egg Hunt at The Park will be on Saturday March 24 at Etnies Skate Park of Lake Forest (20028 Lake Forest Drive) from 11:00am-1:00pm. Visit the Skateboarding Bunny, bounce houses – $5 for unlimited jumping, an egg hunt and crafts. $5 Donation per person. The egg hunt begins at 11:15am.
LA MIRADA:
There will be an Easter Egg Hunt at La Mirada Regional Park on March 31 from 9:00am – 11:00am.  Activities will include: carnival games, kids crafts, music, bounce houses, a petting zoo and an Easter Egg hunt for kids 10 and younger. A pancake breakfast will be provided by the Kiwanis of La Mirada for an additional fee.
LOS ALAMITOS:
Spring Carnival will take place Saturday, March 31 from 9:00am – 11:30am at Little Cottonwood Park: 4000 Farquhar Ave.  The free event will include egg hunt, carnival games, face painting, bounce house, food trucks and more.
LONG BEACH:
Hop on board the Queen Mary for their Easter Sunday Champagne Brunch April 1st 9:00am – 3:30pm. Event includes a bunny and friends petting zoo, egg hunt, face painting station, balloon twisting artist, games and a visit with the Easter Bunny. Activities run 1:00pm – 3:00pm. Adult $69.95, Child $24.95, Parking $10
MAMMOTH:
Mammoth Lakes Parks and Rec will host their annual community Easter Egg hunt on Friday, March 30 at 3:00 pm at Mammoth Creek Park. A great tradition to start the Easter weekend off
Cost: Free
Mammoth Mountain will host Easter egg hunts for every age group followed by live music and face painting and photo opps with the Easter bunny and Woolly. Special bonus: tons of March snow means plenty of good egg hiding spots Cost: Free
MISSION VIEJO:
Kaleidoscope Hosts Free Easter Party for South OC Families on Saturday, March ,from 12pm to 2:30pm. Passport cards will be given out to the first 350 children, directing them to the participating shops and restaurants where they will receive candy-filled eggs and prizes. The completed passports can then be handed in for a chance to win a Grand Easter Basket. Children should bring their own baskets to collect eggs. Kaleidoscope's Easter Party will also offer a complimentary photo opportunity with the Easter Bunny for guests who bring their own camera. The fun afternoon will also include free face painting, a balloon artist, and a petting zoo.
Bunny Days will be Saturday, March 31 from 10:00am-1:00pm on the village green at Oso Viejo Park (24932 Veterans Way) The event will include carnival game booths, spring crafts, "Toddler Town" face painting and pony rides. Candy and egg stations will be available for children 5 years old and younger.
The Family Easter Fair will be held Saturday, March 31 at Mount of Olives Church (24772 Chrisanta Drive) 11:00am – 2:00pm. This FREE event will include an Easter egg hunt, face painting, petting zoo, inflatable obstacle course, carnival games, kids crafts, photo booth and live entertainment.
Visits with the Easter Bunny at the Shops at Mission Viejo: runs through March 31st on the lower level near Nordstrom. Hours are Monday through Saturday from 11 a.m. to 8 p.m., and Sunday 11 a.m. to 6 p.m. Easter Bunny Pet Photos March 25th from 6pm to 7pm.
Easter Eggstravaganza at Mission Viejo Mall will be held March 17 and includes crafts, refreshments, live entertainment, and visits with the Easter Bunny.
NEWPORT BEACH :
At Fashion Island, children are invited to take pictures with the Easter Bunny in the spring garden on Atrium Lawn through March 31 Hours: Monday – Friday: 10:00am to 8:00pm; Saturday: 10:00am to 7:00pm; Sunday: 10:00am to 6:00pm
Newport Dunes Waterfront Resort & Backbay Bistro is pleased to host family fun Easter celebrations. The celebrations kick off Friday, March 31 with the Easter baskets, crafts and egg decorating. Egg hunts will take place on Saturday, March 31st. Sunday, April 1st there will be Sunrise Church Services. https://www.newportdunes.com/.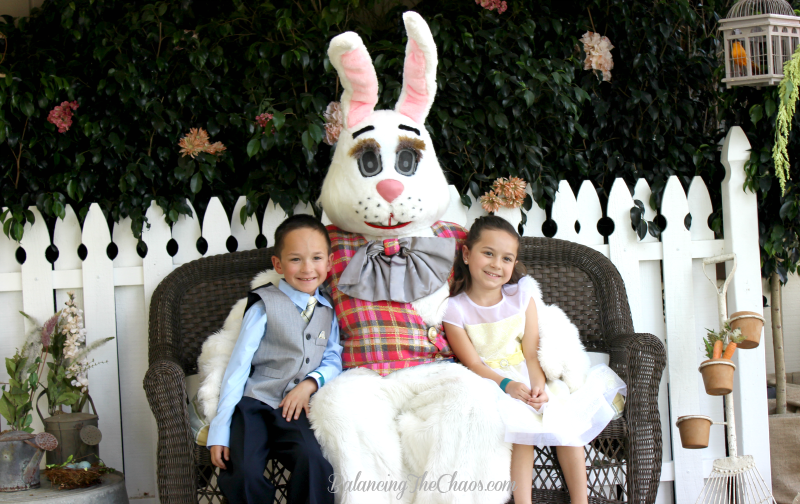 ORANGE :
Open Saturday March 10 through Saturday, March 31 the Irvine Park Railroad Easter Eggstravaganza is fun for children ages 2-12 with egg hunts, moon bounce, face painting, cookie decorating, carnival games, and visits with the Easter bunny.  Also, ride around the park on the train.  Tickets must be purchased the day of the event.  $3-$5 admission to Irvine Park.
PASADENA
At the Kidspace Children's Museum, on Saturday March 24th & 31st, 10:30am (Ages 4 and under), 11:30am (Ages 5 and up), 1:00pm (All Ages), 2:00pm (All Ages), 3:00pm (All Ages): Hundreds of candy-filled eggs are hidden throughout Arroyo Adventure waiting to be found! Families can also create spring art, learn the bunny hop, and pet real bunnies with the Bunny World Foundation! Pre-registration for the hunt is required and available online at kidspacemuseum.org. Cost is $6 per participant, plus museum admission. Adults do not need to register and are welcome to accompany their children throughout the hunt. Check-in begins 30 minutes before each hunt.
PERRIS
The Easter Bunny at Orange Empire Railway Museum in Perris, March 24th & 25th a.m. to 4 p.m. Kids of all ages will experience the magic of trains and the magic of the Easter Bunny at this incredibly popular annual event. Children will have photo opps, decorate Easter Baskets, treasure map, potato sack and egg races, bounce house, entertainers and games. 
PLACENTIA:
Saturday, March 24th 10:00am-1:00pm celebrate the return of the Easter Eggcitement & Spring Carnival at Kramer Park: 201 N Bradford Ave.. Bring the whole family as kids 12 and under are able to take part in the Easter egg hunt, carnival games, face painting, story time and pictures with the Easter Bunny and more.
SAN CLEMENTE:
The Sensational Springtacular will take place on Saturday, March 31 9:00am – 4:00pm.  This free event will include a pancake breakfast, entertainment and a BIG egg hunt with visits with the Easter Bunny along with entertainment, bounce house for tiny tots, face painting, games.  Vista Hermosa Park: 987 Avenida Vista Hermosa. For kids 10 years and under.
SANTA ANA:
Helping Hands Santa Ana will host an Easter BBQ with carnival games, special games and an Easter Egg hunt on Saturday, March 24th from 10am to 2pm. Benefits the families of Santa Ana Police Athletic & Activities League and the Santa Ana West End Neighborhoods.
SANTA FE SPRINGS:
Easter Egg Hunt & Carnival will be held on Saturday, March 31 at Los Nietos Park: 11143 Charlesworth Road starting at 8:00am. Children can participate in crafts, games, and the ever so popular Easter Cake Walk.  Pictures with the Easter Bunny will be available for $2 each.  The Easter Egg hunt begins at 10:00 a.m. and in conducted in the order of the age groups Ages 3 – 4, 5 – 6, 7 – 8, 9 – 12, 12 – 17 Bring your entire family and enjoy a delicious pancake breakfast, beginning at 8:00 a.m., sponsored by the Sister City Youth Ambassadors.
STANTON:
Stanton Community Foundation will host an Easter Egg Hunt on Saturday, March 31 from 9:00am-11:00am at Stanton Park: 7800 Katella Ave.  Activities include an egg hunt, visits from the Easter Bunny, resource fair, candy walk, face painting and a pancake breakfast sponsored by the Kiwanis of Stanton.
TUSTIN :
The City of Tustin will host an Easter Egg Hunt on Saturday, March 31 at 8:30-11:30. Location: Tustin Sports Park: 12850 Robinson Drive. Activities will include Easter Egg Hunt, pony rides, game booths, petting zoo, BMX Show, Lizard Wizard and live entertainment and photos with the Easter Bunny.