It's time to March into Spring at Pretend City with continuing activities with health and wellness for the mind and body. And mark your calendars for Guest Appreciation this month… Details below: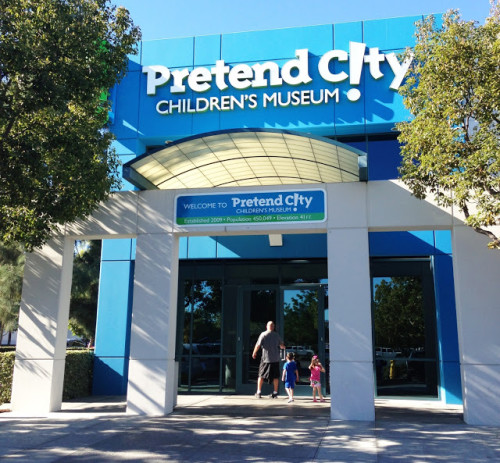 During the month of March, families will have the opportunity to join in on two new classes:
Spirit Kids Cheer Class – An active energetic class teaching kids the sport of cheerleading
Kindness Club – A class dedicated to teach children mindfulness, kindness and positive communication.
ABOUT THE NEW CLASSES:
SPIRIT KIDS CHEER CLASS: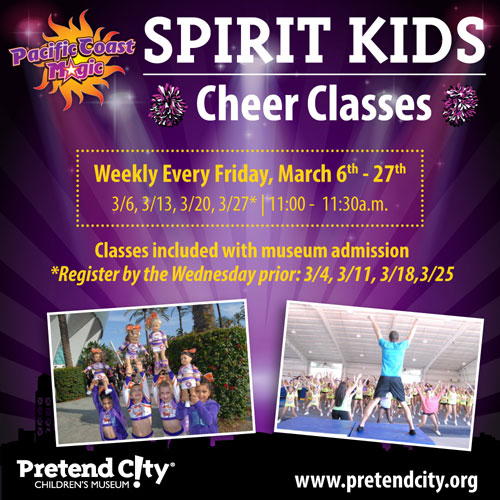 Pacific Coast Magic, an All-Star Cheerleading company will teach children tumbles, jumps, chants and cheers to give your little one a healthy and confident first step towards and active lifestyle through cheerleading. Classes are held every Friday (March 6-27) from 11:00 a.m – 11:30 a.m and is designed for children 3 years and up. Be sure to register in advance though this link: https://pretendcity.org/classes/
KINDNESS CLUB: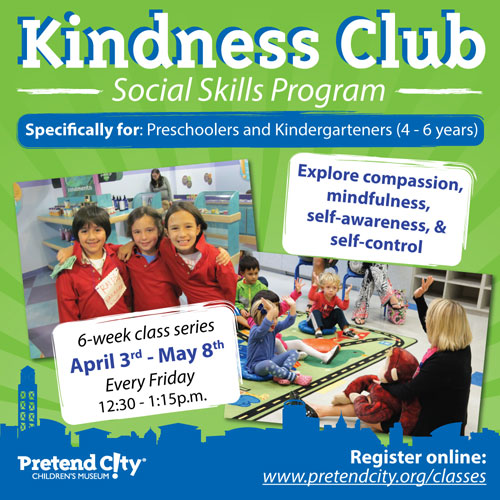 Children can explore self-awareness, kindness, compassion and self control in Pretend City's new Kindness Club. Every Friday (April 3 – May 8), children will practice identifying feelings, effective communication and problem solving as they recognize the benefits that kindness can bring to their lives. The class is available Fridays from 12:30 p.m. to 1:15 p.m. for ages 4 – 6 years. Advance registration is required through this link:  https://pretendcity.org/classes/
Calendar of Events through the end of March: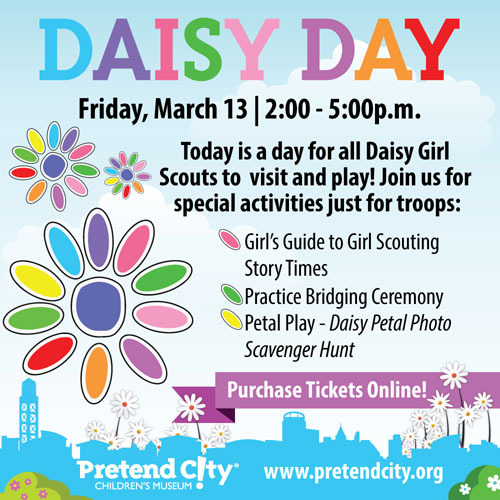 Friday, March 13: Daisy Day!  (For Daisy Girl Scouts)
Time:  2:00 – 5:00p.m.
All Daisy Girl Scouts to visit and play with special activities just for troops:
Sensational Story Time: Join us every half an hour as we read one of the stories from the Girl's Guide to Girl Scouting that aligns with our Daisy Girl Scout Troop field trip offerings.
Growing Up Great: Is your troop ready for their Bridging Ceremony? You're in luck! Today before our Pretend City Parade your troop can participate in a practice Daisy Girl Scout Bridging Ceremony.
Photo Fun: Petal Play – Daisy Petal Photo Scavenger Hunt! Take pictures of your troop as they play and highlighting each petals message. This will be a great way to review how the characteristics of the Daisy Petals are reflected on a daily basis.
Discount: $9 per ticket for Daisy Girl Scout troops of 8 or more $11.50 per Daisy Girl Scout (without troop)
Purchase Daisy Day tickets here: https://bit.ly/1FZEdPr
Friday, March 13: Way to Play Day (For Children 0 – 5 1/2 Years)
Time: 10:00a.m. – 3:00p.m.
The Way to Play Day is specially designed to assist parents in finding answers to questions about their child's development through play. Use the Way To Play Adventure Guide for activity ideas that will enhance your play at Pretend City. Complete each Way To Play activity sheet during your visit for your chance to take home a prize!
Play tip for your next visit! Talk to your child about the important jobs within the Café. Explain to them how each job helps keep people healthy. The chef cooks up nutritious foods, the busser cleans off the tables to keep them free of germs, and the server makes sure to takes your meal correctly – which is very important for those with allergies.
Free ASQ Screening: 10:00am – 12:00pm; first come, first served.
On Way to Play Days, Pretend City also hosts ASQ Developmental Screenings. The screenings will assess your child's speech, motor, cognitive and social areas utilizing the Ages and Stages Questionnaire. Early diagnosis and treatment of developmental delays can help give a child the best opportunity to reach his/her full potential.
Cost: Checkups and activities are included with museum admission.
Event Link: https://pretendcity.org/event/way-play-day-package-learning-4/
Tuesday, March 17: Celebrate St. Patrick's Day!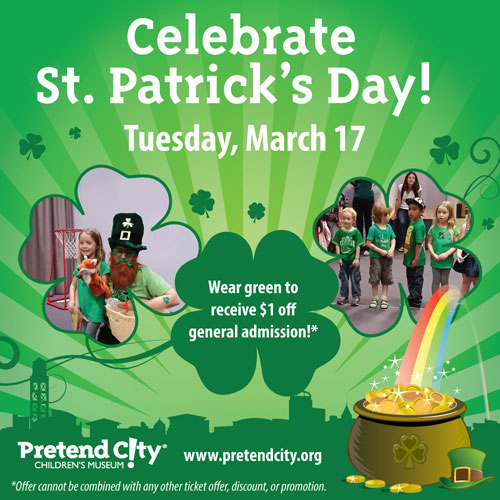 Green is the color to wear on this fun filled day! Celebrate St. Patrick's Day at Pretend City. Activities include a treasure hunt, Irish art, and leprechaun visits.
Smart Art: Visit the art studio for a variety of Irish and St. Patrick's themed art activities for your child to create.
Good to Go Activity: Visit the Farm to participate in the Irish Potato Hop. Children will learn a traditional rhyme while working on counting and gross motor skills.
Let's Move: Play the Lucky Leprechaun Game to see if you're the lucky leprechaun of the day. Participate in this fun St. Patti's Day group game.
Partner In Play: See if you can bring out the Lucky Leprechaun to share his magic during a fun story time.
Don't forget to wear your favorite green costume for an Irish inspired heading home parade!
Discount: Wear green for $1 off general admission!
Event Link: https://pretendcity.org/event/celebrate-st-patricks-day/
Friday, March 20: Celebrate the First Day of Spring!
Spring is in the air! There's nothing like those little buds on the trees, butterflies, birds, bees, and the extended hours of daylight. And what better way to celebrate than with a Spring Fling at Pretend City! Seasonal spring at Pretend City activities include:
Music & Movement: Spring Sing – This spring themed circle time will introduce your child to spring songs that will help them remember the concepts of the season.
Good to Go Game: Spring Shapes Relay – As children work in cooperation with one another to complete relays they are building upon their social skills. This special relay will work on identifying and matching spring shapes while working together to complete this movement relay.
Science Secrets: Planting Party – Spring is the season for growth. Learn all about the life cycle of a plant through song as you plant your very own take-home flower.
Nature Tales: I is for Inchworm – Children will get to observing & interacting with the worms in this fun, curiosity-inspiring activity time.
Cost: Activities included with museum admission
Event Link: https://pretendcity.org/event/celebrate-first-day-spring/
Friday, March 20: Homeschool Discount Day at Pretend City
Once a month Pretend City offers homeschool students unlimited access to their interactive at a discounted rate. Use this Homeschool Day to offer your children a learning experience through hands-on educational play. The Pretend City environment allows you to create a plethora of curriculum and activities to surround your students with challenging problems and absorbing questions. When you come to Pretend City on the Homeschool Day, please bring your Homeschool Day ticket and Homeschool ID card (or district letter, private school affidavit, etc). Registration is required by Wednesday, March 18.
Register here: https://16116.blackbaudhosting.com/16116/Home-School-20Mar2015
Saturday, March 21: Celebrate Persian New Year!
It' time to celebrate Norooz, which means "New Day" during Spring at Pretend City! This holiday commemorates the Persian New Year and Spring Equinox. Bring the kids in to learn about this fun cultural and seasonal holiday!
Smart Art: Flowers and fun fill the air during Norooz! Enjoy art activities inspired by the Norooz holiday.
Cultural Creations: The Haft-seen table is an important part of Norooz celebrations. Children will have the opportunity to put together their own Haft-seen table and learn about the traditional items set on the table.
Sensational Story Time: During the Gala and her Friends Celebrate Norooz! story time, you will follow seven characters and their friends as they prepare for the annual Norooz celebration. Join us as we read
Cost: Activities included with museum admission
Event Link: https://pretendcity.org/event/celebrate-persian-new-year/
SUGGESTED TWEET:
–   Celebrate Persian New Year at @PretendCity on Mar 21. Kids will love this fun cultural and seasonal holiday! https://pretendcity.org/event/celebrate-persian-new-year/ #Norooz
Sunday, March 22: Celebrate National Goof Off Day at Pretend City!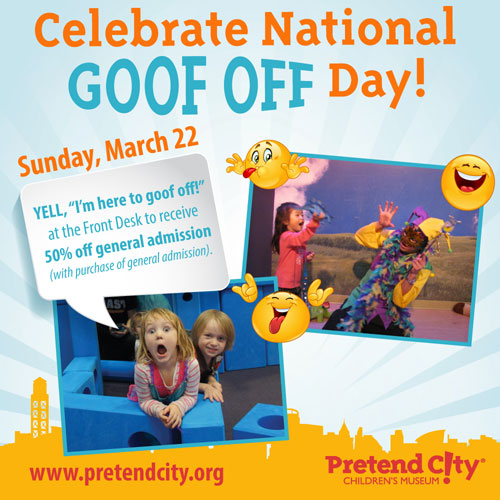 Here's a day that just about everybody can relax and enjoy. It's a day to do anything and everything – except what you're supposed to do today! Grown-ups, take the day off from those house-chores and play with your little ones in Pretend City. Fun games, story times, music and movement, and art activities will fill your day. Melt the stresses of adulthood away as you goof off with your child. It will be a memory your children will cherish!
Cost: Activities included with museum admission
Discount: Yell, "I'm here to goof off!" at the Front Desk to receive 50% off general admission (with purchase of general admission)!
Event Link: https://pretendcity.org/event/goof-off-day/
Tuesday, March 24 – Friday, March 27: Guest Appreciation Week at Pretend City!
Time: 2:00 – 5:00p.m.
Pretend City Children's Museum is a non-profit organization which relies on the contributions of our guests to provide hands-on activities and programs to children and families. During Guest Appreciation Week, Pretend City is recognizing the support of their guests with a special discounted admission! All week long, guests will receive 50% off general admission beginning at 2:00p.m. Special Engaging Afternoon activities will highlight health and wellness for children. Daily activities will include story times, fitness fun games, and nutritious snack times.
Discount: 50% off general admission beginning at 2:00p.m!
(Admission must be purchased in-store at the Front Desk to receive discount)
Event Link: https://pretendcity.org/event/guest-appreciation-week/
Wednesday, March 25: Celebrate Passover at Pretend City's Model Matzah Bakery!
Time: 3:30 – 4:15p.m.
Spring at Pretend City includes Passover, which is right around the corner. Start your Passover celebration by learning about this Jewish holiday by participating in the Matzah Bakery! Silver Gan Israel Day Camp will share the meaning of matzah with all guests. Children will have a chance to dig into the dough as they:
Produce flour from wheat kernels, winnow, and separate the chaff from the grain.
Collect the grain into a wheat mill and grind it into flour.
Knead, roll, and bake the dough into a handmade matzah in the required amount of time.
Delight in taking home their very own freshly baked matzah, a holiday guide and a baker's hat.
Event Link: https://pretendcity.org/event/celebrate-passover-model-matzah-bakery/
Monday, March 30: Family Autism Event
Specifically for: Families with children of all ages who are on the autism spectrum; Pretend City will be closed to the general public
Time: 5:00 – 7:30p.m.
This special evening is an opportunity for children and their families to have some fun in an autism-friendly environment along with other families. Community partners, who specialize in supporting children on the autism spectrum, will be on-hand to enrich your family's play experience with welcoming smiles and practical support. Register online.