Walt Disney Studios will be re-releasing the classic film, Disney's Cinderella this weekend with a twist – bringing beloved fairy tale characters to life.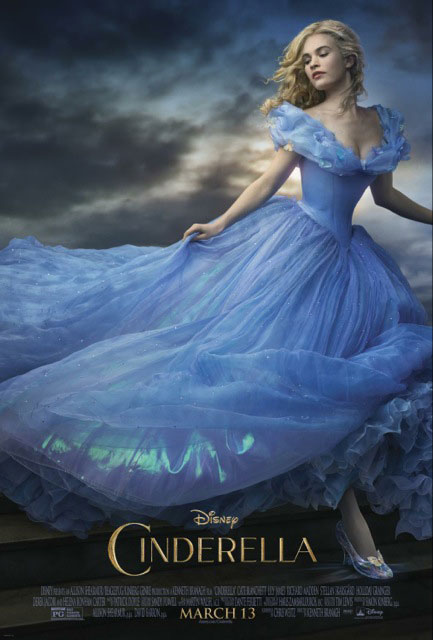 Earlier this week, I was invited to take my princess and her friend (and mom) to a pre-screening of Disney's Cinderella in Newport Beach. It was such a fun "girls night" immersing ourselves in the magic and we floated out of the theater with big smiles as we re-fell in love with Cinderella.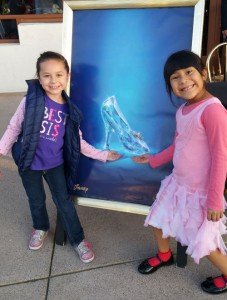 In February 1950, the story of Cinderella captivated the world and has become one of Walt Disney Studio's most treasured titles, grossing more than $34 million in 65. Director, Kenneth Branagh mystically transformed this beloved cartoon into a modern fairytale that will continue to entertain young and old. This story reminds us that stay true to your beliefs and your courage; inner strength will see you through the toughest of times.
Ella, played by Lily James, brings Disney's Cinderella to life as a young woman whose perfect life is shattered as her mother dies and father remarries "Blue Jasmine" (Cate Blanchett). To make her father happy, she lovingly welcomes her new step mother and step sisters into the family home. While on a business trip,  Ella's father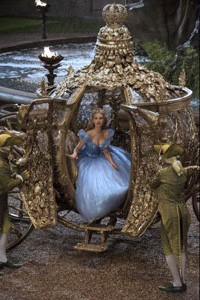 unexpectedly and, her jealous step mother and step sisters turn Cinderella's world upside down.
I loved getting a peak into Ella's (Cinderella's) life before the classic cartoon takes place. We get to see her as a carefree child in a loving and supportive family who instill values of courage and kindness. These values appear throughout the film as Ella continues to be mistreated by her new family.
As in the animated version of Cinderella, her beloved friends, the mice play a significant role. They play, entertain and are there for moral support. During each of their scenes, I caught my daughter and her friend giggling and whispering "how cute" as they fell in love with these adorable furry friends. It was quite fun seeing them transformed with a little "Bibbity Bobbity Boo" into Cinderella's horses.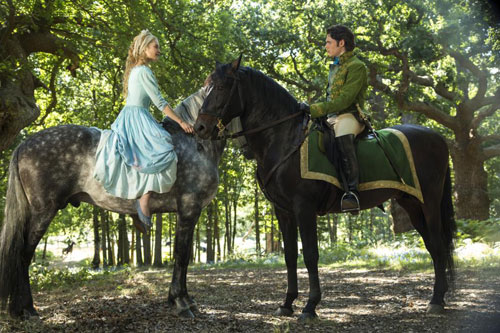 The costumes and sets were just mystical. Cinderella's dazzling blue evening gown was absolutely amazing. With miles and miles of beautiful fabric, every little girl will dream of twirling and dancing about in that beautiful gown. I particularly loved Blue, the step mother's beautiful costumes. She just looked dazzling.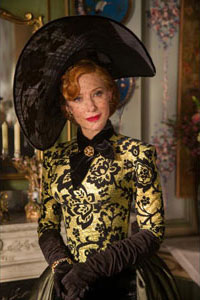 The beautiful scenery also added to the grandeur of the film. The scenes in the ballroom were my favorite as they were exactly what I would have pictured a royal castle.
I would definitely recommend this film for all ages. (That is, if your little one will be able to sit through an almost 2 hour movie) Little girls will be enchanted with Ella, and will be ready to rush out and pick up their very own "Cinderella Dress", while moms will be reminded of their childhood and their love for this classic fairytale.
See the trailer here:
For more information about Disney's Cinderella, visit DISNEY.
Disclaimer: We were invited to a pre-screening of Disney's Cinderella, no compensation was received for this review.