Over the weekend we were invited to Discovery Cube OC to check out the snow fun at Winter Wonder Fest that opens to the public December 19th  and goes through January 3, 2016.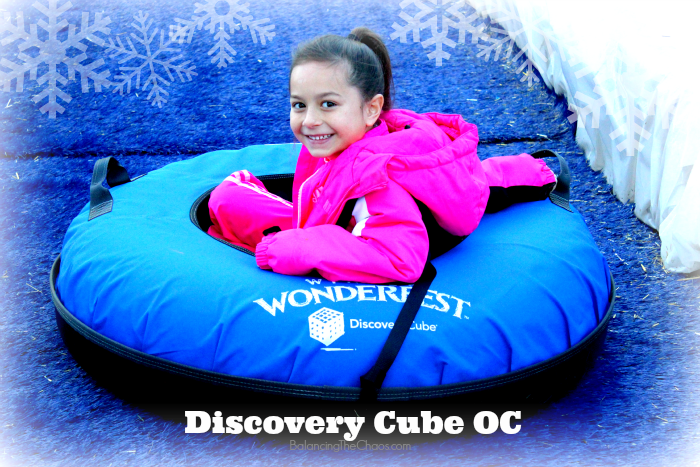 For a limited time, guests of the Discovery Cube OC will have the opportunity to discover the science behind sledding down ice ramps and how snowflakes are formed.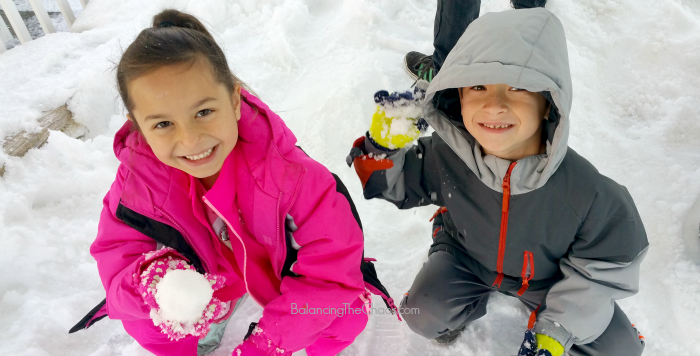 The kiddos will have the opportunity to experience the fun of tubing, sledding, make snow angels, build snowmen and more. You will giggle in delight as you watch them enjoy all the snow fun to be had at Discovery Cube OC.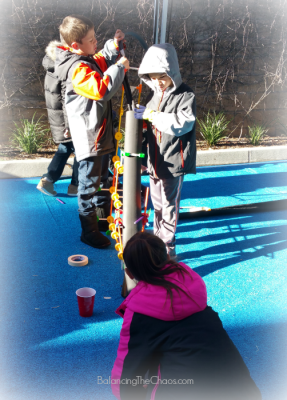 Then the kids got creative. In the snow fun at Winter Wonder Fest, kids can learn the science behind the tube and sledding ramps by building their own ski ramps with tinker toys, foam pieces and marbles. It was great seeing my kiddos and their friends add on layer by layer of tinker toys to create a higher ramp to make the ball shoot out of the tubes.
Snowmen, snow angels, and a mini snowball fight was on hand when the kids ventured over to the snow play area. A little 10 x 10 foot area was covered with snow for the kids to romp and stomp in chilly fun.
TIP: Be sure to bring warm jackets and gloves as the snow is really COLD! Also closed toe shoes is a MUST! You don't want those little piggies frozen.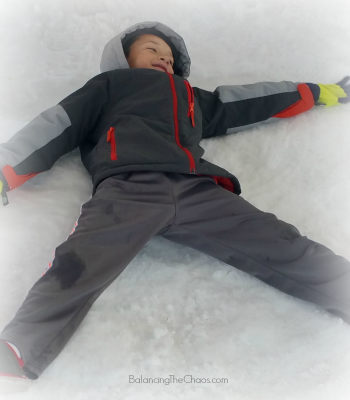 While we were there, we checked out the creative gingerbread house entries that is part of the Science of the Gingerbread. This year, there are so many unique and creative entries, like the Eiffel Tower, a Tree in the Woods with a house built in, Minecraft portrayals, beach scenes, dinosaurs and more!
Hands on activities included building life size arches to mini arches, learning about holiday spices and the science that goes into baking gingerbread cookies and more.
My kids were particularly excited to get "hands on" with the Gingerbread Derby Contest. Guests are invited to pick out their own materials to build their very own gingerbread derby cars. Start with a base of graham crackers and add your choice of wheels from ritz crackers to rolos. Next choose your hubcaps – marshmallows or jelly beans. Finally choose your seat and your driver and let the building begin.
Once they finished their cars, the derby was on! The excitement in their eyes as those gingerbread derby cars raced down the speedway was priceless.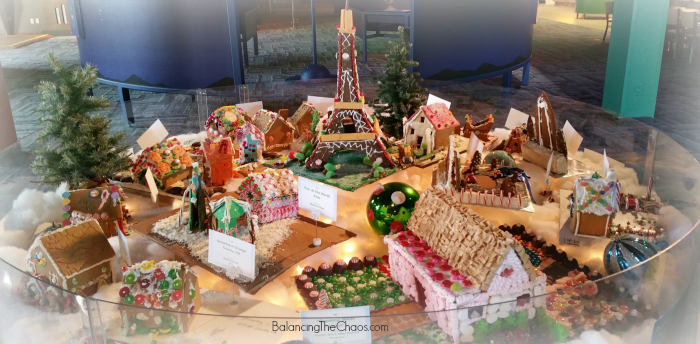 The snow fun at Winter Wonder Fest will be at Discovery Cube OC from December 19th through January 3rd for $5.00 per person. Science of the Gingerbread also ends January 3rd (Included in the price of Discovery Cube OC Admission) Get your tickets now via Discovery Cube OC online or at the box office. It's the perfect option when the kiddos are out of school on Winter break.
While you're there, why not give the gift of Membership? Discovery Cube Memberships start at for $99 for a family of four.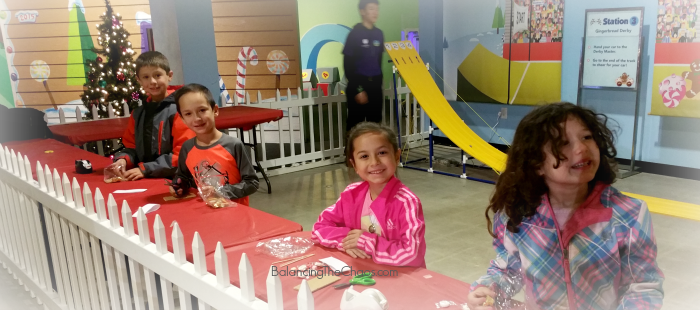 Start planning for the New Year NOW! Celebrate New Year's Eve with The Discovery Cube OC! Learn about the different time zones throughout the world and how other countries mark the occasion with their NOON Year's Eve celebration, December 30th and 31st. There will be a giant balloon drop, count down, hats, horns, ginger ale toasts and a "Let's Get Moving" Healthy Living Dance Party.
About Discovery Science Foundation
The Discovery Science Foundation serves as the program-development, marketing and fundraising arm for hands-on science learning museums in Orange County and Los Angeles. Established in 1989, the original non-profit Taco Bell Discovery Science Center in Santa Ana, now renamed Discovery Cube Orange County, presented by Taco Bell, continues to inspire and educate millions of young minds through engaging science based programs and exhibits. In 2012, the Center was named one of the 10 "Most Trusted Brands" in Orange County and in 2013 was awarded the National Medal of Service from the Institute of Museum and Library Services.
In November 2014, Discovery Cube Los Angeles, a second nonprofit museum offering an exhibit and program mix unique to Los Angeles, opened in the Hansen Dam Recreational Area of the San Fernando Valley. For more information, call (866) 552-CUBE (2823) or visit discoverycube.org. Follow the Orange County and Los Angeles campus on Twitter (@DiscoveryCubeOC and @DiscoveryCubeLA).