Back when I was a new mom, I relied on adult conversation and "learning the ropes" from other newbie moms in our Mom's Group. One thing we realized what that all of our conversations seem to lead to our babies and their bodily functions. The color, texture and smell all seemed to be "hot topics of conversation. Now, fast forward to the potty training stage – poop issues are still a number one topic of conversation and advice. One item you need to pick up for your little one – the Step And Go.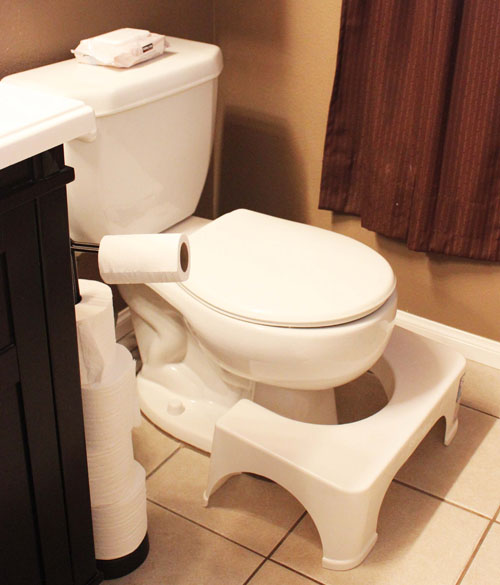 We've had poop issues for quite a while in our house. Issues I thought would never go away because of an addiction to wet wipes and an aversion to publicly pooping. My little guy really didn't like using the restroom in at preschool because it was public – everyone could see everyone else because they were either lined up or the bathroom didn't have a door.
At home he was more comfortable, but had a tough time relaxing and letting things flow. After sitting on "the throne" for 20 minutes +, his legs would be numb. We had a foot stool in the bathroom for the kids to be able to reach the sink, then it's use expanded, until we discovered the Step And Go.
The Step and Go is perfect for for so many reasons. I love that it fits right around the toilet, out of the way when stored. It is light weight and easy to slide in and out, so now my little man doesn't have those needle/tingly legs, when he finally gets up after relieving himself.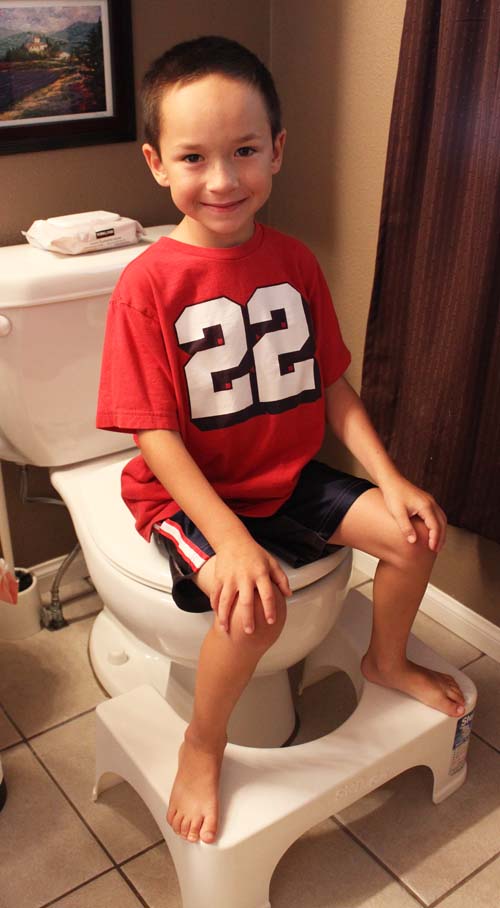 One thing I learned with the Step and Go, "The squatting angle achieved with the Step and Go helps relieve straining and allows the digestive system to align for better, healthier results" -Dr. John G. Sherman (International College of Applied Kinesiology). Um, I didn't realize there was an actual correct position to relieve yourself. Okay, so quite embarrassing to "Blog About It" as my family always tells me, but apparently when you sit up straight to go, you may be creating more issues by straining yourself, causing more problems like hemorrhoids, varicose veins, constipation and more. With the Step and Go, this issues are incredibly reduced, if not eliminated.
Honestly, I've tried it and have to admit, it is more comfortable – I know – TMI – but just saying! Seriously, if you have issues, it may be worth it to give it a try. To find out more about the Step and Go, benefits as well as how to buy, visit STEP AND GO Website. 10% off Discount Code: toddlertrails!
Disclaimer: We received sample product to facilitate the review and share our honest opinions.  No other form of compensation was received.