This post was sponsored by ALDI as part of Influencer Activation for Influence Central.
A brand new food market has exploded into Southern California offering fresh, high quality, healthy and organic products.ALDI prides itself offering a "simple" shopping experience with fresh produce, natural top choice meat and dairy, without elaborate in-store product displays, flashy ads or loyalty programs.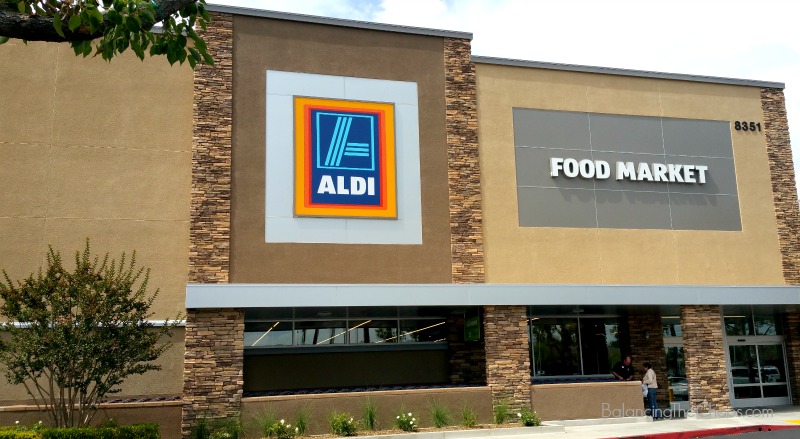 After school I decided we needed to stop for groceries. The refrigerator was empty and the kids were "starving" so we needed healthy snack options in a flash. Since I have heard so much about ALDI, and with two locations within 10 minutes from my house, it was time to stop.
When we arrived, we were greeted by a friendly associate who proceeded to share their cart program. Bring a quarter and you can "borrow" a cart. The kids LOVED this concept – you insert a quarter into a slot that unlocks the shopping cart for you to utilize. Upon return of the shopping cart, you receive your quarter back. This simplicity saves the company money – which keeps the prices down.
As we walked through the store, I immediately noticed the prices. They seemed quite lower than our local grocery store. With the kids in tow, they're always just throwing extra things into the cart – cookies, chips, many unhealthy snacks. At ALDI, the snacks they were throwing into the cart were so much cheaper than at competitor markets – and many were labeled organic or gluten free.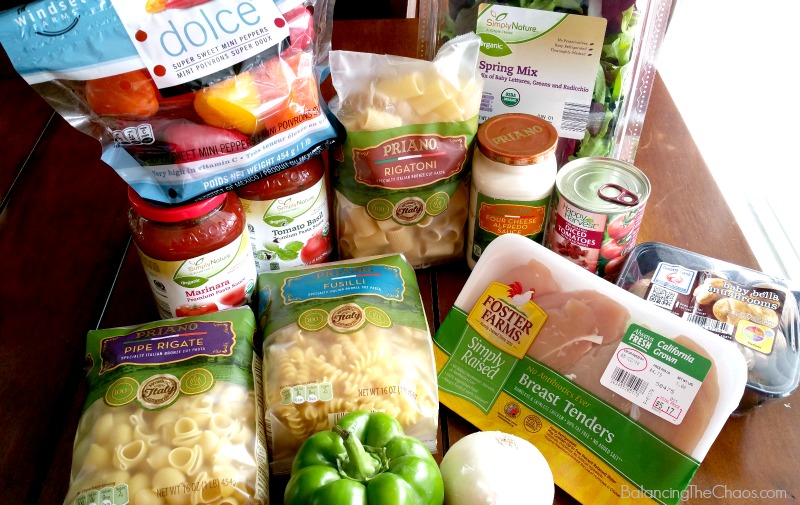 While the kids were looking for snacks, I was building dinners. We LOVE pasta! So I was pleased to organic and gluten free pastas and sauces. ALDI offers it's own line of exclusive brands that save up to 50% over name brands. I am looking forward to serving SimplyNature® Organic Spaghetti over the and sampling the SimplyNature® Organic Spaghetti Sauce. The SimplyNature® line includes USDA certified organic and Non-GMO verified items.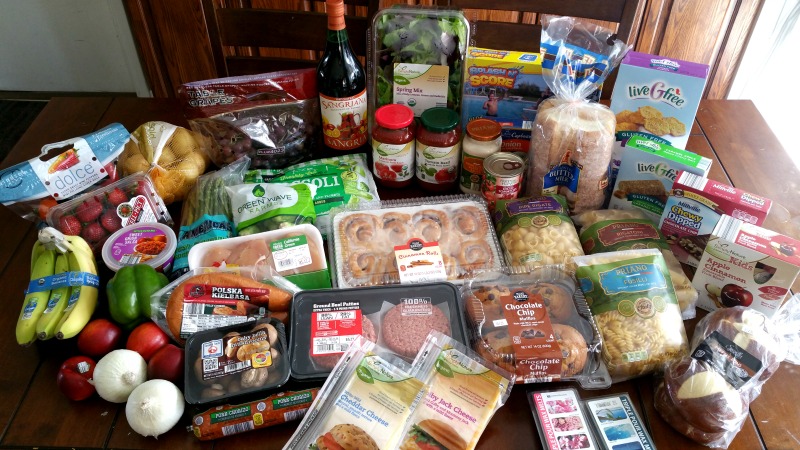 As we made our way around the store, we spotted more "ALDI Brands" like liveGFree® and Specially Selected. The liveGfree® is a gluten-free brand we found offering snack options. Approximately 90% of the groceries they sell are under their own exclusive brands that are regularly tested to make sure they taste as good, if not better than the national brand.
In the photo above, we spent roughly $85 stocking up our fridge and cabinets with great, healthy options. As you can see, they did sneak in a few sweets like Village Bakery Cinnamon Rolls and Village Bakery Chocolate Chip Muffins, but sometimes you need a little sugar to start the day, right?
There are 25 ALDI stores that recently opened in the Southern California area. You'll notice these food markets are smaller than traditional supermarkets with just a few aisles featuring ALDI exclusive brands with high quality and low prices. Tip: You get to bag your groceries your way by purchasing bags or bringing your own! Check out one of these locations near you!
Southern California ALDI Food Market Locations:
275 Euclid Street, Anaheim, CA 92804
1403 S. Baldwin Ave. Arcadia, CA 91007
8351 La Palma Ave. Buena Park, CA 90620
11530 South Street, Cerritos, CA 90703
1400 N. Azusa Ave. Covina, CA 91722
17070 Magnolia St. Fountain Valley, CA 90708
3330 W. Century Blvd. Inglewood, CA 90303
2268 Foothill Blvd. La Verne, CA 91750
18294 Collier Ave. Lake Elsinore, CA 92530
Stay tuned to ALDI.us or the ALDI USA Facebook page for the latest updates on grand openings!
Website: https://www.aldi.us
Facebook: https://www.facebook.com/ALDI.USA  Instagram: https://www.instagram.com/aldiusa/  Twitter: https://twitter.com/aldiusa