A couple of years ago, I shared resort camping at the San Diego Metro KOA location as one of our favorite stay-cation destinations. We try to visit yearly as the kids cannot get enough of the activities and fun offered at this family friendly resort, however, our busy schedule had kept us away until a few weeks ago. With an all new pool and community facility and the proximity to local attractions, the San Diego Metro KOA is the perfect resort camping location for a family vacation.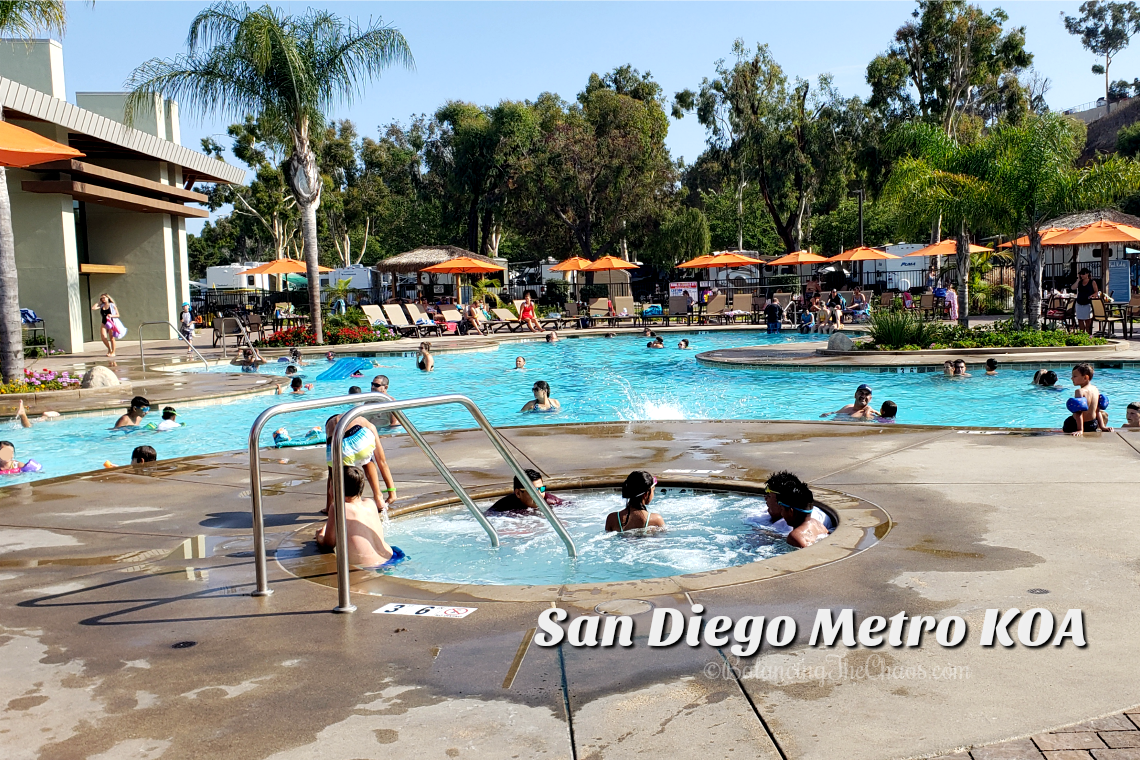 We were invited back to revisited this popular campground and check out the new additions to the resort property. While making our reservation, we decided to utilize our RV and stay at one of their full hook up sites. With over 140 different RV site options, we reserved a regular sized site that fit our 26 ft rig perfectly. We ended up with a great location that was really close to the jumping pillows and Kamp K9 because we took our aging Labrador retriever with us.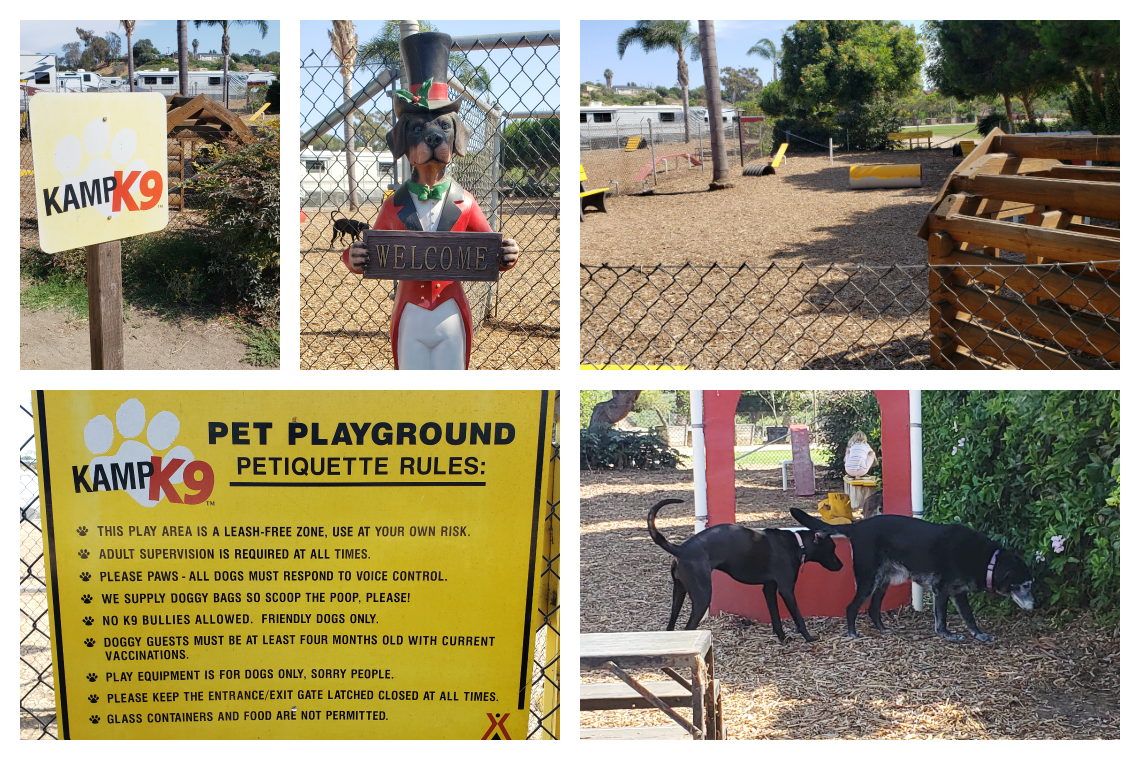 Our dog is now 14 years old, and has a tough time walking and getting up after her nap, however, while she was with us camping, she seemed like her old self. She couldn't wait to go on walks to Kamp K9 and meeting our neighbor dogs. It was certainly a great time for her.
While I was walking the dog, my husband and the kids ran off to the jumping pillows. They had remembered these inflated pillows and couldn't wait to try all of their new trampoline tricks. During the summer, bring a pair of socks with you, as the pillows get rather hot. Luckily, my children had their socks from our local trampoline park on hand to jump.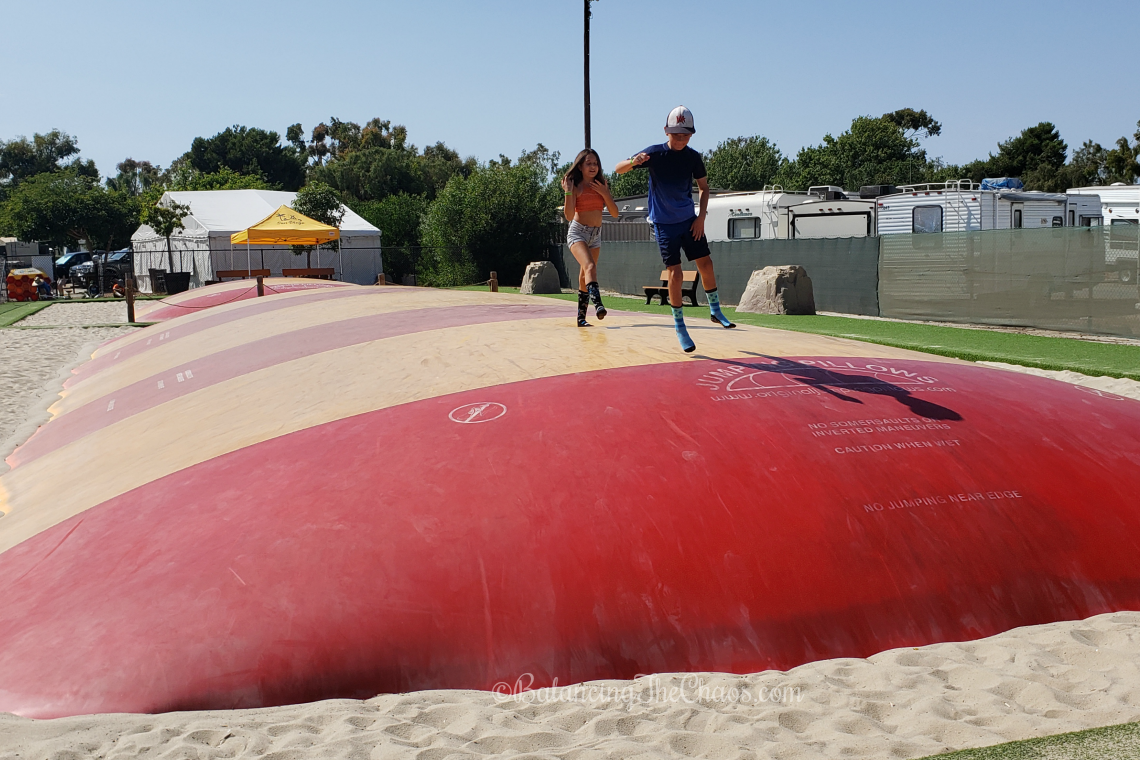 Our next stop, was the reason we decided to stay at the San Diego Metro KOA – The Pool. After talking with one of the owners, Clint Bell on our last visit, we couldn't wait to check out the pool he and his family built on the property.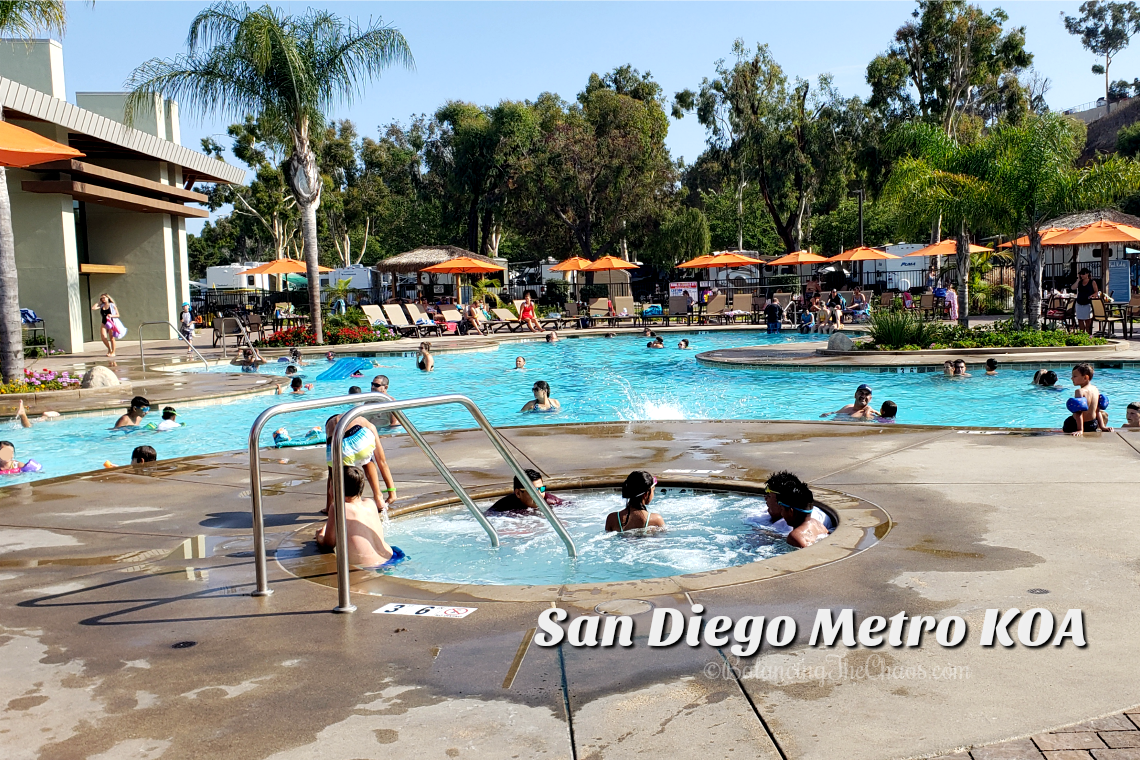 The Bell family added a beautiful giant pool, that has become the center of life at the San Diego Metro KOA. It has really turned this stay-cation location into an awesome resort camping retreat. The pool features a gradual incline, or beach entry with several different little coves you can walk/swim or wade to. If I remember correctly, the pool is about 4 feet deep and has several points of entry. There are two Jacuzzi's close to the pool, one within 3 feet of it. Several lounge chairs, tables, chairs and umbrellas are scattered throughout the pool deck, which is adorned with a few palm trees and planters that add to the beauty and tranquility of the area.
The pool is located across from the Main Office and Sand Castle Cafe, the resort restaurant where you can purchase anything from breakfast burritos to full dinner entrees like fish tacos, hamburgers, etc. They also feature a happy hour menu that is pretty awesome too.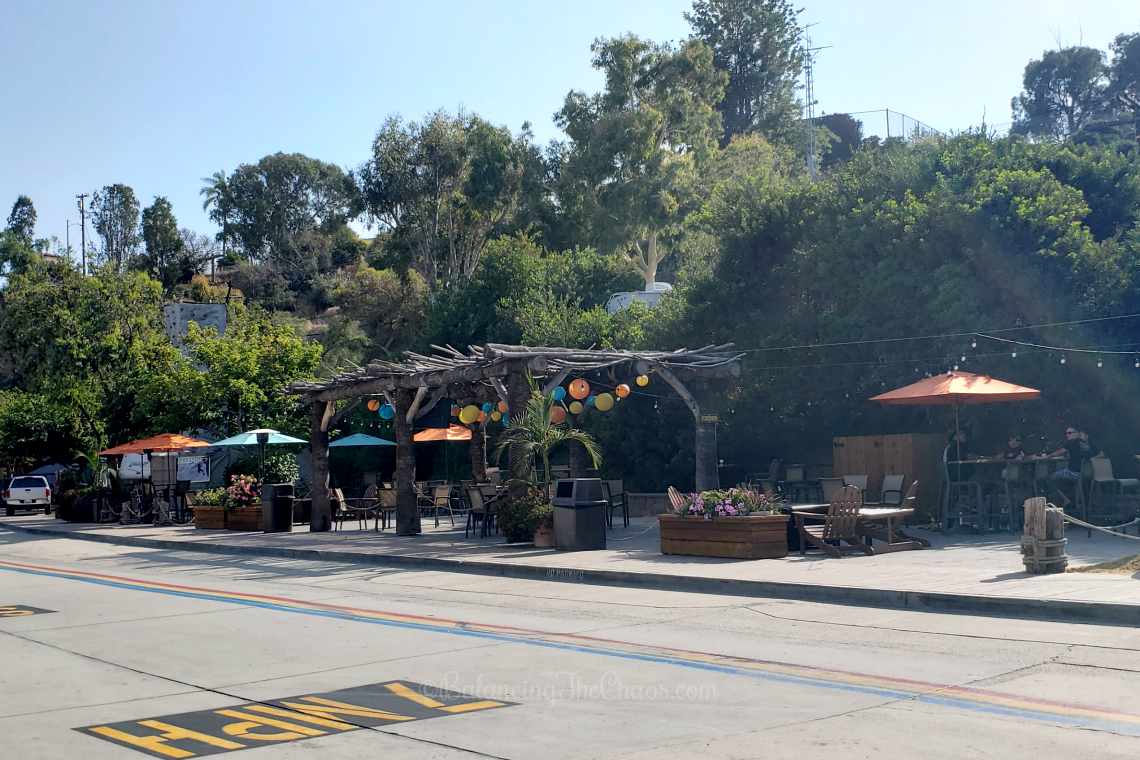 There is also a beautiful new building that was added to property, which houses several activity rooms, large bathrooms with many additional showers for both men and women, a new laundry facility and a small office that serves as a central location to rent bicycles, tricycles and surreys. Additionally, I noticed a big wall off to the left of the pool, the perfect spot to project movies while guests are lounging on the water. I certainly cannot wait to experience that upon our next visit!
I have heard from several friends, who annually visit the San Diego Metro KOA with their entire family. They book 6 months in advance and reserve several adjoining tent camping sites or RV camp sites, and spend the week just hanging out. With so many fun activities to do on property, I can see why. Each week, a full newsletter of events and activities are available at the front office.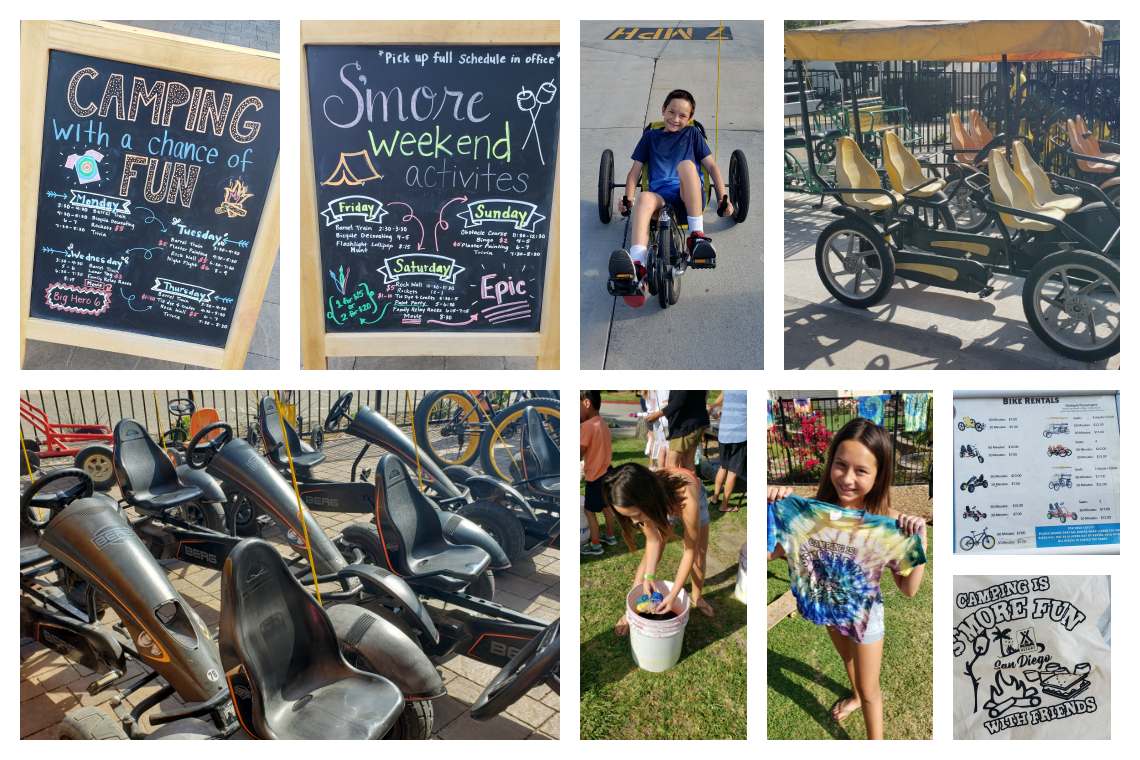 The only thing my son HAD to do while we were there, was drive around in the 3 wheeled peddle bike. And it was perfect as we kept sending him back to our RV to pick up things like an extra towel, sunblock, etc. My daughter on the other hand wanted to get crafty and tie-dye a KOA T-shirt. Throughout the week, all kinds of family friendly activities are offered, like movie night on the water and a variety of crafts. Most activities are additional expenses.
While we planned our visit to just enjoy the property, there are many local attractions that are close by for families to enjoy.
Old Town San Diego Trolley Tours
Safari Park
San Diego Zoo
San Diego Harbor Excursions
Sea World
USS Midway Museum
Legoland
Balboa Park – San Diego Museums
La Jolla
Petco Park
Point Loma, Cabrillo National Monument
Qualcomm Stadium
Stephen Birch Aquarium Museum
Ready to plan an RV/Camping adventure of your own?  Visit KOA.com for information on Kampgrounds of American and their different camping options, what to bring, local attractions and so much more! For more information about the San Diego Metro KOA, visit their website or contact them at 800-562-9877.
111 North 2nd Avenue; Chula Vista, CA 91910