Last week, LEGOLAND California hosted media as they celebrated the opening of NINJAGO World. LEGOLAND® California Resort welcomed hundreds of media to be the first to launch lightning, fireballs, ice and shock waves on NINJAGO® The Ride during the press preview of LEGO® NINJAGO® World before the new land officially opens to the public on May 5, 2016.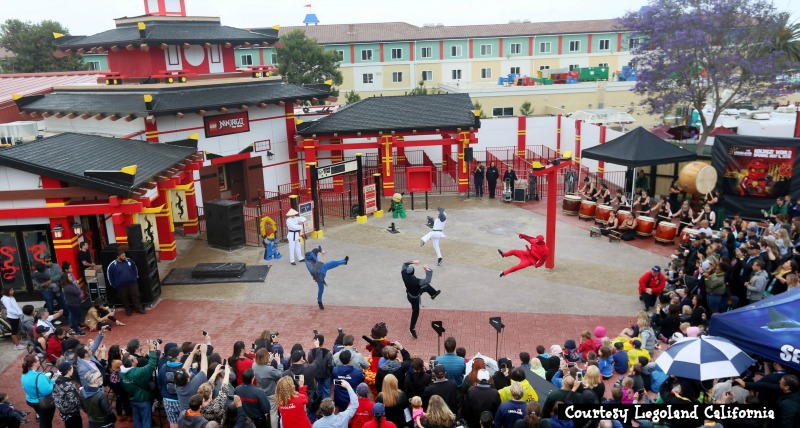 NINJAGO World features five attractions all designed to test guests balance, agility, speed and creativity:
Zane's Temple Build – At Zane's Temple Build, free build with LEGO bricks around an ornate LEGO Monastery created out of 859,554 LEGO bricks that stands nine-feet high in the center of the courtyard.
Kai's Spinners – At Kai's Spinners, test your balance as you stand on a spinning platform and twirl.
Cole's Rock Climb – At Cole's Rock Climb, youngsters can test their agility as they scale a rock wall built alongside the main temple.
Jay's Lightning Drill – At Jay's Lightning Drill, test your speed by pushing the lit up buttons in a timed speed cage
NINJAGO The Ride
For the first time in any theme park in North America, NINJAGO The Ride enables guests to demonstrate ninja skills by simply using their hands instead of a hand-held device. With the flick of your hands, throw fire balls, shock waves, ice and lightening to defeat the evil villains. Throughout the ride, collect points for training and battle while competing against each other.
The NINJAGO The Ride is a complete 4D experience as you'll experience elements like heat, smoke and wind.
The 4D elements are installed at key moments around the ride to accentuate the scenes and enhance the sense of immersion," said LEGOLAND California Resort's Project Manager Chris Brzezicki.
Want to get a sneak peek? Check out this video of NINJAGO the ride:

LEGOLAND California Media Preview:

Other new additions to NINJAGO World include a new retail outlet, Wu's Warehouse and a dining option, Ninja Kitchen, where LEGOLAND chefs have put a special twist on Asian street food with Banh Mi sandwiches on fresh baked baguettes or steamed Bao Buns with crispy pork belly, lemongrass chicken or baked sweet chili tofu.
And of course, a new land means more LEGO models; 22 new LEGO models can be found in NINJAGO World including two five-foot guardian dragons protecting the entrance built from 77,280 LEGO bricks, models of Master Wu, ninjas Jay, Lloyd and Kai plus swords of the four elements.
NINJAGO World opens May 5, 2016 and is included in admission to LEGOLAND California Resort. For more information, log onto www.LEGOLAND.com or call (760) 918-LEGO (5346).