Our summer vacation kicked off in late May. So early in fact, it's before the Summer Equinox. We are always guessing what type of weather we'll end up with, hoping for beautiful, warm sunny days. After checking out the property over Spring Break, we were invited to kick off the summer with a camping adventure at the highly recommended Newport Dunes Waterfront Resort and Marina. In fact, it is one of the Top 10 Best Luxury RV Resorts in the U.S.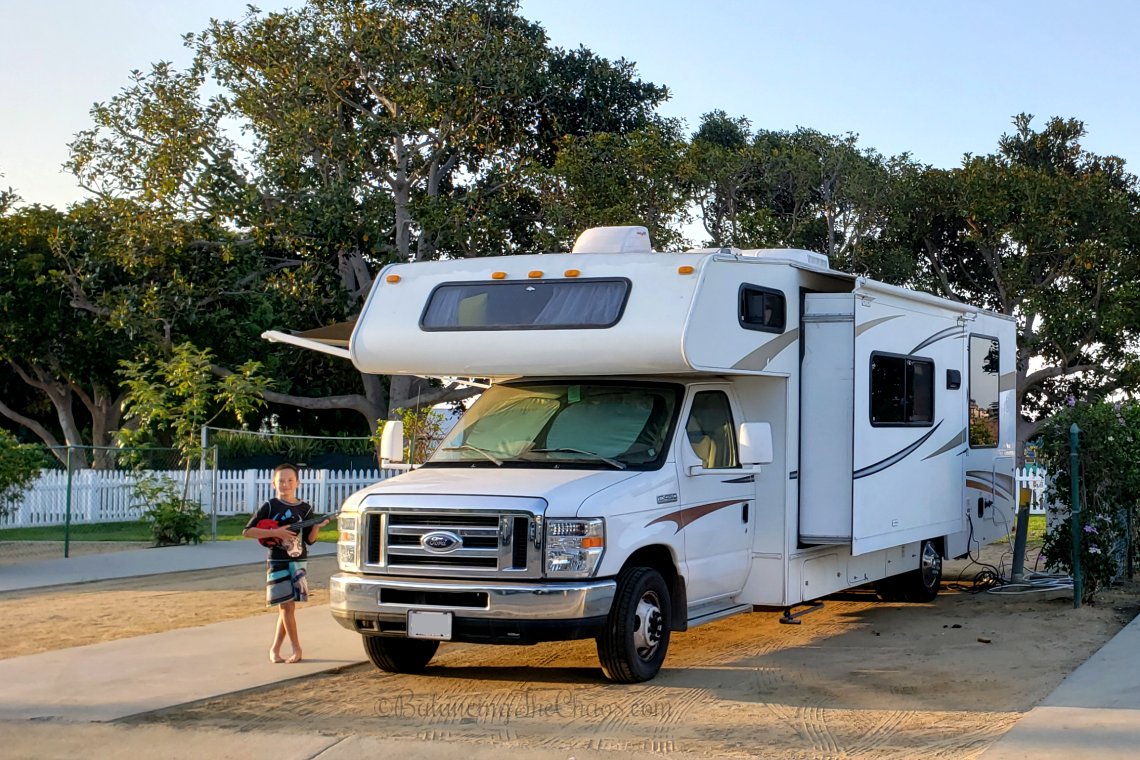 This summer we were very excited about the opportunity to spend a little time on the waterfront at the Newport Dunes Waterfront Resort and Marina. They offer 372 – RV, tent camping sites.
Since we already own an 26 ft. motor home, our plan was to bring our rig and enjoy one of their RV sites. They offer different categories with different price points including: super-sites, beachfront sites and economical sites, all having access to amenities that include:
Swimming pool and spa
Beach and swimming lagoon (wave-less)
Market and water sports rentals
Marina and boat launch
Daily activities (weekends)
Dog friendly
Weekly live entertainment
Fitness Center
High speed wireless internet
On-site waterfront restaurant – Back Bay Bistro
During our stay, I decided to let my children bring some of their friends with them, so that they could entertain each other. Unfortunately my husband was back and forth with working/coaching and other responsibilities, so I figured friends was a great option for my kiddos. Little did I realize that I was going to be hooking up our RV to Newport Dunes amenities by myself. (Usually that is my husband's job.)
So I attempted to hook up the electricity and water on my own. As usual, there were issues. I couldn't figure out the electricity. I plugged it in, however, no power. I hooked up the water hose and it would't stop leaking. Frustrated that I couldn't figure it out myself, I contacted the front desk via cell phone, and they quickly sent over their on site staff, who quickly trouble-shooted my electrical problem to the fact I didn't switch on the main power. Okay, my bad! I didn't see the circuit breaker. The water issue was that we needed a new hose, a luckily they had an extra hose we could borrow for that stay.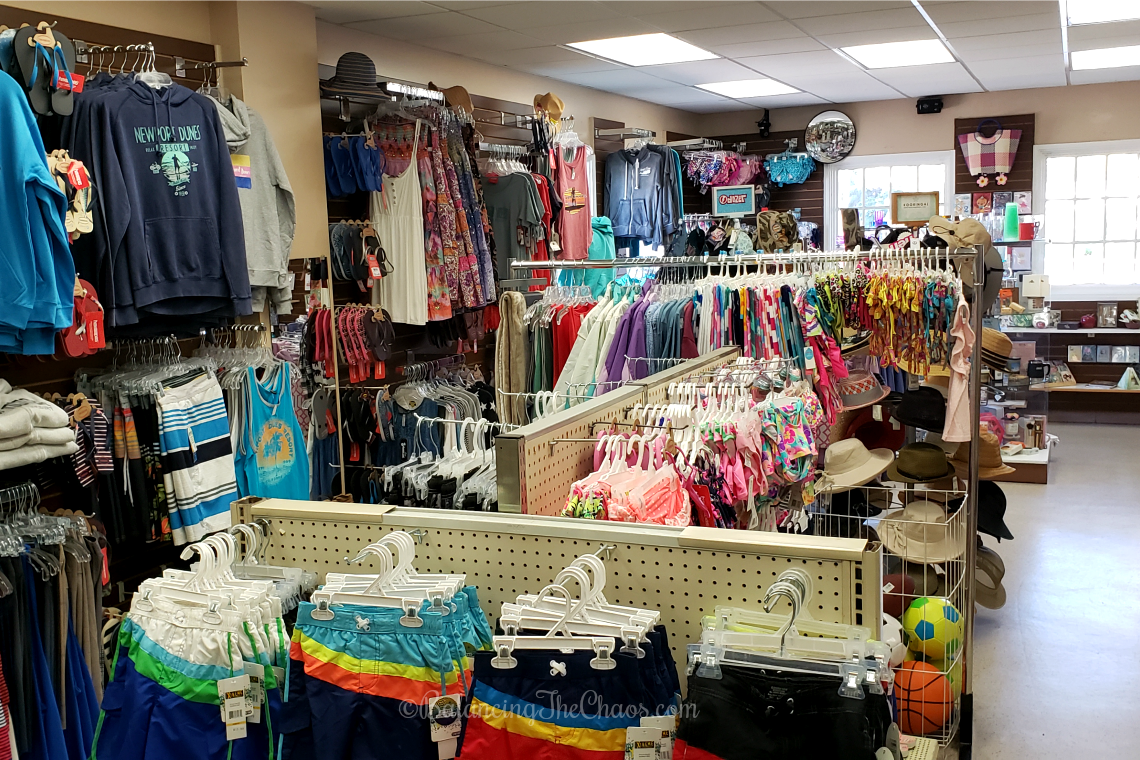 While on site, any issues with your RV or trailer, the staff can help trouble-shoot to a point. They are not allowed to touch your vehicle, nor step inside, however they are very knowledgeable with a variety of different vehicles and were VERY helpful. Additionally, many parts that are needed for issues they see regularly are available in the Market Place. They also have convenience store items and necessities from bathing suits, food and snack items, soft serve ice cream and even alcoholic beverages.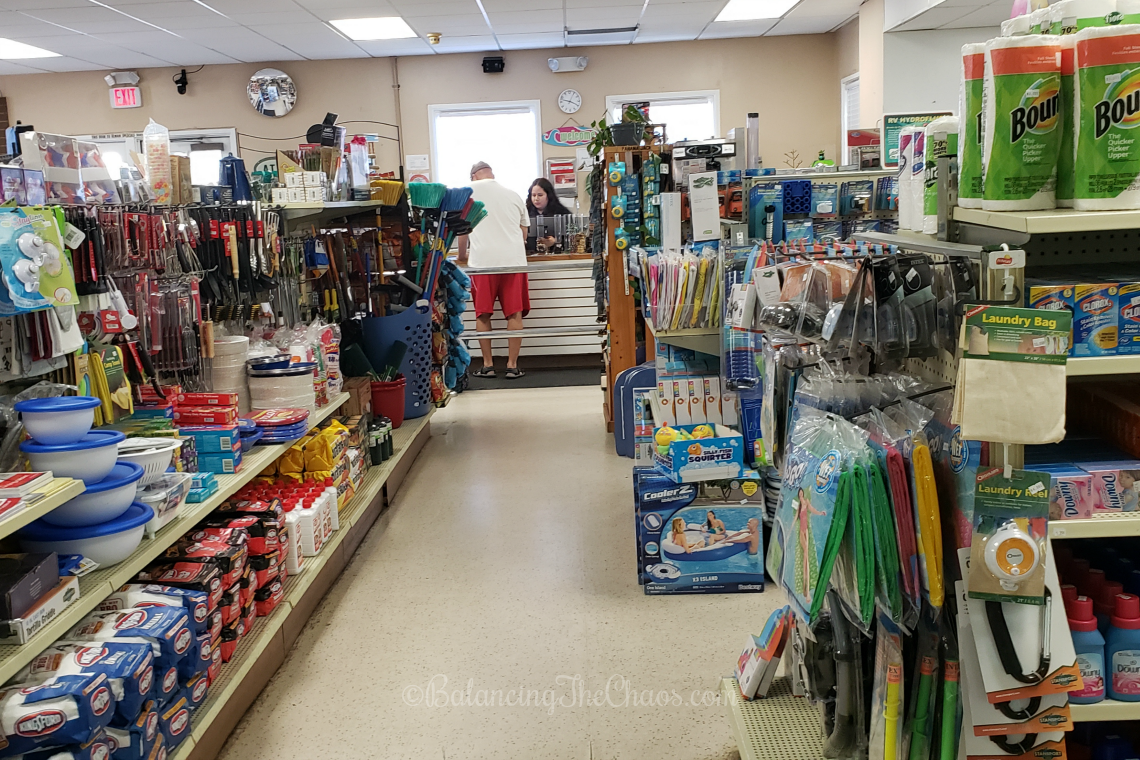 Once everything was finally set up, all the kids wanted to do was hit the inflatable water park at Newport Dunes Waterfront Resort. It is a one-of-a-kind waters-cape with the largest fleet of inflatables and watercraft rentals. This year, the floating inflatables create a unique obstacle course. After purchasing a ticket at the Newport Beach watercraft rentals, you're handed a life vest and you're off. Swim out to whichever inflatable you'd like to start off with first. My gang started off with the large iceberg and climbing wall. One tip, not a good idea to slide down the yellow climbing wall because the handles/foot holds hurt as your behind slides down.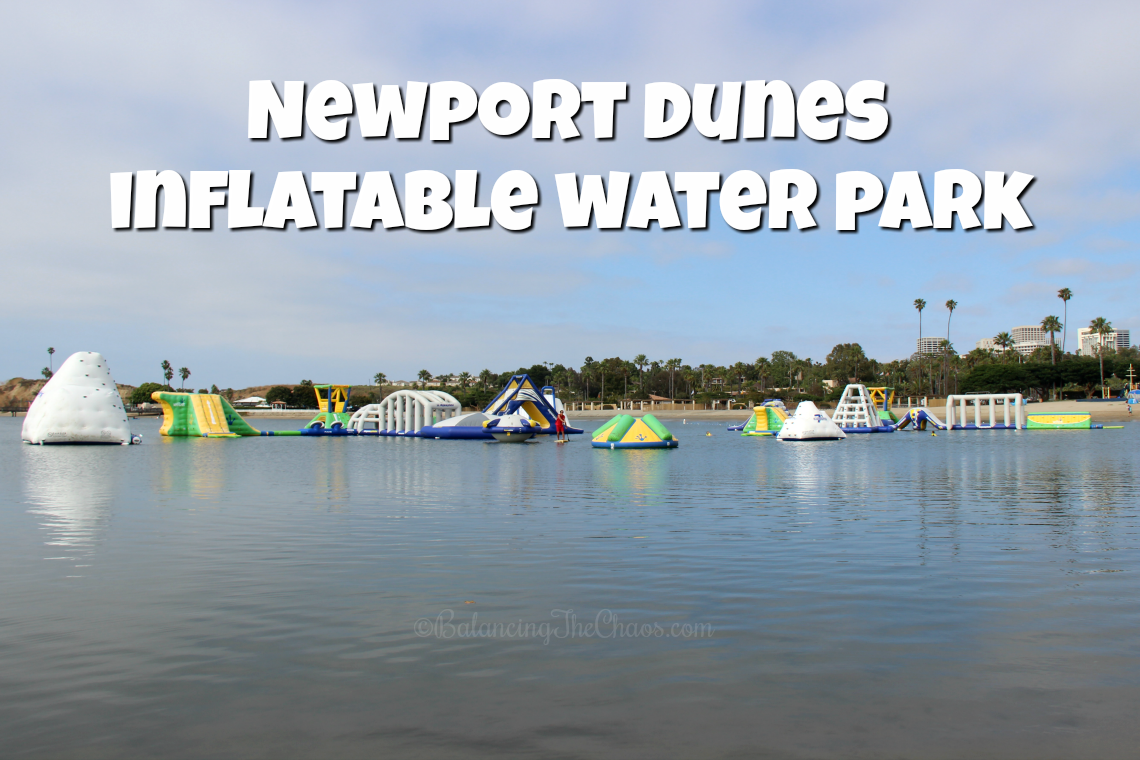 Newport Beach watercraft rentals offers a variety of summer fun on the water including:
Stand-up paddleboards
Kayaks
Pedal boats,
Duffy boats
Inflatable obstacle course
All watercraft rentals and the water park are open to both resort guests and public guests. Rates vary because of the time of year and if you are a resort guest or a public guest. Visit the Newport Dunes Waterfront Resort website for the details on the waterpark. Also check back for Radiant rides that should be open now through Labor Day.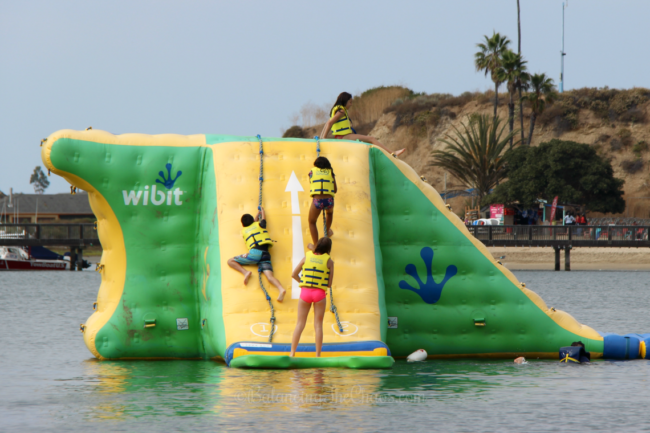 The Inflatable Obstacle Course is open daily from 10 am – 6 pm through September (Labor Day), and then only available weekends through September 29th. Once the kids needed a little break from the course, they decided to hit the resort pool.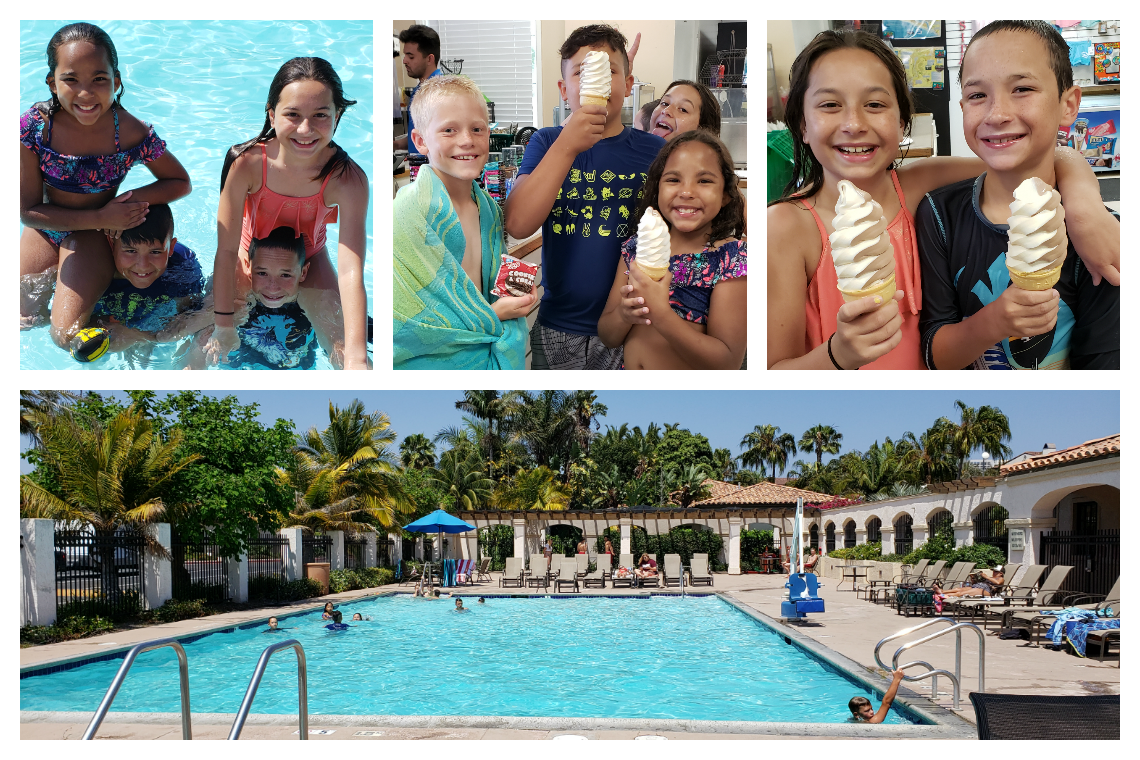 Along with all the water fun, at check in, we received a printed June calendar that included daily activities and events going on at the resort. While we were there, we had the opportunity to participate in rubber band bracelets, candy bingo, DIY glowing campfire craft, Just Dance Wii and more. Many guests stay for longer than just a couple of days, so these extra activities are fun for all. Friday, Saturday and Sunday, offer more activities as the resort is generally more crowded.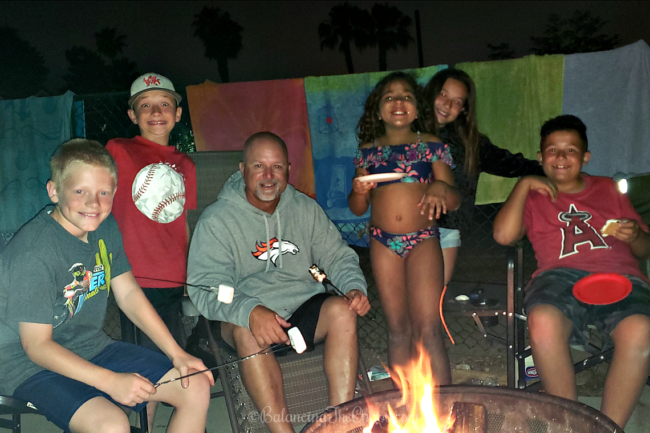 As with all camping trips, s'mores are a must! At the Marketplace, you can rent surreys, bikes, golf carts, fire pits, cabanas and umbrellas. While, as resort guests, we were able to utilize the beach fire pits, I decided to have a smaller one placed at our campsite. The kids took turns showering and making s'mores.
Also, available on Friday nights and Saturday nights, check out Movies on the beach where they project the movie on the beach and on the water!
Have you camped at Newport Dunes Resort? Please share some of your favorite things to do.
For more information and reservations, visit their website at https://www.newportdunes.com