A Travel Review  written by me on behalf of the San Diego Metro KOA and Go RVing.
These days, camping has taken on a whole new meaning. Traditional camping once consisted of setting up tents in the great outdoors and cooking by a campfire. However, individuals like me have opted for a "glam-ping" lifestyle. At the San Diego Metro KOA, there are a variety of camping options – perfect for ANY family!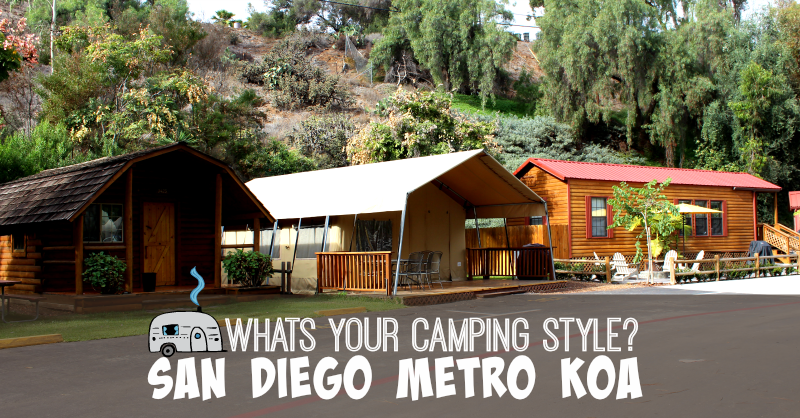 Back in 2014, we purchased an RV camper out of the blue because we had planned an extensive summer road trip. Not wanting to hotel hop, we decided that purchasing a rig would be the best option. However, having NO experience, taking our new RV out for a test drive was the way to go. Our first experience camping/RV camping was at the San Diego Metro KOA.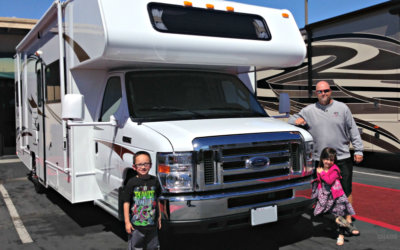 At the San Diego Metro KOA, we had an amazing time. Since it was our first experience, the staff were available to answer any questions we had, and teach us a little about the camping lifestyle. At the time, we didn't realize it, but the campgrounds were under construction because the San Diego Metro KOA was in the midst of a transformation.
Camping creates so many wonderful memories, every family needs to experience. However, purchasing an RV the spur of the moment is a little bit of a TALL order. Like me, I've experienced tent camping and I'm just not a fan, however working with our friends at GoRving, they introduced us to park model cabins, which was certainly a great option.
We were invited back to the San Diego Metro KOA to experience the Deluxe Park Model Cabin that were recently added to the property. Clint, one of the owners/managers shared that this KOA is family run and operated. In fact, all were on hand, working side by side updating the property while we were there. As a matter of fact, they manage several other KOA properties we hope to visit in the future.
A great way to try camping is to stay in a park model RV. These are fully-loaded cabins built on an RV chassis and located in many campgrounds in the U.S. Most have A/C, heat, a full kitchen & bathroom, bedroom, grill, fire pit, porch and more  – super comfortable and you still have access to all the campground activities. It's also a great way for anyone with a disability to go camping.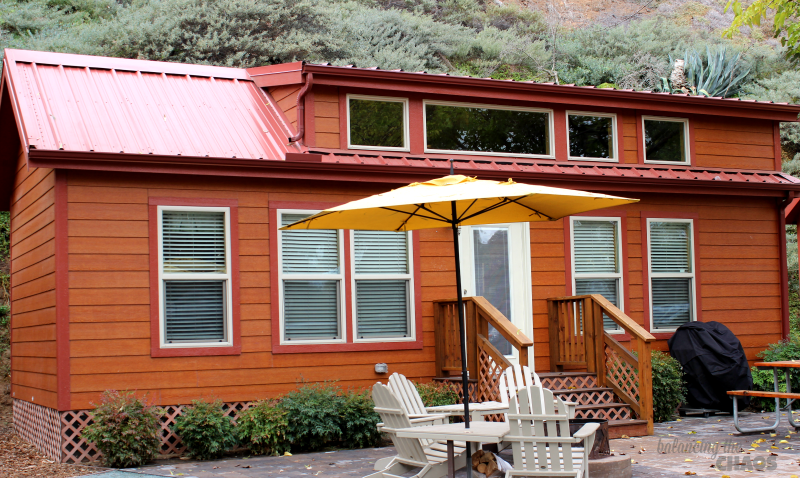 When we arrived at the site, it was dark out, but the cabin was already prepped and waiting for our late arrival. The staff at the San Diego KOA made sure the lights were on and firewood ready to burn. When we walked inside, I think the kids squealed!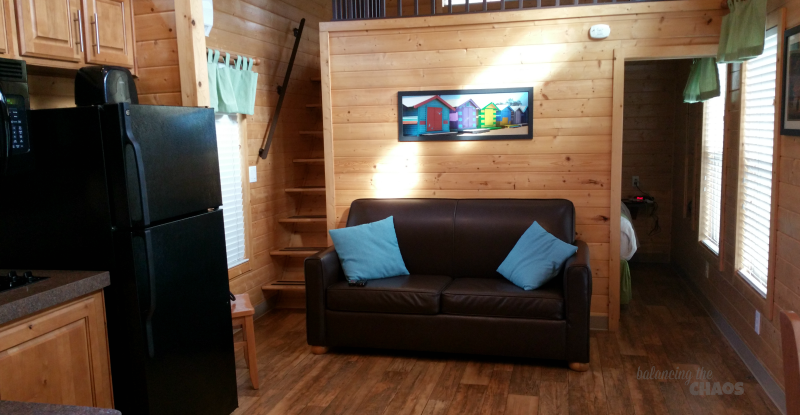 The Living Room; kitchen and dining area was one large room. The two seater sofa converts into a sleeper if needed.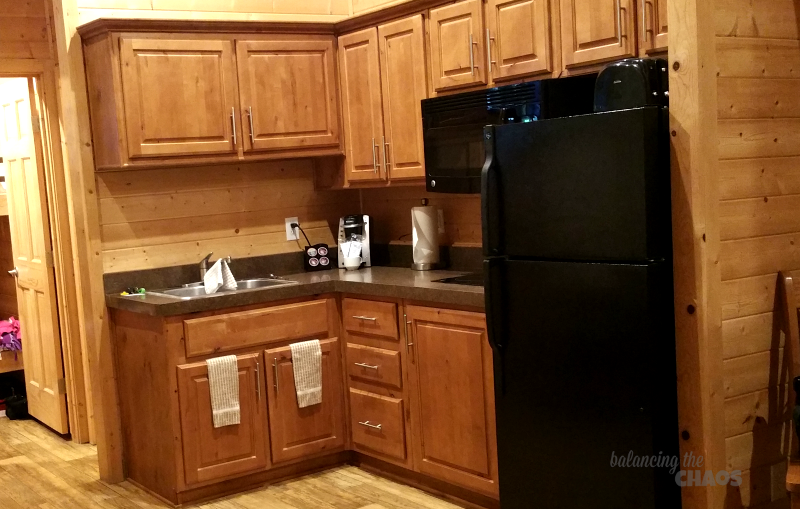 The Kitchen, even though stated as a mini kitchen, had plenty of room to prepare an entire meal. On the counter was a stove with two burners, and a mini Keurig coffee machine. It came fully stocked with plates, utensils, etc – everything you need for your stay.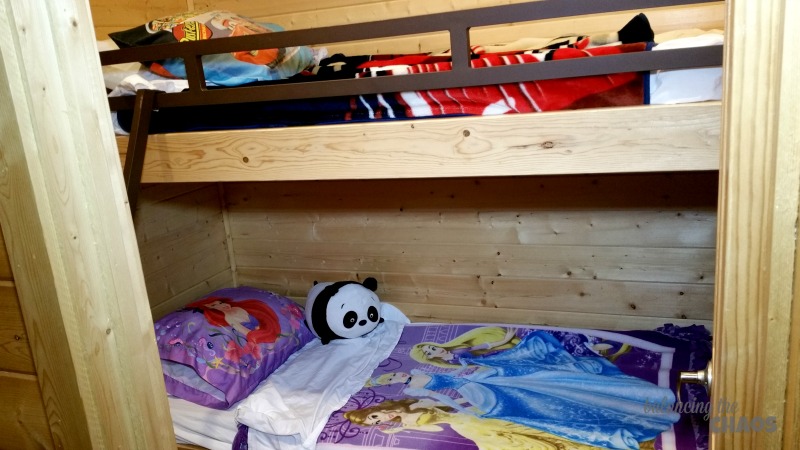 They were so excited to see bunk beds, a beautiful kitchen, even a master bedroom for the parents. This cabin sleeps 6-8 people comfortably. The Deluxe cabins include a private bathroom,shower, TV, and fully furnished kitchen. Fun sleeping loft, gas grill and fire ring.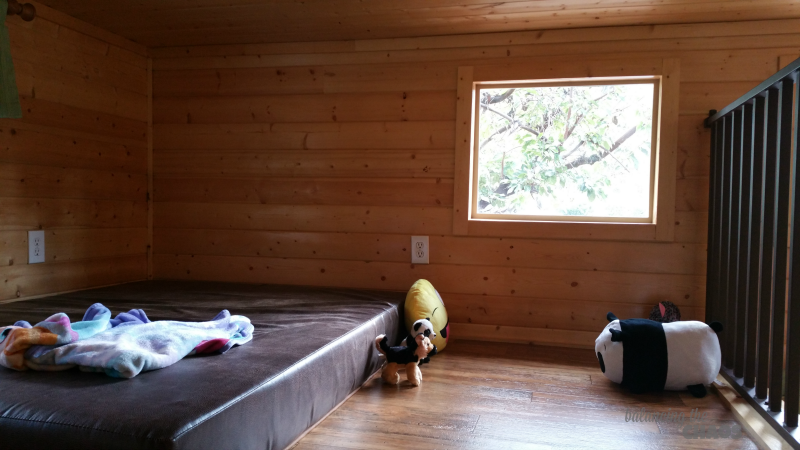 There was a ton of room up in the sleeping loft. The mattress was a queen size, and the kids decided to use it as a play room with their stuffed animals.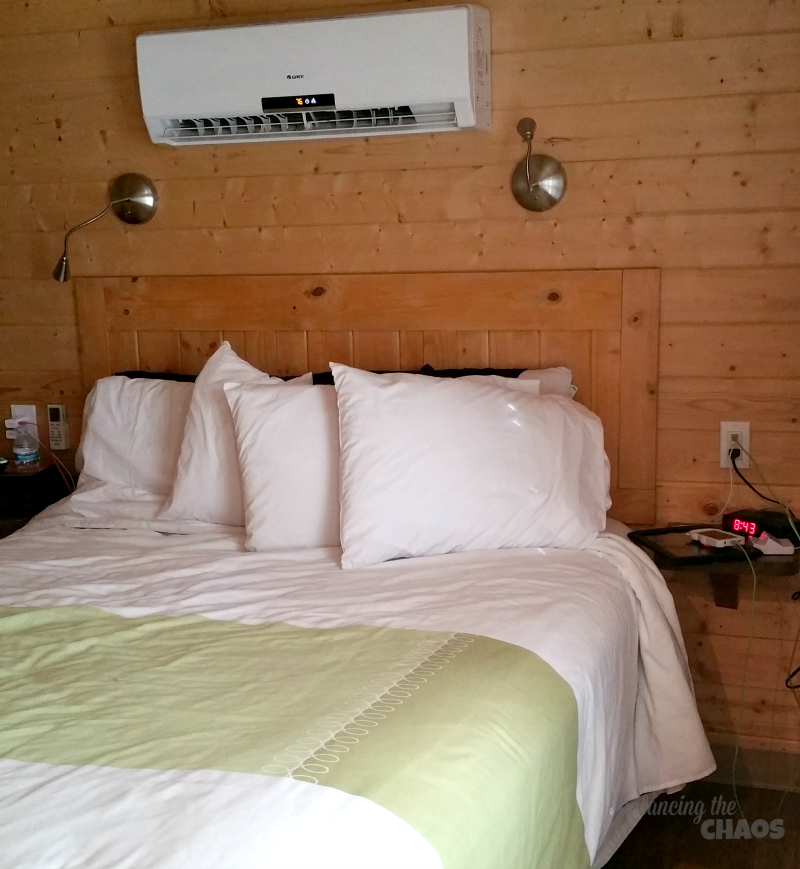 The master bedroom was spacious with two side table/counter tops, a mini closet, flat screen TV and a climate control  unit just above the bed. The deluxe cabin is their top of the line accommodations available at the San Diego Metro KOA. However, there are several other options available:
Deluxe Park Model Cabin, bathroom with sleeping loft
Deluxe Park Mode Cabin, bathroom
Deluxe Park Mode Cabin, bathroom (ADA accessible)
2 Room Camping Cabin
1 Room Camping Cabin
Safari Tent with Electric
RV Sites
Tent Camping Sites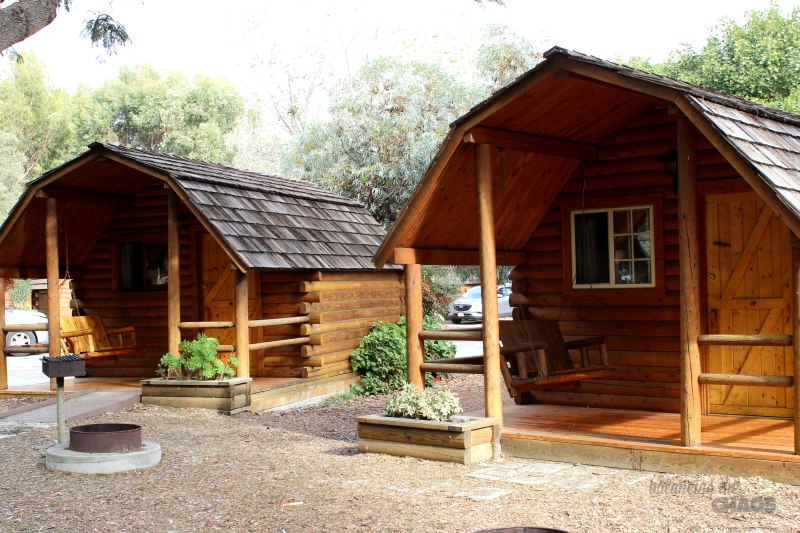 We are HUGE fans of KOA camping. At each location, it is a resort experience. At the San Diego Metro KOA, they have added a few features since we last visited, that my kids absolutely LOVE! There are now two jumping pillows at the San Diego Metro KOA and they're a HIT! They were crowded both days we were there as the kids flock to these huge pillows full of air that they seem to launch each other into the air.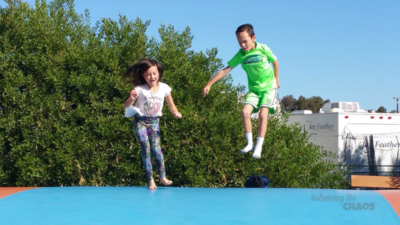 Additional amenities include:
Heated Pool
Hot Tub/Sauna
Game Room
Basketball Court
Horseshoes
Ping Pong Table
Jumping Pillows
Surf Shack Shootout Game
K9 Club
Playground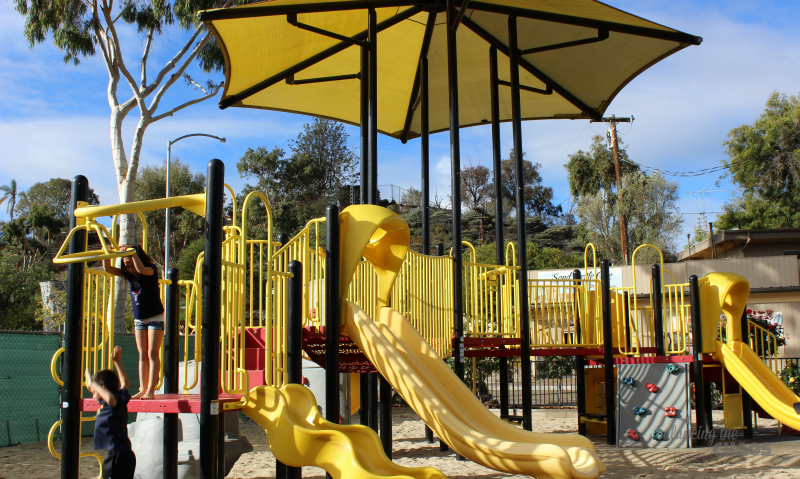 They recently opened the Sand Castle Cafe, a small little restaurant on property that offers breakfast and lunch options. Sometimes while you're enjoying your stay, you just don't feel like cooking. At the Sand Castle Cafe, we were treated to breakfast burritos, pancakes and more.
The San Diego Metro KOA is located fairly close to many of San Diego's attractions including Legoland, SeaWorld, The San Diego Zoo, local museums and much more.
Ready to plan an RV/Camping adventure of your own?  Visit GoRVing.com for information on different styles of RV's – including campgrounds that have Park Models – what to bring, campfire recipes and so much more! For more information about the San Diego Metro KOA, visit their website or contact them at 800-562-9877.
111 North 2nd Avenue; Chula Vista, CA 91910
Sneak peek – there is MORE coming in 2017! Stay tuned!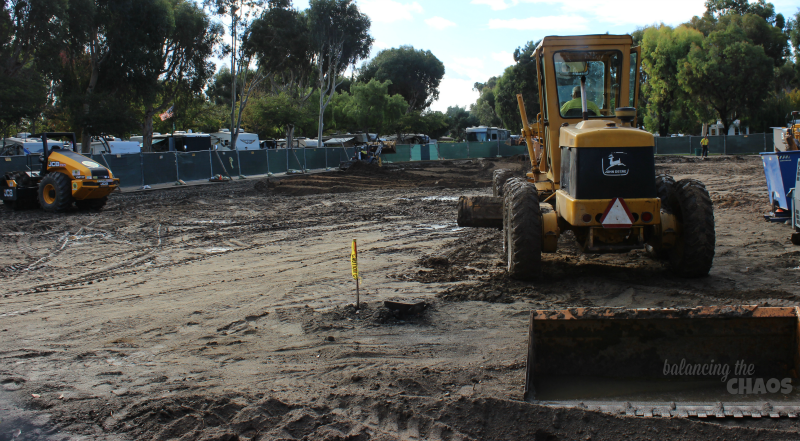 Special thanks to Clint and staff for a great stay! We're looking forward to visiting again soon.