For Spring Break, we decided to head on down to San Diego and try camping – RV Style.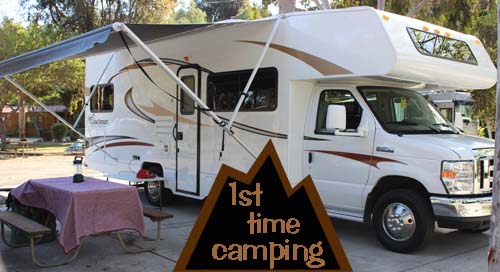 Now if you know me, I'm really not a camper.  I recall being a kid and going with the YMCA once.  Um, not a fun time because I was so freaked out a scorpion would join me in my sleeping bag in the middle of the night.  Even  the ants were a little much for me.  Yah, I was a total wimp.
This summer we've decided to go on a road trip.  I was researching hotels, when the hubster came up with the bright idea of an RV.  What sold me on the idea is that we could have portable bathrooms, running water, beds and the fact we didn't have to stop for every little thing.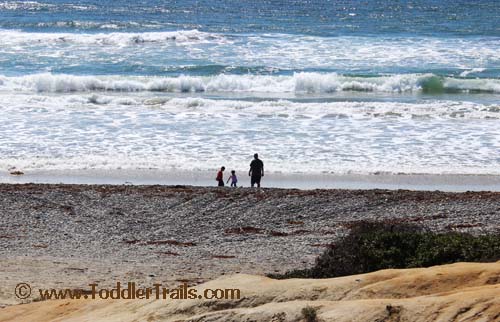 To test out the idea of RV'ing it, we decided to take a quick trip down to a local camp ground in San Diego.  On the way, we had to stop – WHAT? Yes, we decided to take the dog with us, and can you believe it? I wasn't too thrilled she had already used my passenger seat as her resting spot, and left me a little "WET" surprise. Since she couldn't use our portable bathroom, we stopped somewhere along the way in either La Jolla or Sonoma (couldn't remember after jotting it down).
It was a beautiful surfer beach, loaded with rocks and get this – NO DOGS ALLOWED!  HA, well, we let her do her business just outside the entrance area while The Hubster and the kiddos skipped rocks along the waves.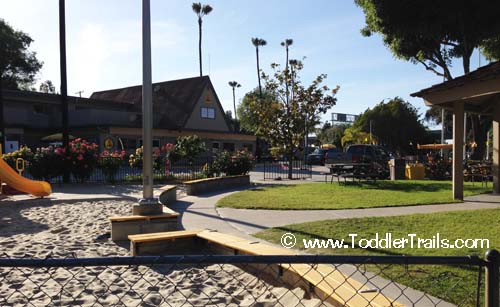 Back inside the RV, we headed down the I-5 to San Diego.  Destination: KOA San Diego Metro.  If you haven't heard of KOA – it stands for Kampgrounds Of America. Instantly we fell in love.  Friendly staff helped us along the way through our first check in, information and all.  With color coordinated stripes on the road, we were able to locate our campsite within minutes and get set up.  Think we did pretty good for our first time. Then it was off to explore.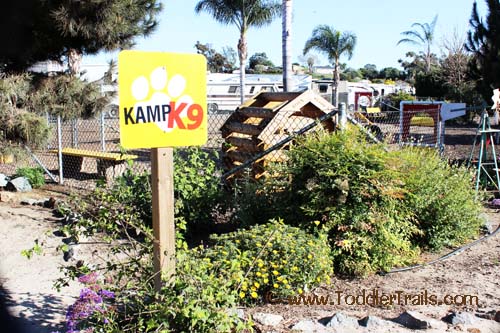 Kamp K9 was the perfect stop for our beloved 4-legged pooch.  With two fenced areas – one for larger dogs and one for smaller dogs, we let her explore both since we were alone.  In each fenced area, there are fun dog fixtures and obstacle courses, even a water bowl and fountain.  Picking up after your K-9 is important and KOA even supplies bags and trashcans to dispose of the evidence.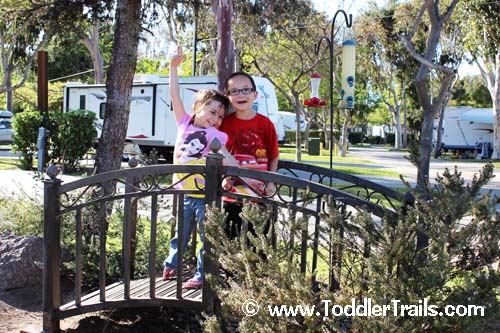 Throughout the campground there were cute little areas to snap photos.  My sillies loved this cute little bridge.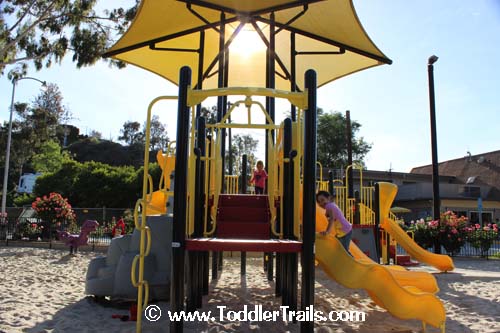 The playground – just fabulous!  Climbing, sliding, shade, swing sets and more, it was the perfect size for ages 4 and up.  We couldn't pull our monkeys away.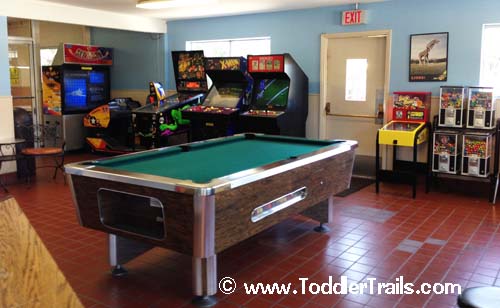 I snuck into the game room to check out what they had for the bigger kids.  Video games, pool table and more to keep them entertained when it is too hot outside, or if mom or dad are doing laundry in the next room in the full sized laundromat.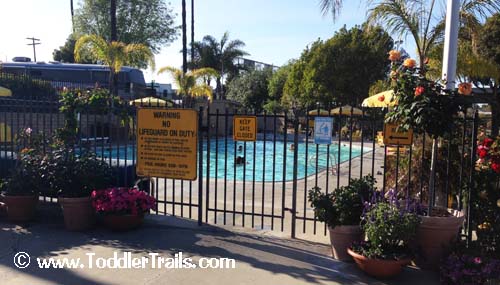 To cool off, they even have a beautiful pool.  I must say, this camp site seems perfect! All the amenities we could possibly want, we'll certainly be back for future camping weekends.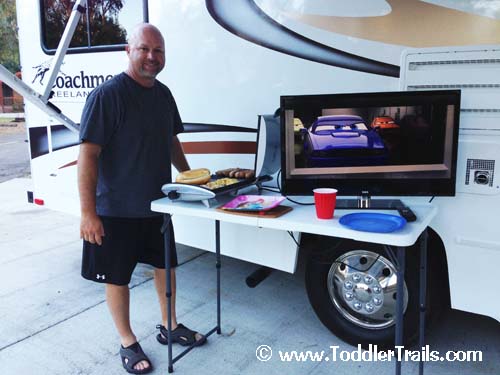 The Hubster really got into playing with his gadgets.  We brought one of our counter top grills and a TV from one of our rooms at home and he was set.  One problem, we didn't consider bringing adult movies for when the munchkins fell asleep. However, he seemed pretty content grilling it up while watching Cars 2.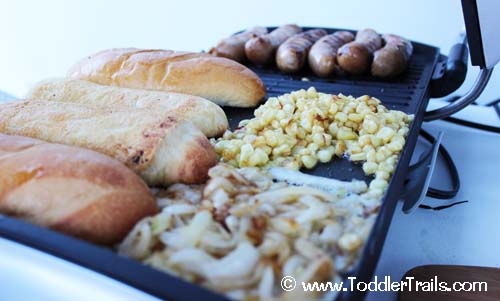 Check out the grub – Italian sausages, grilled onions and grilled corn – felt like we ate like kings.
Camping with toddlers is fun and exciting!  So much to explore, we're still compiling lists of things to bring.  We started off with the necessities – their favorites: movies, crayons, books, coloring books, and gave them each a shoe box sized bin where they had to pick items they wanted to bring, but it had to fit into the container. Then it was all about being outdoors, batting practice and exploring.
I'd love to hear some of your favorite camping sites if you'll share.  Since we're just starting out, we're so open to learning about favorite locations, tips on RVing, etc.