This feature contains affiliate links: I don't typically make New Years Resolutions because I find them quite hard to keep for more than a month. Because of that, this year I decided to make a change at home. My new focus is utilizing my kitchen and gadgets, creating healthier meals for my family, rather than eating out all of the time because of convenience. Last week, I created Air Fryer
Bacon Wrapped Chicken and my family loved it.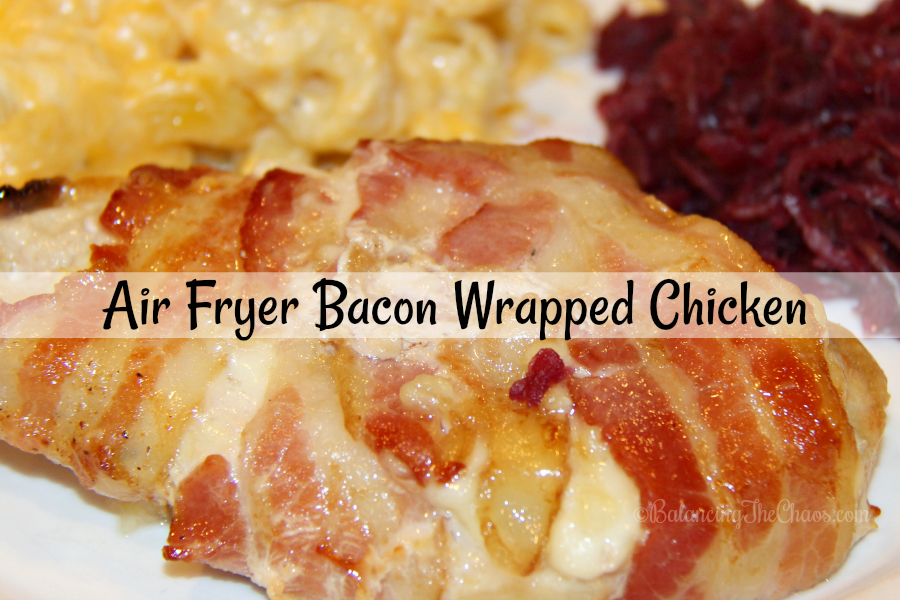 I was watching a talk show just before picking the kids up at school when I heard Jillian Michaels share current healthy trends with the audience. She said the Air Fryer
was going to be a popular kitchen tool this year and I got excited. I have one! The challenge was, that I didn't know what to cook in it. Apparently you can create anything from main dishes to side and even desserts. Now to just come up with recipes that I can quickly create at home.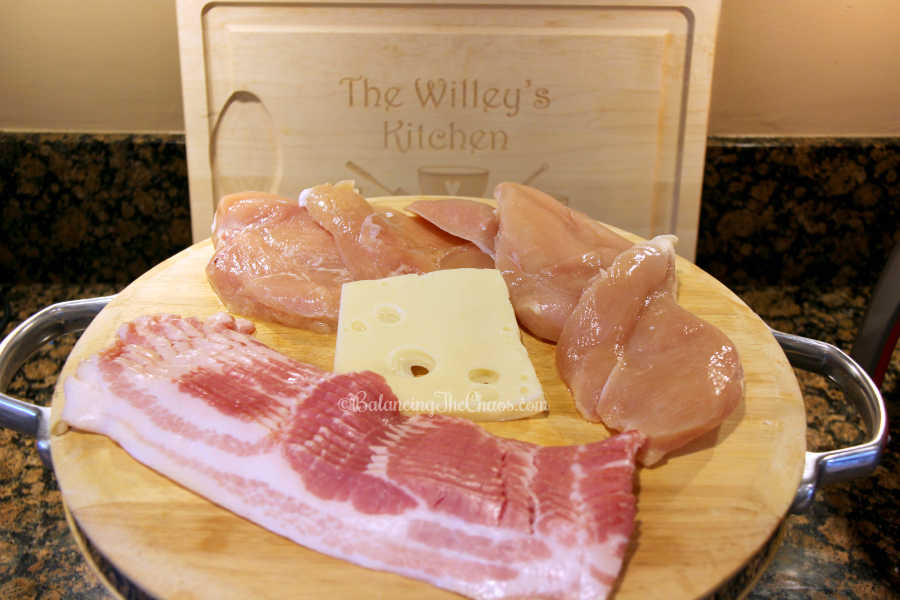 I discovered I had chicken and bacon in my freezer, which I felt would be a perfect combination that my kids would eat. They are quite finicky at 8 and 10. We also had Swiss cheese on hand so I thought that would be the perfect addition.
Really, it was quite simple. I took the chicken breast, rinsed them off and patted them down with a paper towel. Next, I seasoned them by sprinkling a little salt, pepper, garlic powder and added a dash of Melissa's Hatch Chile powder that I had mixed in with my spices cabinet. I thought it would give it an added flavor. I added a slice of Swiss cheese, then wrapped the chicken with two strips of bacon, completely covering it.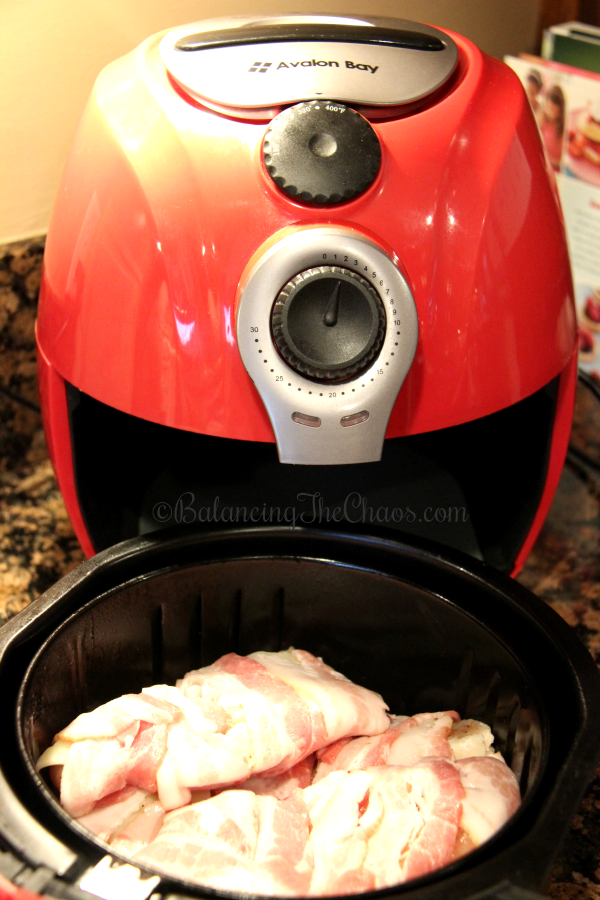 I placed the chicken in the Air Fryer
, set the temperature at 360° for approximately 20 minutes to check it. *TIP* Be sure to spay the inside of the Air Fryer
with a non stick spray before placing anything in the Fryer so it won't stick. Since I placed all the chicken overlapping in the Air Fryer, I moved the pieces around to make sure they were evenly cooked all the way through and added another 6 minutes.  Once the chicken was complete, I served it alongside of a Mac N Cheese we had picked up at Costco and some pickled cabbage.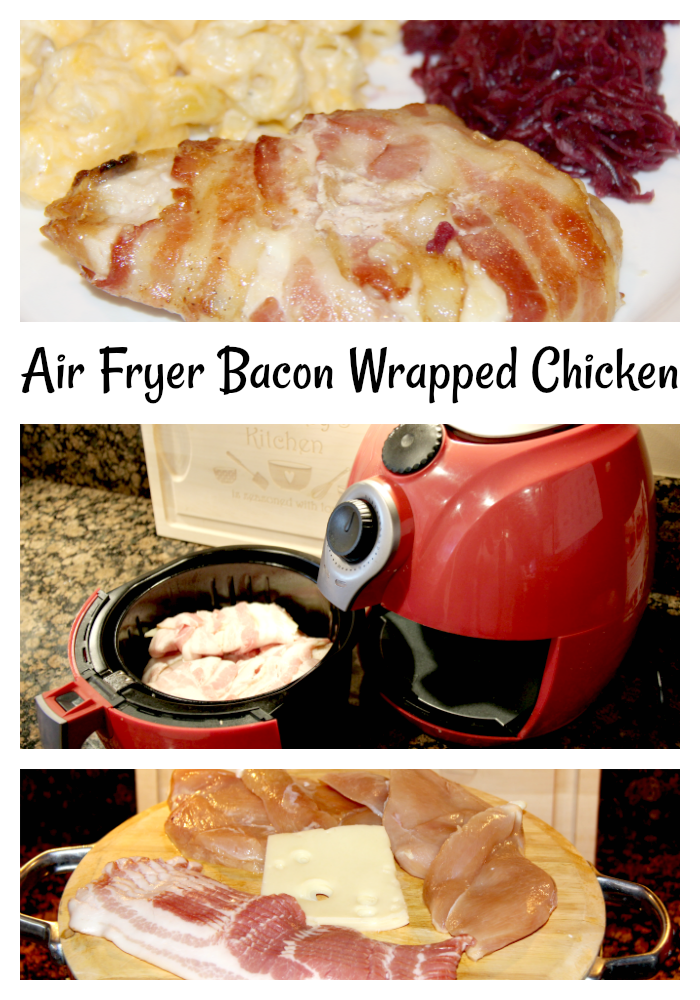 Avalon Bay AB-Airfryer100R Air Fryer, 3.7 Quarts, Red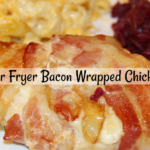 Recipe: Air Fryer Bacon Wrapped Chicken
Bacon wrapped chicken with Swiss cheese
Ingredients
5

pieces

Chicken Breasts

1/4

Pound

bacon

5

Slices

Swiss or Provolone Cheese

1/4

tsp

Salt, Pepper and Garlic Powder

1/4

tsp

Chile Powder
Instructions
Spray non stick spray into the base of the Air Fryer.

Clean and pat dry chicken.

Sprinkle salt, pepper and additional seasonings.

Place a piece of Swiss cheese on the chicken, then wrap it with two slices of bacon.

Place chicken in the Air Fryer and cook for 20 minutes at 360°.

Check the chicken and move around in the Air Fryer if needed to insure chicken and bacon are cooked through and continue to cook another 6+ minutes until done.
Recipe Notes
This is one of my favorite recipes. Easy to do, simply season your chicken, wrap it with a piece or two of bacon and cook in your air fryer.