The City of Garden Grove is opening up their streets with a unique concept: Downtown Open Streets, and you're invited to join in on the fun and celebrate.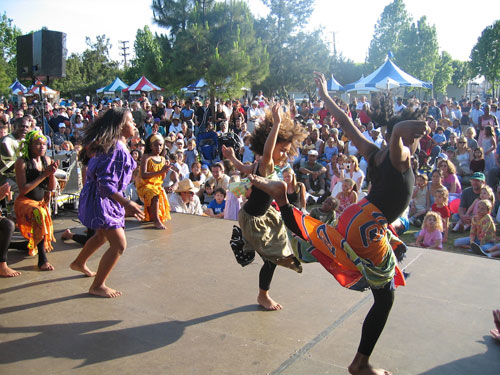 On Sunday, October 12th from 11 a.m. to 4 p.m. nearly 3-miles of Garden Grove streets will be completely car-free. Downtown Garden Grove will be open streets for walking, biking, skating and playing. Guests will enjoy food, music, dance, art, and workshops curated by Community Arts Resources (CARS) will showcase the cultural diversity of the area and fill the pedestrian-only zones with unique community experiences for all to enjoy.
The event will kick off with an Opening Ceremony at 11 a.m. at the intersection of Main St. and Acacia Pkwy. Garden Grove Mayor Bruce Broadwater, City Councilman Steve Jones and CARS Co-Founder and President Aaron Paley will welcome all to the City's inaugural open streets event. They will showcase the City's vision for a more active downtown area.
"Garden Grove is a melting pot of so many unique cultures all in one vicinity," commented Councilman Steve Jones. "Re:Imagine is designed for all of our communities, in Garden Grove and throughout Orange County and beyond, to come together and celebrate individuality and diversity in a unique car-free environment."
The Re:Imagine Garden Grove's open streets route will traverse Nutwood St. east to 8th St. and Garden Grove Blvd. north to Stanford Ave. The route will be a mix of car-free streets for walking, biking, running, skating, and other non-motorized forms of active transportation, pedestrian-only zones, and areas with entertainment and activities throughout the car-free streets. A highlight of the route is the Pacific Electric Right of Way Temporary Bike and Pedestrian Path which will be available as a pedestrian and cycle path during the event. The path represents Garden Grove's commitment to promoting active transportation and encouragement of more walking and biking throughout the city.
A public art path titled 50 Hedrons, created by NONdesigns, will be on display along Acacia Pkwy. between 8th St. to Nelson St. and the Pacific Electric Right of Way Temporary Bike and Pedestrian Path. The "Keys to the Garden: Public Art Path Participation Station" will invite 50 people to get involved in the public art sculptures by planting succulents and placing them along the event route at specific locations. Those 50 participants will officially adopt their plant sculpture and become responsible for its care for the next month and then take it home to enjoy for years to come.
Some of the entertainment for the event will include:
Strolling performers: stilt walkers and the Vanguards Lion Dance Team, comprised of students performing traditional Vietnamese and Chinese Lion Dances, will traverse Main St., as well as other portions of the open streets route.
Food Trucks through the pedestrian zone at Main Street between Stanford Ave and Acacia Parkway
Walking Tours by Garden Grove Historical Society
Square Dancing
and more.
Live entertainment will be hosted by DJ, Richard Blade and a few local dance troops, folk rock group and mariachi all located at Village Green Park. A beer and wine garden, courtesy of the Garden Grove Community Foundation, will be open throughout the event near the Village Green Stage.
Want to sample fitness classes from local vendors? Civic Center Park North will host the Active Stage and a full schedule of interactive dance and fitness classes:
Zumba with The Colony of Performing Arts will take place at 11 a.m.
A traditional Vietnamese martial arts class with Vo Kinh Van An will be offered at 12:15 p.m.
Kids Salsa with The Learning Spot will be at 1 p.m.
Hip Hop with Kaba Modern Dance Group will take the stage at 2:15 p.m.
Zumba with Eduardo Sanchez will wrap up the Active Stage beginning at 3:15 p.m.
Civic Center Park South will offer a full day of interactive hands-on workshops appropriate for all ages. Activities include
Re:Imagine Print Making Workshop with artists James Dinh & Nguyen Ly, Gardening Grove:
Planting Workshop with Home Depot,
DIY Toolbox Workshop with Home Depot,
The Keys to the Garden: Public Art Path Participation Station,
a Snap Yourself! Photo Booth.
Artist Robin Marcario will host an Interactive Mosaic Workshop
The Garden Grove Public Library will offer interactive activities
The Garden Grove Police Department will lead an all-day Safe City Bike Course, focused on children's bicycle and pedestrian safety
OCTA will also be present to discuss bike safety throughout Orange County.
Family fun activities include a Re: Imagine Play Zone that includes ping-pong tables and a rock climbing wall atAcacia Pkwy. between Main St. and Euclid St.
The local eateries on historic Main St., between Acacia Pkwy. and Garden Grove Blvd. will open their doors and spill onto the car-free street with outdoor service and seating. Highlighting the region's eclectic cuisine, a culinary stage hosted by Eddie Santos will present live cooking demos with OC's top chefs at 12 p.m., 1:30 p.m. and 3 p.m. Historic Main St. will also host the interactive art wall entitled Before I Die I Want To… and various roaming performers.
Euclid St. between Stanford Ave. and Acacia Pwky. will present the Action Sports Demo Area with demonstrations by the BMX Freestyle Team at 11:30 a.m., 12:40 p.m., 1:30 p.m. and 2:45 p.m.
Henry's Bar & Grill on Stanford Ave. will host an outdoor BBQ with beverage service, a photo booth and DJ entertainment. The McDonald's parking lot on Garden Grove Blvd. will offer a Kids Zone and Chalk Ride.
Re:Imagine Garden Grove – A Downtown Open Streets Event is a free day of outdoor activities and entertainment for all to enjoy. The open streets concept encourages public health, active transportation and community engagement, offering participants an opportunity to explore Downtown Garden Grove in a new light. For more information and to join in the open streets fun, visit https://www.ggopenstreets.com.
Disclaimer: This is a non sponsored post and the details regarding the Re:Imagine Garden Grove was obtained from a press release.