Oggi's Sports Brewhouse and Pizza, a craft brewery specializing in fresh pizza, brewpub favorites in a sports themed atmosphere, recently expanded their menu. We were recently invited to our local Oggi's to get a sneak peek at their four new options, ranging from a breakfast-themed variation, along with a unique dessert offering.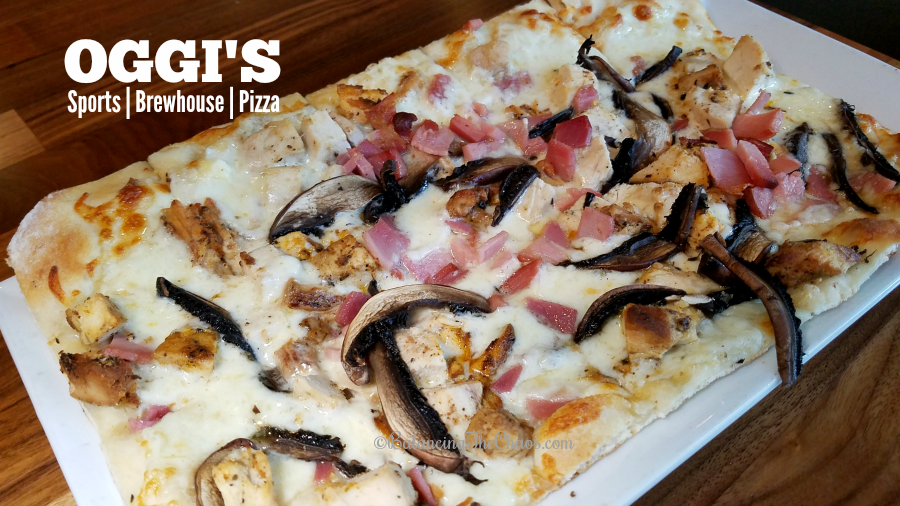 Each season I create a featured menu based on future trends and our guests' requests," said Jason Tsaimes, Executive Chef of Oggi's. "Noticing an increase of interest toward our current flatbread offerings while taking their feedback to heart, we are launching the Flatbread Frenzy options at all Oggi's locations, and even added a dessert option due to popular demand."
Oggi's takes pride in not only providing stellar appetizers, signature pizzas, pastas, burgers, calzones and more, but also in its unique craft brews. The signature menu items are perfectly paired with one of their award-winning beers, and the new Flatbread Frenzy menu is no exception. The options, with suggested beer pairings to complete the experience, include:
Feeling Eggcellent!: flatbread brushed with garlic olive oil, topped with cheddar and mozzarella, fried eggs, fresh jalapeño, bacon bits and red and green onion (California Gold Blonde Ale, 6 awards)
Chicken & Prosciutto Flatbread: alfredo, mozzarella, herb-marinated Portobello mushrooms, grilled chicken, prosciutto, peppery arugula, Feta and a sweet balsamic glaze (Hoppily Ever After IPA)
Roasted Butternut Flatbread: brushed with garlic olive oil, topped with mozzarella and parmesan, roasted butternut squash, cranberries, crispy bacon and crunchy fried kale (McGarvey's Scottish Ale, 10 awards)
Banana Split Delight: homemade chocolate ganache, fresh-cut bananas, vanilla ice cream, caramel sauce, cashews, cherries, whipped cream and powdered sugar (Black Magic Stout, 17 awards)
We only sampled the Chicken Prosciutto Flatbread, and it certainly was amazing. The first thing I noticed was that the flat bread was quite large, as a matter of fact, it was larger than the plate. It was enough for sharing for at least 2 people. The bread was had just enough crisp and was loaded with extra mozzarella cheese and alfredo. The additional Portobello mushrooms, chicken, bits of prosciutto were a great mix of flavors. I'd certainly order it again on my next visit.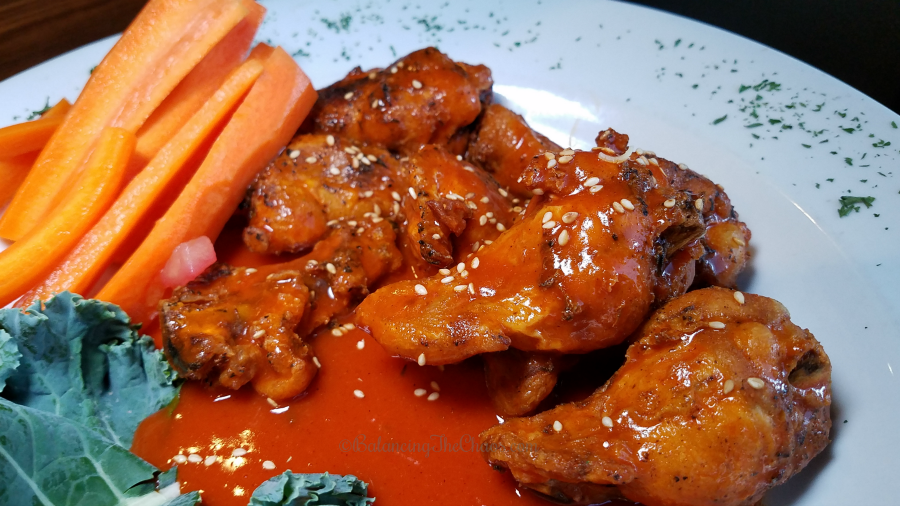 The hubster is a BIG fan of buffalo wings, and said Oggi's were delicious. The kiddos also shared that they loved their Mac N Cheese and personalized pizza.
In talking to the Manager, Jazmine, we were excited to hear about upcoming special events at Oggi's like team signing opportunities when the Anaheim Angels come into town as well as banquets and special events. We're even looking into planning team banquets on their patio. So many great options.
About Oggi's Sports | Brewhouse | Pizza
For 26 years, Oggi's Sports|Brewhouse|Pizza has continued to define craft brewing, fresh pizza and brewpub favorites in Southern California and Arizona. Oggi's has 16 full-service locations and one Oggi's Pizza Express location, all with sports-themed atmospheres. The menu features signature pizzas, pasta entrees and desserts alongside their original beer pairings. Each location has 10 original brews on tap at a time, including one seasonal and one barrel-aged. Oggi's boasts award-winning brews, which have over 60 medals in international, national and regional beer competitions. Oggi's is the exclusive pizza sold at the Angels Stadium in Anaheim. For more information, including franchising, visit www.Oggis.com. Connect with Oggi's on Facebook, Twitter and Instagram.